To update your details or renew your current print subscription or to receive your own edition of the print version of E&MJ -

CLICK HERE

E&MJ/Mining Media Prepare for 2008- In this edition, E&MJ publishes its annual Scandinavian Report. It updates readers on mining activities in the region and provides insight on equipment and services provided by some of the mining industry's leading manufacturers and EPCM contractors. According to a new report from Raw Materials Group (RMG), located in Stockholm, the exploration boom in the Nordic countries continues unabated. In 2007, total exploration expenditure in Sweden, Finland and Norway is expected to reach €140 million, an increase of 55% to 60% compared to 2006. The focus of exploration has shifted toward ........ read more

Steve Fiscor, Editor in Chief

South African Gold Majors Sign Wage Agreements - Gold producers Anglogold Ashanti, Goldfields and Harmony recently signed a 2007–2009 wage agreement with three trade unions—National Union of Mineworkers (NUM), UASA and Solidarity— negotiating on behalf of gold mining workers at the Chamber of Mines' offices in Johannesburg. The agreement follows nearly three months of negotiations.
Dr. Elize Strydom, chief negotiator for the Chamber of Mines, said, "Clearly, neither the employers nor the workers got everything they wanted ......... read more

Norilsk, ARM Approve $445M Nkomati Nickel Expansion to Quadruple Annual Production - African Rainbow Minerals Ltd. (ARM) and Norilsk Nickel, 50:50 joint-venture owners of the Nkomati nickel mine in Mpumalanga Province of South Africa, have approved a R3.2-billion ($445-million) mining expansion project to increase average annual nickel production to 20,500 mt from 5,500 mt and extend the life of mine by 18 years to 2027. Peter Breese, chief executive of Norilsk Nickel International commented: "Approval of the Phase 2 expansion cements Nkomati's long term future as it unlocks around....... read more

Top

IFC to Increase Investment in Simandou Iron Project - International Finance Corp., a member of the World Bank Group, said it is increasing its investment in Rio Tinto's Simandou iron ore project in Guinea to continue funding exploration and feasibility studies and to support its environmentally and socially sustainable development. IFC has approved an additional $30 million investment in Simfer S.A., Rio Tinto's Guinean project company .... read more

UC Rusal Modernizes Largest Aluminum Smelter - UC Rusal announced the start of modernization of its Bratsk aluminum smelter, claimed to be the world's largest, to reduce environmental impact and increase efficiency. The first stage of the project will be completed in 2011 at a cost of $350 million. The modernization program will....read more

Barrick Offers Researchers $10 Million for Enhanced Silver Recovery at Veladero - Barrick Gold Corp. said it is challenging scientists worldwide to devise a process to unlock the silver from the ore at its Veladero gold mine in Argentina. The Canadian company is offering a $10 million prize to the winner. Barrick's said its Unlock the Value program invites scientists, engineers and other inventors to solve a scientific conundrum. Geologists have determined there are 180 million oz of silver contained in gold reserves in the ore at the Veladero...... read more

Top

Constellation Implements Production Enhancements at Lisbon Valley Copper - Constellation Copper Corp. recently reported on the progress of production enhancement projects under way at its Lisbon Valley surface mine located in southeastern Utah, USA. The company said its immediate focus has been on increasing the amount of contained pounds of copper placed on the leach pad and expediting construction of an Intermediate Leach Solution (ILS) system. During July and August 2007, Lisbon Valley commissioned a fleet of three 100-ton capacity trucks and started hauling and stacking primary crushed ore... read more
FNX to Advance Exploration at Podolsky Property - FNX Mining, Toronto, Canada reported that it has initiated two additional advanced underground exploration programs at its Podolsky mine property in northern Ontario at the eastern end of the Sudbury Basin. The combined $18-million programs, designed to explore and develop both the North and Nickel Ramp deposits, will involve ramping down to and driving crosscuts through the deposits, and geological mapping, sampling..... read more

Review Panel Gives Thumbs Down on Kemess North Development - Northgate Minerals Corp. reported in mid-September that the Joint Federal-Provincial Environmental Review Panel studying the proposed Kemess North coppergold project in north-central British Columbia had completed its review and submitted its recommendation report to the federal and provincial Ministers of the Environment. The news, from the company's point of view, was not good: the panel recommended that the project not be approved as proposed.... read more

Top

UNR Hosts Barrick Global Rescue Summit - The University of Nevada-Reno (UNR) Fire Science Academy hosted the first Barrick Gold Corp. Global Rescue Summit, which drew emergency response representatives from 25 of Barrick's 27 operating mine sites worldwide for two days of training exercises and rescue drills designed specifically for the mine industry. The training included responding to hazardous materials spills and exposure, industrial firefighting drills.... read more

Glencairn Continues to Study Ground Creep Problem at Bellavista - Glencairn Gold reported that environmental protection measures implemented since July at the Bellavista mine in the Miramar area of Costa Rica have successfully reduced cyanide concentrations. Mining operations were suspended on July 25, 2007, due to concerns over recent ground movement. The company subsequently implemented measures to ensure cyanide used in heap leaching at the site was rinsed from the leach pads and the cyanide destroyed …… read more

Kinross, Goldcorp to Swap Canadian, Chilean Assets - Kinross Gold Corp. has entered into an asset swap with Goldcorp Inc. designed to increase Kinross's ownership and operating control of its core mines, while strengthening its strategic position in Chile. Under terms of the agreement, Kinross will sell to Goldcorp its 31.9% interest in the Musselwhite Joint Venture, located in northwestern Ontario, and its 49% interest in the Porcupine Joint Venture, located in Timmins, Ontario. Goldcorp is currently the operator of both mines…. read more

Top

Tintaya to Increase Output by Developing Antapaccay - An expansion plan is currently under consideration at the Tintaya copper mine in Peru. The mining company controlled by Xstrata is planning to mine its Antapaccay copper deposit, increasing total production to more than 200,000 tons. Xstrata Copper acquired the Antapaccay copper-gold prospect through its acquisition of the Tintaya copper mine from BHP Billiton in June 2006. Historically, more than 90,000 m have been drilled at Antapaccay, which consists of two…. read more


Zinifex to Process Que River Zinc Ore at Rosebery - Fluor Corp. announced that BHP Billiton has awarded the Mine & Port Development JV (MPDJV) a contract to provide engineering, procurement, construction management and commissioning services for an iron ore expansion project in Western Australia. Total project value is $1.8 billion and Fluor's share of the EPCM contract is 50%. MPDJV is a 50:50 joint venture between Fluor Australia Pty Ltd. and Sinclair Knight Merz. The MPDJV office in Perth, Australia, will lead the project…. read more


Prairie Downs Begins Feasibility Study for Zinc Project - Perth-based Prairie Downs Metals has commenced a Bankable Feasibility Study for the Prairie Downs zinc project, commissioning Abesque Engineering & Construction to design a 300,000 mt/y processing plant with the capability to expand to 1,000,000 mt/y. Priarie Downs said Abesque specializes in the provision of engineering design, construction and project management services to the resource sector including processing of zinc ores. The most recent examples are the construction and commissioning of the Jaguar base metals project…. read more

Top

Rio Tinto Extends $350 Million in Interim Funds for Oyu Tolgoi Development - Rio Tinto said it will provide Ivanhoe Mines Ltd. with a convertible credit facility of $350 million for interim financing for the Oyu Tolgoi copper-gold complex in Mongoliaís South Gobi region. The credit facility is directed at maintaining the momentum of mine development activities at Oyu Tolgoi while Ivanhoe and Rio Tinto continue to engage in finalizing an Investment Agreement between Ivanhoe and the government of Mongolia…. read more


Pakistan Implements Policy to Develop Domestic Iron Resources - Expecting increased demand and spiraling prices of steel in the international market, the government of Pakistan has started work on formulation of a new National Steel Policy, aimed at tapping 1.42 billion mt of proven iron ore reserves in the country. Initially, the government was focusing on 10 sites located in Balochistan, Punjab and North West Frontier Provinces, and planned to establish steel mills in these areas in collaboration with foreign and local investors. A source in the Ministry …. read more



Teal Reports on Congolese, Zambian Copper Projects - Teal Exploration & Mining announced an increased mining rate at its mine being commissioned in the Democratic Republic of Congo. The company also noted that the technical aspects of the feasibility study for the Konkola North copper project in Zambia have been completed indicating a mine capable of producing 25,000 mt/y of contained copper. Mining at the company's Lupoto prospect…. read more


Gold Fields, Orezone Resources Reviewing Essakane Gold Study - Orezone Resources Inc. and Gold Fields Ltd. announced on September 11 that a NI 43-101 compliant Definitive Feasibility Study for the Essakane project in Burkina Faso, West Africa, has been delivered to Orezone as part of an agreement which provides for Gold Fields earning a 60% interest in Essakane upon issuance of the DFS. The study was prepared by…… read more

Top
Canadian Pacific Acquires DM&E Railroad - Canadian Pacific Railway Ltd. (CP) announced in early September that it has reached an agreement to acquire Dakota, Minnesota & Eastern Railroad Corp. (DM&E) and its subsidiaries for $1.48 billion. The transaction expands CP's current network by approximately 2,500 miles and increases its access to U.S. Midwest markets. The deal consists of a $1.48 billion cash payment at closing and future contingent payments of up to approximately $1 billion. Future…. read more

South Africa's Chamber of Mines Signs Wage Agreements - South African coal mining companies (Anglo Coal, Xstrata, Eyesizwe, Optimum Colliery and Delmas Coal) recently signed the 2007/2009 wage agreement at the Chamber of Mines' offices in Johannesburg with three trade unions negotiating on behalf of coal mining workers: the National Union of Mineworkers (NUM), UASA and Solidarity. In terms of the agreement, which becomes effective from July 1, 2007, the wage increment for…... read more

Top

Xstrata Buys Tahmoor & Anvil Hill in Australia - Xstrata Coal Pty Ltd. announced during September its intention to make an offmarket takeover cash bid to acquire Austral Coal Ltd. for A$557 million ($501 million). Under Xstrata Coal's proposal, Helios Australia Pty Ltd., a subsidiary of Xstrata Coal, will offer to acquire all of the shares in Austral. Xstrata Coal, Austral and Helios have signed a bid implementation agreement under which standard exclusivity arrangements have been agreed. The offer is subject to a set of limited.…... read more


Chevron Merges Molycorp and P&M Coal - Molycorp Inc. and The Pittsburg & Midway Coal Mining Co., both subsidiaries of Chevron Corp., have formed a diversified mining company called Chevron Mining Inc. The name change, according to Chevron, provides for better alignment with its parent company and improved market visibility. Chevron Mining Inc. now includes more than 1,400 employees operating five domestic coal and metal…... read more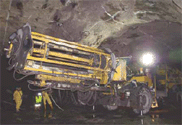 Era of Nordic Mining
Invigorating the old, advancing the new, resurrecting the moribund

Recent industry and economic trends have provided an almost constant stream of very good news for the Nordic region's minerals producers, technology suppliers and growing band of mining contractors. In this special report, E&MJ highlights the mine and plant projects, technological advances and organizational changes that have contributed to making this the most exciting time Nordic mining has enjoyed for many years……. read more


Polar Bulls Plan on a Long-Term Future

Important new operations may open close to the Arctic Circle in Lapland during the next few years, in both Sweden and Finland. But, unless things go terribly wrong, the region's four major mines will definitely stay in production, three of them at substantially increased output rates. When E&MJ reported on the Nordic mining situation last October, iron ore producer LKAB had already outlined its forward objectives for the operations at Malmberget and Kiruna, plans that should see product deliveries rise to 30 million...... read more

Top

Nordic Mining Equipment
Innovation Plus Dedication

Because the Nordic region's mining companies rely on high productivity and assiduous quality control to remain internationally competitive, technology/ equipment suppliers based in the Nordic region work closely with them, partly to develop advanced technology, partly to retain domestic market share. But almost all, if not all, the suppliers also depend on export sales for survival and must provide technology that is competitive in these markets as well, even though their typically high technology solutions…... read more

Mineral Process Plant Delivery
Strategies for a Whole World Market

Process technology suppliers in the Nordic region can, like their mining sector counterparts, manufacture and assemble specific pieces of equipment "in-house." However, price-weight-bulk relationships for large units often dictate manufacture closer to the site for international projects. These companies' role also frequently involves both the basic design of process flowsheets, which can be carried out at base, and working with the client and/or the project EPCM contractor on the structures and infrastructure required to install and run the equipment involved. Securing technology supply business may therefore demand the identification of sub-suppliers for some equipment..... read more

Top

New Drills for Underground and Surface Applications - Atlas Copco is now offering the COP 2238, a new 22-kW hydraulic rock drill for the 51- to 76-mm hole-diameter range in drifting, tunneling and extension drilling applications. According to the company, the new drill's proven dual-damping system ensures that the bit maintains constant contact with the rock, re-tightening drillstring joints between each impact. This technology allows the rock…. read more

Software Extends 3D Environment - Encom's recently released Discover 3D 2.5 for MapInfo Professional delivers to geoscientists a range of productivity tools and enriched interactive 3D display capabilities. Discover 3D provides tools for interactive analysis of drillholes, trenches, profiles, mine models, terrain, geochemistry, geophysical models, topography and geological sections directly linked to a user's GIS work environment. Visualization enhancements include.…… read more

4100C BOSS Features Centurion AC Drive - P&H Mining Equipment recently introduced the 4100C BOSS with Centurion AC drive to the oil sands producers operating in northern Alberta, Canada, following a two-year project to integrate current AC technology with the advanced P&H Centurion supervisory control system. P&H MinePro Services Canada personnel commissioned the new AC-drive shovel in March 2007 and performance immediately exceeded customer expectations…. read more

Top

Updated Rigid-Body Mine Truck - Komatsu America Corp. recently released its HD1500-7 truck to the international mining market. The truck's standard turbocharged Komatsu SDA12V160 diesel engine delivers 1,487 hp (1,109 kW) at 1,900 rpm, and an optional SDA16V159 engine offers North American customers U.S. EPA Tier 2 certification. Nominal payload is 158 t (143 mt). Komatsu says the HD1500-7 provides 4% more horsepower.…… read more

Flowmeters are Viscosity- Insensitive - Universal Flow Monitors says its L Series viscosity-insensitive flowmeters assure delivery of circulating lubrication oil to machinery bearings in high-vibration applications such as mining, ore processing and rock crushing. These piston-style flowmeters maintain +/- 5% accuracy for lubrication oils with a viscosity range between 40 and 200 centipoise. Although operating in the 40–200 CP viscosity range is standard…. read more

Mine-Duty Steam Cleaner - Sioux Corp., a manufacturer of all-electric pressure washers and steam cleaners, has introduced the Model EN-290-H8-3000 for mines, which includes a heavy-duty frame with bumpers to guard the machine in tight spaces and a cover to protect it from falling debris. The pressure washer features dual water filters to extend the life of each individual filter. A clutch increases the life of the machine by allowing the pump to idle while the gun is not in use…. read more

Safety Glasses Work Better with Earmuffs - FullPro says its SoundVision safety glasses offer an advantage over ordinary safety glasses which can break earmuff seals, causing pressure points against the skull and reducing protection. SoundVision eliminates the pinching and improves protection by 3-7 decibels by attaching to the outer surface of earmuffs with flexible…. read more

Top

Dual-Frequency GPS Receiver for Specialty Monitoring Applications - Leica Geosystems' GMX902 GG is a highperformance GPS + GLONASS receiver developed to monitor sensitive structures, such as mines, and crucial topographies such as landslides. Leica says the receiver provides dual frequency code and phase data up to 20 Hz, enabling precise data capture as the basis for accurate position calculation and motion analysis. As with the other receivers in the GMX900 family, the GMX902 GG is designed and built purely for monitoring applications….read more

Compact Gearboxes- Turkish manufacturer Yilmaz Reduktor is offering a new range of "power dense" worm gearboxes. Manufactured to ISO 9001 standard, the units offer output torque up to 2,600 Nm from a very small envelope, using a one-piece monoblock housing and optimized worm gear pair…. read more
DECEMBER 3-7, 2007: Northwest Mining Association's 113th Annual Meeting and Exposition, Spokane, Washington, USA. Contact: Northwest Mining Association; Tel.: 509-624-1158; Fax: 509-623-1241; E-mail: nwma_info@nwma.org; Web: www.nwma.org

JANUARY 17-20, 2008: IME 2008 Exhibition and 2nd Asian Mining Congress, Kolkata, India. Contact: The Mining, Geological & Metallurgical Institute of India; Tel: 91(33) 23573482; Fax: 91(33) 22435653; E-mail: mgmi@cal2.vsnl.net.in; Web: www.indianmining.com

FEBRUARY 5-6, 2008: Conference on Minerals Engineering, Luleå Technical University, Luleå, Sweden. Contact: Bertil Pålsson, Mineral Processing Division, LTU; Tel: 46 920 491314 Fax: 46 920 97364; E-mail: Bertil.Palsson@ltu.se

MAY 14-15, 2008: The Canadian Mining & Industrial Expo 2008, Sudbury, Ontario. Contact: Darren Ceccarelli; Tel: 705-929-7469; Fax: 705-525-0626; E-mail: dac@vianet.ca; Web: www.dacshows.com

JUNE 9–11, 2008: MASSMIN 2008–5th International Conference & Exhibition on Mass Mining, Luleå Technical University, Luleå, Sweden. Contact: Prof. E Nordlund; E-mail: info@massmin2008.com; Web: www.massmin2008.com

For a full calendar of mining industry conferences and events - click here

Alcoa Inc. has named Klaus Kleinfeld president and COO

Frontera Copper Corp. announced the appointment of Alan Edwards as president, CEO and a director on the board. He replaces Gary Loving who retired.

Top

Banro Corp. recently announced a number of senior appointments. Michael Prinsloo has been named CEO; Daniel K. Bansah, Mineral Resource manager, has been promoted to vice-president Exploration; Dr. Howard Fall, chief geologist, has been promoted to exploration manager; Desire Sangara, administrative manager, has been promoted to vice-president Government Relations; and Donat Madilo, treasurer, has been promoted to vice-president Treasury. Bansah replaces Michael Skead, who has resigned from the company.

Boliden AB's CEO, Jan Johansson, recently announced that he is leaving the company and accepted the position as CEO at SCA.
The Department of Mines and Mineral Resources has named Dr. Jan C. Rasmussen curator of the Arizona Mining and Mineral Museum.

Vista Gold Corp. announced the promotion of Frederick H. Earnest to president and COO.

The Chamber of Mines of South Africa announced that Dr. Vincent Maphai has been appointed a vice-president.

GZA GeoEnvironmental, Inc. has named Robert J. Palermo to the executive committee of the Underground Construction Association of the Society for Mining, Metallurgy and Exploration.
About - providing an abreviated version of the current print edition of E&MJ, WOMP is distributed throughout the world to decision makers in the global mining industry, the last week of every month.

Subscribe to E&MJ - To receive your own copy of the print edition of E&MJ, click here , and complete your details. E&MJ is available free of charge to qualified readers.

Contact - if you have views, opinons or comments or editoral that you would like to submit, we would be delighted to hear from you - click here

Top