Features

EXPLORATION
More efficient, but more expansive!
Spending is at an all-time high, technology is rapidly advancing—and costs are rising............read more
by Russell A, Carter, Managing Editor

SURFACE MINING
Safford Moves Toward Startup
Phelps Dodge's newest mine is progressing on schedule....read more

SAMPLING & ANALYSIS
Customers Benefit from Metso's research
...able to obtain fast results for a difficult processing problem at Metso Minerals.......read more.

SLOPE STABILITY
Stabilizing Influence
With worker safety and overall productivity at stake, mines are paying more attention......read more.

SUPPLIERS REPORTS
Sandvik Adopts New Strategy
In a relatively short period of time (10 years), Sandvik has developed into.....read more.



To update your details or renew your current print subscription or to receive your own edition of the print version of E&MJ -

CLICK HERE

An Exonerated An Exonerated Ness Files Lawsuit Against The New York Times - During late April, an Indonesian court ruled that PT Newmont Minahasa Raya, a subsidiary of Newmont Mining Corp., and its President Rick Ness are innocent of all criminal charges of pollution and regulatory violations. Ruling on evidence presented during the 21-month trial–one of the longest criminal proceedings in Indonesian history–the court held that Buyat Bay is not polluted. It further found, as Minahasa contended, that the company was in compliance with all regulations and permits during its eight years of operations from 1996 to 2004.
"I'm thrilled that after nearly two and one-half years of false allegations, my name, and that of my fellow employees, has been cleared and our reputations restored," said Ness. "This is a victory for everyone who believes in justice ........ read more

Steve Fiscor, Editor in Chief

Sherritt Bids for Dynatec - On April 20, 2007, Sherritt International and Dynatec Corp. announced an agreed, all-share offer by Sherritt for Dynatec that valued Dynatec at about C$1.6 billion. Both companies are Canadian. Sherritt's primary objective in making the offer is acquisition of what will be Dynatec's 40% interest in the Ambatovy laterite nickel project in Madagascar. Dynatec currently is 45% owner and operator at Ambatovy. Sumitomo Corp. and Korea Resources Corp. each own 27.5%. Korea Resources is leading......... read more

NovaGold, Teck Cominco to Partner on $2B Galore Creek Project Development - NovaGold Resources Inc. and Teck Cominco Limited announced the formation of a partnership that will invest $2 billion to build the Galore Creek copper-gold mine in northwestern British Columbia (See E&MJ, April 2007, p. 8, "Galore Creek Receives Environmental Certificate.") On closing of the transaction, NovaGold and Teck Cominco will each hold a 50% interest in the partnership. To earn its 50% interest in the Galore Creek partnership, Teck Cominco will fund approximately $478 million....... read more

Top

CVRD Boosts Its Planned 2007 Capital Spending to $7.35 Billion - CVRD increased its 2007 capital-spending budget by about $1 billion to $7.351 billion as of late April 2007, up from a planned $6.334 billion announced in January (E&MJ, March 2007, p. 18). CVRD Inco's Goro laterite nickel project in New Caledonia is the largest beneficiary of the increase, with 2007 spending on the project now planned at $938 million, up from an earlier total of $680 million. Goro will produce 60,000 mt/y of finished nickel and... read more

Study Looks at Risk Management Challenges in Mining Industry - The world's largest mining houses believe embedding risk management throughout their organizations is the key risk challenge in the next three to five years, according to a recent report. Attitudes to Risk in the Global Mining Sector, an Ernst & Young survey of most of the top 40 global mining houses, shows that a significant number of respondents (29%) nominated embedding risk management as the key future challenge. The report on the global....read more

De Beers Launches South Africa's First "Mine on a Ship" - Cape Town, South Africa, in late April, De Beers celebrated the naming and blessing of Peace in Africa, the first marine diamond mining vessel to operate in South African waters.
The company will mine for marine diamonds in the Atlantic, off Namaqualand in the Northern Cape Province. The company described the launching of Peace in Africa as the culmination of 23 years of exploration and ...... read more

Top

Anglo American Adds Latin American Assets - In late April 2007, Anglo American announced plans for two acquisitions having a combined value of more than $1.55 billion that have the potential to add significantly to the company's minerals production in Latin America. On April 23, Anglo agreed to acquire a 49% interest in the Minas-Rio iron ore project in Brazil through transactions valued at $1.15 billion. On April 30, in Peru, Anglo won a government auction of the Michiquillay copper project with a bid of $403 million... read more
Cameco Discusses Cigar Lake Flood Remediation - Cameco Corp. has provided three reports on the aftermath of the flooding that stopped underground development at the Cigar Lake uranium project in northern Saskatchewan on Oct. 23, 2006. On March 30, 2007, the company released a 173-page Technical Report prepared in compliance with Canada's National Instrument 43-101; on April 28, in its report on first-quarter 2007 financial results, the company summarized progress being made to restore the underground workings at Cigar Lake.... read more

PotashCorp Will Spend $775 Million on Cory Expansion - Potash Corp. of Saskatchewan announced that it will begin a major de-bottle necking and expansion project that will increase potash production at its Cory, Saskatchewan, Canada, operation by 1.2 million metric tons (mt) from 2006 levels. The project will cost approximately $775 million, which includes $70 million for 750,000 mt of new compaction capacity....read more

Top

Lake Shore Gold Moves Ahead on Timmins West Project - Lake Shore Gold Corp. said it has received notice of acceptance of its certified closure plan for the Timmins West project from the Ontario Ministry of Northern Development and Mines (MNDM). Acceptance of the plan by MNDM was necessary before the company could start advanced exploration or mine production. The closure plan is an environmental review of the project, describes measures to rehabilitate the site, and provides financial assurance for the rehabilitation. Lake Shore now can....read more

Report Terms Conditions Favorable to Start Canariaco Norte Cu Project - Candente Resource Corp. reported that an updated Preliminary Economic Assessment (PAEE) completed by MineFill Services, Inc. for its Canariaco Norte porphyry copper deposit in northern Peru shows robust economics for a starter pit, which the company said represents only about 10% of the entire known deposit. According to the company, the Canariaco Norte deposit hosts a total resource of 820 million mt, grading an average of……read more

Codelco Gives Salvador Division a Reprieve - Codelco CEO José Pablo Arellano told a news conference recently that the Chilean state-owned mining company's Salvador Division, slated to shut its oxide operations in 2008, will instead continue to mine and process oxide ore through 2010. Arellano said the decision was based on technical and financial considerations supported by an opportune hedging operation. "This decision will benefit both Codelco and local stakeholders and boost the proceeds we deliver to all Chileans." The Salvador Division produces…. read more

Top

Mundo Minerals Announces Go-Ahead for Brazilian Gold Mine - Mundo Minerals recently received board of directors approval for the development of its 100%-owned Engenho gold project in Brazil and the acquisition of the advanced Torrecillas gold project in Peru. The Perth, Australia-based company said it plans to fast-track the development of Engenho towards first production by late March/early April in 2008—slightly ahead of its original schedule…. read more



2006 Record Earnings Year for Rio Tinto, Fueling Global Growth - Solid global demand and high prices coupled with a strong operating performance in challenging conditions resulted in a third successive year of records earnings and cash flow, the chairman of Rio Tinto told the company's annual meeting of shareholders in London in mid-April. "In 2006, we achieved underlying earnings of more than $7 billion…. read more


Exploration Spending Increased in Australia During 2005-2006 - A recent report in Minfo, a periodical published by the New South Wales Department of Primary Industries, indicated that national exploration spending in Australia during 2005-2006 rose by 20.6% to a record A$1.240 billion. Spending increased in all jurisdictions except Western Australia where a 3% drop occurred, but Western Australia remained dominant…. read more

Top

Jinshan Begins Engineering Study for Expansion of Its CSH 217 Mine - Jinshan Gold Mines has initiated an engineering study to expand projected gold production at its 96.5% owned CSH 217 gold mine to approximately 180,000 oz/y. Jinshan is on schedule to commence commercial gold production in July 2007, starting at an initial production rate of 117,000 oz/y. The expansion study, being prepared principally by KD Engineering Inc., is designed to incorporate the mining of measured and indicated resources in the …. read more


Alcan, Ma'aden to Develop $7-Billion Aluminum Complex in Saudi Arabia - Alcan announced on April 30, 2007, that it has signed a Heads of Agreement with Saudi Arabian mining company Ma'aden to develop a proposed $7-billion integrated aluminum "mine-to-metal" project including bauxite mining, alumina refining, power generation and aluminum smelting. Alcan would hold a 49% stake in the project and would provide technology and operating management support …. read more



BHP Billiton Buys One-Third Stake in Guinea Bauxite Project - BHP Billiton in late April announced the acquisition of a 33.3% interest in Global Alumina's Sangaredi refinery project in Guinea, West Africa, for $140 million. The project comprises the design, construction and operation of a 3-millionmt/ y alumina refinery, 9-million-mt/y bauxite mine, and associated infrastructure. A mining concession covering 690 km2 has been secured and a mineral resource of 233million mt bauxite (at 39% Available Alumina and 1% Reactive Silica) has been reported. This is considered sufficient to support the development, but further exploration work…. read more


Angloplats to Establish Center for Miner Training - Anglo Platinum approved funding for a R283 million ($39.6 million) Mine Training Center to be located at its Twickenham mine property to serve the social and labor requirements of its new mining projects. Construction will begin in June 2007 with the first trainees expected to be enrolled in 2008. The Mine Training Center will accept 2,000 new trainees per year and will supply trained employees to new and existing mining projects on the Eastern Limb of…… read more

Top
Coal & Allied Announces Production Cutback- Coal & Allied has announced production cutbacks at its three Hunter Valley, New South Wales, sites. Port and rail allocations will be reduced for the remainder of 2007. Coal & Allied Managing Director Douglas Ritchie said the cutbacks were unavoidable given the reduction in allocation levels. "We need to reduce our total production this year by approximately 20% to adapt to these revised allocation levels," Ritchie said. "The changes are being implemented to bring our production levels into line with…. read more

Xstrata Coal Makes an Offer for Gloucester Coal- Xstrata Coal announced that it has entered into an agreement to acquire Gloucester Coal Ltd. for A$391 million. Gloucester Coal's operations further extend the life of Xstrata's New South Wales mines, with good potential to add to the resource and reserve base through near-mine exploration and further resource conversion. "Our ability to blend thermal coal production from Xstrata's existing Hunter Valley mines with Gloucester Coal's thermal coal product, together with the addition of a high-fluidity coking coal to our portfolio…... read more

Top

China's Coal Imports Hit New High - Chinese coal imports for the first quarter of 2007 exceeded exports for the first time. Fuelled by a need to power its robust economy, the world's largest coal producer is expected to import more and more coal in the near future. China might see a rise in prices within the next two years despite them rising sharply last year. The country imported 14.3 million metric tons (mt) of coal in the first…... read more


Rail Capacity Limits Richards Bay Expansion - Rail utility Spoornet would not have sufficient capacity on the rail line to the Richards Bay Coal Terminal (RBCT) by 2009 to meet the port's expanded export capacity, Business Day recently reported. The shareholders of RBCT, who include Anglo Coal, BHP Billiton Energy Coal SA and Xstrata, announced last year they had committed R1.1 billion to expand the port's capacity by 19 million metric tons (mt) to 91 million mt of coal a year by…... read more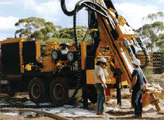 Exploration 2007: More Efficient, But More Expensive
Spending is at an all-time high, technology is rapidly advancing—and costs are rising.....

By Russell A. Carter, Managing Editor

As with most activities currently associated with mining, mineral exploration spending was up—way up—in 2006 and all indications are that this year's total will reach another record level, riding an economic wave spawned by a perfect storm of industry trends that include continued high demand for mineral commodities, a shrinking pool of large new ore body discoveries, and higher expenses due to sharply increased labor and material costs……. read more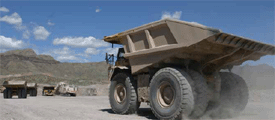 Safford Moves Toward Startup

Phelps Dodge's newest mine is progressing on schedule

By Russell A. Carter, Managing Editor

After more than 10 years of planning, permitting, land negotiations and hoping for an upturn in the price of copper, Phelps Dodge Mining Co. is rapidly advancing its Safford project—billed as the largest new copper mine built in the United States in over 30 years—toward completion on the site of a defunct underground mine. According to the company, Safford is on schedule for initial copper production in early 2008. Located 8 miles north of the town of Safford, at the base of the Gila mountain range in eastern Arizona, the open-pit mine site will encompass about 3,000 acres...... read more

Top

Customers Benefit from Metso Minerals' Research and Test Center
An Australian company was able to obtain fast results for a difficult processing problem at Metso Minerals' unique crushing and screening test facility....

Queensland Energy Resources Ltd. (QERL), based in Queensland, Australia, is an energy development firm that has set out to do what no other company has done—develop a commercial-scale oil shale production facility. Oil shale is a fine-grained sedimentary rock that contains oil in the form of a chemical compound called kerogen. A thermal process, commonly known as "retorting," is used to extract this compound from the shale. During retorting, the shale is heated to 500°C where the kerogen forms hydrocarbon vapor, which is then condensed…... read more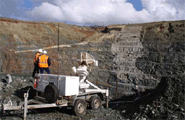 Stabilizing Influence
With worker safety and overall productivity at stake, mines are paying more attention than ever to slope stability concerns. New technology can provide most of the answers.

Slope stability is just one of many facets of surface mining that require a clear balance between safety and finance—with steep pit slopes generally favoring enhanced economics and shallower slopes more amenable to worker and equipment safety— but it's also one of the few elements of mine design for which inattention, incorrect calculations, inclement weather or even just bad luck can result in such spectacular and often calamitous results. Few companies engaged in surface mining are immune from slope stability problems of varying severity..... read more

Top


Sandvik Adopts New Strategy to Deal with the Modern Mining Business
In a relatively short period of time (less than 10 years), Sandvik has developed into one of the world's most complete suppliers of equipment and solutions to the mining and construction industries

Acquisitions played a major role in that growth. At one point the company had as many as 23 brands, including many famous mining brands such as Tamrock, Toro, EJC, Voest- Alpine, Driltech, Mission, etc. Naturally, the company had an enormous presence at bauma 2007, which was held in Munich during April. It used that venue to explain the company's new strategy and the rationale behind its brand consolidation. With 42,000 employees operating in 130 countries, Sandvik had SEK 72 billion ($10.1 billion) in sales last year. The company is divided into three distinct areas..... read more
Underground Miner Emergency Shelter - Strata Products' Portable Fresh Air Bay is designed to provide 96 hours of breathable air to trapped miners. The bay is a portable, inflatable refuge chamber that can be inflated and filled with fresh air as it is deployed. Medical-grade oxygen cylinders and a CO2 scrubber maintain the fresh breathable air inside…. read more

New Features for Tunnel Rigs Add Accuracy, Analysis and Safety- Atlas Copco has added a number of options to the list of features available on the Rocket Boomer E-series, the company's series of face drilling rigs for medium to large tunnels. Rigs now can be delivered with upgraded Tunnel Manager software, a new rod handling system specially designed for the rig series, and Atlas Copco's Tunnel Profiler scanning system. Atlas Copco offers three upgraded packages of its Tunnel Manager software, designed to provide informative and intelligent data support for drifting and tunneling…. read more

PC-Based Similator Trains Mining Truckers - Simlog Inc. recently introduced an economically priced, PC-based off-highway truck simulator for the mining industry. The Montreal, Canada-based company's Off-Highway Truck Personal Simulator incorporates Simlog's "unique focus on instructional design to provide a comprehensive yet portable training tool that knows how to teach," according to Paul Freedman, Simlog founder and president. A total of six simulation modules of increasing difficulty are provided to bring trainees up to speed…… read more

LeTourneau's Mine Site Training Programs - Electric-wheel loader manufacturer LeTourneau offers onsite training programs that comprise of three levels: basic machine familiarization; practical applications and general digging theories, providing the skills needed to operate the machine in a variety of working conditions more productively; and an advanced course using tools such as benchmarking and other data collection to help design a digging style…. read more

Top

Terex O&K Unveils New Hydraulic Excavators- Terex O&K recently released two new hydraulic excavators: the RH 340-B and the RH 70. The mining-class RH 340B— successor to the popular RH 340, — is available in both front shovel and backhoe configurations, each powered by twin Caterpillar 3512C or optional Cummins QSK 45 diesels, with both options delivering 2,240 kW (3,000 hp). The new model features a more powerful hydraulic system with higher-capacity…. read more

Laser-Scanning Robot Runs Underground Surveys - U.K.-based 3D Laser Mapping has developed a laser-scanning robot to provide a mobile electronic eye in hazardous environments, including underground mine spaces. The robot, named 3D-R1, employs state of the art laser scanning units combined with wireless communications and advanced robotic technology that allows a 3D map of the surrounding area to be created…. read more

Conveyor Accessories for Improved Efficiency- Superior Industries has unveiled several products to enhance conveyor efficiency and safety. The Sentinel belt speed sensor is intended to alert an operator when there is a conveyor belt problem. The sensor— which will indicate if the belt is slipping or if it has stopped moving due to breakage or other problems—does not require installation of extra rolls and easily mounts onto any CEMA rated idlers or return rolls…. read more

Top

Outotec Exhibits Flotation Advances- Outotec, formerly Outokumpu Technology, exhibited some significant innovations in its flotation technologies for delegates at the AusIMM 2007 Mill Operators' Conference held in March 2007 in Perth, Australia. The enhancements to TankCell technology— including FloatForce and Flow- Booster features—were outlined by Outotec at showings of a 300-m3 TankCell, the world's largest mechanical flotation cell….read more

ABB's Drives Power Cerro Verde's Grinding Line Expansion- ABB's mineral business unit recently noted that the start-up of copper concentrate production at the Cerro Verde copper sulphide expansion project in Peru began at year-end 2006, assisted by installation of ABB-supplied drives for the mine's ball mills and high pressure grinding rolls. According to ABB, the Cerro Verde order was valued at more than $41 million and was placed by…. read more
JULY 23-27, 2007: 62nd ABM International Annual Congress, Vitória, Espírito Santo, Brazil Contact: Associacção Brasileira de Metalúrcia e Materias ABM; Tel: 55 11 5534 4333; Fax: 55 11 5534 4330 E-mail: marli@abmbrasil.com.br; Web: http://www.abmbrasil.com.br

AUGUST 23-24, 2007: New South Wales Mineral Exploration and Investment Conference, Sydney, Australia Contact: Kelly Alert, NSW Department of Primary Industries; Tel: 61 2 8289 3929; Fax: 61 2 9286 3208; E-mail: kelly.allert@-dpi.nsw.gov.au; Web: http://www.dpi.nsw.gov.au

SEPTEMBER 9-13, 2007: Dam Safety '07, Austin, Texas, USA Contact: Association of State Dam Safety Officials; Tel: 859-257-5140; Fax: 859-323-1958; E-mail: info@damsafety.org;

SEPTEMBER 10-14, 2007: Extemin 2007, Lima, Peru Contact: Mariel Sovero; Tel: (51-1) 313-4160; Fax: (51-1) 313-4160; E-mail: msovero@iimp.org.pe

SEPTEMBER 12-14, 2007: International Symposium on Rock Slope Stability, Perth, Western Australia. Contact: Australian Center for Geomechanics; Tel: 618 6488 3300; Fax: 61 8 6488 1130; Web: http://www.slopestability.com

For a full calendar of mining industry conferences and events - click here

The Canadian Institute of Mining, Metallurgy and Petroleum announced the appointment of Jim Gowans, president and CEO of De Beers Canada Inc., as president - elect of the institute

E. James Comer has been named the 2007 John E. Willson Distinguished Alumnus Award winner. Most recently, Comer was mine manager for the Coal Creek mine, Arch Coal Inc. He retired in January of this year after serving 38 years in the mining industry. His career spans both underground and surface mining of metals and coal, with extensive experience in mine operations, mine development, engineering support, and management. The Willson Award was established in 2000 to recognize graduates of the University of Utah's mining engineering program who have set a high standard of accomplishment in the mining industry. Comer is a 1969 graduate.

Top

Bass Metals Ltd. announced the appointment of Lee Henley as the company's financial controller.

Larry C. Giffin has announced his retirement as president of Stedman after serving in the position since 1984. He will continue to work with the company as a consultant. The company announced the promotion of Dennis M. Gilmour to president.

Cambrian Mining recently announced the appointment of Mark Alexander Burridge as chief executive. He succeeds John Byrne who will become executive chairman.

Minco Silver Corp. appointed Dwayne Melrose to the position of VP, Exploration, for the Minco Group of companies.

Cattron Group International announced that Laércio Neves, general manager of Cattron-Theimeg Americas Ltd., will assume responsibility for managing South American marketing and sales.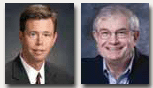 ESCO Corp. recently announced that Cal Collins, former vice president of Administration, Secretary and General Counsel, has been named group VP, Engineered Products, North American Operations. The company also announced that Pat Fonner, former vice president, has been named group VP, Engineered Products, Global Sales and Marketing.
About - providing an abreviated version of the current print edition of E&MJ, WOMP is distributed throughout the world to decision makers in the global mining industry, the last week of every month.

Subscribe to E&MJ - To receive your own copy of the print edition of E&MJ, click here , and complete your details. E&MJ is available free of charge to qualified readers.

Contact - if you have views, opinons or comments or editoral that you would like to submit, we would be delighted to hear from you - click here.

Top