Safford Moves Toward Startup
Phelps Dodge's newest mine is progressing on schedule
By Russell A. Carter, Managing Editor
---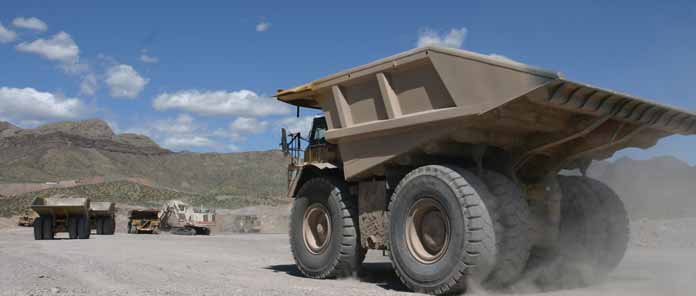 Caterpillar 793D haulers line up at Phelps Dodge's Safford heap leach project, as a Terex O&K RH 340 hydraulic excavator and Cat 994 loader fill in
during a maintenance break for the mine's main rope shovel.

After more than 10 years of planning, permitting, land negotiations and hoping for an upturn in the price of copper, Phelps Dodge Mining Co. is rapidly advancing its Safford project—billed as the largest new copper mine built in the United States in over 30 years—toward completion on the site of a defunct underground mine. According to the company, Safford is on schedule for initial copper production in early 2008.

Located 8 miles north of the town of Safford, at the base of the Gila mountain range in eastern Arizona, the open-pit mine site will encompass about 3,000 acres of the more than 36,400 acres of private property owned by Phelps Dodge in the district plus numerous mining claims on surrounding lands. Under terms of a 2005 land exchange with the U.S. Bureau of Land Management, Phelps Dodge acquired 16,297 additional acres of public land adjacent to the property in exchange for 3,867 acres of environmentally sensitive land at various state locations. [Editor's note: On March 19, 2007, Phelps Dodge Corp. became a wholly owned subsidiary of Freeport-McMoRan Copper & Gold Inc. See E&MJ, April 2007, p. 30, "Industry's M&A Wave Rolls On."]

The mine will extract copper from two porphyry deposits containing leachable oxide (mainly chrysocolla and copperbearing iron oxides) and secondary sulphide mineralization (mostly chalcocite). The company's most recent report pegs Safford's reserves at 626 million tons of ore with an average grade of 0.36% copper, adequate to support a projected mine life of 18 years.
The project was approved by Phelps Dodge's board of directors in February 2006, and the company began site preparation on June 12, 2006, and phased into full construction mode after receiving their final environmental permit the following month. Blasting started in September 2006.

At the time of E&MJ's visit in late April, engineering and procurement for the project were both within a few percentage points of completion and construction was 42% finished, with the mine's truck shop, primary and secondary crusher stations and agglomeration plant at various stages of completion and steel erection under way for the hydrometallurgical facility. Fluor Corp. handled project design and engineering as well as procurement and construction management services. Aker Kvaerner Industrial Constructors, Tucson, Arizona, was awarded an $80 million contract in July 2006 to install the mine's crusher, conveyor, solution extraction electrowinning (SX-EW) facility and other infrastructure. The project's capital cost is estimated at $580 million.

Trucks from Bagdad, Shovels from Morenci
Safford's haulage fleet will eventually comprise 17 Caterpillar (Cat) 793D 260- ton-capacity rigid-body trucks, taken out of service at Phelps Dodge's Bagdad mine. Bagdad, a mature mine with a deep pit and accordingly steep and long haul routes, will get a new fleet of Cat 793E trucks and the company will benefit from the lower cost of having the D models refurbished by Cat dealer Empire Southwest for service at Safford with new frames, cabs and truck bodies.

"One of the nice things about new mines is that generally you don't have to haul far, or haul uphill," noted Edward L. Fidler, mine manager. Each of Safford's 793s is equipped with Cat Mine Specific Design (MSD) II truck bodies, as well as with cameras showing views to the rear, blind side and under the truck. The mine also has three Cat 789s, which have been used on mass-earthworks haulage tasks at the site but will be converted to water trucks once construction is completed.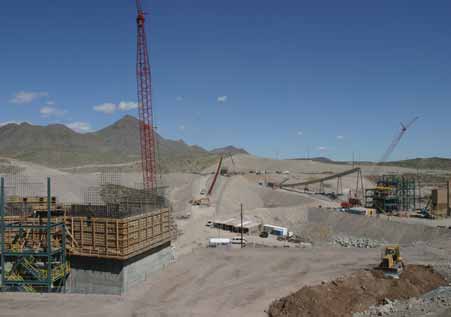 Work is progressing on the mine's crusher station, at left of photo; crushed ore stockpile,
center; and secondary screening plant, right.

The mine will have an enclosed, airconditioned truck service facility on site. However, with just three internal bays and one external lane, "we'll have to plan our maintenance schedule carefully," said Fidler. Empire Southwest will handle most truck maintenance responsibilities. Safford will share truckoperator training time on the Morenci mine's Immersive Technologies truck simulator, which also can be converted to a shovel simulator.

Safford currently has one P&H 2800XPB electric rope shovel, previously in service at Morenci, and eventually will add four more 2800XPBs equipped with 44-cu yd-capacity buckets from Morenci after the shovels are refurbished by P&H MinePro Services. The redeployment of equipment is part of an overall company policy to standardize major equipment at its various operations, thus reducing maintenance and warehousing requirements and costs. After transferring its 2800 series shovels to Safford, Morenci will standardize its shovel fleet with various versions of the P&H 4100 series. Safford also has been using a Terex O&K RH 340 hydraulic excavator as a backup during shovel downtime, along with a Cat 994 loader.

The mine will employ sophisticated video technology to monitor the condition of its shovel buckets and prevent downstream equipment damage from broken teeth. ToothMetrics, a preventative vision system developed jointly by a branch of the Alberta (Canada) Research Council and Motion Metrics International Corp. of Vancouver, British Columbia, works by applying image processing algorithms to live video shots of the shovel bucket taken by a camera installed on the shovel arm. The "tooth line" is analyzed on each upswing of the shovel arm during the dumping cycle and compared against a base case scenario for a fully intact tooth line. When the system detects a tooth is partially or completely broken off, it automatically alerts the shovel operator both visually (via an industrialgrade touch screen LCD) and audibly (via a buzzer alarm).
Safford's secondary/tertiary crushing plant will include six Metso MP1000 cone crushers.

All shovels, excavators, loaders and bulldozers are equipped with Cat's CAES machine guidance system. According to Fidler, certain mass-earthworks jobs at the site, such as excavation and final grading of the mine's storm runoff catch basin, were completed using just CAES without need of conventional surveying. Additional equipment includes three Atlas Copco Drilling Solutions Pit Viper 271 blasthole drills.

The mine will use an "open" mesh radio system that will allow the company to install any compatible communications technology that it chooses, rather than being tied to a specific proprietary system. A Modular Dispatch mine traffic management system will eventually be installed, along with a mine-wide control room.

Copper from a Compact Arrangement
For a mine that eventually will include two open-pits, Safford will be a relatively compact operation. Dos Pobres, the first of the two, will be circular in shape with a diameter of approximately 4,200 ft and a final depth of 1,400 ft. The San Juan pit, where mining will begin in two- to three-years, is about 1 mile from Dos Pobres and will measure 5,000 ft by 3,800 ft with a final depth of 1,000 ft. Pit ramps will not exceed 10% grade, and for the short term, all hauls at Dos Pobres will be flat or downhill.

A major fault transects the Dos Pobres deposit, with material to the northeast of the fault mineralized, while material to the southwest is not. The two deposits will have roughly similar mining characteristics, with Dos Pobres' slightly higher strip ratio and ore grade balanced by San Juan's lower ore grade but lower strip ratio.

At full production the mine will move 300,000 t/d of material, of which roughly 145,000 t/d will be ore. About one-quarter of non-waste material will be run-of-mine ore that will be sent directly to the leach pad; 114,000 t/d of higher-grade ore will be crushed and agglomerated before placement on the pad. Over the course of the mine's project life, an estimated 471.6 million tons of material will be crushed.

Fidler explained that, to reduce capital and operating costs, the company's philosophy calls for achieving a high level of ore fragmentation through blasting rather than crushing. In the early stages of pit development, the mine currently is employing 50 to 150 holes per blast, using ANFO in 9-7/8-in.-diameter holes, initiated by electronic delays for precise sequencing. Blasting contractor Southwest Energy conducts a turnkey blasting program for the mine, priming, loading, stemming and finally initiating blasts upon mine approval. Southwest Energy will also have the capability to blend emulsions on site for special requirements, and will handle blasthole dewatering as required.

In line with the mine's intention to optimize ore fragmentation by blasting, Safford's dual-dump primary crusher station is equipped with a mediumsized Metso 48 x 60-in. C160 jaw crusher, rated at 600 hp. Minus 8-in. run-of-mine ore delivered to the crusher will be reduced to minus 6-in. size, conveyed to a coarse ore stockpile, reclaimed by a triple set of feeders and sent to a secondary screening plant. Oversize from the screens will report to two Metso MP1000 cone crushers at the secondary/tertiary crushing plant, with smaller particle sizes going directly to a bank of four MP1000s for tertiary crushing. A series of conveyors will then transport the crushed material, comprising 80% particles smaller than 0.57 in., to the agglomeration plant, where it will be treated with up to 26 lb of sulphuric acid per ton. Acid for Safford operations will initially come from Phelps Dodge's Miami, Arizona, smelter.
A forest of cranes, ranging from 50- to 250-ton capacity, populates
the mine's staging and assembly area.

Agglomerated ore is conveyed about 7,000 ft to the leach pad area, which will be constructed in three phases: In years one through five, the pad will grow to encompass 14.3 million sq ft, reaching 270 ft high; years six through eight will add another 11.9 million sq ft and bring the pad to the 270-ft elevation on the opposite side; and from years nine through end of mining, the pad will be raised in 12 30-ft lifts to a final maximum height of 600 ft. Once on the pad, the material will be irrigated for 90 days of the overall 120-day leach cycle, generating a pregnant-liquor flow rate of 19,800 gal/min at full production. The mine's anticipated leach recovery rate is 62% for all material placed.

The leach pad will be built on a clay base covered by a geomembrane, above which will be drainage piping, 2 ft of crushed rock, and a layer of ROM material to act as a cushion against damage from mobile equipment and to promote solution drainage from the pad.

Material will be distributed on the pad by a Super Portable Stacker system built and installed by Terra Nova Technologies (TNT), a subsidiary of AMEC based in San Diego, California. The stacker, or elevating conveyor, is equipped with an operator's cab and has twin, powered, steerable, axle units with high-flotation tires that permit it to slew in an arc around a hitch pin on a horizontal conveyor.

The stacker has a hydraulically operated, 20-ft-long extension or "stinger" conveyor, which the operator retracts as the stacker completes each row of new material. When the last row of ore is stacked and the stinger is fully retracted, the stacker and horizontal conveyor will retreat to a new position and the operator will extend the stinger again for the next lift.

Safford's SX-EW facility will include a single train consisting of three extraction stages and one stripping stage. The extraction stages are configured as series parallel, convertible to three parallel. Tankhouse current density will be 34 amp/ft2. Annual production will be 240 million lb of cathode copper.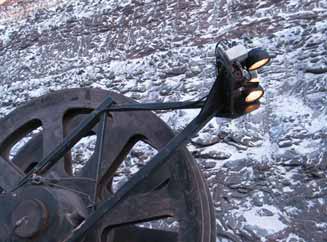 All of Safford's rope shovels will be equipped with the ToothMetrics system—shown
in the top photo mounted on a P&H shovel—to monitor bucket-tooth status and
prevent downstream damage from tramp metal. All components of the system are
shown in the bottom photo.

Water from Wells—and a Shaft
Although the Safford mine is located in an arid environment that receives only about 10 in. of precipitation annually, the company has taken steps to control storm runoff water, beginning with a preemptive investment of several million dollars for construction of diversion structures in the foothills above the mine to prevent runoff from even entering the site, as well as an enormous (390 acre-feet plus freeboard) overflow pond designed to contain more than twice the volume of stormwater runoff and solution draindown resulting from a 100-yr/24- hour storm event and a concurrent 24-hr power outage. Industrial and potable water is provided by on-site wells; in fact, one source of process water is the existing shaft from a defunct underground mine that was developed during the 1970s but succumbed to low copper prices in the early 1980s before reaching production. Initially, the company intended to leave the old headframe in place as a sentimental tribute to earlier mining efforts, but the need to extract usable water from the underground workings required removal of the structure to install a pump in the shaft.

During construction, the project will have as many as 1,000 workers on site, averaging about 650 over the course of that phase. When in production, Safford will employ about 390 full-time workers, plus roughly 100 contractor and vendor personnel. The mine will use a four-day-on, four-day-off, two 12-hr-shift schedule.

Against the backdrop of the current copper boom and its effects on mining activity in the region, Fidler acknowledges that one of the mine's biggest challenges will be to find experienced or trainable workers to become equipment operators, not to mention skilled tradespeople such as electricians, welders and pipefitters. In addition to the $250-million Morenci mill restart and concentrate leach project—which is expected to start up in the third quarter of this year—there are a number of other copper projects competing with Safford now and possibly in the future for workers, including the reopening of BHP Billiton's Pinto Valley mine and construction of Quadra Mining's Carlota mine, plus the possible start of development activities at Resolution Copper Co.'s proposed underground copper mine near Superior, Arizona.