The latest from the
World Mining Equipment
Video Library
View



Electrification Leads the Way

In this edition we bring you the MINExpo 2021 Show Report. The postponed version of the world's largest mining trade show, MINExpo INTERNATIONAL 2021, took place during mid-September at the Las Vegas Convention Center. With travel restrictions and a general apprehension related to the COVID-19 pandemic, attendance was down considerably, but the general consensus from the show floor was positive with many exhibitors saying the experience exceeded expectations.

The reoccurring theme throughout the event seemed to be automation, digitalization and electrification. The number of autonomous haul trucks operating worldwide continues to grow. Automation as far as operator-assisted systems and teleremote operations have entered almost every aspect of mining from operating the shovels and dozers to drilling and loading blastholes to swapping out batteries underground .... read more


Steve Fiscor, Publisher & Editor in Chief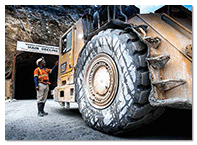 Chifeng Will Acquire Golden Star
Chifeng Jilong Gold Mining Co. Ltd. plans to acquire all of the shares of Golden Star Resources Ltd. for a $470 million cash consideration. The offer represents a 24.1% premium over the closing price of the Golden Star shares on the NYSE as of October 29. The transaction will be consummated .... read more
Fight for Noront Resources Continues With BHP Submitting Counter Offer
The battle for Noront Resources Ltd. continues. After receiving an offer from Wyloo Metals Pty Ltd. of C$0.70 per share, BHP Western Mining Resources upped their offer as well, to C$0.75 per share. The Noront Board said the proposal from Wyloo Metals has ceased to be a "superior proposal," and recommended the Noront shareholders tender their shares to the BHP offer .... read more

Top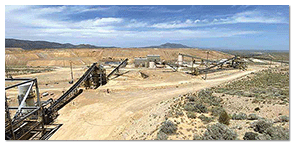 i-80 Acquires Ruby Hill
i-80 Gold Corp. closed on the Ruby Hill mine acquisition from Waterton Nevada for $75 million in cash and approximately 3.2 million common shares of i-80 Gold (Valued at $8 million), and future milestone payments of $67 million. Ruby Hill, which includes multiple deposits that collectively represent one of Nevada's largest gold, silver and base metal endowments, was acquired from Waterton and i-80 has taken .... read more


Cozamin Achieves Record Quarterly Production
Cozamin Mine achieved another record quarterly copper production of 14.1 million lb at $0.93/lb and attained targeted new run rate of 3,854 metric tons per day (mt/d). Production in the third quarter was 33% higher than in the third quarter of 2020 following commissioning of the Calicanto one-way ramp in Q1 2021. Production in Q3 2021 was 33% higher than the same period.... read more


| | |
| --- | --- |
| AROUND THE WORLD - USA & CANADA | |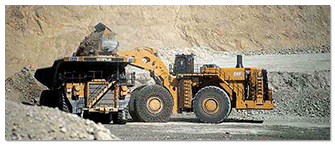 Forest Service Approves Pinto Valley Plans
Capstone Mining Corp. received final approvals from the U.S. Forest Service for a new mine plan of operations for the Pinto Valley mine in Arizona. The plan, approved by the Tonto National Forest (TNF), extends Pinto Valley's life of mine to 2039. The mine life extension is expected to produce 2.5 billion lb of copper and will.... read more


Hecla Mining Reports Q3 Silver Production
Reporting its third-quarter production figures mid-October, the largest U.S. silver miner Hecla Mining Co. said its 2.7 million ounces (oz) of silver for the quarter was down due to lower grades at Greens Creek based on mine sequencing, but the decrease was partially offset by production at the Lucky Friday mine. "Lucky Friday and Casa Berardi both delivered strong operational ....read more

Top
Nevada Copper Accelerates Stope Production
Copper in concentrate produced at Nevada Copper Corp.'s Pumpkin Hollow project during September increased by 265% compared to August, driven by higher stope production, according to the company. Approximately 30,386 tons of ore were processed yielding 682 tons of concentrate at an average grade of 22%, resulting in approximately 150 tons of copper production .... read more


| | |
| --- | --- |
| AROUND THE WORLD - Latin America | |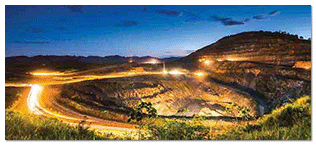 Sibanye-Stillwater Will Acquire Santa Rita Nickel Mine and the Serrote Copper Mine
Sibanye-Stillwater signed a defi nitive purchase and sale agreement with affiliates of funds advised by Appian Capital Advisory LLP to purchase 100% of both the Santa Rita nickel mine and the Serrote copper mine, located in Brazil, for a cash consideration of $1 billion and a 5% net smelter return (NSR) royalty over potential future ... read more


Top
Barrick Sets Up Community Fund for Veladero
Barrick Gold Corp. President and Chief Executive Mark Bristow and San Juan Gov. Sergio Uñac signed an agreement for the establishment of a trust fund for community development projects. The fund will be financed by 1.5% of the Veladero gold mine's sales, which is estimated to amount to $138 million during the current life of the mine, which extends beyond 2030. Development projects will be decided upon jointly by the mine's communities ... read more


| | |
| --- | --- |
| AROUND THE WORLD - Australasia | |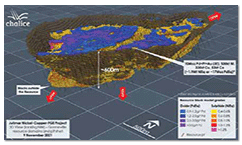 Chalice Reports Massive Nickel-PGM Discovery at Gonneville
Chalice Mining Ltd. reported its maiden mineral resource estimate for the Gonneville deposit recently, the first discovery at its Julimar nickel-copper-platinum group metals (PGM) project, located 70 kilometers (km) northeast of Perth in Western Australia. The company has defined a tier- 1 scale, pit-constrained maiden resource for Gonneville on Chalice …. read more


Top

Rio Tinto Expands With New Karratha Hub
Rio Tinto Iron Ore Chief Executive Simon Trott and Rio Tinto Managing Director of Port, Rail and Core Services Richard Cohen joined community members, local businesses and representatives from local government to celebrate the official opening of its new community hub in Karratha, Western Australia. Located on Ngarluma country in the heart of Karratha's CBD, the new Karratha Hub will make it easier …. read more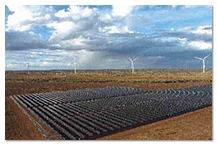 South Africa Plans Infrastructure Investment
By Gavin du Venage, African Editor
South African mining has struggled with electricity cuts and inadequate port and rail infrastructure, which in turn has held back investment. Now, the country hopes this will change as billions of dollars are set to be invested in power generation, ports and railways. A series of regulatory changes, which will have far-reaching consequences for the country's miners …. read more
Top
Kamoa Produces More Copper Concentrate
The second filter press at Kamoa Copper began operating on October 3 and has already generated more copper concentrate than originally planned. The second filter press enables Kamoa's Phase 1 concentrator to take advantage of the unusually high-grade copper ore being processed directly from Kakula's underground mining operations and surface stockpiles. "Kamoa Copper's Phase 1 milling and flotation capacity has demonstrated to be in excess of design parameters," said Steve Amos, head of projects. "As such, the additional filter press .... read more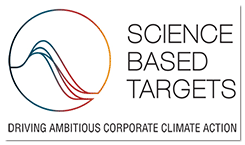 Epiroc's Climate Targets Validated As Science-Based
Epiroc has received validation by the Science-Based Targets initiative (SBTi) for the company's ambitious targets to reduce CO2 emissions. In 2020, Epiroc launched sustainability goals that include halving its CO2 emissions by 2030. Epiroc's climate targets are recognized as being in line with keeping global warming at a maximum 1.5 C, consistent with the latest climate science and the goal of the Paris .... read more


Top
Otso Mine Returns to Production, Pours First Gold
Otso Gold Corp. restarted production and completed the first gold pour at the Otso gold mine in Finland. The restart of production and the gold pour is the culmination of the completion of all the preparatory works and the hiring and training of more than 140 full-time staff now on site with a further 128 contractors retained to provide permanent services to the mine. The company is currently processing approximately 4,000 metric tons (mt) of ore a day and blasting ore in mining areas four times a week, as the mine ramps up toward .... read more



| | |
| --- | --- |
| THIS MONTH IN COAL | |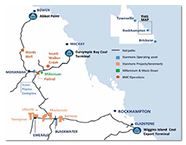 Stanmore Acquires BHP's Interest in Queensland Met Mines
Stanmore Resources agreed to acquire BHP's 80% interest in BHP Mitsui Coal (BMC) for $1.35 billion in cash. BMC comprises the Poitrel and South Walker Creek metallurgical coal mines, Red Mountain infrastructure and the Wards Well development in Queensland, Australia. The cash consideration includes $1.1 billion cash on completion, $100 million in cash six months .... read more


Top
Ramaco Buys Amonate Prep Plant From Coronado
Ramaco Resources executed a $30 million asset purchase agreement with companies owned by Coronado Global Resources Inc. to acquire the Amonate assets from Coronado. The Amonate assets include a mine complex located in McDowell County, West Virginia, and Tazewell County, Virginia. All assets are located adjacent and contiguous to Ramaco's existing Berwind mine complex. The acquisition primarily consists of approximately 50 million tons of low- and mid-volatile reserves, much of which will be mined from the Berwind mine. Also being purchased are several additional permitted  …. read more

| | |
| --- | --- |
| FEATURE - IT-OT Systems | |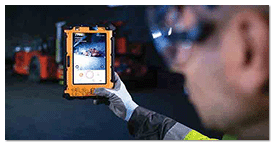 Building Solid Foundations for Digital Mines
Mining companies must use advanced data management and communications infrastructure to pave the way for future digital deployments.

By Carly Leonida, European Editor

High-performance, mission-critical 4.9G/LTE and 5G-based private wireless networks form the basis for the next generation of integrated, automated digital mine sites. According to the IDC InfoBrief, "Digitalizing Mining Operations: Exploring Safety, Sustainability and Production Practices" published in September, "These provide a single infrastructure to bring new levels of agility and automation to surface and underground mining facilities, with solutions optimized for mining 4.0 — enhancing and streamlining operations by taking advantage of teleremote and autonomous operation, automation ..... read more



For more companies with products in the Software Mine Planning market -
Go Here
| | |
| --- | --- |
| FEATURE - Exploration | |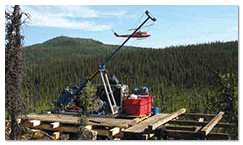 Exploration Activity Increases With Improved Metals Demand
Modern technology aids in improving the search for new deposits.

By Steve Fiscor, Editor-In-Chief

Scandinavia Investment in exploration activities has regained momentum along with the demand for metals. Similarly, investments in new tools and technology are helping exploration professionals narrow their search. Data sharing, artificial intelligence, cloud computing, surveying advancements and improved equipment are counterbalancing the lack of manpower and the need to quicken the pace for discovery. S&P Global Market Intelligence recently reported that global exploration budgets for metals jumped 35% year-on-year to $11.2 billion. The group cited strong metals prices and easier access to financing as the prime movers. S&P's annual Corporate Exploration Strategies (CES) study showed that exploration has ..... read more

Top

For more companies with products in the Exploration market -
Go Here
| | |
| --- | --- |
| FEATURE - Pit Slope Design | |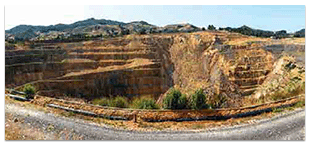 Designing the Mines of Tomorrow
We ask four leading software vendors, what's new in pit slope design and analysis?

By Carly Leonida, European Editor

The boom in metals prices over the past five years has seen mines seeking to squeeze more metal out of their operations. This has led to the development and adoption of more aggressive slope designs (steeper angles and/or deeper pits) at current and future mining operations. For safety and security of production, engineers need to provide designs with increasingly higher levels of confidence. This requires comprehensive design and analysis of many sections throughout open pits that take into account all potential 3D geological interactions ..... read more


For more companies with products in the Pit Slope market -
Go Here
| | |
| --- | --- |
| FEATURE - MINExpo 2021 Show Report | |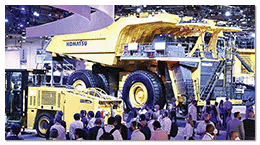 The Best of MINExpo 2021
After a five year hiatus, suppliers and service providers showcase the latest advancements for the mining sector.

By Steve Fiscor, Editor-in-Chief, and Jennifer Jensen, Associate Editor

The world's largest mining trade show, MINExpo INTERNATIONAL 2021, took place in Las Vegas during mid-September. As expected, attendance was light, especially for visitors from outside the U.S. The mood on the show floor was nonetheless upbeat and those who did attend got to see and hear about some interesting concepts. National Mining Association President Rich Nolan opened the show and expressed his excitement at the show being back and in person. He also discussed the state of mining. "This is truly a remarkable time for mining," Nolan said. The United States' mining industry is rebuilding infrastructure and securing the domestic material supply chain. However, Nolan also pointed out possible detriment challenges .... read more

Top


For more companies with products in the MINExpo 2021 market -
Go Here
| | |
| --- | --- |
| Video Presentations | |
The latest listings from the World Mining Equipment Video Library - to view the video, click the image.
For more details on the Video Hub -

Go Here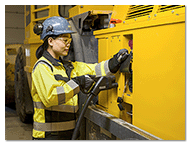 Epiroc Extends Its Electrification Offering
Epiroc is adding a wide range of charging products to support mining customers as they make the transition towards Battery Electric Vehicles (BEV). The range of both fixed and mobile charging products gives customers the flexibility to charge at any given time or place. Customers can easily monitor their charging products remotely through a cloud service. .... read more

Eriez® Completes Fabrication and Testing of Largest StackCell® SC-200 High-Rate Flotation Machine
The SC-200 is the newest addition to the StackCell product line and is the highest capacity unit ever built at nearly 300 m3 of equivalent conventional flotation capacity within a 65 m3 flotation cell. Eriez' Vice President of Global Flotation Business Eric Wasmund noted, "The StackCell is a breakthrough technology that provides a unique solution to many environmental.....read more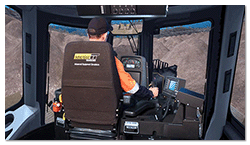 Tharissa Minerals And Immersive Technologies Partnering For Workforce Development
Together with Immersive Technologies, Tharisa Minerals have added a PRO4-B simulator to their existing simulator fleet. The PRO4-B will utilize new equipment conversion kits from Immersive Technologies which align to Tharisa's investment in their OEM assets. These include Caterpillar 24M-Grader and D11T-Dozer conversion kits as well as a Caterpillar 6050 face-shovel kit .... read more

Top
Newmont and Caterpillar Collaborate To Reduce Greenhouse Gas Emissions
Newmont Corporation announce a strategic alliance agreement with Caterpillar to deliver a fully connected, automated, zero-emissions, mining system. Through this agreement, Newmont and Caterpillar will collaborate to create a safer, more productive mine, and support Newmont in reaching their 2030 greenhouse gas (GHG) emissions reduction targets of more than 30% ....read more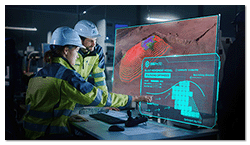 Orica Expands Digital Capability
Orica has announced the release of its latest OREPro™ 3D blast movement modelling software. Developed in partnership with major mining companies, OREPro™ 3D, is a software application that accurately models blast movement, enabling situational awareness and improved grade control for customers globally. "This technology is a critical enabler to us building .... read more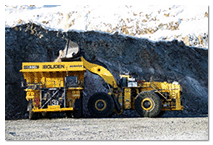 Komatsu Europe announces sale of FrontRunner Autonomous Haulage System to Boliden
Komatsu Europe has announced that Komatsu FrontRunner, an Autonomous Haulage System (AHS), will be deployed on 11 930E-5 ultra-class haul trucks at Aitik, one of Europe's largest open pit copper mines, in northern Sweden and owned by the Swedish company Boliden. The introduction of FrontRunner at Aitik .... read more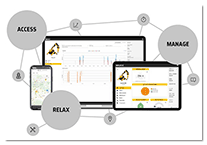 Brokk - launches Brokk Connect 2.0
Brokk Connect 2.0 is the next step for the online platform for connected Brokk robots. Brokk Connect was announced in February this year and has been available in three pilot markets. Brokk Connect 2.0, means it is now available all over Europe and North America. Brokk Connect 2.0 delivers several new features. These include; geofencing functionality that helps Brokk owners .…. read more

Top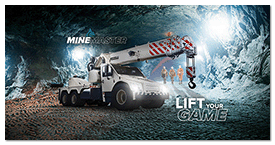 Franna Minemaster – Pick and Carry Cranes
Franna, has unveiled the Franna Minemaster range, a series of pick and carry cranes with lift capacities ranging from 15t (17USt) to 40t (44USt) that come fully equipped and ready to work in mining applications. Specifically designed to meet the vigorous safety requirements and complex ....read more
DECEMBER 5-10, 2021: American Exploration & Mining Association, Sparks, Nevada, USA.
Contact: Web: www.miningamerica.org
JANUARY 30-FEBRUARY 2, 2022: International Society of Explosives Engineers (ISEE), Las Vegas, Nevada, USA.
Contact: Web: www.isee.org
FEBRUARY 27-MARCH 2, 2022: Society for Mining, Metallurgy and Exploration (SME), Salt Lake City, Utah, USA
Contact: Web: www.smenet.org
MARCH 2-9, 2022: Prospectors & Developers Association of Canada (PDAC), Toronto, Ontario, Canada.
Contact: Web: www.pdac.ca
APRIL 27-29, 2022: Expomina, Jockey Exhibition Center, Lima, Peru.
Contact: Web: www.pdac.ca
MAY 1-4, 2022: Canadian Institute of Mining (CIM), Vancouver, British Columbia, Canada.
Contact: Web: www.cim.org
JUNE 14-16, 2022: Euro Mine Expo, Kraft Center, Skelleftea, Sweden.
Contact: Web: www.eurominexpo.com
For a full calendar of mining industry conferences and events - click here
| | |
| --- | --- |
| WHO'S MOVING WHERE | |

Anglo American plc appointed Duncan Wanblad as chief executive, effective April 19, 2022. Wanblad, who will also join the board as an executive director on the same date, succeeds Mark Cutifani who will retire as chief executive and step down from the board at the AGM after nine years in the role. Cutifani has agreed to remain employed by Anglo American until June 30, 2022, to continue to support the transition.

Newmont Corp. will appoint Peter Toth as executive vice president, strategic development. Toth will join Newmont effective July 1, 2022. Toth most recently served as group executive, strategy and development of Rio Tinto, with responsibility for Rio Tinto's strategy, sustainability, and portfolio transformation efforts. Toth joined Rio Tinto in 2014 as global head of strategy and became head of corporate development in 2015.

Compass Minerals announced several changes to its senior management. Bringing more than 25 years of diversified financial experience, Lorin Crenshaw is expected to join the company on December 1 as CFO. Crenshaw most recently served as CFO at Orion Engineered Carbons S.A. Current CFO James D. "Jamie" Standen will transition roles to serve as chief commercial officer. Serving as the company's CFO since 2017, Standen has held positions of increasing responsibility since first joining the company in 2006 as assistant treasurer.

Golden Star Resources Ltd. announced that Ben Pullinger will join as executive vice president, head of discovery. Previously, he was senior vice president, geology and corporate development at Excellon Resources. He will work through a transition period with Mitch Wasel, vice president of exploration, who will be retiring later this year after nearly 29 years.
Copper Mountain Mining Corp. appointed Patrick Redmond as senior vice president, exploration. He was previously vice president of exploration at KoBold Metals, where he led an integrated team of geoscientists and data scientists in developing innovative data-science supported tools and machine learning to assist in the discovery of materials critical for the electric vehicle and renewable energy revolution.

Monique Parker joined Piedmont Lithium as vice president of health, safety and environment. Parker joins Piedmont from Albemarle Corp. where she has held positions ranging from business unit HSE director, global quality director, and business process improvement director to senior global business and new product development leader. The company also announced that Krishna McVey joined as vice president of human resources.

Newrange Gold Corp. announced the retirement of Robert Carrington, who will step down as chairman, director and president. Robert Archer will assume the role of president, in addition to his current role as CEO. Carrington was co-founder of the company in 2005.

McLanahan Corp. promoted David Hunter, who has been serving as director of sales, aggregate systems, since early 2021, to business line director.
About - providing an abreviated version of the current print edition of E&MJ, WOMP is distributed throughout the world to decision makers in the global mining industry, the last week of every month.

Subscribe to E&MJ - To receive your own copy of the print edition of E&MJ, click here , and complete your details. E&MJ is available free of charge to qualified readers.

Contact - if you have views, opinons or comments or editoral that you would like to submit, we would be delighted to hear from you - click here

Top