The latest from the
World Mining Equipment
Video Library
View




MINExpo 2021 - Invitations



Where they are ..
What they are showing ..
Come say Hello ...!
View




Redemption for Past Practices

In this edition readers should note efforts by mining companies trying to do the right thing.Most mining companies understand the needs of the communities surrounding the mines, like income, clean drinking water, affordable power, education and access to healthcare. Many of those companies step up willing and their managers and engineers often resolve legacy issues related to past practices.

As an example, Barrick Gold is looking at an expansion of its Pueblo Viejo mine in the Dominican Republic. Before the expansion moves forward, the company is working with stakeholders on a study that includes actions for the protection of surface water and groundwater, biodiversity and cultural heritage.

That's important, but people tend to forget the positive influence Barrick has already brought to the region. When the company took over the asset from Rosario Dominicana in 1995, it launched the largest environmental clean-up campaign in the country's history, and the water quality of the aquifers around the operation has significantly improved and now meets regulatory standards. More recently, they converted an oil-fired power plant to natural gas .... read more


Steve Fiscor, Publisher & Editor in Chief



BHP Outbids Wyloo Metals for Noront Resources
BHP Lonsdale Investments Pty Ltd. and Noront Resources Ltd. entered into a definitive support agreement where BHP Western Mining Resources International, a subsidiary of BHP Lonsdale, will make a take-over bid to acquire all of common shares of Noront for C$0.55 per share in cash. BHP Lonsdale owns 3.7% of the Noront shares .... read more
Rio Tinto Commits Funding for Jadar Lithium Project
Rio Tinto has committed $2.4 billion to the Jadar lithium-borates project in Serbia, one of the world's largest greenfield lithium projects. The project remains subject to receiving all relevant approvals, permits and licenses and ongoing engagement with local communities, the Government of Serbia and civil society. The Jadar project would scale up Rio Tinto's exposure to battery materials, and demonstrate the company's commitment to investing capital in a disciplined manner to further strengthen its portfolio for the global energy transition .... read more

Top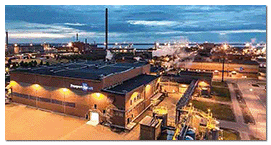 Lundin Mining Will Sell Remaining Specialty Cobalt Business
Lundin Mining Corp.'s 24% owned subsidiary, Koboltti Chemicals Holding Ltd., has entered into an agreement to sell its specialty cobalt business based in Kokkola, Finland, (Freeport Cobalt) to Jervois Mining Ltd. Lundin said the business was no longer strategic to the company following the sale of its interests in Tenke Fungurume in 2016 .... read more


Barrick's Q2 Gold Production Dips
Barrick Gold Corp. reported preliminary Q2 sales of 1.07 million ounces (oz) of gold and 96 million lb of copper. The company said it remains on track to achieve its 2021 guidance of 4.4 to 4.7 million oz of gold, with both the Africa & Middle East and Latin America & Asia Pacific regions trending to the higher end of its regional gold guidance, while North America moves toward the lower end..... read more


| | |
| --- | --- |
| AROUND THE WORLD - USA & CANADA | |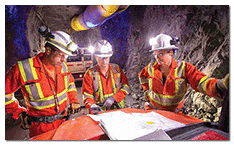 PureGold Declares Commercial Production
Pure Gold Mining Inc. achieved commercial production at its PureGold mine in Red Lake, Ontario, on August 1. Following a successful commissioning period, the PureGold mine, milling facilities, and other critical systems are now all operating in line with or rapidly approaching design capacity of 800 metric tons per day (mt/d) of ore on a sustainable basis .... read more


Highland Copper Completes White Pine North Acquisition
Highland Copper Co. completed the acquisition of the White Pine North Project in Michigan. All the conditions have been met to complete the acquisition of the project from Copper Range Co. (CRC), a subsidiary of First Quantum Minerals Ltd. "The White Pine North Project offers great potential and will be a valuable asset to the company for many years," Highland Copper CEO Denis Miville-Deschênes said. "In parallel, we are continuing our discussions with various parties to conclude transactions ....read more

Top
Construction Advances on Odyssey Project in Quebec
Agnico Eagle Mines (AEM) provided an update on the construction and development activities at the Odyssey Project. The Canadian Malartic Partnership (CMP), a 50/50 joint venture between Yamana Gold and AEM, manages and operates the Canadian Malartic mine in the heart of the Abitibi Gold Belt in Quebec. The Odyssey mine, which is located near the Canadian Malartic mine, will allow the partnership to pursue the current resource at depth, according to AEM. Ramp development has advanced ahead of schedule .... read more


| | |
| --- | --- |
| AROUND THE WORLD - Latin America | |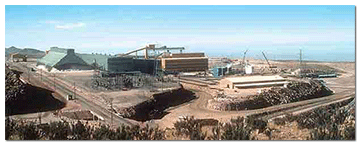 Southern Peru Plans US$122M Investment in Cuajone
Southern Peru Copper Corp. has budgeted an investment of US$122 million to improve its Cuajone copper mine in Peru. Peruvian newspaper Gestión reported that the new improvements in the pipeline include the optimization of the improvement of the Cuajone drinking water treatment plant ... read more


Top
Pueblo Viejo Expansion Project Moves Forward
Barrick Pueblo Viejo and its key stakeholders have agreed on independent government-led oversight of the strategic environmental and social impact assessment studies for the new tailings storage facility at the project in the Dominican Republic. This facility, which forms part of an expansion project that will require an initial new investment by Pueblo Viejo of $1.3 billion, is key to the mine continuing to operate beyond 2021 and ... read more


| | |
| --- | --- |
| AROUND THE WORLD - Australasia | |

BHP Enters Into Nickel Supply Agreement With Tesla
BHP signed a nickel supply agreement with one of the world's leading sustainable energy companies, Tesla Inc. BHP will supply Tesla Inc. with nickel from its Nickel West asset in Western Australia, one of the most sustainable and lowest carbon emission …. read more


Top

Production Down for Quarter at Gold Road Resources' Gruyere
Gold Road Resources Ltd. reported that due to disruptions to processing plant operations at the Gruyere Gold mine, production at Gruyere for the second quarter of 2021 will be approximately 52,000 ounces (oz) to 55,000 oz (100% basis). As a consequence of the lower than expected gold production, and additional plant maintenance, all-in sustaining costs (AISC) per ounce for the June quarter are anticipated to be in a range of A$1,675/ oz ($1,235/oz) to A$1,800/oz (($1,327/ oz),, subject to final end of quarter accounts …. read more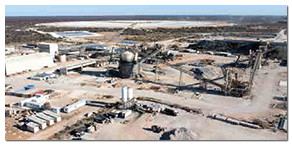 Khoemacau Achieves First Concentration Production
Khoemacau Copper Mining (Pty) Ltd. (Khoemacau) recently achieved first copper and silver concentrate production for its Starter Project near Toteng in Botswana. The project is in the Kalahari Copper Belt and is expected to produce an annual average of 62,000 metric tons (mt) of payable copper and 1.9 million ounces (oz) of payable silver in concentrate for more than 20 years …. read more
Top
Asante Gold Buys Bibiani Gold Mine
Asante Gold Corp. has entered into an agreement to purchase Resolute Mining Ltd.'s Bibiani gold mine in Ghana. Asante has agreed to buy all of Resolute's interest in Bibiani through the purchase of 100% of the shares in Mensin Bibiani Pty Ltd., by paying to Resolute total cash consideration of US$90 million. The transaction includes a US$30 million initial payment and an additional US$30 million to be paid on or before 6 months .... read more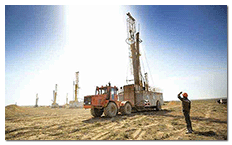 Russia's Rosatom Plans to Launch Lithium Mines in Siberia, Arctic
By Vladislav Vorotnikov
Russia's nuclear corporation Rosatom plans to invest 50 billion rubles ($800 million) into starting several lithium mines in Siberia's Irkutsk Oblast, as well as in Murmansk Oblast, above the Arctic Circle. A number of mines may also be launched outside of Russia. Russia's mines are expected to produce 50,000 metric tons of lithium per year and reach the designed production performance in 2030. At that time, Rosatom targets .... read more


Top
Nornickel Produces First Batch of Certified Carbon-Neutral Nickel
Norilsk Nickel (Nornickel) has produced its first batch of certified carbon-neutral nickel. The company has been implementing a strategy focused on upgrading its energy assets since 2018. This includes replacement of hydro and thermal power station units feeding the Norilsk Industrial District, modernization and repair of energy equipment, installation of automated control and metering systems, reduction of heat loss in buildings and pipelines, equipment optimization, and decommissioning obsolete power units .... read more



| | |
| --- | --- |
| THIS MONTH IN COAL | |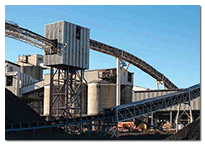 Coal Production Increases From South32's Illawarra Complex
South32 reported a 9% year-on-year coal production increase at its Illawarra Metallurgical Coal (IMC) complex in New South Wales with the return to a three-longwall configuration, which will deliver greater production efficiencies. IMC's saleable production increased 639,000 metric tons (mt) to 7.6 million mt during fiscal year 2021. The company reported the three longwalls were .... read more


Top

China Will Add More Coal Capacity in H2 2021
China plans to add nearly 110 million metric tons per year (mt/y) of advanced coal production capacity in the second half of 2021 to meet increasing demand for the fossil fuel, the state planner, the National Development of Reform Commission (NDRC), said. "Currently, more than 40 million mt of coal mining capacity are under government reviews for approval, while some 70 million mt are under construction and will gradually be launched," the NDRC said.  …. read more


-->
| | |
| --- | --- |
| FEATURE - Gold Recovery | |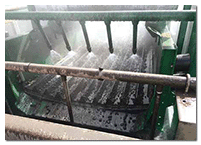 New Solutions Improve Processing, Step by Step
Top tier innovative solutions are available for each step of the flow sheet, and field results show they help improve the profi tability of an operation.

By Jesse Morton, Technical Writer

Of the listed benefits offered by some of the latest innovative solutions for the gold processing plant, improved overall profitability of an operation is foremost. Each differs in how to get there. A couple can help produce more gold and less waste. A couple can help an operation significantly reduce the scale of tailings-related challenges. They all help a miner meet sustainability goals. The listed benefits hint how the industry could evolve in the near future. The possibility of major change for the better, in many ways and at each step of the flow sheet, is very real ...... read more


For more companies with products in the Mineral Processing market -
Go Here
| | |
| --- | --- |
| FEATURE - Narrow Vein | |

Narrow Vein Mining Fit for the Future
We investigate the mining techniques evolving to take advantage of new technologies.

By Carly Leonida, European Editor

Although narrow vein mining methods like cut-and-fill and longitudinal longhole stoping, and even some less well-known ones like transverse stoping, have remained fundamentally unchanged for, in some cases, over a century, their flexibility and selectivity mean they will continue to play an important role in the mining industry's future. The low waste, small footprint ethos of narrow vein mining aligns perfectly with the environmental, social and governance (ESG) conscious direction in which the mining sector is heading ..... read more

Top
For more companies with products in the Narrow Vein market -
Go Here
| | |
| --- | --- |
| FEATURE - Data Management | |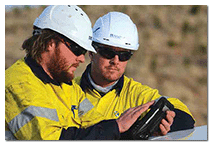 Managing the Data Avalanche
Models built on mountains of data can be impressive, but they can slide into disaster unless a company has the tools, training and data literacy to handle the challenges of digitalization.

By Russell A. Carter, Contributing Editor

A phrase heard often lately — "mining is a data-driven industry" — might surprise someone unfamiliar with modern mining, and possibly even some who are. But, it's not a stretch of the imagination to grasp that mining companies depend on access to many types of geological, operational, environmental and financial data to build and measure the effectiveness of their business plans. Mineral producers are literally sitting on a gold mine of knowledge, and just as they would with conventional mining operations, they need to find the best method for extracting maximum value from their digital resources ..... read more

For more companies with products in the Data Management market -
Go Here
| | |
| --- | --- |
| FEATURE - Pit Dewatering | |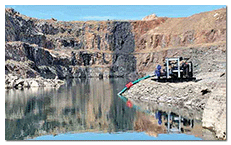 Taking a Systems Approach to Pit Dewatering
How to optimize the design and performance of mine pit dewatering systems.

By Carly Leonida, European Editor.

Dewatering is critical to open-pit mining operations and more resources are now being allocated to its optimization. Traditionally, there's been a tendency among mine and quarry operators to treat dewatering as a low priority; just another cost that can be overlooked… until it can't. Cost minimization has therefore been the primary focus in implementing a dewatering or fluid management solution. However, as operations dig deeper and precipitation and groundwater flow become more complex to predict, dewatering is becoming increasingly necessary. .... read more

Top

For companies with Pit Dewatering -
Go Here
| | |
| --- | --- |
| MINExpo 2021 - Invitations | |
Your personal invitation to come and say hello at MINExpo 2021 - to view the invitation, click the image.
To view all the invitations on World Mining Equipment -

Go Here
| | |
| --- | --- |
| Video Presentations | |
The latest from the World Mining Equipment Video Library - to view the video, click the image.
For more details on the Video Hub -

Go Here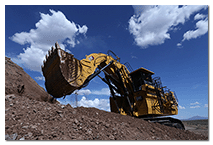 New Cat® 6040 Hydraulic Mining Shovel features engine configuration to meet Tier 4 Final and Stage V emissions standards
Offering more drive options to meet the global mining industry's needs, the new Cat® 6040 Hydraulic Mining Shovel features an added engine configuration that meets U.S. EPA Tier 4 Final and EU Stage V emission standards. The new configuration includes two fuel-efficient Cat C32 engines, offering a total gross power rating of 1 550 kW (2,079 hp). Optimizing machine uptime .... read more

Eriez® Promotes Eric Bain Wasmund to Vice President, Global Flotation Business
Delta, BC-Eriez® President and CEO Lukas Guenthardt announces the promotion of Eric Bain Wasmund, Ph.D., Professional Engineer, to Vice President, Global Flotation Business. Wasmund previously served as Eriez Global Managing Director, Flotation Business. "Under Eric's tenure, the company's flotation business has grown .....read more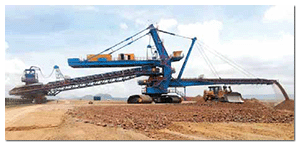 FLSmidth Acquires thyssenkrupp's Mining Business
FLSmidth reported it will purchase thyssenkrupp's mining business, tk Mining, for roughly $386 million. The development will create a leading global mining technology provider with operations from pit to plant, FLSmidth said. "This is a truly transformational deal allowing us .... read more

Top
Sandvik - BEV Sales Break Record
Sandvik received orders amounting to $16.4 million for battery-electric mining vehicles (BEVs) in June. It was the supplier's highest-ever order intake for mining BEVs in a single month. The company said they also sold battery-as-a-service (BaaS) contracts. The BEV orders from Canadian mining companies included seven ....read more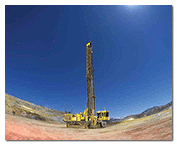 Versatile Rotary Drill for Large-diameter Holes
Epiroc will debut the Pit Viper 291 at MINExpo. The rig is for larger-diameter drilling in soft to medium ground conditions in both rotary and down-the-hole (DTH) drilling. It is capable of 171-millimeter (mm) to 311-mm-diameter holes with a 16.76-meter (m) clean hole single pass with the drill bit above the table .... read more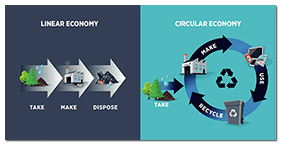 Tomra – Technology Alone is Not Enough to Achieve a Circular Economy.
Climate change, environmental pollution, resource scarcity, global population growth: these are the defining issues of the 21st century. Approaching them by transitioning to a circular economy is one of the central challenges of our time. TOMRA, a global leader in sensor-based technologies with more than 50 years' experience in diverse sectors such as the Food, Recycling and Mining industries .... read more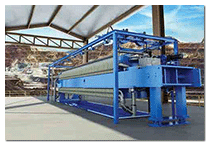 Andritz - Filter Press for Tailings or Concentrates
ANDRITZ introduced the ME2500 filter press, completing the A4F and SE series filter press line. The line features the highest efficiency, durability and operating safety, the supplier reported. The ME2500 is engineered for fast processing of tailings or mining concentrates like iron, copper, lead or zinc. It has an hourly capacity of up to 450 kg/ m2 and a filtration area of up to .…. read more

Top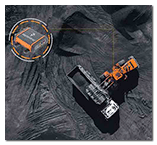 Septentrio - Receivers for Positioning Using GNSS
Septentrio launched the AsteRx SB3 receiver family. With IP68 housing, the receiver offers superior availability of RTK high-accuracy positioning, the company said. The AsteRx SB3 can track a wide variety of signals from all currently operating Global Navigation Satellite Systems, including GPS, GLONASS, European Galileo ....read more
SEPTEMBER 13-15, 2021: MINExpo INTERNATIONAL, Las Vegas, Nevada. USA
Contact: Web: www.minexpo.com/
OCTOBER 6-7, 2021: Joburg Indaba, Johannesburg, South Africa.
Contact: Web: www.joburgindaba.com
DECEMBER 5-10, 2021: American Exploration & Mining Association, Sparks, Nevada, USA.
Contact: Web: www.miningamerica.org
JANUARY 30-FEBRUARY 2, 2022: International Society of Explosives Engineers (ISEE), Las Vegas, Nevada, USA.
Contact: Web: www.isee.org
FEBRUARY 27-MARCH 2, 2022: Society for Mining, Metallurgy and Exploration (SME), Salt Lake City, Utah, USA
Contact: Web: www.smenet.org
MARCH 2-9, 2022: Prospectors & Developers Association of Canada (PDAC), Toronto, Ontario, Canada.
Contact: Web: www.pdac.ca
For a full calendar of mining industry conferences and events - click here
| | |
| --- | --- |
| WHO'S MOVING WHERE | |

Rio Tinto appointed Isabelle Deschamps to succeed Barbara Levi as chief legal officer and external affairs. Deschamps, who is currently general counsel of AkzoNobel and a member of the executive committee, will join Rio Tinto on October 25.

OceanaGold Corp. announced the succession plan for the chairman of the Board, where Paul Benson, currently nonexecutive director, will succeed Ian Reid as nonexecutive chairman with effect from October 1. Reid joined the company as a nonexecutive director in April 2018 and was appointed chairman in June 2019. Benson joined as a non-executive director in May 2021.

U.S. Gold Corp. announced that Kevin Francis joined the company as vice president of exploration and technical services. Ken Coleman, U.S. Gold's chief geologist, has resigned to pursue other opportunities.

Liberty Gold Corp. appointed Jon Gilligan as COO. Prior to joining Liberty Gold, he held senior technical and projects roles with both Torex Gold Resources Inc. and SSR Mining Inc. During his tenure at SSR, he was directly involved with the acquisition and integration of the Marigold open-pit heap leach operation in Nevada, USA and ran SSR's Argentina operations during the permitting and construction of the Chinchillas open pit mine.

Arizona Sonoran Copper Co. Inc. appointed Rita Adiani as senior vice president, strategy and corporate development.

Gatos Silver Inc. appointed Dale Andres as president. Andres will also assume the role of CEO for Minera Luz del Sol. Andres was previously senior vice president, base metals for Teck Resources.

Cypress Development Corp. appointed Spiros Cacos as vice president, investor relations.

Jennifer Abols, previously president and CEO of MIRARCO and executive director of Goodman School of Mines, has joined Alamos Gold as director of projects.
About - providing an abreviated version of the current print edition of E&MJ, WOMP is distributed throughout the world to decision makers in the global mining industry, the last week of every month.

Subscribe to E&MJ - To receive your own copy of the print edition of E&MJ, click here , and complete your details. E&MJ is available free of charge to qualified readers.

Contact - if you have views, opinons or comments or editoral that you would like to submit, we would be delighted to hear from you - click here

Top