BHP Outbids Wyloo Metals for Noront Resources
---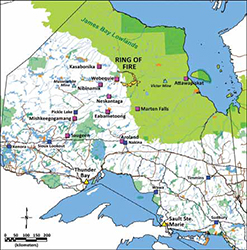 Noront has several assets, including the Eagle's Nest nickel
project in Ontario's Ring of Fire district.

BHP Lonsdale Investments Pty Ltd. and Noront Resources Ltd. entered into a definitive support agreement where BHP Western Mining Resources International, a subsidiary of BHP Lonsdale, will make a take-over bid to acquire all of common shares of Noront for C$0.55 per share in cash. BHP Lonsdale owns 3.7% of the Noront shares. The total equity value of the transaction is C$325 million (US$260 million). The Board of Directors of Noront unanimously recommended that Noront shareholders tender their shares to accept the offer.

This offer is higher than one previously made by Wyloo Metals back in May. BHP's offer represents a 69% premium to the closing price of C$0.325 per Noront share on July 26, and a 129% premium to the closing price of C$0.24 per Noront share on May 21, the last trading day prior to the competing offer from Wyloo Metals. The BHP offer also represents a 75% premium to Wyloo's proposed offer price of C$0.315 per share.

"This transaction provides a signifi- cant premium to Wyloo's indicative offer and crystallizes immediate and certain value through an all-cash offer," Noront CEO Alan Coutts said. "After careful consideration, Noront's Board of Directors, with input from its financial and legal advisors and the special committee, determined this offer is in the best interests of the company and shareholders." He added that BHP has the financial strength, world-class mining expertise, and commitment to work in partnership with stakeholders to advance Eagle's Nest and the Ring of Fire.

"This is a win-win for both BHP and Noront shareholders," BHP Chief Development Officer Johan van Jaarsveld said. "For BHP, the acquisition of Noront presents a world-class growth option, in a key future-facing commodity."

Noront is a Canadian-listed mining company with several assets, including the high-grade Eagle's Nest nickel project in the Ring of Fire, an emerging multi-metals region located in the James Bay Lowlands of northern Ontario. Eagle's Nest is the largest high-grade nickel discovery in Canada since Voisey's Bay and is anticipated to have an initial mine life of 11 years, with the potential for an additional nine years.
---
As featured in Womp 2021 Vol 08 - www.womp-int.com