The latest from the
World Mining Equipment
Video Library
View




Chile Proposes Huge Royalty Increase

Chile's Chamber of Deputies (or lower house of parliament) approved a bill (79-47) that would impose an additional tax on the sales of copper and lithium. The bill now advances to the Senate. The move was opposed by Chilean President Sebastian Piñera, other conservative policymakers and industry groups.
Chile is the world's largest copper producer and it has vast reserves of lithium. The mining business continued to operate during COVID-19 and provided much needed support for Chile during the pandemic while most of the economy was locked down. Now, copper prices have climbed to levels greater than $4.50/lb, lithium demand is expected to ramp up considerably and politicians want to rewrite Chile's mining tax laws. This short-term thinking would be expected in some parts of the world, but not Chile. .... read more


Steve Fiscor, Publisher & Editor in Chief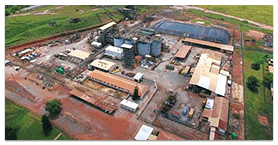 Chifeng Jilong Calls Off Deal to Buy Bibiani Gold Mine
Chifeng Jilong Gold Mining Co. Ltd. terminated its agreement with Resolute Mining Ltd. to buy the Bibiani Gold Mine in Ghana. It said Resolute did not disclose that its mining lease had been terminated by the Ghanaian government in a timely manner .... read more
Equinox Gold Sells Pilar Gold Mine
Equinox Gold Corp. has sold its Pilar gold mine in Brazil to Pilar Gold Inc. for aggregate consideration of $38 million in cash. The amount will be payable as $10.5 million on closing, which has been received; $10 million payable on or before May 31, 2021; and $17.5 million payable on or before July 31, 2021. The sale also includes a 9.9% equity interest in Pilar Gold Inc. and a 1% net smelter returns royalty on production from the Pilar gold mine. .... read more

Top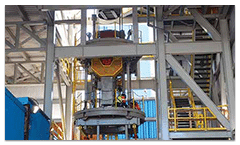 Cementation, Compass Minerals Win Hatch-CIM Project Development Safety Award
The Hatch-CIM Mining & Minerals Project Development Safety Award is an award presented to the project team that carries out a major mine and mineral plant development project in Canada that best excels in safety. The award criteria requires the project to be more than 300,000 work hours and completed in Canada within the last two years .... read more


Hudbay Makes New Discovery at Copper World Properties
Hudbay Minerals Inc. announced the intersection of high-grade copper sulphide and oxide mineralization at shallow depth on its patented mining claims located within 7 kilometers (km) of its Rosemont copper project in Arizona. The drill program was initiated in 2020 to confi rm historical drilling in this past-producing copper region formerly known as Helvetia. After receiving encouraging initial results, the company launched a larger drill program.... read more


| | |
| --- | --- |
| AROUND THE WORLD - USA & CANADA | |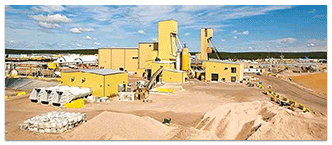 Cameco Restarts Cigar Lake
Cameco restarted production in April at its Cigar Lake uranium mine located in northern Saskatchewan. Production at Cigar Lake was temporarily suspended in December due to increasing risks posed by the coronavirus (COVID-19) pandemic, according to the company. At that time, the availability of workers in critical.... read more


Ontario Increases Funding to Protect Miners
The Ontario government is investing nearly $8 million to support the province's Mine Rescue Program and help protect workers in an emergency. Part of the 2021 budget, Ontario's Action Plan: Protecting People's Health and Our Economy, this increased funding will promote workplace safety by strengthening rescue capacity at mine sites and address gaps in the current rescue program for surface mines. "Mining has been the backbone of northern Ontario's economy for generations and we owe it to workers to make sure they come home safely ....read more

Top
Federal Court Stops Hecla's Rock Creek Mine
A judge in the federal district court in Montana struck down the federal government's approval of the first phase of the Rock Creek mine, a copper and silver mine owned by Hecla Mining near the Cabinet Mountains Wilderness. Judge Donald W. Molloy ruled in favor of the tribal and environmental organizations who claimed the U.S. Fish and Wildlife Service (USFWS) and U.S. Forest Service violated the Endangered Species Act when it approved phase 1 of the proposed mine without taking into account the impacts the full mine proposal would have on grizzly bears and bull trout .... read more


| | |
| --- | --- |
| AROUND THE WORLD - Latin America | |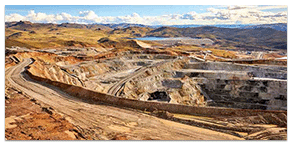 Hudbay Starts Pit Development at Pampacancha
The final land user agreement for Hudbay Minerals' Pampacancha deposit in Peru has been completed and it will now have full access to the site to begin pit development activities. The high-grade copper and gold satellite deposit is located 7 kilometers from the company's Constancia mine and ... read more


Top
Anglo Secures 100% Renewables for South American Operations
Anglo American has delivered on its commitment to source 100% renewable energy for all its operations in Brazil, Chile and Peru. Having already secured renewable energy to meet all its power requirements for its iron ore and nickel operations in Brazil from 2022, and for its copper operations in Chile from 2021, Anglo American has now signed an agreement with Engie Energía Perú to provide 100% renewable energy for the Quellaveco copper operation in Peru. It is expected to begin production in 2022 ... read more


| | |
| --- | --- |
| AROUND THE WORLD - Australasia | |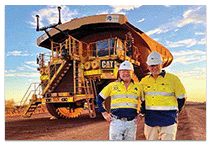 Fortescue Reaches Pilbara Milestone
Fortescue Metals Group has marked a significant milestone for its Pilbara operations, exporting more than 1.5 billion metric tons (mt) of iron ore since it was first established in 2003. It comes less than three years after the company celebrated shipping its billionth ton from Herb Elliott Port in Port Hedland. This latest milestone coincided with a visit by Australian Prime Minister Scott Morrison to Fortescue's Christmas Creek operations, hosted by Fortescue Founder and Chairman Dr. Andrew Forrest. …. read more


Top

Construction Begins on the Warrawoona Project
Calidus Resources is developing the 1.5-million-ounce (oz) Warrawoona gold project in the East Pilbara district of Western Australia. All early works are now complete with 240 room accommodation village on track for occupancy permit signoff at the beginning of April. Macmahon Holdings Ltd. is now fully mobilized for bulk earthworks and progressing on schedule. The company also executed the contract with GR Engineering Services Ltd. for construction of process plant at Warrawoona Gold Project. …. read more


Loulo-Gounkoto Third Underground Mine on Track to Begin Production
Barrick Gold Corp.'s giant Loulo-Gounkoto gold complex's third underground mine in Mali has reached its fi rst mining level and is scheduled to start delivering ore tons to the plant during the current quarter, according to President and Chief Executive Mark Bristow. At the same time, a prefeasibility study has started on two more mines on the Loulo permit: an underground operation at Loulo No. 3 and a large open pit at Yalea South. …. read more
Top
Kamoa Copper Launches New Corporate Identity
Kamoa Copper, joint venture between Ivanhoe Mines, Zijin Mining Group, and the Government of the Democratic Republic of Congo (DRC), is on track to produce copper in July. It has also launched its new corporate identity and appointed local nationals to the board of directors. It will produce high-grade copper in the Kolwezi District of Lualaba, DRC. The new logo is inspired by three concepts: its core business of mining, a shared heritage between DRC, Canada and China, and an aspiration for an inclusive future, according to the company. .... read more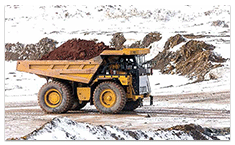 RUSAL Commissions New Mine in Komi Republic
RUSAL began mining at a new open-pit quarry at the Vezhayu-Vorykvinskoye deposit in the Komi Republic, with reserves of more than 14 million metric tons (mt) of bauxite. The new open pit No. 4 will be the largest at the Sredne-Timansky bauxite mine. "The development of the Sredne-Timansky bauxite mine is the basis for a stable supply .... read more


Top
Alamos Gold Subsidiaries File $1B Treaty Claim Against Turkey
Alamos Gold said it will fi le an investment treaty claim against the Republic of Turkey for expropriation and unfair and inequitable treatment, with respect to their Turkish gold mining project. The claim will be filed under the Netherlands-Turkey Bilateral Investment Treaty and is expected to exceed $1 billion, representing the value of the company's Turkish assets, the company said .... read more



| | |
| --- | --- |
| THIS MONTH IN COAL | |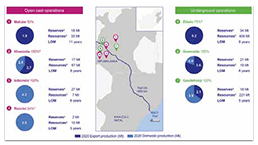 Thungela Emerges as Leader for South African Thermal Coal
Anglo American plans to spin off its thermal coal operations in South Africa to a new holding company, Thungela Resources Ltd. Anglo American said Thungela will be a standalone business, and it will provide an initial cash injection of ZAR2.5 billion (approximately $170 million). It will also provide contingent capital support until the end of 2022 if thermal coal prices fall below a certain threshold .... read more


Top

Stanmore Coal Buys Peabody Mines
Stanmore Coal Ltd. announced through a 50/50 joint venture with an M. Resources affiliated entity, MetRes Pty Ltd., it has executed agreements with Peabody Energy Australia to acquire a 100% of the assets, rights and obligations associated with the Millennium and Mavis Downs mines. Restarting the mines represents a low capital and quick-to-market investment opportunity in a high-quality metallurgical coal asset, supported by access to existing critical infrastructure. Mining is planned to  …. read more


-->
| | |
| --- | --- |
| FEATURE - Hydraulic Excavators | |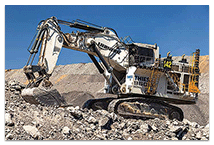 Big New Shovel Replaces Popular Model
Liebherr works closely with mining customers to design a shovel that operators will love.

By Jesse Morton, Technical Writer

The newest hydraulic excavator on the market was designed with miner input and is meant to effectively replace a highly popular predecessor model. The input led to, as expected, important improvements to the cabin. It also led to cuts in the overall amount of information displayed on in-cab screens. The result is a machine that is proving easier to operate, which bodes well for companies seeking to diversify staff, the supplier reported. It also bodes well for operations that mainly want to improve uptime and production. These items top the list of benefits offered, which is long, and which the supplier is eager to share..... read more



For more companies with products in the Excavators market -
Go Here
| | |
| --- | --- |
| FEATURE - Vibratory Screens | |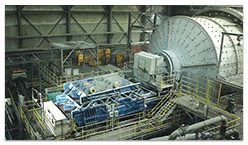 Screens Offer New Era in Process Efficiency
We explore the latest developments in vibratory screening technology from eight leading vendors.

By Carly Leonida, European Editor

While vibratory screens have been a mainstay in mineral processing for more than a century, recent technological advances surrounding drives, wear parts and media are creating new possibilities for their application. From replacing hydrocyclones in classification duties and dewatering tailings to preconcentration, these machines are proving flexible and reliable tools as mines look to drive down their processing costs and increase their output, while minding their resource consumption and operational footprint..,..... read more. ..... read more

Top

For more companies with products in the Screens market -
Go Here
| | |
| --- | --- |
| FEATURE - Oils and Lubes | |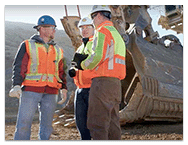 Right Place, Right Time
Choosing the correct lubricant is just the first step – it then must be applied when and where needed, in the right amount and without environmental harm. New lube products and systems can eliminate guesswork from the process.

By Russell A. Carter, Contributing Editor

In the long history of mining, there was a time when grease was simply grease and its less-viscous sibling was just oil. Both were injected, poured, brushed or spread as needed into machines or on to surfaces for protection against friction, heat and rust, and were left to do their jobs until the next scheduled service — or something broke. Today, their roles remain largely the same, but changes in the mechanical environment, economic factors and even social trends have generated an expanding universe of formulations, delivery systems, and preservation techniques aimed at ensuring that grease and oil products ..... read more


For more companies with products in the Oils and Lubes market -
Go Here
| | |
| --- | --- |
| FEATURE - Production Drilling | |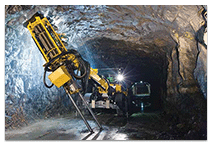 Advancing Art of Autonomous Drilling
We review the latest in autonomous features for underground production drill rigs and asks four companies, what's next?

By Carly Leonida, European Editor

As mines strive to increase their productivity and equipment utilization in the face of difficult underground conditions and rising production costs, they must lean more heavily than ever on digital operator aids and analytics tools. The future of underground production drilling is undoubtably autonomous and, as the systems and software that enable these features advance, there will likely be a shift from the automation of standalone functions such as drilling a single fan or rod changing, to the use of fully automated drill cycles incorporating multiple phases of work wherever possible. .... read more

Top


For more companies with products in the Production Drilling market -
Go Here
| | |
| --- | --- |
| Video Presentations | |
The latest listings from the World Mining Equipment Video Library - to view the video, click the image.
For more details on the Video Hub -

Go Here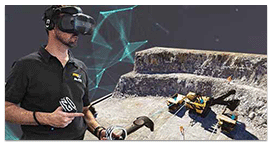 Virtual Reality Tools for Training
Immersive Technologies reported its Mine Standards Training tool uses the Worksite VR Quest platform. The tool has engaging 3D simulated content, such as drilling and blasting, ground-engagement tools, supervisor training, pit priority rules .... read more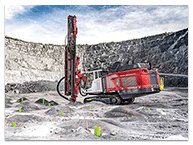 Tapojärvi Oy chooses Sandvik for Drill Rigs
Sandvik reported it will supply six new Pantera DP1600i drill rigs, with Top Hammer XL technology, to Yara's Siilinjärvi phosphate mine. The order supports a 10-year strategic alliance between Tapojärvi Oy and the miner to digitalize, increase automation and improve sustainability at the mine. All six rigs will be remotely operated.....read more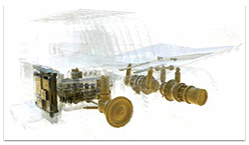 H-E Parts to Rebuild 23 Komatsu Trucks
Codelco tapped H-E Parts to rebuild 23 Komatsu 930E haul trucks. The contract includes initial inspection, disassembly, component repair, assembly, delivery and commissioning. Repairs include those to the drivetrain, front and rear wheel groups, suspensions, and differentials .... read more

Top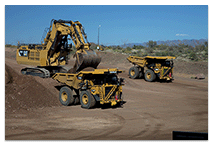 Caterpillar surpasses 3 billion tonnes hauled autonomously by Cat Command for hauling trucks.
Caterpillar has announced that an additional 1 billion tonnes of material has been hauled by autonomous trucks using Cat® MineStar™ Command for hauling, taking the total beyond the 3 billion tonnes milestone. This achievement is joined by an expansion of the types of commodities being hauled autonomously, across a growing number of Cat mining truck ....read more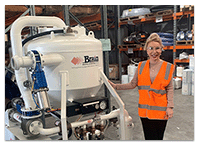 Brain Industries looking to the Americas with Strata agreement.
Australian industrial manufacturer, Brain Industries, is making a push into the North American, Central American and South American markets, signing an exclusive distribution agreement with Strata Worldwide USA for its, unique, air operated pumps. The firm's first US distribution agreement will see Strata market and sell Brain's Airloader and Mudskipper pneumatic pumps .... read more


It's time to Think Hybrid: Metso Outotec Lokotrack® e -Power range is here
As an important factor in realizing the goals of Metso Outotec's Planet Positive initiative and as a response to the fast-growing demand for more sustainable crushing and screening equipment, the company is introducing the Lokotrack e-Power range, which brings the diesel-electric Lokotrack mobile crushing and screening units into one .... read more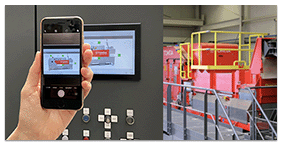 TOMRA Sorting Mining widens its offer as digitalization in the mining sector accelerates.
TOMRA is tapping the potential of digitalization with a constantly expanding offer of digital services to help mining operations improve their efficiency and profitability – most recently with the introduction of the new augmented reality tool for remote assistance, TOMRA Visual Assist - that enables remote experts to provide specialist support .…. read more

Top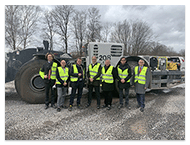 GHH and BIA forming strategic alliance.
Digging deeper in Africa. German mining and tunneling machinery manufacturer GHH Group has expanded its presence in the African market with a new strategic partnership agreement with BIA. GHH Group is counted among the world's leading suppliers of loaders, dump trucks, drill rigs, roof bolters, numerous special-purpose utility vehicles ....read more
MAY 25-27, 2021: Austmine 2021 Exhibition and Conference, Perth, Western Australia.
Contact: Web: austmineconference.com.au/
JUNE 1-3, 2021: Euro Mine Expo, Kraft Center, Skelleftea, Sweden.
Contact: Web: www.eurominexpo.com
JUNE 7-11, 2021: Elko Mining, Elko, Nevada, USA.
Contact: Web: www.ExploreElko.com
SEPTEMBER 13-15, 2021: MINExpo INTERNATIONAL, Las Vegas, Nevada. USA
Contact: Web: www.minexpo.com
DECEMBER 5-10, 2021: American Exploration & Mining Association, Sparks, Nevada, USA.
Contact: Web: www.miningamerica.org
MARCH 2-9, 2022: Prospectors & Developers Association of Canada (PDAC), Toronto, Ontario, Canada.
Contact: Web: www.pdac.ca
For a full calendar of mining industry conferences and events - click here
| | |
| --- | --- |
| WHO'S MOVING WHERE | |

i-80 Gold Corp. has retained Andy Cole as senior metallurgical and processing advisor. Cole has more than 34 years of experience in mine development, processing and production including 20 years of experience at Barrick's largest core asset, the Goldstrike mine in Nevada. He served as autoclave and roaster superintendent, process operations, ultimately being promoted to general manager of the Goldstrike complex.

Teck Resources Ltd. appointed Sarah Hughes as vice president, audit and improvement. Hughes joined Teck from Trevali, where she was vice president, risk and assurance. Previously, Hughes held a number of senior roles at Goldcorp, as well as working as group internal auditor for BP, based in London, U.K.

Barbara Levi, chief legal offi cer and external affairs, has accepted the position of group general counsel at UBS and will leave Rio Tinto by the end of October. A thorough search has commenced to identify a suitable successor.

McEwen Mining Inc. announced two senior management additions: Stephen McGibbon as the executive vice president of exploration and Ruben Wallin as the vice president of environment, health, safety and sustainability. McGibbon was a senior member of the team that discovered Goldcorp's "High Grade Zone" deposit in Red Lake, which lead to one of the most profound mining company transformations of the last 25 years. Since 2006 and until recently, he enjoyed continued success at Premier Gold Mines. Before joining McEwen Mining, Wallin held the position of vice president of environment and sustainability for Detour Gold Corp.

Copperstone Resources AB appointed Anna Tyni as the new president and CEO. Tyni was recruited to Copperstone in October 2020 as head of the operations in Kiruna. She replaced Michael Mattsson, who takes on a new role as head of business development and remains on the company's management team and board.
Augusta Gold Corp. has appointed Donald Taylor, currently a director, president and CEO. Maryse Belanger has resigned as CEO, president and a director of Augusta Gold for personal reasons. Taylor, currently CEO of Titan Mining Corp., has 30 years of mineral exploration experience. Taylor has worked for Arizona Mining, BHP Minerals, Bear Creek Mining, American Copper and Nickel, Doe Run Resources and Westmont Mining Co.

O2Gold Inc. appointed Raziel Zisman to the board of directors. Zisman is a partner at Whittle Consulting and leader of its Sustainable Governance Initiative. The appointment follows Fred Leigh's resignation as a director.

Wood appointed Linzie Forrester to the new role of president of sustainability. An environmental scientist by background, Forrester has more than 30 years of experience and has led the development and implementation of world-class sustainability programs.
About - providing an abreviated version of the current print edition of E&MJ, WOMP is distributed throughout the world to decision makers in the global mining industry, the last week of every month.

Subscribe to E&MJ - To receive your own copy of the print edition of E&MJ, click here , and complete your details. E&MJ is available free of charge to qualified readers.

Contact - if you have views, opinons or comments or editoral that you would like to submit, we would be delighted to hear from you - click here

Top