Right Place, Right Time
Choosing the correct lubricant is just the first step – it then must be applied when and where needed, in the right amount and without environmental harm. New lube products and systems can eliminate guesswork from the process.

By Russell A. Carter, Contributing Editor
---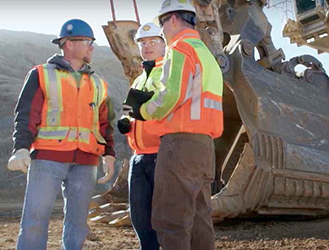 Surveys show that more than half of unplanned equipment shutdowns in mining
can be traced to incorrect selection or management of lubricants.
(Photo: Shell Lubricants)

In the long history of mining, there was a time when grease was simply grease and its less-viscous sibling was just oil. Both were injected, poured, brushed or spread as needed into machines or on to surfaces for protection against friction, heat and rust, and were left to do their jobs until the next scheduled service — or something broke. Today, their roles remain largely the same, but changes in the mechanical environment, economic factors and even social trends have generated an expanding universe of formulations, delivery systems, and preservation techniques aimed at ensuring that grease and oil products function as expected with minimal unwelcome outcomes and less direct or indirect environmental impact.

The acquisition and repair costs of crucial mine equipment, coupled with the value of lost production, have elevated supplier and customer focus on lubrication performance to a level commensurate with other key operational measurements, which means grease and oil systems are getting the same sort of smart sensor capabilities, real-time monitoring and data analysis currently available for everything from drill components to diesel engines.

Consequently, lubrication technology is an active area for product development and improvement. Here are just a few recent examples: • Hitachi incorporated features in its latest EX-7 series hydraulic excavators ranging from a greaseless center joint that self-lubricates with the machine's hydraulic oil for reduced daily maintenance, to a new auto-lubrication system with a large-capacity grease tank, new grease pump, in-line grease filter with breather and grease level indicator in the cab. • FLSmidth's innovative MAAG Gear LGDX side drive unit for ball mills — a three-stage spur gear with torque split — features a compact footprint for installation flexibility and a unique lubrication system the company claims extends the service life of the unit by approximately 40% when taken in combination with the ability to flip the gear box and operate it in reverse.

This lateral gear unit is designed to avoid dust intrusion with the bearings and medium- and high-speed gearing by separating them from the tooth contact between the output pinon and girth gear. The LGDX includes two independent lubrication systems, one that services the girth gear guard and typically encounters more dust, and a second that supplies oil for the faster-rotating gearing and bearings and stays clean. • Petroleum-product suppliers such as Phillips 66 continue to develop new grease and oil formulations for better performance, such as its Multiplex 600 grease, which contains heavy base oils, a special polymer and a lithium complex soap thickener, fortified with extreme- pressure and anti-wear additives plus rust and oxidation inhibitors. According to the company, it has excellent thermal stability at high temperatures, high load-carrying capacity and protects metal parts against rust and corrosion. Its tackiness properties and heavy base oil provide high adhesion to bearing surfaces, maintaining an effective seal to help minimize bearing contamination, improve retention, reduce leakage and provide excellent resistance to water washout.

As is the case with most major lubrication product suppliers, Phillips 66 also has a wide range of diesel engine oil products. The lineup includes eight brands starting with T5X Plus, a heavy-duty monograde oil, and extending upward to Guardol XT Full Synthetic oil, developed for diesels operating under extreme temperature conditions. With this many choices available from just one supplier, it's critical to select the right product for the application — a point that was highlighted in the October 2020 issue (see Considerations for a Mine Maintenance Program, pp. 40-43) in which an industrial lubricants engineer underlined the need for end users to employ one or more oil condition-monitoring tools to get optimum performance from their lube choices.

Sensors Get Simpler, Smarter
A new generation of sensors could help make this task easier. TE Connectivity's FPS2800 oil property sensor, for example, can measure multiple physical properties allowing simultaneous sensing of the quality, condition and contamination of oil. The stainless-steel sensor offers multi-parametric sensing that measures viscosity, density, dielectric constant and temperature for enhanced fluid analysis from a single sensor, along with simple integration. Relying on tuning fork technology, the sensor monitors the direct and dynamic relationship between multiple physical properties to determine the quality, condition and contaminant loading of engine oil, hydraulic and gear oils and other lubricant fluids. An interesting feature of the sensor is its ability to detect — through viscosity, density, dielectric and resistivity measurements — so-called wrong filling, where an engine has been filled with an incorrect grade of oil, leading to possible internal damage.

Another way to prevent wrong filling is through basic lubrication product management. Whitmore Manufacturing's lubrication management line, OilSafe®, offers fluid storage products designed to filter and protect operational fluids from contamination before and during application and through color coding to identify each type of fluid and its associated containers. In addition to the OilSafe line, Whitmore, a subsidiary of CSW Industrials, markets a broad selection of performance lubricants and reliability products. It recently announced it and Shell Oil's U.S. subsidiary established a joint venture called Shell & Whitmore Reliability Solutions to offer expertise, advanced equipment and services, and an integrated product portfolio for North American mining and rail customers.

The JV began operations immediately following its early April announcement, and is headquartered in Texas, with production assets co-located at Whitmore's Rockwall facility. As part of the JV relationship, Whitmore's Rockwall facility will also become a key producer of Shell greases sold to non-JV sectors in North America.

Conveyors: Top of the List
Lubrication-related mechanical problems can be frustrating for mine maintenance departments and costly for mine management. Across a large-scale mining operation, lube requirements can vary widely in frequency of application, product composition, injection pressure and other factors from machine to machine, not to mention distance to job site, relative risk to crews and potential for financial loss — a bad wheel bearing on a pickup truck poses little risk in this category compared with a slit main conveyor belt due to a seized roller, for instance.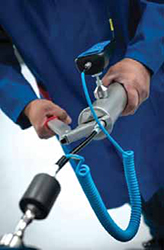 SKF's TLGU 10 allows maintenance
technicians to listen to the sound of grease
filling a fitting and alerts them to stop
filling when the correct amount has been
injected.

It's hard to pick one type of equipment that's more susceptible to lubrication failures than another, but some recent studies point to conveyor systems as a leading contender. A customer poll taken at Swedish bearing manufacturer SKF's 2018 Life Cycle Management Conference, for example, revealed that participants thought conveyors were by far (44%) the most problematic asset type in terms of reliability, followed distantly by mobile equipment (17%), grinding mills and crushers (11% each), and HPGRs, fans and pumps (6% each). SKF also noted that an in-depth analysis of two-year predictive maintenance records of a conveyor system at an iron ore mine in northern Europe revealed that bearing damage in the end pulley and drive pulley were the two chief causes of conveyor breakdowns.

In addition, an audit including visual inspection of 11 conveyors at a major iron ore mine in Australia, including 39 pulleys with 78 bearing housings in total, indicated that contamination and improper lubrication are the main issues in pulley bearing failures. Here's the breakdown of problems: • Contaminated lubrication grease point; • Highly contaminated surroundings; • Lubrication point in wrong location mounted on housing; • Lubrication point hard to access; • Little or no evidence of lubricant at grease exit point of sealing arrangement; • Too many lubrication points mounted on bearing housing; • Grease leakage from end cover of housing; • Inappropriate sealing arrangement; and • Lubrication lines too long.

Conveyor breakdowns aren't only a mechanical challenge, they're a safety issue as well. SKF cited data from the U.S. Mine Safety and Health Administration (MSHA) showing that 43% of injuries and 24% of fatal accidents in mining occur during conveyor maintenance or inspection. The conveyor-related fatal accidents typically include replacing idlers, clearing blockages and cleaning up with a shovel or hose.

To reduce the risk of conveyor mechanical failures and worker injuries, SKF recommends a three-point approach that starts with upgrading the conveyor pulley bearings to match or exceed the service life of the conveyor lagging. This will increase pulley reliability, reduce grease consumption by as much as 90% and improve worker safety, according to the company. SKF also recommends either periodic or continuous vibration and temperature monitoring of the conveyor pulley bearings and drives as part of a comprehensive predictive maintenance program. And their final suggestion is to install single point or multipoint automated lubricators or systems to better control grease consumption and reduce the exposure of workers to the rotating machinery and hazardous areas.

The company recently introduced the BPH30, a new hydraulic barrel pump aimed at large single-line, progressive or dual-line automatic lubrication systems. Target applications include excavators, loaders, haul trucks and other heavy machinery. It can be configured to specific needs, according to the company, which added that it is built from heavy-duty materials and has a compact design that allows it to be mounted in tight spaces. Built-in sensors monitor oil pressure, temperature and piston movement. Flow rate and reverse pressure can be adjusted according to the needs of the application. "This pump is designed to work reliably under demanding conditions," said Daniel Seitz, product manager at SKF. "The pump head is fully encased, which reduces the risk of damage during operations."

The BPH30 has an operating temperature range from -40°C to +80°C and accepts greases up to NLGI 2. The pump has a single outlet, which can be positioned on the left, right or front of the device. A special three-seal design helps to prevent leakage of both hydraulic oil and lubrication grease. A leakage indicator provides visual confirmation that the sealing system is working. The launch of the BPH30 follows up on SKF's earlier introduction of the Lincoln EDL1 dosage and pressure-booster pump designed to increase input pressures of at least 2 bar (29 psi) up to a maximum of 280 bar (4,060 psi). Utilizing progressive metering devices, the EDL1 has been developed for usage in a sectional system as well as in large machines with different lubrication requirements at varying distances. Because lubricant is supplied by means of filling pumps or pressurized cartridges, the device provides flexibility and independent function even in remote locations, according to the supplier.

For equipment that must be lubricated manually, achieving the correct grease "fill" often relies on a technician's experience, machine manufacturer's recommendations or theoretical calculations. SKF introduced a unique ultrasonic device earlier this year, which monitors the sound of grease filling a bearing and can, according to the company, make re-lubrication more accurate and effective. The TLGU 10 device is an all-in-one kit containing an ultrasound sensor that can withstand harsh conditions. Once connected to a grease gun, the TLGU 10 allows a technician to listen to the sound of lubricant filling the bearing, via headphones. When the correct amount of grease has been dispensed, the sound changes abruptly and a color display confirms that filling is complete.

We spoke with Dan Jensen, global product marketing manager at Graco's Lubrication Equipment division. Graco, a global fluids management solution provider headquartered in Minneapolis, Minnesota, recently introduced the Dyna-Star 200:1 air-powered grease pump, an ultra high-pressure unit capable of pumping specialized clay-based greases at 20,000 psi (1,379 bar) maximum operating pressure with 1.5 L/min flow at 10,000 psi back pressure — the level of performance needed for extreme applications such as fracking and oilfield wellhead equipment. Graco also offers the Dyna-Star 120:1 air-powered grease pump, rated at 12,000 psi (827 bar) maximum operating pressure with 1.5 L/min flow at 8,500 psi back pressure — a level of performance more suited for service on rope shovels, hydraulic excavators and other types of large earthmoving equipment.

In these applications, he explained, it's important to have an automatic lubrication system capable of delivering an adequate amount of grease to dozens of points in a large machine, with enough power and control to avoid line pressure drop over long distances yet maintain positive-displacement grease flow without wasteful over-greasing. "It's okay to see a very slight amount of grease externally — that just shows that the system's working correctly, flushing the fitting with fresh grease and keeping dirt out. What you don't want to see are what we call cow pies — large globs of grease buildup externally.

"Often when I visit a site, automated lubrication systems are already installed on large production machines, but the mine is interested in doing better — looking for higher performance or improved reliability," Jensen said. "With the direction that the industry is taking — large, autonomous machines and fewer workers in the mine, for example — both of those factors will be important. Customers also want to know if the lubrication systems they have are providing, or capable of providing, enough information to make good decisions."

Jensen noted that, while air-powered systems have traditionally been popular throughout mining, the industry's move to digitalization could likely result in more demand for electric-powered systems because they can provide more operational data. In addition to air-powered units, Graco also markets electric- and hydraulic-powered grease and oil pumps for a wide variety of applications, including heated, pressurized grease spray systems for grinding mills.

Although e-fluids — lubricants and coolants designed for use in current and future battery-electric off-highway vehicles — are getting more attention from specialty chemical suppliers, Jensen sees no long-term drop-off in the importance of automated lubrication systems for production equipment. "These machines will still be large, with large pins and pivot points that need consistent, correct lubrication. Their value to the mine is their availability. That's why we describe lubrication systems as 'little machines that keep big machines running.'"

Reducing the Carbon Footprint
In addition to optimizing product formulas for maximum performance, lubrication suppliers are looking much more closely at minimizing overall consumption of hydrocarbon- based products and their contribution to a company's carbon footprint. The latter has become such a hot-button issue that petroleum-product vendors have started announcing their own initiatives to reduce emissions and the risk of environmental damage. For example, earlier this year, Shell Lubricants said it has begun measures involving many of its product lines to offset emissions as a step toward its target to be a net-zero emissions energy business by 2050 or sooner. Globally, Shell aims to offset the annual emissions of more than 52 million gallons of synthetic lubricants, expecting to compensate around 700,000 metric tons of carbon dioxide equivalent emissions per year.

Graco's Dyna-Star 120:1
pneumatic grease pump weighs
27 lb, stands just over 43 in. tall
and can handle grease grades
up to NLGI 2.

Mobil's new product segment — SHC Grease 101 EAL (Environmental Awareness Lubricant) and 102 EAL — comprises high-performance greases designed specifically for applications that require environmentally sensitive lubricants. The two greases are formulated from a biodegradable synthetic ester base oil, selected high-performance additives and a lithium soap thickener, and are biodegradable and virtually non-toxic, according to the company. The wax-free nature of the synthetic base fluid, together with its low traction coefficient, are claimed to provide excellent low-temperature pumpability and very low starting and running torque — a significant benefit considering that many environmentally sensitive applications are outdoors. Mobil's 101 EAL and 102 EAL are NLGI grade 1 and 2, respectively.

Petro-Canada Lubricants launched ENVIRON MV R, billed as the first hydraulic fluid to meet OECD 301B requirements for ready biodegradability. According to the company, ENVIRON MV R combines select, ultra-pure, severely hydrotreated base oils with a premium ashless additive system to offer the protection of a premium hydraulic fluid while also being OECD 301B Readily Biodegradable to help protect sensitive environments.

The absence of zinc and other heavy metal-based additives also makes the fluid safer for the environment by minimizing the risk of creating long-term damage to terrestrial and aquatic organisms or water resources. Petro-Canada Lubricants said ENVIRON MV R provides hydrolytic stability not obtainable with vegetable oil and synthetic ester-based alternatives, which readily degrade in the presence of water, reducing their service life and risking equipment damage and corrosion. It is also claimed to have better seal compatibility than vegetable oil and ester-based products and will perform over a wide operating temperature range, maintaining its fluidity during prolonged low temperature exposure.

Cutting Consumption
There are numerous site-specific options available to mines for conserving lubrication consumables; one is to simply use current technology to reduce the frequency of oil changes and system refills. Companies such as C.C. Jensen, for example, offer offline oil filtration systems that can remove smaller contamination particles from fixed-base and mobile equipment that inline systems can't capture. Apart from eliminating the micron-sized particles that cause premature wear, offline filtration also reduces the risk of premature oil degradation — another common cause of component failure.

One example provided by the company points to a copper mine in Chile that went from bimonthly scheduled oil changes on its crushers to a single, annual lube-related shutdown, resulting in savings of almost half a million dollars yearly even before considering the additional savings on spare-parts costs arising from mechanical failure. Another copper mine saw cost savings of 86% on oil consumption, 73% savings on in-line filters, and 62% savings in mechanical spare parts.

The company also claimed that the service life of lubrication and hydraulic oil used in haulage fleets and earthmovers can improve significantly through use of an offline filtration system — often yielding results such as 10,000 service hours for hydraulic oil, 1,500 hours for engine lube oil, 18,000 hours for injectors and 15,000 hours for differential oil. Earlier this year, SKF announced that an oil-recovery system it has used to regenerate lubricant at two of its production plants will be offered as a service. The company said its RecondOil Double Separation Technology (DST) continually removes contamination, including nano- sized particles, from lubrication oil.

According to SKF, the technology has been proven at two SKF production sites in Italy and will now be introduced more widely throughout its operations. DST won't be sold directly to customers but will be offered as a service under a fee- and performance-based agreement. SKF said this could benefit customers by cutting oil-related costs and simplifying oil management, while reducing the environmental impact. Early-stage lifecycle assessments conducted by SKF indicate that every metric ton (mt) of reused oil can reduce CO2 emissions by up to 3 mt.
---
As featured in Womp 2021 Vol 05 - www.womp-int.com