The latest from the
World Mining Equipment
Video Library
View




The EV Era is Upon Us

The headlines relating to the demand for battery minerals seem to be everywhere these days. As this edition was going to press, Reuters reported that lithium and copper miners were competing for water supplies in the high desert that straddles the border between Chile and Argentina. Then there were the headlines relating to the declining cobalt prices, which have dropped from a recent high of $43/lb to less than $30/lb today. They said that signals the end to the battery minerals rush. That might be true for the speculators, but not the mining business.
Demand for minerals to support the anticipated electric vehicle (EV) explosion has not truly materialized yet. Manufacturers are only now lining up possible supply chains for lithium ion batteries (LIBs). As an example, LG Chem, a South Korean .... read more

Steve Fiscor, Publisher & Editor in Chief

Quellaveco Project Gets Go-ahead
Anglo American announced in late July it will proceed with development of its 60% owned Quellaveco copper project in the Moquegua region of southern Peru. The project has an expected capital cost of $5 billion to $5.3 billion and will be funded 60% by Anglo American and 40% by its partner, Mitsubishi, with Mitsubishi pre-funding the first $500 million of Anglo American's share of capital expenditures.... read more
Lundin Mining Initiates Takeover Bid of Nevsun
On July 26, Canadian base metals miner, Lundin Mining Corp. made an offer to acquire all of the issued and outstanding common shares of Nevsun Resources Ltd. for approximately C$1.4 billion (US$1.1 billion). Under the terms of the offer, Nevsun shareholders will receive C$4.75 in cash for each Nevsun share. Lundin Mining has made numerous proposals to Nevsun, beginning in February .... read more

Top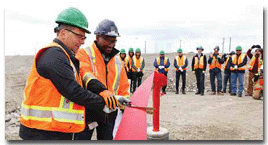 Rio Tinto Opens New Diamond Pipe at Diavik
Rio Tinto celebrated the opening of a fourth diamond pipe, known as A21, at the remote subarctic Diavik diamond mine in the Northwest Territories of Canada. The Hon. Wally Schumann, minister of industry, tourism and investment with the government of the Northwest Territories, was the guest of honor at the celebration attended by Indigenous community representatives, joint venture partners .... read more


First Quantum Reports Record Quarterly Copper Sales
In its second-quarter earnings statement, First Quantum reported quarterly copper sales of 152,403 metric tons (mt) and a production figure of 150,950 mt of copper. The company reported a 28% increase yearover- year at the Sentinel mine. The company also achieved commissioning milestones at the Cobre Panama project. It synchronized one of the power stations and started supplying power .... read more

| | |
| --- | --- |
| AROUND THE WORLD - USA & CANADA | |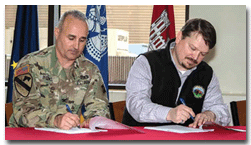 Donlin Gold Project Receives ROD, Major Federal Permits
The U.S. Army Corps of Engineers (the Corps) and the U.S. Bureau of Land Management (BLM) have issued a single Federal Record of Decision (ROD) for Barrick Gold's Donlin Gold project, located in Alaska, following completion of the federal National Environmental Policy Act process. Along with the ROD, the Corps issued a combined permit under Section 404 of the Clean Water Act and Section 10 of the Rivers and Harbors Act. Additionally, the BLM issued the offer to lease .... read more


Aquila Advances Back Forty Zinc-Gold Project in Michigan
Aquila Resources has reported the results of an independent, open-pit-only feasibility study of its 100% owned Back Forty zinc and gold project on Michigan's Upper Peninsula. Project life is estimated at seven years, producing an average of 67,000 ounces per year (oz/y) of gold in doré and 73 million lb/y of zinc in concentrates, as well as separate copper and lead concentrates. Initial project capital costs are estimated at $294 million ....read more

Top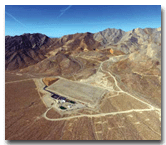 Coeur Mining to Buy Northern Empire Resources
Coeur Mining has agreed to acquire Northern Empire Resources Corp. by purchasing all outstanding shares not currently owned by Coeur for approximately $90 million. Northern Empire's principal asset is the Sterling gold project located in Nevada, which consists of four high-grade heap-leachable deposits with a total inferred gold resource of approximately 709,000 ounces (oz) averaging 2.23 grams per metric ton (g/mt) located on a 143-km² land package approximately 185 kilometers .... read more

| | |
| --- | --- |
| AROUND THE WORLD - Latin America | |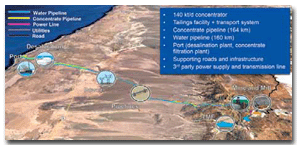 Teck Gets Regulatory Approval for QB2
Teck Resources said it has received regulatory approval for its Quebrada Blanca Phase 2 (QB2) project in the Tarapacá Region in northern Chile. The regional Environmental Committee of Tarapacá voted to approve the project's Environmental Impact Assessment (EIA). Receipt of the Environmental Qualification Resolution (RCA) is expected in the coming weeks. "Receiving this regulatory approval is a major step forward .... read more


Top
Escondida Signs New Collective Bargaining Agreement
On August 17, workers at Minera Escondida, controlled by BHP, signed an agreement with the company to avoid an imminent strike, the company announced. In a statement, the company said Union No. 1 informed the company about the approval of the agreement reached in the mediation process. With this ratification, the company then proceeded to sign .... read more

| | |
| --- | --- |
| AROUND THE WORLD - Australasia | |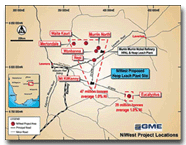 NiWest PFS Delivers Outstanding Results for GME
A prefeasibility study (PFS) of GME Resources' NiWest laterite nickel-cobalt project in the northeastern Goldfields region of Western Australia has confirmed the technical and financial robustness of a long-life operation producing high-purity nickel and cobalt sulphate products. Life-of-mine production would total 456,000 metric tons (mt) of nickel in nickel sulphate and 31,400 mt of cobalt …. read more


Top

Rio Tinto Begins Work on First 'Intelligent Mine'
Rio Tinto has approved $146 million of funding for initial work at its Koodaideri iron ore project 110 miles west of Newman, Western Australia. The company expects to make a final investment decision for the project by the end of the year. Subject to final investment and government approvals, Koodaideri will be Rio Tinto's first "intelligent mine," incorporating the latest in high-tech advances in the industry and utilizing an increased level …. read more

Kinross Halts Phase 2 Expansion of Mauritania Mine
Gold miner Kinross has decided to pause Phase Two activities at its Tasiast mine following a decision in early May by the government of Mauritania to reject a permit and a desire to enter into discussions about the miner's activities in the country. Kinross said it is analyzing alternative throughput expansion options at Tasiast as it continues to engage with the government. "The completion of our evaluation of …. read more
Top
DRC: New Mining Industry Body Forms to Focus on Mining Code Improvement
Mining companies accounting for 80% of copper and cobalt production and 90% of gold production in the Democratic Republic of Congo (DRC) have established a new body, the Mining Promotion Initiative (MPI), to engage with the government on industry concerns about the country's new mining code and any other material issue concerning the mining industry in the DRC …. read more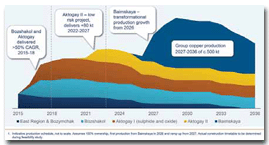 KAZ Minerals Acquires Copper Project in Russia's Far East
KAZ Minerals has agreed to acquire the Baimskaya copper project in the Chukotka region of Russia's Far East for $900 million in cash and shares, comprising initial consideration of $675 million and deferred consideration of $225 million. Baimskaya is a significant undeveloped asset, with potential to become a largescale, low-cost, open-pit copper mine. Average annual production over the first …. read more


Top
HCL to Expand Copper Production
India's sole integrated copper producer, state-run, Hindustan Copper Ltd. (HCL) will increase its production six fold to 20 million metric tons per year (mt/y) investing an estimated $808 million over the next six years to expand its copper mines. According to a company official, HCL, which currently meets about 4% of domestic demand of copper, will increase domestic supplies to meet about 30% of domestic demand of the nonferrous .… read more



| | |
| --- | --- |
| THIS MONTH IN COAL | |

US EPA to Replace CPP With Affordable Clean Energy Rule
On August 21, the U.S. Environmental Protection Agency (EPA) published a new rule to reduce greenhouse gas emissions from existing coal-fired plants that would replace former President Barack Obama's Clean Power Plan (CPP). The proposal, the Affordable Clean Energy Rule (ACE), would establish emissions guidelines for states to use. According to the EPA, this rule will empower states, promote energy independence, and facilitate economic growth .... read more


Top

Russia to Export 200 Million MT of Coal in 2018
Russia is expected to export more than 200 million metric tons (mt) of coal in 2018, according to Xinhua. Energy Minister Alexander Novak, at a fuel and energy commission in the Kemerovo Region, said that "Russia is expected to produce over 420 million mt of coal in 2018, surpassing the maximum level of former Soviet times reached in 1988. The export of coal from Russia, according to our estimates, is expected to exceed 200 million mt: about 100 million mt in the west and …. read more


-->
| | |
| --- | --- |
| FEATURE - Blasthole Drills | |

The New Standard of Customizable Rigs
The latest rotary blasthole drill solutions promise optimized production on rigs configured for specific site, fleet and staffing needs

By Jesse Morton, Technical Writer

In the 1990s, after the rhythmic miner strike cycles had jibed with the successive waves of mine nationalization in Chile, a new type of miner emerged, one who was a little less specialized and a little more conformist, according to academics. He was, in their terms, polyvalent. Relegated to history was the technician with a narrow but advanced skillset, who was happily .... read more


For more companies with products in the Drill Rigg market -
Go Here
| | |
| --- | --- |
| FEATURE - Narrow Vein Mining 1 | |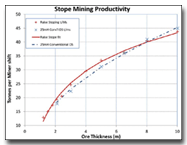 Matching Method to Orebody
Two narrow-vein project experts reveal when the mechanized raise-climber mining method is more efficient than the long hole open-stope mining method, and when it is not.

By Jesse Morton, Technical Writer

Size matters. Longitudinal data reveals that the thickness of a vein can determine whether the mechanized raise-climber mining (MRCM) method will be more efficient than the long hole open-stoping (LHOS) method. This is according to research by Ken McKirdy, chief engineer, and Tracy Kitchkeesick, technical services manager, Manroc Developments Inc., and reported at the 2018 Canadian Institute of Mining, Metallurgy and Petroleum (CIM) conference ..... read more

Top
For more companies with products in the Raise Climber market -
Go Here
| | |
| --- | --- |
| FEATURE - Narrow Vein Mining 2 | |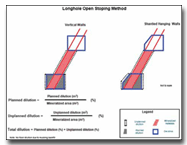 Reducing Dilution With Narrow-vein Mining
A plan that considers drive size, blast design and quality control provides the best results

By Paul Salmenmaki

AMC has conducted numerous studies to reduce dilution for mechanized narrow vein mining methods in operating mines. Methods have included long hole open stoping (LHOS) and mechanized cut and fill (CAF). Dilution can be classified as planned or unplanned. Planned dilution accounts for waste material incorporated into the stope when designing practical mining shapes. Planned dilution will depend on the vein geometry, thickness, orebody dip and local ground conditions. Unplanned dilution consists of waste, which is mined due to.... read more

For more companies with products in the Drilling market -
Go Here
| | |
| --- | --- |
| FEATURE - Tailings Management | |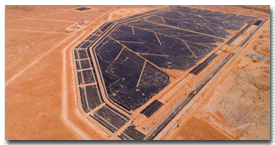 Don't Let Tailings Management Slide
As technology advances to handle increasing volumes of tailings, experts recommend periodic reviews of TSF operations and options to maintain efficiency and safety

By Russell A. Carter, Contributing Editor

If visual prominence is an indication of status on typical plant flowsheets, tailings rank below even the least valuable by product. The vague "To tailings…" box at the bottom right of most process diagrams says it all — get this material out of the plant quickly and store it somewhere, preferably as cheaply as possible. However, the industry's approach toward tailings is changing, influenced by regulatory scrutiny, societal concerns and an expanding awareness by producers that.... read more

Top

For more companies with products in the Mineral Processing market -
Go Here
| | |
| --- | --- |
| Video Presentations | |
The latest listings from the World Mining Equipment Video Library - to view the video, click the image.
For more details on the Video Hub -

Go Here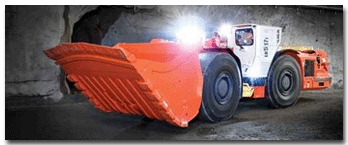 Automation-ready Intelligent Loader
Sandvik introduced the LH517i, an intelligent loader designed to meet customer expectations of safety, reliability, and efficiency and that offers lower operating costs and improved connectivity, the company reported. The loader was developed with input submitted in 2015 by 240 Australian customers .... read more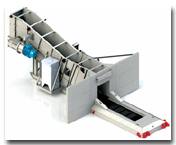 Low-capacity Reclaim Feeders for Any Mine
FLSmidth announced the Buffalo range of low-capacity modular reclaim feeders are suitable for mines of any size. The series offers "different discharge heights and loading decks of various lengths to suit the required application." The feeders can be mounted on skids or wheels. The motor control center is on board and only the power supply needs to be isolated prior to relocation. It is powered by electromechanical and hydraulic drives ....read more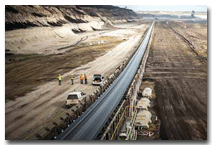 Conveyor Digital Twin for Comparisons
Voith released BeltGenius ERIC, software that allows mine operators to assess conveyor efficiency, the company reported. The system receives relevant performance data from the conveyor, which then goes to a server at Voith. The server hosts a digital twin of the system. ERIC (Efficiency and Reliability Intelligent Control) determines a baseline value linked to the energy consumption and known as the Energy Performance Indicator .... read more

Top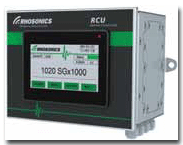 Remote-control Unit Reads Inaccessible Meters
Rhosonics released the RCU Remote-Control Unit for measuring instruments located in inaccessible places. It enables the user to get the data from, or adjust the settings on, a meter that is either hard to reach or in a dangerous location using a handheld device or PC/PLC. The unit connects to the measuring instrument by cable and monitors measurement results and change ....read more
Clamping Strips for Trefoil Clamping
Beele Engineering announced new clamping strips that secure three high-tension cables in a trefoil clamp, dubbed the RockRoller. The strips, made of Beele's NOFIRNO rubber, help bundle high-voltage wires that will cross significant distances through drill holes or pipes .... read more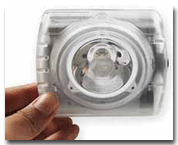 Upgraded Rechargeable Cap Light
Mine & Process Service Inc. released the upgraded Lite 2 miner's light from Wisdom. The compact, self-contained light weighs 6 oz, offers one of the brightest beams available for an MSHA-approved cap lamp, and is offered at a low cost, Mine & Process Service reported. The internal batteries replace heavy, belt-mounted battery .... read more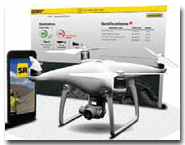 Partnership for Stockpile Assessment System
BinMaster partnered with Stockpile Reports on a stockpile volume and value assessment and reporting system, available by subscription. The solution will leverage level sensors within silos and image processing software to capture and push inventory data to multiple users via a single platform. Dashboards populated with photographs, site statistics, and materials report to disparate users the volume, tonnage, and condition risks for each pile, BinMaster reported .…. read more

Top

Mobile Truck Scanning System Adopted
Nickel Asia Corp. adopted two Loadscan portable load volume scanner (LVS) systems for the Taganito nickel mine in the Philippines. It utilizes laser scanning and RFID technologies, with software that creates 3-D model images of trucks, to measure the volume of the material loaded in a truck or trailer bin ....read more
OCTOBER 18-20, 2018: China Mining 2018, Tianjin Meijiang Convention Center, Tianjin, Peoples Republic of China. Contact: Web: www.chinaminingtj.org

>

DECEMBER 3-7, 2018: American Exploration & Mining Association annual meeting, Spokane, Washington, USA. Contact: Web: www.miningamerica.org

DECEMBER 4-5, 2018: 1st International Conference on High Performance Mining, RWTH Aachen University, Aachen, Germany. Contact: Web: www.high-performance-mining.com

JANUARY 27-30, 2019: 45th Annual Conference on Explosives and Blasting Techniques, Nashville, Tennessee, USA. Contact: Web: www.isee.org

FEBRUARY 24-27, 2019: SME Annual Conference & Expo, Denver, Colorado, USA. Contact: Web: www.smeannualconference.com

March 10-13, 2019: Haulage & Loading, Hilton El Conquistador Resort, Tucson, Arizona, USA. Contact: Web: www.haulageandloading.com

>

APRIL 8-14, 2019: bauma, Messe Muenchen, Munich, Germany. Contact: Web: www.bauma.de

MAY 10-13, 2019: Longwall USA, Pittsburgh, Pennsylvania, USA. Contact: Web: www.longwallusa.com

For a full calendar of mining industry conferences and events - click here
| | |
| --- | --- |
| WHO'S MOVING WHERE | |

Turquoise Hill Resources appointed Ulf Quellmann as CEO. Quellmann was appointed to the Turquoise Hill Board of Directors in May 2017 and will continue to serve as a member of the board, as well as continuing to be part of the Turquoise Hill-Rio Tinto negotiating team working with the government of Mongolia primarily to conclude the sourcing of domestic power. Most recently, Quellmann served as vice president, strategic projects, of Rio Tinto's Copper and Diamonds product group and prior to this was the CFO of the same group.

McEwen Mining Inc. appointed Chris Stewart as the president and COO. He replaces Xavier Ochoa who resigned July 13. Most recently, he was the president and CEO of Treasury Metals.
Poseidon Nickel appointed Robert Dennis as CEO and Managing Director. He is currently a nonexecutive director of Poseidon and used to be the COO. He remained on Poseidon's board as a nonexecutive director when he took up a COO role at Independence Group in 2014.

Australian Potash Ltd. appointed James (Jim) Walker to the role of nonexecutive chairman. Matt Shackleton, formerly executive chairman, has been appointed managing director and CEO. Prior to retiring from the position in 2013, he was the managing director and CEO of WesTrac Pty Ltd.

Mandalay Resources Corp. announced the following changes to its management team. Nick Dwyer will serve as CFO. Dwyer was previously the group financial controller at Mandalay. Dwyer will replace Sanjay Swarup, who announced his resignation effective immediately. The company is combining the group financial controller and CFO positions. Ryan Austerberry will serve as general manager of Björkdal. Previously, Austerberry held the position of manager, technical services at Mandalay Corporate.

TNG Ltd. appointment Tony Arena as general manager of processing, a newly created position. He was most recently metallurgical and production superintendent at the Roy Hill Iron Ore Operations in the Pilbara. During this time, he was also acting in the processing manager and alternate registered manager roles.

Montego Resources appointed Larry Segerstrom as vice president of exploration and technical advisor to the company. Segerstrom is a senior mining professional with more than 30 years of technical, operational and business experience, managing discoveries and development of an epithermal gold and silver project in Mexico working with an investor relations team. .

Dyno Nobel announce that Braden Lusk will be vice president of DynoConsult and Applications Technology. He has been the professor and chair of Mining and Nuclear Engineering at Rolla since 2016.
About - providing an abreviated version of the current print edition of E&MJ, WOMP is distributed throughout the world to decision makers in the global mining industry, the last week of every month.

Subscribe to E&MJ - To receive your own copy of the print edition of E&MJ, click here , and complete your details. E&MJ is available free of charge to qualified readers.

Contact - if you have views, opinons or comments or editoral that you would like to submit, we would be delighted to hear from you - click here

Top