Quellaveco Project Gets Go-ahead
---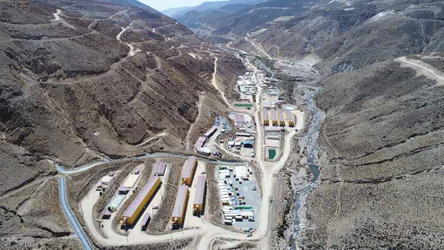 Fluor has been awarded the EPC contract for the next large Peruvian copper project.


Anglo American announced in late July it will proceed with development of its 60% owned Quellaveco copper project in the Moquegua region of southern Peru. The project has an expected capital cost of $5 billion to $5.3 billion and will be funded 60% by Anglo American and 40% by its partner, Mitsubishi, with Mitsubishi pre-funding the first $500 million of Anglo American's share of capital expenditures.

First production of copper from the project is planned for 2022, ramping up to full production in 2023. During the first 10 years of full production, the mine is expected to produce about 300,000 metric tons per year (mt/y) of copper at a cash cost of $1.05/lb.

Quellaveco will be an open-pit mine, with processing by flotation to produce copper concentrate along with molybdenum and silver byproducts. Nameplate plant throughput capacity will be 127,500 mt/d. "Quellaveco is one of the world's largest and most attractive undeveloped copper orebodies," Anglo American Chief Executive Mark Cutifani said. "We expect Quellaveco to generate a real, post-tax IRR of greater than 15%, with a four-year payback and an EBITDA margin of more than 50% due to its first-quartile cash cost position.

"We see significant potential to expand Quellaveco beyond its current 30-year reserve life as well as to increase throughput above the initial capacity of 127,500 mt/d."

Fluor has been awarded the engineering, procurement, and construction management contract for Quellaveco. Fluor completed the feasibility study for the project and has been responsible for early site infrastructure development since 2014.

Anglo American has developed support from local communities through an innovative 18-month consultation with local authorities and community representatives from the Moquegua region. As a result of this process, the company has agreed to 26 detailed and specific longterm commitments relating to water management, environmental protection, and social investment.

As an example, by ensuring that water required by the operation is drawn mainly from a river whose water is not fit for human or agricultural use due to its volcanic origins and, additionally, by collecting excess rainfall and sharing it with the communities, Anglo American is delivering on its promise of a positive water impact for local people and their livelihoods.

Quellaveco ore reserves total 1.3 billion mt, containing approximately 7.5 million mt of copper. Current reserve life is 30 years, with potential for further extension based on estimated additional mineral resources of 1.6 billion mt containing 6 million mt of copper.

The Quellaveco project has all of the major permits required for construction. It will be operated by Anglo American and will create more than 9,000 jobs during the construction phase and approximately 2,500 jobs in normal operation.

Through the end of 2017, Anglo American had invested approximately $450 million in early groundworks and engineering, including a tunnel and barrier for the diversion of the Asana river, an access road, construction camps, and water infrastructure for construction and operations.
---
As featured in Womp 2018 Vol 09 - www.womp-int.com