The latest from the
World Mining Equipment
Video Library
View




Mining is Noble and Vital

Those who were unable to attend the keynote session at the 2018 Society for Mining, Metallurgy and Exploration (SME) annual conference missed a rare treat: the chance to hear a great politician talk about the benefits of mining. The event took place in Minneapolis this year and U.S. Rep. Rick Nolan (D-MN), who represents Minnesota's eighth district, kicked off the panel discussion. That district includes Hibbingand the Iron Range, Duluth and the Boundary Waters.

The moderator introduced Rep. Nolan as an Iron Rangenative. Taking the stage, he explained that his district is proud to call itself mining country. He cited examples of why mining is so vital to U.S. national and economic security. He referred to a recent Homeland Security study, which concluded that 13% of the U.S. GDP originates from Lake Superior .... read more

Steve Fiscor, Publisher & Editor in Chief

Cleveland-Cliffs Breaks Ground on HBI Plant in Ohio
Cleveland-Cliffs broke ground on its first hot-briquetted iron (HBI) production plant. The company is investing $700 million to build one of the world's most modern and efficient iron making plants, generating a total of 130 new jobs in Toledo, Ohio, the company said. The Toledo plant will produce 1.6 million metric tons per year.... read more
Leagold Acquiring Brio Gold
Canadian companies Leagold Mining and Brio Gold have agreed to the acquisition of Brio by Leagold. Leagold is headquartered in Vancouver and owns and operates the Los Filos mine in Guerrero, Mexico. Brio is headquartered in Toronto and owns and operates the Pilar, Fazenda Brasileiro, and Riacho dos Machados mines and the La Luz re development project in Brazil. Los Filos produced 191,195 ounces (oz) of gold for Leagold .... read more

Top
Finland Tops Fraser's 2017 Mining Survey
The Fraser Institute's annual survey of mining companies, published on February 22, ranked Finland as the top jurisdiction in the world for mining investment in 2017 based on the survey's Investment Attractiveness Index. Finland moved up from fifth place in 2016. Saskatchewan, which was first in 2016, dropped to second in 2017. Nevada moved up to third from fourth. The Republic of Ireland ranked fourth, up from ninth .... read more


Production Resumes at Cadia
Newcrest Mining recommenced processing at its Cadia operations at the beginning of April with the associated tailings being deposited into the southern tailings facility. Processing is currently at a run rate of approximately 8 metric tons per year (mt/y) due to limitations in infrastructure to the southern tailings facility. The southern tailings facility has been inspected, independently reviewed and assessed to be safe for .... read more

| | |
| --- | --- |
| AROUND THE WORLD - USA & CANADA | |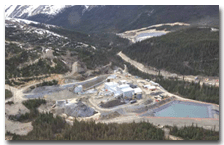 Production Begins at Silvertip Mine
Coeur Mining confirmed it has commenced production at its high-grade silver-zinc-lead Silvertip mine in British Columbia, Canada, following the successful commissioning of mill operations. Rampup of production is now slightly ahead of schedule with mill throughput expected to steadily increase throughout the remainder of the year from an estimated 250 metric tons .... read more


Osisko Metals Starts Work to Revive Mining at Pine Point
Osisko Metals has initiated a 50,000-meter drill program at its recently acquired Pine Point properties in the southern Northwest Territories, Canada. The Pine Point district was mined by Cominco from 1964 to 1987, with about 64 million metric tons (mt) of ore produced from as many as 46 separate open pits and two underground mines on a 35-km-long trend at an overall average grade of 7% zinc and 3.1% lead ....read more

Top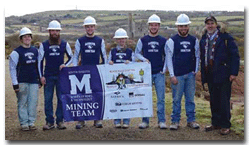 South Dakota School of Mines and Technology Team Wins World Championship
The South Dakota School (SD) of Mines & Technology Mining and Mucking Team are world champions, taking home first place in the coed/mixed division at the International Collegiate Mining Games held March 29-April, in Cornwall, England. The team, named Hammerslagen, took home the championship by placing in .... read more

| | |
| --- | --- |
| AROUND THE WORLD - Latin America | |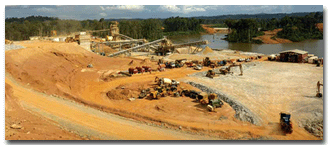 Guyana Goldfields Increasing Production at Aurora Mine
Guyana Goldfields has developed an optimized life-of-mine (LOM) plan for its Aurora gold mine in northern Guyana that will increase average annual production from 242,000 ounces per year (oz/y) to 270,000 oz/y for the period 2018 to 2022. The plan is based on increased mineral reserves of 12% after net depletion during 2017 .... read more


Top
Newcrest Investing in Lundin Gold, Fruta del Norte Project
Newcrest Mining has entered into agreements with Lundin Gold to invest $250 million in Lundin to acquire a 27.1% interest in the company and, separately, to farm-in to a selection of Lundin's exploration concessions in Ecuador. Lundin Gold is building the Fruta del Norte gold mine in southeast Ecuador, where the company is targeting first production by the end of 2019. Fruta del Norte is one of the largest and .... read more

| | |
| --- | --- |
| AROUND THE WORLD - Australasia | |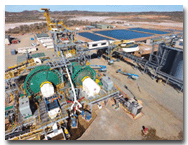 Dacian Pours First Gold at Mount Morgans
Dacian Gold reported its first bar of gold was poured at its Mount Morgans gold project in Western Australia on March 29. This key milestone, according to the company, was achieved following a rapid and successful 11-month construction period in which the project construction was completed on time and on budget. Dacian Gold Executive Chairman and CEO Rohan Williams …. read more


Top

St. Barbara Planning New Mining Method for Gwalia
St. Barbara Ltd. has reported a new life-of-mine (LOM) plan for its Gwalia gold mine near Leonora, south-central Western Australia. Based on existing resources and reserves, the new plan includes a change in mining and haulage methods to suit the deepening mine and the nature of existing unmined lodes. The new mining approach, termed Gwalia Mass Extraction (GMX), is assumed to begin in …. read more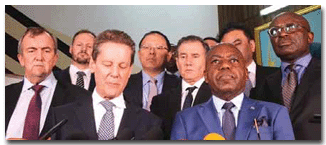 Mining Industry Submits Code Proposal to DRC Government
On March 29, executives with mines operating in the Democratic Republic of Congo (DRC) submitted a formal proposal to the country's Minister of Mines Martin Kabwelulu that is designed to address concerns about the recently revised mining code as well as the government's revenue needs. The executives represented more …. read more
Top
Sissingué Reaches Commercial Production
Commercial production has been achieved at the Sissingué gold mining operation in Côte d'Ivoire, according to Perseus Mining. Ramp-up of operations at the Sissingué gold mine has been completed ahead of schedule. Mill throughput rates, gold recovery rates, grade reconciliation, mining rates exceed the criteria established by Perseus to define "commercial production" and the mine was cash flow positive on March 31 …. read more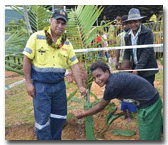 Earthquakes Ravage PNG Highlands
Papua New Guinea (PNG) faces a long road to recovery after a series of earthquakes and aftershocks struck the mountainous region already reeling from a 7.5-quake on February 26. Australia and New Zealand sent helicopters and planes to help deliver aid to the remote region, which has been isolated by landslides. The initial earthquake …. read more


Top
Plenty of Asia Upside as Commodity Downturn Eases
A resurgence in international precious, base and battery metals exploration and development investment activity has given a leading international mining consulting firm good reasons to celebrate the five-year anniversary of its Hong Kong office. SRK Consulting's Hong Kong general manager and principal geologist, Dr. Gavin Chan, said the global firm is increasingly optimistic about prospects in the region as the mining industry continues to .… read more



| | |
| --- | --- |
| THIS MONTH IN COAL | |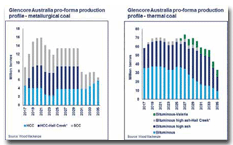 Rio Tinto Sells Queensland Assets, Exits Coal Business
Last month, Rio Tinto announced three separate deals that totaled $4.15 billion, which will complete its exit from coal. This includes $1.7 billion sale of its interest in Hail Creek and Valeria to Glencore, the $2.25 billion deal to sell Kestrel to Adaro Energy and EMR Capital and the $200 million transaction to sell Winchester South to Whitehaven Coal. The Kestrel longwall mine, located in the Bowen Basin .... read more


Top

Czech Tycoon to Buy Europe's Aging Coal-fired Power Plants
Czech energy magnate Pavel Tykac is ready to spend 1 billion euros ($1.2 billion) of his own cash on aging coal and gas-fired power plants across Europe, according to Bloomberg. He's betting they will be needed for decades to supplement the green power that's taking a bigger role at utilities from Germany to Britain .... read more


Indonesian President Caps Domestic Coal Prices
Indonesian President Joko Widodo has signed a government regulation authorizing the energy and mineral resources minister to set the price of coal for the domestic market, Reuters reported. Coal and Minerals Director-General Bambang Gatot told parliament, "Further details on the pricing plan will be outlined in a ministerial decree expected to be announced soon." Government officials said Indonesia plans to keep electricity tariffs and fuel …. read more


-->
| | |
| --- | --- |
| FEATURE - Blasting | |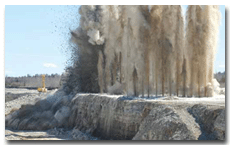 Six Sigma Blasting
Implementing a process improvement plan for blasting can improve downstream operations.

By Anthony Konya and Dr. Calvin Konya

Drilling and blasting is a complex process, which in many situations is not given the full emphasis it deserves in process development and controlling the costs throughout the mine. For example, the blasting process dictates muck pile configuration, which affects shovel and loader fill factors. The fill factor of the shovel determines how many trucks are required on-site, how fast those trucks can be loaded and the truck fill factor .... read more



For more companies with products in the Blasting market -
Go Here
| | |
| --- | --- |
| FEATURE - Heap Leach | |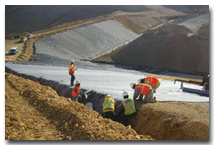 Get Better Recovery From Heap-leach Systems
From comminution to pad design, miners are reviewing options for precious metals.

By Steve Fiscor, Editor

While heap leach systems seem relatively simple at first glance, they can be quite complex. Basically, ore is crushed to a certain consistency and placed on the pad. A solution is distributed using an irrigation system, which percolates through the heap liberating the metals. The pregnant solution is collected and processed. Pad designs vary, but there are predominantly two types of heaps: static and dynamic. With dynamic heaps ..... read more

Top

For more companies with products in the Mineral Processing market -
Go Here
| | |
| --- | --- |
| FEATURE - Underground Mining | |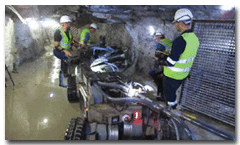 Low-profile Mechanized Mining
Leading local innovation at the heart of gold and PGM miner's mechanization drive.

CMTI Group's state-of-the-art patented technology is a critical component of Sibanye Resources' drive to mechanize its South African gold and platinum-group metal (PGM) operations — a transition that will lead to safer mining, while extending the life of operations, bolstering productivity levels and unlocking significant value for shareholders. The South African original equipment manufacturer's (OEM) cutting-edge MT 100 and MT 1000 ultra-low platforms (ULPs) are part of the mining house's Stope-Mechanization Program. Registered as a "quick-win" project at the Phakisa Innovation Hub, they are playing their .... read more


For more companies with products in the Underground market -
Go Here
| | |
| --- | --- |
| FEATURE - Motors and Drives | |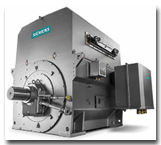 Maximizing Motor Skills
Miners are moving toward 'intelligent mining,' 'the connected mine,' and IoT. Electric motor suppliers are intent upon expanding their market. Consequently, motors, drives and couplings are getting smarter — and easier to install, control and monitor.

By Russell A. Carter, Contributing Editor.

The dictionary defines the word ubiquitous as "being everywhere; constantly encountered," and in the mining industry, nothing comes closer to that definition than electric motors and their associated drives and couplings. Powering everything from SAG mills to samplers, motors literally keep mine sites humming on a more-orless continuous basis. Challenged by the needs and expectations of mining customers, motor-technology purveyors are highly motivated to find ways to move the needle farther .... read more

Top


For more companies with products in the Motors and Drives market -
Go Here
| | |
| --- | --- |
| Video Presentations | |
The latest listings from the World Mining Equipment Video Library - to view the video, click the image.
For more details on the Video Hub -

Go Here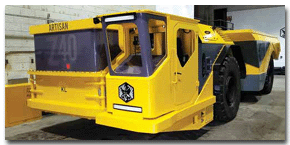 Battery-powered 40-MT Haul Truck
Artisan Vehicle Systems launched the Z40, a 40-metric-ton (mt) battery-powered underground haul truck. The truck, designed and developed at the company's Kirkland Lake facility, leverages Artisan's 153 lithium battery technology. It is the smallest on the market, has almost twice the peak horsepower and produces 1/8 the heat of .... read more

Drive for Hazardous Locations
Applied Motion released the STAC6-Q-H Stepper Drive, internationally certified for use in hazardous locations. The drive operates in environments with flammable or explosve gases, vapors or liquids. Powered by 120 volts (AC) that generate a nominal 160-volt DC internal bus, the drive operates best when paired with NEMA 23, 24, 34 or 42 frame step motors. An advanced anti-resonance algorithm ensures optimal ....read more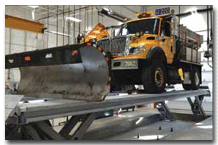 Heavy-duty Vertical Lift
Stertil-Koni promoted its SKYLIFT Wash Bay, a water-resistant heavy-duty galvanized platform lift that features three-layer mono-pox coated lift supports and a stainless steel, lockable control box. Design includes two independent runways, no crossbeams, overhang or base frame. The lift can be flush- or surface-mounted. Flush mounting permits vehicles with low ground clearance to drive directly onto .... read more

Top

Smaller, Lighter, Faster Laser Scanner
Maptek announced the I-Site SR3, a 600-m-range laser scanner. The R3 series is 30% smaller and 25% lighter than predecessor technology, with 2.5 times faster data acquisition than the company's I-Site 8000 scanners, Maptek reported. The scanner weighs 9.6 kilograms (kg) and is accurate to 4 mm. High-resolution laser scans collect detailed data for geological and geotechnical face mapping ....read more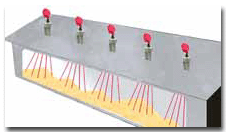 Stockpiles Automatically Mapped, Quantified
BinMaster unveiled a solution for automatically estimating inventory in a covered storage structure. The solution deploys the company's 3DLevelScanner acoustic sensor to detect, map and measure levels of piled materials. Then BinMaster's MultiVision software categorizes the piled material by virtual section. Minimum, maximum, and average levels per section can be calculated for up to 99 unique sections. Data .... read more



DTH Hammer for Blastholes
Rockmore International introduced the ROK 550T down the hole T Series hammer. The hammer is a 5-in.-class hammer that uses a QL5/QL50 bit shank. It drills 5.5-in. to 6-in.- diameter holes for blast-hole applications. The hammer features Rockmore's SonicFlow technology, which optimizes airflow by simplifying and streamlining the air paths .... read more
30-in. Crane With Almost 20-ft. Boom
Microcranes Inc. introduced the M1 Global Model Microcrane, which is 30 in. wide but expands to a 22-ft. tip height. The crane is rated at 2,000 lb, can be operated without a license, has a hook height of 20 ft., and weighs 1,800 lb with 300 lb of removable counterweights to reduce weight while transporting .…. read more

Top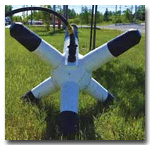 Probe Measures B anddB/dt Fields
Abitibi Geophysics launched the ARMIT 3 probe, which simultaneously measures the B and dB/dt fi elds, enabling the detection of a wide range of conductors. The probe has a low noise envelope, facilitating drill target identification and cost reductions, the ....read more
MAY 6-9, 2018: Canadian Institute of Mining (CIM 2018), Vancouver, British Columbia, Canada. Contact: Web: www.cim.org

MAY 14-17, 2018: 2018 Economic Evaluation & Investment Decision Methods, Colorado School of Mines, Golden, Colorado, USA. Contact: Web: https://csmspace.com/events/econeval/

MAY 19-28, 2018: ALTA 2018 Nickel-Cobalt-Copper, Uranium-REE-Li & Gold-PM Conference & Exhibition, Perth, Australia. Contact: Web: www.altamet.com.au/conferences/alta-2018/.

>

MAY 29-31, 2018: Peru Gold & Silver Symposium, The Westin Lima Hotel and Convention Center, Lima, Peru. Contact: Web: www.snmpe.org.pe

JUNE 4-8, 2018: Elko Mining Expo, Elko, Nevada, USA Contact: Web: www.elkocva.com/major_events/elko_mining_expo

JUNE 5-8, 2018: Ugol Rossii & Mining, Novokuznetsk, Russia. Contact: Web: www.ugol-rossii.com/

>

June 12-14, 2018: Euro Mine Expo, Skellefteå, Sweden. Contact: Web: www.euromineexpo.com

March 10-13, 2019: Haulage & Loading, Hilton El Conquistador Resort, Tucson, Arizona, USA. Contact: Web: www.haulageandloading.com

For a full calendar of mining industry conferences and events - click here
| | |
| --- | --- |
| WHO'S MOVING WHERE | |

Barrick Gold Founder and Chairman Emeritus Peter Munk died on March 28 in Toronto surrounded by his family. He was 90. He founded Barrick in 1983 and built it into the world's largest gold mining company in less than 25 years. He did so by leading a small team of partners who trusted one another implicitly and who together balanced boldness and prudence in the pursuit of fierce entrepreneurial ambitions. Having come to the industry as an outsider, Munk defied its conventions and implemented an innovative hedging program that helped to propel Barrick to success. As the Canadian Mining Hall of Fame, which inducted Munk into its ranks in 2002, noted, "He transformed the industry that made him a titan into something it had never been before — a financially sophisticated business able to compete with other industries for investment capital."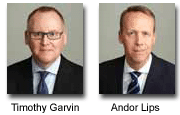 Eldorado Gold announced several changes to its senior management team. Timothy Garvin has joined Eldorado as executive vice president and general counsel. He has extensive experience as senior in-house legal counsel, having worked for a number of large companies in the resource sector in a range of international jurisdictions. Andor Lips has joined the company as vice president, government relations Europe. Lips has more than 20 years of experience in mineral exploration, project development, mining finance and stakeholder engagement, most recently holding a senior position with Lydian International. After nearly 20 years with Eldorado, Dawn Moss, executive vice president, administration, retired. After more than 20 years, Eduardo Moura, who served as vice president and general manager of Greece, left the company. Fabiana Chubbs, CFO since 2011, will leave the company at the end of April..

Pär Göting has been appointed as new general manager for the Boliden Area, effective June 1. Pär is the current mine manager at the Björkdal mine.

NexGen Energy Ltd. appointed James Hatley as senior vice president, project development. Hatley was most recently a consultant, upstream continuous excellence for Saudi Aramco.

Stephan Schaller will succeed Dr. Hubert Lienhard as president and CEO of Voith. Schaller is a member of the Voith Shareholders' Committee and head of the global motorcycle division of BMW Group. Schaller became vice chairman of the executive board of Schott AG in 2010 and joined BMW Group in 2012.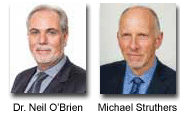 Georgian Mining Corp. announced that Dr. Neil O'Brien, previously nonexecutive director, has been appointed nonexecutive chairman and Michael Struther, previously COO, has been appointed CEO. Struthers replaced Greg Kuenzel, who has been appointed finance director of the company.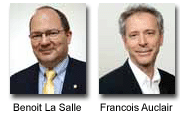 Algold Resources Ltd. appointed Benoit La Salle as CEO. La Salle will continue to serve as chairman of the board. Concurrent with the above organizational change, Francois Auclair, formerly the CEO, will assume the key role of executive vice president, exploration, focusing on the successful execution and continued development of the Algold Tijirit Gold Project in Mauritania. Auclair will also lead the exploration team in the identification of prospective new gold projects in West Africa.

Amani Gold Ltd. announced that Sik Lap "Jacky" Chan will act as managing director and CEO and Grant Thomas will act as the company's technical director.
About - providing an abreviated version of the current print edition of E&MJ, WOMP is distributed throughout the world to decision makers in the global mining industry, the last week of every month.

Subscribe to E&MJ - To receive your own copy of the print edition of E&MJ, click here , and complete your details. E&MJ is available free of charge to qualified readers.

Contact - if you have views, opinons or comments or editoral that you would like to submit, we would be delighted to hear from you - click here

Top