Maximizing Motor Skills
Miners are moving toward 'intelligent mining,' 'the connected mine,' and IoT. Electric motor suppliers are intent upon expanding their market. Consequently, motors, drives and couplings are getting smarter — and easier to install, control and monitor.

By Russell A. Carter, Contributing Editor
---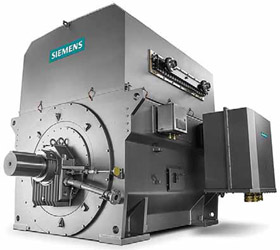 New-generation motor lines, such as the Siemens HV unit shown
here, offer a variety of configurations and features. For example,
HV M models can be specified with cooling setups such as
air-air and air-water heat exchangers, open-circuit, through
ventilation, rib cooling, pipe cooling and water-jacket cooling.
They can provide fixed- and variable-speed operation and motor
solutions for drive systems with and without gearboxes.


The dictionary defines the word ubiquitous as "being everywhere; constantly encountered," and in the mining industry, nothing comes closer to that definition than electric motors and their associated drives and couplings. Powering everything from SAG mills to samplers, motors literally keep mine sites humming on a more-orless continuous basis.

Challenged by the needs and expectations of mining customers, motor-technology purveyors are highly motivated to find ways to move the needle farther toward the "more" end of the dial, and not just in terms of performance — demand, too, is steadily increasing. In fact, the market for motors has expanded at a healthy 7.4% clip since 2009, according to IMARC Group, with the global market valued at $93.2 billion in 2017. Industrial- sector sales account for 60% of that market, and those figures don't include the electronic-drive controllers and power transmission equipment such as couplers and gearboxes that typically are part of many medium- to high-horsepower mine motor installations.

A recent equipment order for an underground mine project in Mongolia illustrates the expanding scope of motor-related equipment orders that are becoming more common throughout the industry. Siemens announced it will supply engineering, design, production, and supply of electrical equipment for underground and surface conveyor systems at the Rio Tinto-managed Oyu Tolgoi copper mine. The conveyors will be powered by gearless and conventional drives from thyssenkrupp Industrial Solutions, and are expected to bring 95,000 metric tons per day (mt/d) of copper ore to the surface, traveling a route that includes a difference in height of almost 1,400 m. The order value, according to Siemens, is in the "tens of millions of Euros."

The transport system consists of a total of nine conveyors — seven underground and two at surface. Four of these conveyor belts have a gearless design, each with two 5.5-megawatt drive systems. Siemens is supplying thyssenkrupp with 8DA10 (gas-insulated) and NX-AIR (air-insulated) medium-voltage switchgear, transformers, low-voltage energy distribution, Sinamics SL 150 and Sinamics S150 frequency converters as well as low-speed synchronous motors with a nominal power of 5.5 megawatts and smaller squirrel cage induction motors. The delivery also includes pre-assembled E-Houses for installing the equipment as well as power factor correction and harmonic filtering equipment.

Higher Equipment IQ
In tune with the needs of an industry increasingly interested in exploiting IoT opportunities, data analysis schemes and higher levels of machine automation, along with energy conservation and reduced maintenance/operations costs, recent product improvements have been mainly focused on making electric motors and their accessories smarter, stronger and more versatile.

Major motor suppliers, such as Baldor (recently rebranded as ABB), Nidec, Regal Beloit, Teco-Westinghouse, Toshiba and others, offer a variety of standard mine-duty motor models that typically include high-, medium- and low-voltage versions, robust frames, extreme temperature performance capabilities, high IP ratings and enhanced lubrication features. Several manufacturers also have introduced new motor configurations aimed at meeting specific mine-application demands.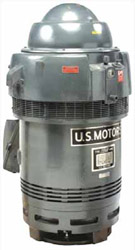 Nidec's TEFC inverter duty motors
are designed specifically to meet
the needs of vertical turbine shaft
applications.


One example of this trend comes from Nidec, which pointed out that the use of inverters in mine pumping applications has increased dramatically over the past few years. The combination of an inverter and induction motor with a pump produces an economical variable-speed drive system that has the potential to provide energy savings and process optimization, according to the company. It may also lead to improved system reliability.

Responding to rising demand for variable speed motors in industrial applications, in October 2017, Nidec added U.S. Motors brand vertical totally enclosed fan cooled (TEFC) inverter duty motors to its stocked offerings. These vertical HOLLOSHAFT high-thrust motors, for use on turbine, mix flow and propeller pumps, range from 5 hp to 300 hp, and are suitable for variable frequency drive (VFD) operation per NEMA standards.

The HOLLOSHAFT motor was developed to meet the specific needs of the vertical turbine pump industry. The pump shaft is extended through the hollow shaft, so adjustments required to lift impellers and give a running clearance with the pump casing, can be made by a nut threaded on the shaft at the accessible top portion of the motor.

On a broader scale, innovations in sensor, communication and analytical technologies, combined with their subsequent cost reductions, are leading to an increased demand for remote wireless condition monitoring solutions in a wide array of industries. These include metals and mining, according to Thomas Schardt, Nidec's senior director of IoT.

"End users expect access to real-time data at a much lower cost compared to traditional route-based monitoring. We recognize an increasing demand in the manufacturing industry to monitor and assess machine health condition in order to avoid unexpected downtimes and loss of production time," said Schardt. "There is a global trend for companies to use IoT to gather real-time data and achieve quantifiable results that deliver better performance and cost savings. Our solution is based on simplicity, reliability, connectivity and diagnostic intelligence."

Nidec's solution is FORECYTE, a stand-alone remote monitoring platform introduced last year that uses battery- powered wireless sensors to measure equipment vibration and temperature. FORECYTE collects continuous, real-time data, and visualizes deteriorating equipment health. The data is sent wirelessly from the sensor to a gateway and from there through either Ethernet, Wi-Fi or cellular to a cloud portal where it is aggregated, stored, analyzed and visualized using a web interface. Data can be accessed at anytime from anywhere using a browser on a web-enabled device.

According to Nidec, this advanced form of monitoring offers more value when predictive analytics are added to the equation. Using algorithms, the data collected through monitoring can be modeled to identify patterns that help users not only intervene on imminent breakdowns, but predict future behaviors and events. Additional sensors and analytics currently being developed, said Nidec, will empower end-users to make smarter, performance-based equipment decisions, ultimately leading to lower operating costs and longer equipment service life. The platform is scalable and has the capability to be integrated with existing supervisory control and data acquisition (SCADA) and legacy systems.

Motors Save Megawatts
In regions such as Africa, where electrical power can be unreliable, of poor quality and/or prohibitively expensive, modern high-efficiency motors can help cut energy bills and maintenance. Zest WEG, an Africa-based subsidiary of Brazilian electrical equipment manufacturer WEG, is taking aim at that market.

Almost two-thirds of the power consumed by the mining sector is associated with electric motors, so these items of equipment are important for mines to look at when demanding savings, according to Zest WEG Group's African business development executive, Edson Cristofolini.

"Where an old 55-kW motor is operating 24 hours a day and seven days a week, we estimate that a mine can save over 20 MW a year by replacing it with a new WEG Top Premium Efficiency IE3 motor," said Cristofolini. These savings add up when considering how many motors are operational on a large mine, he pointed out, also noting that apart from reducing energy consumption, the WEG motors also contribute to mine profitability through a combination of long life, low maintenance and reliability.

"Repairs and replacements are especially costly and time consuming for mines in remote locations, so these motors are designed to operate reliably under harsh operating conditions," he said. "An important aspect of the design in the WEG Top Premium Efficiency IE3 range, for instance, is the class H Insulation with class B temperature rise."

This provides a buffer of 60°C between the motor windings' average operating temperature and the actual motor insulation capability, protecting the motor where quality of power varies or where ambient temperatures are very high. The motors' design also provides a service factor of 1.15, allowing a motor to be overloaded by up to 15% continuously without compromising reliability, according to WEG. With the lower losses and the reduced operating temperature of these high efficiency motors, bearing temperatures are also lower.

"Lower bearing temperature means that less grease is used, and the intervals between the re-greasing of bearings are longer," said Cristofolini.

Dust and water ingress is prevented by WEG's W3 seal arrangement, which comes with an IP66 rating. This is the highest level of protection before entering the category of submersible motors.

"Taking into account that many mine sites often do not have extensive workshop facilities, the motors are designed for easy installation and maintenance, with solid feet and increased terminal box sizes that allow easy connections," Cristofolini said, adding that it is worthwhile for mines to prioritize the total cost of ownership with high-quality design and efficient performance in their choice of motors, with reduced maintenance and operational costs, as the capital cost makes up only about 2% of the motor's cost of operation over a 10-year life.
Allen-Bradley's new SMC-50
motor controller offers a wide
variety of device communications
options, including EitherNet/IP
and DeviceNet networks.


Start, Stop, Report
Although motors are made to run for prolonged periods, a closely controlled startup and shutdown sequence are also generally important elements of a well-designed application. Targeting that need, Rockwell Automation's Allen- Bradley subsidiary has introduced the new SMC-50 smart motor controller with internal bypass to provide greater operational control over motor starts and stops. Soft starters traditionally use solid-state, silicon-controlled rectifiers (SCRs) to control voltage to the motor during startup, runtime and shutdowns. The reduced torque and current slowly introduces energy to the motor, mitigating electrical and mechanical stress to the application. If these SCRs remain in the circuit once the motor is up to speed, the heat generated by these devices leads to electrical inefficiency.

"Users now have the option of choosing the proper power structure for their application when purchasing the SMC- 50 smart motor controller. For operations that run over an extended period, built-in internal bypass allows users to shift from solid-state switches to bypass contactors," said Rick Anderson, product manager for Soft Starters, Rockwell Automation. "By switching over to the bypass circuit, users can save on energy and decrease operational costs by minimizing excess heat buildup."

The SMC-50 smart motor controller with internal bypass provides access to several communication modules, including EtherNet/IP and DeviceNet networks. This connectivity, combined with its microprocessor platform, brings energy- monitoring capabilities and protection features that make applications easier to troubleshoot and fix.

A New Spin on Motor Couplings
With electric motors being the almost exclusive source of power for mine conveyor belts, motor performance — and the capability to tune performance to the demands of a given conveyor system — is a principal factor in conveyor efficiency and productivity. Consequently, choosing the appropriate coupling mechanism for transmitting motor power to the conveyor is a crucial design consideration.

Voith Turbo Inc., a specialist in drive solutions, systems and comprehensive services, recently introduced their Turbo- Belt 500 TPXL hydrodynamic fluid coupling as the first model in its TPXL family, which the company said is designed specifically for conveyor applications and combines the advantages of the hydrodynamic drive principle with intelligent control technology.

Voith has high expectations for industry acceptance of the new coupling family, which was developed to answer the needs of its mining customers. Major design features, explained Kyle Kluttz, vice president, NBS Mining & Metals Americas, who spoke with E&MJ's Jesse Morton at the 2018 SME annual meeting and exposition in February, include high-power density, a simplified but sophisticated hydraulic system, lower capex requirements, and suitability for both new and retrofit applications.
Voith Turbo introduced the 500-kW TurboBelt 500 TPXL
fluid coupling in 2017 and plans to follow up with 850-
and 1,250-kW units later this year.


"This coupling is a new spin on conventional controlled-fill couplings. We've redesigned the hydrodynamic circuit so that the coupling enables almost double the torque from the existing footprint," he said. The 500-kW rated TurboBelt 500 TPXL requires only half the volume of conventional fluid coupling types with the same force transmission, according to Kluttz, while the integrated controller makes it possible to adapt the output torque of the coupling exactly to the startup parameters of the conveyor system. The controller monitors the coupling's entire sensor array and and provides vital operational information, such as the condition of the oil filter. That information can be accessed remotely via the web, a capability which, Kluttz noted, isn't new to the industry, but is a first for this type of drive.

The hydrodynamic circuit of the coupling limits the torque in the driveline to a fixed, defined value, which protects the belt and the drive components from damage due to overloading. This cuts maintenance and repair costs and increases the lifetime of the system. Motors can be run up to speed under noload conditions and staggered in time, thus minimizing current peaks that occur when motors are switched on, and also reducing the load placed on the power grid. The TurboBelt 500 TPXL's built-in Fieldbus unit, according to Voith, lays the foundation for the device to play a role in networked mining of the future.

"These features put us on the leading edge of drive technology, and are consistent with our aim to offer customers the opportunity to develop 'intelligent mining,'" said Kluttz, who added that the company sees opportunities for future sales in both new project installations as well as retrofit projects entailing conveyor-system repowering, extension or tonnage capacity increases. With the introduction later this year of two higher- powered TPXL models offering 850 and 1,250-kW capacities, respectively, Voith expects industry interest to expand to prospective customers planning or currently running conventionally driven high-powered conveyor systems. For installation flexibility, Voith will offer versions with bearings on both sides for stand-alone use as well as a variant with bearings on the output side for direct motor connection.
---
As featured in Womp 2018 Vol 04 - www.womp-int.com