The latest from the
World Mining Equipment
Video Library
View




Prospects for 2018 Look Good

At the beginning of each year, it's customary to reminisce about the previous year and try to forecast what lies ahead. Historically, 2017 will be remembered as a good year for the mining business, and 2018 has the potential to be a better year. An evolving political landscape continues to shift industry investment globally. Equipment sales have steadily increased, which reinforces what mining executives feel as they move from a position of cautious optimism to confidence.
The amount of investment dedicated to an industrial sector serves as a reflection of the conditions of the market it serves. While that is a reliable barometer, it's more effective during markets swings. The modest amount of investment made recently, however, tends to overshadow the fact that over the last four larger mining companies have been working to optimize operations and strengthen balance sheets. At the same time, small and midsize mining companies have been buying mines from the majors and reorganizing them. For the time being, brownfield investments have supplanted greenfield projects .... read more

Steve Fiscor, Publisher & Editor in Chief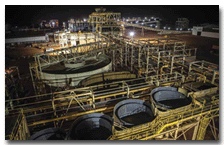 Fekola Achieves Commercial Production
B2Gold Corp.'s Fekola mine in Mali achieved commercial production on November 30, one month ahead of the revised schedule and four months ahead of the schedule announced in the Optimized Feasibility Study (OFS). Ramp up to full-scale production at Fekola remains ahead of schedule with gold production well above budget in each of the ramp-up months, beating original recovery, grade and plant.... read more
First Quantum Buys Into Pebble Project
First Quantum Minerals Ltd. announced it has entered into a framework agreement with Northern Dynasty Minerals Ltd. where a subsidiary would make a payment of US$37.5 million to Northern Dynasty to progress the permitting of the Pebble Project in Alaska. The term of the option agreement will be for a period of four years, with a right to extend the term for a further two years. The option price for the initial four years .... read more

Top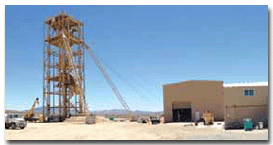 Nevada Copper Finds Financing for Pumpkin Hollow
Nevada Copper Corp. said it has entered into arrangements for a $378 million construction financing and recapitalization package, which will provide a clear pathway toward first production in 2019 from its Pumpkin Hollow Copper Property. Pumpkin Hollow will be the fi rst fully permitted copper project of scale to begin production in the United States in years It will consist of two .... read more


Kinross Acquires More Reserves Near Fort Knox
Kinross Gold has gained mineral rights to a 287-hectare (709-acre) parcel of land known as Gilmore located immediately west of its Fort Knox mine in Alaska. As a result, the company added 2.1 million gold ounces (oz) in estimated measured and indicated resources and 300,000 oz in estimated inferred resources at Fort Knox. Kinross has been drilling on the land since 2014. The company targeted opportunities in the existing Fort Knox orebody .... read more

| | |
| --- | --- |
| AROUND THE WORLD - USA & CANADA | |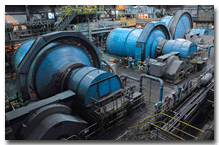 Centerra Operations Suspended at Mount Milligan
Citing a lack of sufficient water resources, Centerra Gold reported that mill processing operations at the Mount Milligan mine in British Columbia, Canada, have been temporarily suspended. Mill processing operations are expected to recommence at partial capacity by the end of January and at full capacity after the spring melt. As previously disclosed, the mine experienced a drier than normal spring and summer during 2017 with a limited amount of .... read more


Feasibility Study Supports Lynn Lake Gold Development
Alamos Gold has reported results from a positive feasibility study of its Lynn Lake gold project in northwest Manitoba that support development of a project producing an average of 170,000 ounces per year (oz/y) of gold over its first six years of operation and 143,000 oz/y over its first 10 years of operation. The project is based on two previously mined properties, MacLellan and Gordon, located approximately 7 kilometers (km) northeast and 37 km east ....read more

Top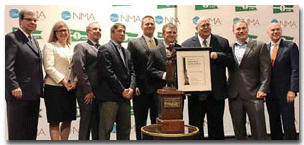 South Arturo Receives NMA's Sentinels of Safety Award
Premier Gold Mines Ltd. and its partner Barrick Gold received the National Mining Association's (NMA) Sentinels of Safety Award for its operating practices at the South Arturo mine, a joint venture between the two companies in Nevada's Carlin Trend. The Sentinels of Safety Award recognizes mining operations in 20 categories for recording the .... read more

| | |
| --- | --- |
| AROUND THE WORLD - Latin America | |

Coeur Sells Bartolomé to Argentum
Coeur Mining plans to sell its subsidiary, Empresa Minera Manquiri S.A., which owns and operates the San Bartolomé mine and processing facility located near Potosí, Bolivia, to Argentum Investments AB, a privately held Swedish company owned by a group of Mexican individuals with extensive mining experience in .... read more


Top
SSR Receives EIA Approval for Chinchillas Project
Argentine regulatory authorities have approved the Environmental Impact Assessment (EIA) for Puna Operations Inc.'s Chinchillas project in Jujuy Province. Development activities will commence, according to SSR Mining, with first ore feed to the Pirquitas mill expected in the second half of 2018. Priority development activities include initiating the earthworks projects at Chinchillas, releasing construction contracts and commencing construction activities at Pirquitas, as well as pioneering works for pre-stripping at the Chinchillas deposit .... read more

| | |
| --- | --- |
| AROUND THE WORLD - Australasia | |
Ausenco Downer is Awarded EPC Contract for Carrapateena
Downer EDI, along with its joint-venture partner Ausenco, has been awarded a contract by OZ Minerals for work at the Carrapateena copper-gold mine project in South Australia. The scope of work includes engineering, procurement, and construction (EPC) of a minerals processing plant, including the non-process infrastructure to support the operations; site power distribution; plant bore fields development for regional water supply; and a full communications and telemetry network …. read more
Top

AngloGold to Increase Production at Tropicana
AngloGold Ashanti Australia (AGAA) has announced that the joint-venture partners at the Tropicana mine in Western Australia have approved Phase One of a strategy to increase production in the medium term and extend mine life. The strategy involves a strip-mining approach that minimizes waste haulage distances by using in-pit backfill, rather than trucking of material to surface waste dumps. Phase One of the strategy calls for mining of the Havana South pit, south of the existing Tropicana pit …. read more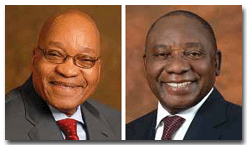 South Africa's Next President Could Have Positive Effect on Mining

By Gavin du Venage, South African Editor
A changing of the guard of South Africa's political leadership could usher in a new era of mining, ending years of questionable policy decisions that have hampered the industry. In late December, the country's ruling African National Congress held its elective convention to …. read more
Top
SMB-Winning Unveils a Major Alumina Project for Guinea
The SMB-Winning consortium presented a $3 billion project to Alpha Condé, president of the Republic of Guinea, to build an alumina refinery in Guinea as well as a railway to open up the Boffa corridor to carry bauxite to the refinery and the Dapilon river port. The feasibility and social and environmental impact studies will be carried in 2018 with a goal of starting construction in 2019. This is an ambitious plan for the Boké region and it will contribute to …. read more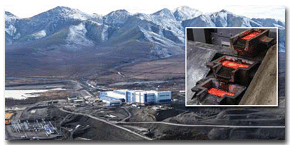 First Doré Poured at Natalka
Polyus has poured the first doré gold at its Natalka mine, a major greenfield project in Russia's Far East, during the ongoing hot commissioning process at the mill. The full processing facility is currently undergoing consecutive 24-hour trial runs. The Russian gold producer expects the ramp-up of the Natalka mill to be completed by the end of 2018. The processing plants …. read more


Top
Chinese Align With ICMM to Promote Mining
The International Council of Mining and Metals (ICMM) and the China Chamber of Commerce of Metals, Minerals and Chemical Importers and Exporters (CCCMC) have agreed to help promote sustainable development in Chinese companies' mining investments overseas. The new agreement makes ICMM and CCCMC's wealth of expertise available to Chinese mining enterprises that are looking to further improve their environmental and social performance practices as they step up their presence worldwide .… read more



| | |
| --- | --- |
| THIS MONTH IN COAL | |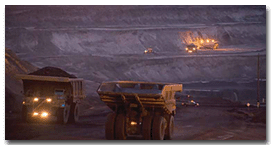 Contura Sells PRB Assets to Blackjewel
Executing a move that narrows its focus to eastern U.S. operations and reduces reclamation obligations, Contura Energy said it plans to sell Contura Coal West LLC and related entities to Blackjewel LLC. The sale includes the Eagle Butte and Belle Ayr mines, which are located in Wyoming's Powder River Basin (PRB), along with related coal reserves, equipment, infrastructure and other properties. Combined, the two mines shipped 24.5 million tons .... read more


Top

CONSOL Energy Prepares for Upcycle
CONSOL Coal Resources, formerly Consol Energy, is preparing for the next coal upcycle as its longwall mines in Pennsylvania rebound from operational challenges during the third quarter. The coal company, spun off by CNX Resources Corp. on November 29, is expecting fourth-quarter production volumes to improve over the third quarter at its Bailey, Harvey and Enlow Fork mines in Pennsylvania's Greene and Washington counties as they work through longwall moves and some adverse geological conditions .... read more


-->
| | |
| --- | --- |
| FEATURE - Grinding Technology | |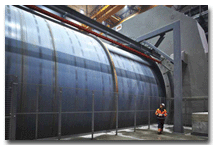 Grinding Technology Extends Horizons
With miners worldwide facing lower-grade feeds, fine-tuning energy-hungry grinding circuits is becoming increasingly important.

By Simon Walker, European Editor

Optimization of grinding circuits is one of the key aspects of running a concentrator successfully. If a mill is not doing its job properly, it handicaps subsequent mineral recovery systems. Overgrinding adds to the slimes burden in the plant and wastes energy; insufficient particle liberation means that the middlings fraction can be too high, and circulating loads increase. To find out how the world's leading processing system suppliers view the challenges, and what they can offer to ameliorate them, E&MJ sought the advice of grinding-technology experts from FLSmidth and Metso, as well as dipping into the proceedings from some recent grinding-focused conferences. As Allan Boylston, director for process engineering development and sales .... read more



For more companies with products in the Mill market -
Go Here
| | |
| --- | --- |
| FEATURE - Blasting | |

Modern Design of Fan Cuts
Understanding the principles allows more effective use of the fan cut for slashing and crosscuts.

By Anthony Konya, Calvin Konya and Paul Worsey

When considering blast designs, another option is the fan cut, which is an angled cut that is similar to half a V-Cut. It is called a fan cut because it looks like an open hand fan from the last century and before, as illustrated in Figure 1. These holes operate on the principle that breaking rock with the face parallel to the blast hole (in a fashion similar to bench blasting) is one of the most optimal and easiest methods of breakage ..... read more

Top

For more companies with products in the Blasting market -
Go Here
| | |
| --- | --- |
| FEATURE - Drilling | |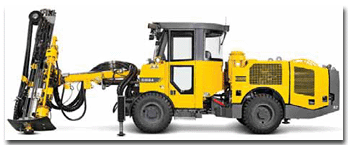 Underground Drilling Advances Improve Productivity, Safety While Cutting Costs
Field-proven technologies increase penetration rates and hole accuracy, thus overall improving fragmentation.

By Jesse Morton, Technical Writer

Underground cave and production drilling has seen the advent of some of the same Space Age and Industry 4.0 technological innovations that are revolutionizing other mining technologies and equipment. With the right communications infrastructure, a miner can leverage these innovations to improve mine safety, increase productivity, streamline operations and nix costs. In 2016, Atlas Copco, also now known as Epiroc, released the Simba S7, a hydraulic long hole drill rig with remote-control capabilities for narrow vein miners .... read more


For more companies with products in the Drilling market -
Go Here
| | |
| --- | --- |
| FEATURE - Diesel Engines | |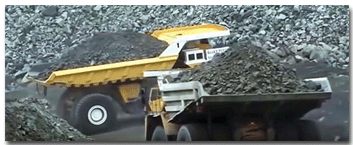 Can Diesels Meet the Challenges of Alternative Power Technologies?
Engine builders believe big diesels will be a vital part of off-road power solutions for the foreseeable future, but they're not ignoring the appeal of battery-electric and hybrid options.

By Russell A. Carter, Contributing Editor.

In the realm of surface mining, diesel power rules the road — regardless of whether the road is a carefully engineered route for haulers or a pit-bottom path for loaders. Inside and outside the pit, mine utility equipment is generally diesel-powered as well, and off-grid mine sites often depend on diesel-powered generation sources for at least part of their electrical needs. In other words, when it comes to moving payloads, equipment — and in some cases, electrons — diesels are the 800-lb gorilla that sits near the top of the food chain. The problem is that the gorilla's hydrocarbon .... read more

Top


For more companies with products in the Engines market -
Go Here
| | |
| --- | --- |
| Video Presentations | |
The latest listings from the World Mining Equipment Video Library - to view the video, click the image.
For more details on the Video Hub -

Go Here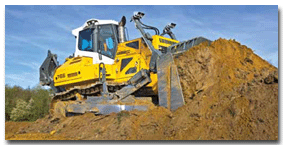 Crawler Tractor Ups Production, Lowers Emissions
Liebherr's 50-metric ton (mt) PR 766 crawler tractor was designed for power, low emissions, efficiency, driver comfort and durability, the company reported. With operating weights of between 46,200 kilograms (kg) and 54,200 kg, the tractor is the successor model to the PR 764. It is powered by a 310-kilowatt .... read more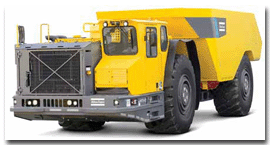 Faster Mine Truck has 54-mt Load Capacity
Atlas Copco unveiled the Minetruck MT54, engineered for smart and efficient haulage, the company reported. It is designed for 54-mt load capacity and higher ramp speeds than its predecessor, Minetruck MT5020. The MT54 features Atlas Copco's proprietary Rig Control System. It is ready for automation and can be equipped ....read more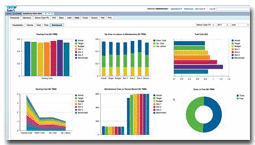 Value Chain Analytics Software
Concerto Analytics released the latest version of its value chain analytics software, Symphony Value Modeller. It is part of the SAP Mining Industry Solution, delivering enterprise-ready value modeling and advanced analytics capability to companies in the resources sector. Symphony Value Modeller has been certified by SAP for integration with the SAP BusinessObjects Business Intelligence .... read more


Top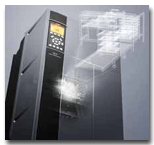 Drive Designed for Extremes
Danfoss announced a new version of its VLT AutomationDrive, which the company described as modular, adaptable and fit for any environment. It features compact generation D- and E-enclosures. Operational temperature range spans -25°C to 50°C. The solution is designed to be rugged enough for challenging environments and applications, the company reported ....read more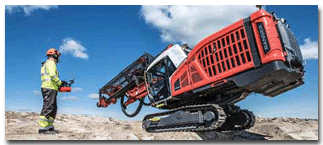 Surface Drill Rigs Increase Coverage, Save Time
Sandvik released the New Ranger DXi series. Offering 55 square meters (m2) drilling coverage, it is the most powerful and efficient top hammer drill rig in its class, the company reported. All of the Ranger DXi-series top hammer surface drill rigs feature a revolving superstructure. The new Ranger DX900i .... read more



Website Matches Crushing Attachment to Machine
Allu announced its Product Selector, which facilitates the process of determining which Allu Transformer is right for which machine. The Transformer is a hydraulic attachment that enables on-site crushing. It can be attached to a wheel loader, excavator, skid steer or similar equipment. The Transformer screens, crushes, pulverizes, aerates, blends, mixes, separates, feeds and loads materials. The end result is operations that are more productive, profitable and environmentally friendly, the company reported .... read more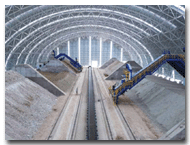 thyssenkrupp Wins Data-based Services Award
RWTH Aachen University gave thyssenkrupp Industrial Solutions the Databased Services 2017 award. thyssenkrupp attributed the accolade in part to its radar technology that, the company reported, is capable of performing measurements online and in real time. It is compatible with every kind of equipment in the market, brownfield or greenfield. The company was recognized for its digital solutions and for the highly customized nature of these solutions .…. read more


Top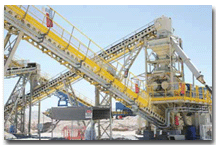 Metso Says Test Verifies Scalability of HRC Technology
Process equipment supplier Metso recently reported that the scalability potential of its HRC high-pressure grinding technology has successfully been proven in pilot tests conducted during 2016- 2017 at a customer's pilot plant in Chile. According to Metso, the pilot plant testing confirmed that an HRC 800 high-pressure grinding roll can handle the expected ....read more
JANUARY 28-31, 2018: 44th Annual Conference on Explosives and Blasting Technique, San Antonio, Texas, USA. Contact: Web: www.isee.org

FEBRUARY 2-5, 2018: Mining Indaba, Cape Town, South Africa. Contact: Web: www.miningindaba.com

FEBRUARY 25-28, 2018: 2018 Society for Mining, Metallurgy and Exploration (SME) Annual Conference & Expo, Minneapolis, Minnesota, USA. Contact: Web: www.smenet.org

>

MARCH 4-7, 2018: Prospectors & Developers Association of Canada's annual meeting, Metro Toronto Convention Centre, Toronto, Canada. Contact: Web: www.pdac.ca

APRIL 17-19, 2018: MiningWorld Russia, Crocus Expo, Moscow, Russia. Contact: Web: www.miningworld.run/en

APRIL 23-27, 2018: Expomin 2018 Espacio Riesco, Santiago, Chile. Contact: Web: www.expomin.cl

>

MAY 6-9, 2018: Canadian Institute of Mining (CIM 2018), Vancouver, British Columbia, Canada. Contact: Web: www.cim.org

June 12-14, 2018: Euro Mine Expo, Skellefteå, Sweden. Contact: Web: www.euromineexpo.com

For a full calendar of mining industry conferences and events - click here
| | |
| --- | --- |
| WHO'S MOVING WHERE | |

Newmont Mining Corp. announced its President and CEO Gary J. Goldberg was inducted into the American Mining Hall of Fame. The award honors Goldberg's accomplishments over the course of his 36-year career in mining. The award is granted by the Mining Foundation of the Southwest to honor outstanding accomplishments in the mining industry.

Teck Resources Ltd. appointed Kalev Ruberg as vice president, Teck Digital Systems, and CIO. Ruberg joined Teck in 2006 as CIO and brings to his role of vice president, Teck Digital Systems, more than 40 years of experience in information systems and technology.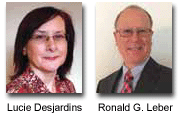 Monarques Gold Corp. appointed Lucie Desjardins as its director of legal services and corporate secretary and Ronald G. Leber as its chief geologist, exploration. This represents a return to the mining industry for Desjardins. Over the course of her career, she has gained extensive experience as corporate counsel. Leber has more than 30 years of experience as a professional geologist with various companies including Inco Gold, Hudson Bay Mining & Smelting, Aur Resources, Niogold, Agnico Eagle, Wesdome Gold Mines, QMX Gold and IAMGOLD.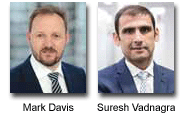 MMG Ltd. appointed two new executive committee members: Mark Davis, executive general manager operations, Africa, Australia and Asia; and Suresh Vadnagra , executive general manager operations, Americas. Davis joined MMG in January 2013 and since November 2014 has held the position as general manager operational excellence. Suresh joined MMG in March 2011 and has held the position of group general manager operations, South America, since December 2016. The new roles replace the former COO position, which has been managed in an acting capacity by Greg Travers, EGM-Business Support, since the departure of Marcelo Bastos in July.

Mining Golden Predator Mining Corp. has engaged Rex Brommecker as its new exploration director with primary responsibility for the 3 Aces Project. His experience includes senior leadership positions at AngloGold Ashanti and Barrick Gold.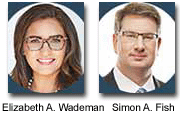 SSR Mining Inc. appointed Elizabeth A. Wademan and Simon A. Fish to its board of directors. Wademan is a senior capital markets professional with more than 20 years of financial services experience. Prior to retiring in 2016, Wademan spent 18 years in investment banking at BMO Capital Markets. Fish is the executive vice president and general counsel at BMO Financial Group.

Karnalyte Resources Inc. appointed Danielle Favreau as CFO. Favreau has been with Karnalyte since 2015, first joining as the controller and later appointed as the interim CFO. Prior to joining Karnalyte, Favreau served in senior roles in both audit and human resources at Virtus Group LLP..

Hexagon Mining appointed Josh Weiss as its new president. He was previously CFO, vice president of operations, and executive vice president of shared services. Before joining Hexagon Mining, Weiss worked for Deloitte & Touche.
About - providing an abreviated version of the current print edition of E&MJ, WOMP is distributed throughout the world to decision makers in the global mining industry, the last week of every month.

Subscribe to E&MJ - To receive your own copy of the print edition of E&MJ, click here , and complete your details. E&MJ is available free of charge to qualified readers.

Contact - if you have views, opinons or comments or editoral that you would like to submit, we would be delighted to hear from you - click here

Top