Can Diesels Meet the Challenges of Alternative Power Technologies?
Engine builders believe big diesels will be a vital part of off-road power solutions for the foreseeable future, but they're not ignoring the appeal of battery-electric and hybrid options

By Russell A. Carter, Contributing Editor
---

While no one expects alternative power sources to unseat diesel power as king of the pit in the near future, new hybrid and fully electric propulsion
technologies may become attractive options for specific mine applications.


In the realm of surface mining, diesel power rules the road — regardless of whether the road is a carefully engineered route for haulers or a pit-bottom path for loaders. Inside and outside the pit, mine utility equipment is generally diesel-powered as well, and off-grid mine sites often depend on diesel-powered generation sources for at least part of their electrical needs.

In other words, when it comes to moving payloads, equipment — and in some cases, electrons — diesels are the 800-lb gorilla that sits near the top of the food chain. The problem is that the gorilla's hydrocarbon diet is expensive, prone to contamination that wears out engine parts and causes unscheduled downtime, and comes with a lengthy list of adverse environmental impacts. It's the main reason why mine operators have an ongoing love-hate relationship with diesel power — loving the operational familiarity and the flexibility that only self-powered haul trucks on the surface and cable-free vehicles underground can offer, but hating the expense, high consumables rate and exhaust emissions that are inherent with diesel-fleet operations.

In recent years, that relationship has been strained even further by the appeal of options such as in-pit crushing and conveyor transport that drastically reduce the haul truck's role in production. Underground, diesel's hard-rock mining role is being challenged by the expanding availability of all-electric and battery-powered production units that put less of a strain on a mine's ventilation requirements and eliminate most of the noise, logistics and heat problems associated with diesel operations.

Although diesel still holds the winning hand in fuel efficiency — a gallon of diesel fuel has 20 times the energy density of equivalent lithium ion or molten-salt batteries — the leading diesel engine suppliers for mining applications have taken steps to establish their presence in the battery-electric market. In October 2017, for example, Cummins announced it was acquiring Oregon, USA-based Brammo, Inc., which designs and develops battery packs for mobile and stationary applications. Adding Brammo's battery pack expertise and resources, according to the company, is important to its efforts to become a global electrified power leader.

Caterpillar is hedging its bets on diesel versus electric in several sectors. It has invested in metal-air battery developer Fluidic Energy and formed a strategic alliance with solar panel provider First Solar as part of its strategy to offer "hybrid" power microgrids that use thin-film solar, advanced monitoring and control systems, and energy storage devices such as ultracapacitors and advanced batteries along with its diesel and natural gas-powered generators to provide electricity at remote sites. In the mobile equipment sector, its Underground Mining group developed a prototype battery-electric R1300G LHD for testing at a mine site in Canada. The machine is a proof of concept for packaging and performance of a lithium-based energy storage solution Caterpillar plans to bring to the LHD market.

Sandvik, having developed its LH307B battery-powered LHD and hybrid DD422iE underground drill rig, is working with Goldcorp to convert that producer's Borden Lake mine in Ontario, Canada, to fully electric underground operations. And in October 2017, Atlas Copco announced its intention to focus on zero-emission and battery-driven machinery. The company said it has immediate plans to expand its current portfolio of electric mining equipment, including loaders, drill rigs and mine trucks.

Artisan Vehicle Systems, a California, USA-based company, now offers the A4, a battery-powered 1.5 yd3, 4-mt LHD. The company claims a number of advantages for the A4 over conventional diesel-powered LHDs, including the ability to design a much shorter machine that provides a distinct improvement in both maneuverability as well as front and rear visibility compared with diesel-powered loaders that may be as much as a meter longer front to back.

The potential for overall size reduction and other benefits of electric underground vehicles is apparent to industrial technology giant ABB, which has developed the purpose-built HES880 mobile drive for this type of application. This is a totally different design from anything available previously, according to the company, although it is based on ABB's well-known ACS880 all-compatible drive technology.
ABB says its HES880 electric drive for underground vehicles will utilize software solutions
to allow designers much more flexibility in vehicle size, configurability and
energy efficiency.


The drive is a modular product, based on a single design model with different firmware options. The unit can easily be tailored to specific applications simply by installing the appropriate firmware.

At Siemens, a project group is working on developing a modular diesel-electric drive portfolio for underground mining operations. As described in the company's online magazine, testing of the first prototype began in mid-2017 and commercial release is slated for 2018.

According to Siemens, the initial solution will first be applied to an articulated underground haul truck with a payload of 60 mt. In this particular application, four motors are used, each driving one wheel. With this drive architecture, the speed and torque of each wheel can be controlled precisely. As a consequence, additional features can be made available such as advanced slip/slide control and electrically supported steering, which enables more precise turns and reduced tire wear.

Siemens engineers point out that trucks with diesel-electric drive systems are faster than diesel-mechanical trucks because the total efficiency of the diesel- electric drive system is higher. More power from the diesel engine is therefore used for propelling the vehicle uphill, leading to higher speeds on grade. And with these higher speeds, cycle times are shorter, which means that more material can be transported in a given time.

Siemens expects maintenance expenditures to be approximately 15% lower with diesel-electric haul trucks than with conventional diesel haul trucks. Combined with their higher productivity and operating times, Siemens predicts that their use could result in a lower cost per ton mined, for a productivity gain of about 10%.

Elsewhere, Lithium Storage GmbH and Kuhn Switzerland AG embarked on a project in early 2015 to develop the world's largest, battery-operated surface mine hauler. The result, involving an electrified Komatsu 605-7 quarry-class truck, was unveiled in late 2016 with claims that its specifications are "as good or better" than the diesel version. Once it's ready for the road, the truck will be put to work at a Swiss quarry.

In its conventional configuration, the 605-7 is a 70-ton payload, rigid-body truck powered by a 700-plus-hp Komatsu diesel engine connected to a seven-speed automatic transmission. The "E-Dumper," as it is called, has the diesel engine and associated components removed, replaced by a synchronous electric motor rated at 590 kW (800 hp) and a 700-kWh, 4.5-ton lithium-ion battery that is the largest ever installed in a vehicle. (In comparison, the standard battery pack for Tesla's Model S battery-powered sedans is rated at 60 kWh.)

The developers highlighted the fact that the E-Dumper can perform as an "energy-plus" vehicle. The battery will be charged during downhill hauls by regenerative braking from the motor and, because the unloaded climb back up the haul road uses less power than the battery receives during the downhill trip, the vehicle will potentially have up to 10 kWh per trip available to donate to the local electrical grid.

Countering the Competition
Each of these developments bolsters the prospect of heightened future competition by "greener" electric-based power sources against conventional diesel propulsion, but engine suppliers are aggressively developing and promoting new technologies, products and services aimed at enhancing diesel performance and reducing the impact of its traditional drawbacks. These efforts range from conventional feature improvements such as extended service intervals for everything from oil changes to overhauls, to retrofit kits for converting an expanding number of diesel engines to LNG fuel; and also include advances such as more sophisticated engine-health monitoring systems (see sidebar) or the electrically assisted turbocharging concept that MTU recently said it will incorporate into its large-displacement diesel lineup in the near future.
Volvo Penta's newest 8-liter Stage V compliant diesel is designed with an exhaust
gas aftertreatment system that maximizes passive regeneration during normal operation.


At least one engine builder thinks the best approach is to start from a clean sheet. Liebherr's V-12-cylinder D9812 diesel engine, introduced in 2016, is the first model of the company's new D98XX series, which ultimately will provide a power range up to 2,013 kW (2,700 hp) in mining applications. Liebherr has touted the 98XX series' modularity, high degree of system integration and ease of maintenance as key factors in the engine line's appeal to mining customers, which also includes the prospect of lower fuel consumption, decreased emissions in day-today operations, and engine performance characteristics suitable for use in a wide range of mine production equipment.

Volvo Penta introduced a new 8-liter diesel engine with aftertreatment system as the next model in its EU Stage V range. The new model is part of the company's spectrum of Stage V-compliant engines that include its D5, D8, D11, D13 and D16 engines, offering a power range from 105 to 565 kW (143–770 hp). The 8-liter off-road industrial diesel engine by Volvo Penta has a power output of up to 235 kW.

Stage V regulations for Europe will be implemented in 2019, requiring new emission limits for diesel and spark-ignited engines. The scope of the legislation is set to widen, as engines below 19 kW and above 560 kW will be regulated for the first time. And while current Stage IV regulations limit the overall mass of particle emissions, Stage V will also constrain the number of particles emitted. Although international emissions standards for offroad engines in the EU, USA and Japan were largely "harmonized" up to and including the U.S. EPA's Tier 3 and Tier 4 standards, the EU's Stage V rules breaks this harmonization by requiring diesel particulate filters (DPF) to meet PN (particle number) standards on all affected engines, while Tier 4 standards can be satisfied without filters.

According to Volvo Penta, the new D8 Stage V engine has been equipped with a fixed geometry turbocharger, which contributes to reduced complexity. It features a common rail injection and has a power output of 160-235 kW. The air inlet throttle, together with the uncooled exhaust gas recirculation (EGR), and the electrical exhaust pressure governor (EPG) deliver effective heat management, enabling the system to function without the need to inject fuel into the exhaust stream to raise the temperature.

With this approach, the exhaust gas is at optimal temperature when it passes through the exhaust aftertreatment system (EATS). Low heat rejection from the overall system means that less cooling is required.

The Stage V engine and EATS, said Volvo Penta, are designed to work together to maximize passive regeneration during normal operation. With this approach, high-temperature regeneration is unnecessary because sulfur regeneration in the SCR catalyst is not required. Only soot regeneration is needed to clean the DPF. No additional fuel injector for sulfur regeneration is needed. This leads to increased fuel efficiency and uptime.

Gassing Up the Fleet
In November, Caterpillar announced it will offer a dynamic gas blending (DGB) retrofit kit for its 785C mining truck. Enabling the hauler's engine to run on both diesel and liquefied natural gas (LNG). The 785C retrofit kit is the first DGB system Cat has offered for mining machines, and it became available for purchase in January from Cat dealers. Caterpillar will offer additional DGB systems in the future. DGB, said Cat, lowers fuel cost while maintaining diesel power and transient performance.

During the same month, GFS Corp. announced the development of a new LNG fuel conversion system for the Terex Unit Rig 4400 haul truck. The company said six of those trucks will be converted at a mine in India, using its EVO-MT System. The first six trucks are scheduled to begin operating on LNG in early 2018 and the project is slated to expand in the near future to more than 50 trucks.

The EVO-MT System is an integrated system consisting of onboard fuel storage and vaporization in addition to controls and safety systems that allow the truck to operate on a combination of LNG and diesel fuel, or "NG+D," as the company refers to it. The EVO-MT 4400 system will provide 259 usable U.S. gallons of onboard liquid natural gas storage, enough to complete a 12-hour shift.

Leading the Charge
MTU believes the combustion engine will continue to represent a large segment of its propulsion solutions for the near future, and its stated aim to achieve a 30% improvement in CO2 emissions by 2030. Overall, the company plans to focus on exhaust gas aftertreatment, alternative fuels, electrification, digitization and total systems capability; i.e., integration of individual components to produce complete drive and energy generation systems.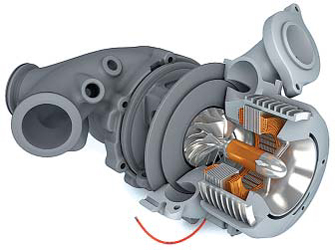 MTU plans to incorporate electrically assisted turbocharging technology into future
diesel engine design.


As part of this plan, its parent company Rolls-Royce acquired from the German company G+L innotec the exclusive rights of use for "Cross-Charger" turbocharging- by-wire technology for off-highway combustion engines in the power range above 450 kW (600 hp). Rolls Royce plans to offer MTU engines with this technology starting in 2021. MTU and G+L innotec will complete the next stages of development on a partnership basis.

The electrically assisted charging system comprises an electric motor combined with a traditional turbocharger developed and manufactured by MTU. With this setup, a turbocharger can be accelerated electrically and the charge pressure built up earlier. During operating conditions in which the energy required for increased turbocharging would normally not be sufficient, electrical assistance can provide the needed boost.

To provide the turbocharger with electrical assistance, a permanent magnet is installed upstream of the compressor wheel and the electrical winding is integrated into the casing of the compressor. With this arrangement, air drawn in by the compressor flows freely while cooling the special electrical components needed in the design. The unique feature of this arrangement is a large gap between the drive motor's magnet and winding: this so-called "media gap motor" design ensures that there is no aerodynamic impact on the charger and also that existing chargers can be adapted easily to enable them to make use of this technology.

Data-enabled Engine Monitoring Pays Off for Cummins Customer
Recently, Cummins developed a plan to improve equipment availability and productivity while reducing the Total Cost of Ownership (TCO) for a customer's QSK78-powered Komatsu 960E haul trucks. Using Six Sigma methodology, Cummins worked with a Chilean mine to identify the most critical engine components to initially address. It was determined that the pilot program would focus on turbochargers, and specifically the elimination of unexpected high-pressure turbocharger failures.

The mine had been using a Cummins telematics tool, which provided advance notice of potential issues in approximately 43% of the actual turbocharger issues experienced. The local Cummins team recommended utilizing Cummins' new proprietary system designed to detect potential engine issues much earlier using trend analysis focused on incremental changes in key engine parameters.

Halfway through the pilot, the new system proved its effectiveness by detecting a potential inlet turbocharger hose failure far in advance of when it would have triggered an alarm using the telematics system alone. In fact, the new system alerted the maintenance team 190 days in advance of the previous telematics tool, providing ample time to plan for proactive maintenance and avoid unscheduled downtime. Most importantly, it caught 100% of potential failures in advance, versus the prior standard of 43%.

The previous telematics tool used by the mine operator resulted in a savings of $212,347 for 2016. With the new proprietary system implemented at the mine, the extrapolated annual cost savings for the same 2016 time period for total mine operations would have been $1,316,994.

According to Cummins, testing of data-enabled services on turbochargers in this work environment was just the first step. Other engine components subject to gradual wear and performance degradation (such as injectors and bearings) will be continuously measured using this type of monitoring and analysis, providing mine maintenance supervisors with a clear picture of when service will be needed and enabling proactive scheduling.
---
As featured in Womp 2018 Vol 01 - www.womp-int.com