South Arturo Receives NMA's Sentinels of Safety Award
---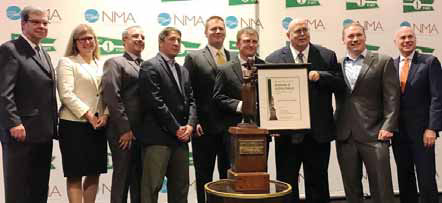 Premier Gold Mines and Barrick Gold accept the Sentinels of Safety Award for the South Arturo mine at a
ceremony in Washington, D.C.


Premier Gold Mines Ltd. and its partner Barrick Gold received the National Mining Association's (NMA) Sentinels of Safety Award for its operating practices at the South Arturo mine, a joint venture between the two companies in Nevada's Carlin Trend.

The Sentinels of Safety Award recognizes mining operations in 20 categories for recording the most hours in a calendar year without a single lost-time injury. A minimum of 4,000 hours is required for award consideration. The award categories reflect the safety accomplishments of both small and large mines.

"This award demonstrates Barrick's high standards in operations and is a testament to level of safety achieved by the Goldstrike mine team," said Ewan Downie, president and CEO of Premier Gold Mines Ltd. "We are extremely proud of our joint venture partner for their achievement and are honored to be associated with a company that strives to operate at the leading edge of safety."

Initiated in 1925 by then Commerce Secretary Herbert Hoover, a former mining engineer, the Sentinels of Safety Award program remains the nation's most prestigious recognition of mine safety and has helped foster a strong safety commitment on the part of U.S. mines.
---
As featured in Womp 2018 Vol 01 - www.womp-int.com