The latest from the
World Mining Equipment
2nd Hand Market
View





Making Ends Meet



Several trends are taking place in the mining business. Mining companies are investing in operations, but they have to justify those investments with a healthy rate of return. Cost overruns have simply become unacceptable. They are also looking for ways to improve profit margins by reducing costs at profitable operations and idling those that are either less profitable or losing money. In many cases, they are looking to mechanization, automation and information technology to assist in that endeavor. The major mining companies are also selling or spinning off noncore mining operations to generate cash or get them off their books. A noncore asset could be a mine that produces an outlying metal or mineral with which they no longer have an interest; it could be located in a region they no longer find trustworthy; or both.

The News this month opens with a discussion of Barrick Gold's future growth plans in Nevada. Recently, Barrick said its five cornerstone mines in the Americas are expected ......... read more


Steve Fiscor, Editor in Chief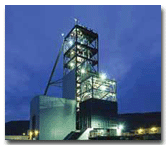 Barrick Looking to Nevada for Gold Production Growth
Barrick Gold's report of its 2014 financial and operating results, issued February 18, included brief status reports on four growth projects at or near its existing mines in Nevada. A prefeasibility study was completed in January for an expansion at its 75% owned Turquoise Ridge mine, and prefeasibility studies are scheduled for completion before year-end at its Goldrush, Cortez underground expansion and Spring Valley projects......... read more
Tronox Buying FMC Soda Ash Operation


Tronox Ltd. and FMC Corp. have announced a definitive agreement whereby Tronox is acquiring FMC's Alkali Chemicals business for $1.64 billion in cash. Alkali Chemicals operates the world's largest and lowest-cost soda ash production facility and trona mine in Green River, Wyoming. Tronox is a leading global producer and marketer of mineral sands, titanium dioxide pigment and electrolytic products....... read more

Top
Tahoe, Rio Alto Merger Set for April Target


Tahoe Resources and Rio Alto Mining expect to complete a merger in April that will create a midtier precious metals company with a market capitalization of $3.25 billion. Producing assets will include Tahoe's Escobal silver mine in Guatemala and Rio Alto's La Arena gold mine in northcentral Peru. Escobal is a high-grade, underground mine that reached commercial production in January 2014 and produced 20.3 million oz of silver in concentrates during the...... read more

Top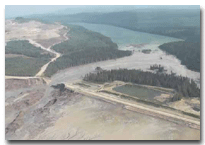 Design Flaw Cited in Mount Polley Dam Failure


The massive tailings dam failure at Imperial Metals' Mount Polley copper-gold mine in south-central British Columbia, Canada, on August 4, 2014, was the result of failure of a glaciolacustrine layer (clays and silts left behind by a retreating glacier) about 8 m below the base of the dam in the area of the breach. The Mount Polley Independent Expert Engineering Investigation and Review Panel, appointed following the tailings dam..... read more

| | |
| --- | --- |
| AROUND THE WORLD - USA & CANADA | |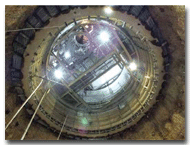 Nevada Copper Focuses on Pumpkin Hollow Development


Following passage on December 19, 2014, of a federal land bill conveying 10,400 acres of federal land to the city of Yerington, Nevada—land that will subsequently be conveyed to Nevada Copper— the company outlined updated plans to bring its Pumpkin Hollow copper project into production. Under the new land-ownership regime, the entire Pumpkin Hollow project area is being consolidated into a single, privately held land package owned by Nevada Copper, with all required permits under state jurisdiction.... read more
Dominion Completes PFS for Ekati's Jay Pipe


Dominion Diamond Corp. has announced the results of a prefeasibility study (PFS) of the Jay kimberlite pipe located within the Buffer Zone joint venture property of the Ekati diamond mine in Canada's Northwest Territories. The Ekati mine area consists of the Core Zone, owned 88.9% by Dominion, which includes the current operating mine and other permitted kimberlite pipes, and the Buffer Zone, owned 65.3% by Dominion. The Buffer Zone is adjacent to the Core Zone and hosts kimberlite pipes having both development and exploration potential, including the Jay and Lynx pipes... read more

Top
Centerra and Premier Form JV to Advance Trans-Canada Property


Centerra Gold and Premier Gold Mines have formed a 50:50 joint venture for ownership and development of Premier's Trans- Canada property located near the Trans- Canada Highway in northern Ontario. The Trans-Canada property comprises a group of mineral claims within the Geraldton- Beardmore greenstone belt approximately 250 km northeast of Thunder Bay, Ontario. Together, the claim blocks cover an area of.... read more
| | |
| --- | --- |
| AROUND THE WORLD - Latin America | |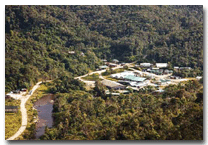 Lundin Gold Organizing Fruta del Norte Feasibility Study


Lundin Gold announced in early February that it has assembled an integrated engineering team for the feasibility study of its Fruta del Norte gold project in southeast Ecuador. Lundin acquired the project from Kinross Gold for $240 million in a transaction that was announced in October 2014 and that closed in December 2014. The project's principal engineering firms, and their areas of responsibility…… read more

Yamana Gives Go-ahead for High-grade Cerro Moro Mine


Yamana Gold announced in mid-February that it will proceed with construction of its high-grade, low-cost Cerro Moro goldsilver project in Santa Cruz province, southern Argentina. Planning calls for average annual production of 135,000 oz of gold and 6.7 million oz of silver during the first three years of full production. Production over the currently planned mine life of about eight years will average 102,000 oz/y of gold and 5 million oz/y of silver. These life-of-mine production estimates consider only current mineral reserves…. read more

| | |
| --- | --- |
| AROUND THE WORLD - Australasia | |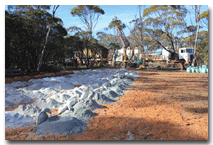 Starts Construction of Nova Nickel Mine


Sirius Resources reported in late January that construction is under way at its 100% owned, underground Nova nickel mine near Norseman, Western Australia. Project development is based on a definitive feasibility study released in July 2014. At full production, the mine is expected to produce an average of 26,000 metric tons per year (mt/y) of nickel and 850 mt/y of cobalt in a nickel concentrate and 11,500 mt/y of copper…. read more



Mill Maintenance Limits Olympic Dam Production


The largest of three mills at BHP Billiton's Olympic Dam processing operations in South Australia suffered an electrical failure in late January and was shut down for maintenance. A diagnostic review revealed damage to the motor stator coil. A repair and remediation plan was being developed, and the company said the mill would be out of service for approximately six months. BHP Billiton plans to use this period to bring forward some of the maintenance activities and preparatory work required to …. read more

Top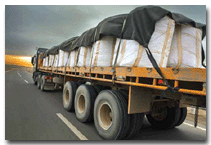 Oyu Tolgoi Reaches Product Milestone
Oyu Tolgoi LLC announced on February 18 that it had shipped its 1 millionth metric ton (mt) of copper concentrate, approximately 19 months after its first concentrate shipment in July 2013. Oyu Tolgoi LLC President and CEO Andrew Woodley said, "This is a major milestone for the company. To reach 1 million mt in such a short time has required extraordinary teamwork from each member of the Oyu Tolgoi family, along with the strong support of our stakeholders.…. read more

Pilot Gold Reports Downsized PEA for Halilağa
Pilot Gold has reported the results of a revised preliminary economic assessment (PEA) of the Halilağa copper-gold porphyry project in northwest Turkey. Teck Resources' Turkish subsidiary, Teck Madencilik Sanayi Ticaret A.S., holds a 60% interest in the project and is the project operator. Pilot Gold holds the remaining 40%. The revised Halilağa PEA represents an update of an October 2012 PEA, which contemplated a 50,000-mt/d operation…. read more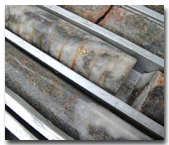 Roxgold Clears Permitting for Yaramoko Gold Project


Roxgold Inc. received the exploitation permit for its Yaramoko gold project in Burkina Faso in late January and was expecting to begin initial site work shortly thereafter. The exploitation permit was finalized through endorsement of a Mining Decree by the president of Burkina Faso and other governmental authorities. The decree formally grants Roxgold the rights to develop and operate the Yaramoko project…. read more

Kinross Shelves Tasiast Expansion
Kinross Gold announced on February 10 that it will not proceed at this time with a major expansion of its Tasiast gold operations in Mauritania. "The current gold price environment does not provide the company with sufficient confidence that it will be able to maintain balance sheet strength while financing the expansion during the three-year construction period," the announcement said. Kinross will continue to assess market conditions, with a view to reconsider…… read more

Top
| | |
| --- | --- |
| THIS MONTH IN COAL | |

FutureGen Power Plan Scrapped


The Obama Administration has suspended development funding for the billion-dollar landmark proposed project FutureGen 2.0, America's first near-zero emissions coalfueled power plant project that would capture and store carbon dioxide. A U.S. Department of Energy (DOE) spokesperson said that the project's earmark, which had been in…. read more

Cyclone Spares Australian Coal Mines


Marcia, a Category 5 cyclone, made landfall on February 20 near Rockhampton in Queensland. Despite widespread structural damage and power outages, the coal ports, most of the railroads and all of the coal mining operations in the region were spared. The storm quickly dissipated after making landfall. The ports, railroads and mines were prepared. All of the coal mines in the region are operational, according to Michael Roche, chief executive, Queensland Resource Council. Aurizon, the railroad that…. read more

Justice Buys Bluestone Back from Mechel
Mechel OAO has closed a deal on the "disposal" of Mechel Bluestone's mining operations, to a company owned by the Justice family. The deal includes an immediate cash payment of $5 million, royalty payments on coal mined and sold in an amount of $3/ton, and a portion of any future sale of the company and/or its assets of 12.5% of the sale price if within five years of transaction close or 10% of the sale price after year five, but before year 10. In addition, as part of the transaction, the parties agreed to terminate all claims…. read more
| | |
| --- | --- |
| FEATURE - EPCM | |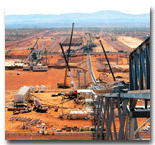 The EPCM Perspective
Mining and metallurgical companies rely on specialist contractors to handle their big development and expansion projects. E&MJ asked some of the world's leading EPCM providers for their views on a range of important issues

By Simon Walker, European Editor

With greenfield developments and expansions to existing operations alike often carrying budgets that run into billions of dollars, mining companies need to ensure that they are spending their shareholders' money in the most effective way. And, of course, mining companies may be good at mining, but that is no guarantee that they have the experience or personnel resources to be able toundertake major projects on an in-housebasis. Even the largest in the world cannot afford to maintain their own dedicated design and execution team on the off-chance that a suitable project will become available……. read more

| | |
| --- | --- |
| FEATURE - Energy Efiiciency | |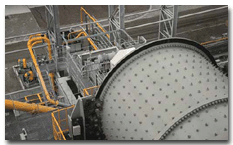 Identify Energy Efficiency Improvements to Cut Operating Costs


A combination of economic pressures, technological advances and higher awareness of available options is driving the industry's interest in saving kilowatts

It's obvious, even to a casual observer hearing a mile-long coal unit train rumble by or watching haul trucks climb out of a copper pit on a cable channel's "world's biggest" documentary, that mining is an energy-intensive industry. But its relationship with energy goes beyond the obvious—apart from being an energy customer, it's also a supplier to the energy sector, providing fuels such as coal and uranium as well as the iron, copper, and other metals needed for production and generation; and it's often an energy producer itself, building power facilities in remote locations where there simply is no energy infrastructure of any sort in place ..... read more

Top
| | |
| --- | --- |
| FEATURE - Bauxite and Alumina | |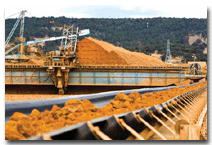 Bauxite and Alumina: Growth Maintained


Aluminum demand is predicted to continue growing strongly into the foreseeable future—consequently, the world needs more bauxite. With the market now in deficit,E&MJ looks at trade trends and potential projects.

By Simon Walker, European Editor

In January 2014, the Indonesian government put a cat amongst the pigeons with the introduction of its ban on exports of unprocessed raw materials. And while public attention focused mainly on the country's copper producers—with Freeport subsequently being able to resume concentrate exports while committing to the development of new domestic smelting capacity—the ban also had a substantial impact on other mineral products, including bauxite and nickel laterite ore…... read more

| | |
| --- | --- |
| FEATURE - Condition Monitoring | |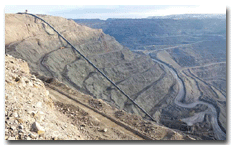 Condition Monitoring of Critical Mining Conveyors


Conveyor systems, integral to operations, require conditioning monitoring to ensure uptime

By Todd Schools

Increasing reliability and lowering maintenance costs are key differentiators in today's highly competitive mining environment. Understanding mine equipment criticality and failure shows where maintenance effort should be focused to mitigate risk. One of the areas of focus based on criticality is conveying systems. These conveyors are typically single points of failure and, therefore, have high criticalities. The conveying system's multiple rotating components, length and remoteness increase the complexity of maintaining these systems. A dedicated condition monitoring system can dramatically increase the reliability of a site's conveyors..... read more

Top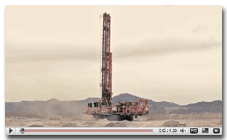 Sandvik - DR461i Blasthole Drill
Sandvik DR461i is a diesel powered, self-propelled, crawler-mounted blasthole drill that is automation-ready and features forward-thinking design and technology for bulk mining operations. It is designed to withstand the harshest conditions and equipped for rotary or down-the-hole (DTH) drilling... watch the video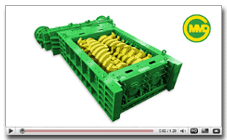 MMD - Sizers
The MMD Group of Companies is a world leading specialist in the processing and reducing of natural and manufactured materials utilising Sizer  Technology. Founded in 1978 to design and manufacture mineral processing equipment for the UK underground coal mining industry, MMD developed the Twin-Shaft  Mineral Sizer, an innovative product providing a technological breakthrough in mineral reduction ... watch the video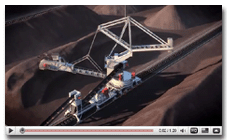 Bosch Rexroth - Bucket Wheel Reclaimers
Bosch Rexroth offers solutions for every bucket wheel reclaimer application. Their direct hydraulic drives are ideal in key positions such as bucket wheel, slewing, and long travelling, as well as for intermediate conveyors and boom conveyors. They also offer solutions for luffing and auxiliary linear functions.... watch the video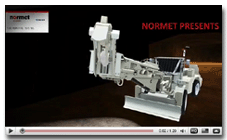 Normet - Concrete Spraying and Scaling simulator overview
Normet provides a simulator offering for concrete spraying (shotcrete) and scaling..... watch the video


| | |
| --- | --- |
| 2nd HAND MARKET | |
The latest listings from the World Mining Equipment Market - for more details click the image
For more details on the WME - Market -

Go Here

Conveyor Skirting Self-adjusts to Compensate for Wear


Martin Engineering said its new selfadjusting skirting prevents spillage and equipment breakdown caused by fugitive material by creating a constant tight seal to the belt. The unit self-adjusts to rubber skirt wear, regardless of material volume and size diversity. As the friction from the belt wears down the seal strip of standard skirting systems, workers have to shut down the conveyor and use tools to manually adjust it. Without this type of regular maintenance, fugitive material escapes from the belt, getting into bearings and …. read more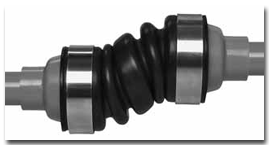 Flexible Coupling Speeds Conduit Installation


The new T&B Fittings nonmetallic expansion/deflection coupling from Thomas & Betts is claimed to improve safety and reduce installation time for joining rigid polyvinylchloride (PVC) conduit that is subject to movement in any direction at structural joints. According to the vendor, its design makes the coupling up to five times faster to install, while its versatility enables a five-to-one reduction in stock keeping units (SKUs). The coupling provides a flexible connection of PVC conduit runs that resists moisture …… read more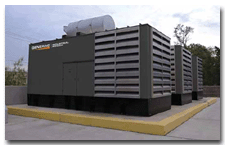 Expanded Generator Lineup Includes New Control Option


Generac Power Systems has revamped its large kW product line with three new power generators, and a new integrated paralleling control. Additionally, two existing models received system upgrades. Generac added 750-, 900- and 1,500-kW diesel generators to its industrial product line, creating a range that now extends from 750 kW to 2 MW. They can be used as either a standalone SD series generator or as an MD series generator in Generac's paralleling …. read more

Top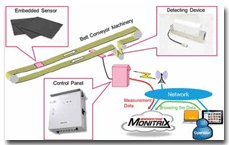 Sensors and Software Track Belt Wear


Bridgestone Corp. announced it has developed a system capable of automatically assessing conveyor belt wear, and has released it to the market. The company also will launch Monitrix, mining operations support software also designed by Bridgestone that integrates conventional maintenance services with the newly created conveyor belt wear monitoring system. Bridgestone explained that checking conveyor belt wear typically involves measuring the belt at various points .…… read more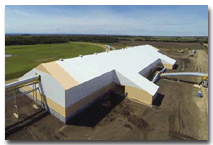 Fabric Buildings Feature Structural Steel Beams


Legacy Building Solutions offers the first line of fabric buildings to incorporate structural steel beams instead of open web trusses. This concept provides a high level of flexibility for processing and storage of bulk material, vehicle maintenance facilities, and other structures for mining operations. The buildings utilize a durable solid steel frame in place of hollow-tube, open web truss framing traditionally used for fabric buildings. Unlike hollow tube steel, Legacy's solid…. read more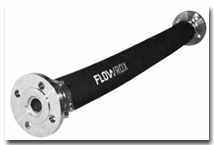 Pulse Dampener Reduces Risk of Pipeline Damage


Flowrox's Expulse is a flexible inline pulsation dampener for troublesome pipelines, employing a double-hose structure with an expanding inner hose, reinforced outer hose and compressed air in the space between the two; this allows it to absorb up to 90% or more of pipeline pulsations. Expulse, according to the supplier, does not need diaphragms or bladders and is naturally resistant to wear, corrosion and most…. read more

Pump Lasts Longer in Abrasive Applications


Weir Minerals Floway Pumps unveiled the new Floway VTSP (vertical turbine slurry pump), which it claims has been demonstrated to last four times longer in solids handling services. The patented VTSP bearing design allows for continuous operation in applications with a maximum solid content of 10% by weight and excursions of 20% by weight during temporary upset conditions. This design results in a longer mean time between.…. read more

Top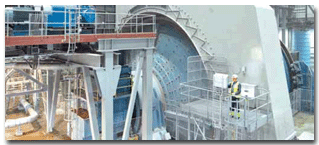 ABB Offers Modular Package for GMD Diagnostic Services


ABB has repackaged its service offering for gearless mill drive (GMD) remote diagnostic services with the launch of a product package offering two new modules. GMDbeat—the basic module—covers ABB's SupportLine and online troubleshooting, while the enhanced module GMDfit offers online condition monitoring, predictive analytics and periodic health checks from ABB system experts….read more
APRIL 14–17, 2015: 24th International Mining Congress and Exhibition of Turkey, WOW Kremlin Palace, Topkapi Palace Hotel in Antalya, Turkey. Contact: Web: www.imcet.org.tr/defaulten.asp
APRIL 27–29, 2015: Coal Prep 2015 Conference, Lexington Center, Lexington, Kentucky, USA. Contact: Web: www.coalprepshow.com
MAY 5–7, 2015: Arminera, Costa Salguero Exhibition Center, Buenos Aires, Argentina. Contact: Viewpoint S.A.; Tel: +54 (0)11/48165818; Fax: +54 (0)11/48143833
MAY 6–8, 2015: Mining Australia Expo, Perth Convention & Exhibition Centre, Perth, Western Australia. Contact: Tel: +61 8 9443 3400; Fax: +61 8 9443 2424; Web: http://miningaustraliaexpo.com.au
MAY 11–15, 2015: Exponor Chile 2015, Community Activity and Trade Fairground, Association of Industries of Antofagasta, Antofagasta, Chile. Contact: Web: www.exponor.cl/
MAY 17–19, 2015: Haulage & Loading 2015, Wigwam Resort, Phoenix, Arizona, USA Contact: Tim Fearney, show director. Tel: +1 678-822-9804; E-mail: tfearney@mining-media.com; Web: www.haulageandloading.com
MAY 27–28, 2015: AIMS 2015 Mineral Resources and Mine Development, Aachen, Germany. Contact: Tel: +49-241-80 95673; Fax: +49-241-80 92272; E-mail: aims@bbk1.rwth-aachen.de; Web: www.aims.rwth-aachen.de
JUNE 16–18, 2015: Longwall USA Exhibition and Conference, David L. Lawrence Convention Center, Pittsburgh, Pennsylvania, USA. Contact: Web: www.longwallusa.com
| | |
| --- | --- |
| WHO'S MOVING WHERE | |
Claude Resources announced that Patrick Downey has joined the board. Most recently, Downey was the president and CEO of Elgin Mining Inc., which was acquired by Mandalay Resources Inc. in June 2014.

SilverCrest Mines Inc. appointed Michael Rapsch as vice president, corporate communications.

Pan American Silver Corp. promoted Michael Steinmann to  president. Prior to this promotion, Steinmann was the executive vice president, corporate development and geology.

Primero Mining Corp. appointed Ernest Mast as president and COO. Mast previously held leadership positions including vice president of corporate development at Copper Mountain Mining.

SRK's Nordic team hired senior rock mechanics engineer, Pekka Bergström. Most recently, Bergström was a senior geotechnical engineer at the Pyhäsalmi mine, Finland.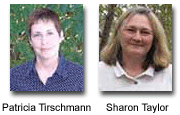 North American Nickel Inc. appointed Patricia Tirschmann as vice president, exploration, and Sharon Taylor as chief geophysicist. Previously, Tirschmann served for six years as vice president, exploration, for Continental Nickel Ltd. Most recently, Taylor also worked with Continental Nickel including nickel exploration at the St. Stephen project in New Brunswick and the Nachingwea Nickel Project in Tanzania.

Bridgestone Americas Tire Operations announced a new head of marketing for the commercial tire division, Vice President, Commercial Tire Division, Marshall Hyzdu, as well as a new president in the commercial tire division,Taylor Cole.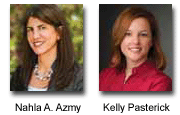 Alcoa hired Nahla A. Azmy as vice president, investor relations. Azmy had been vice president, investor relations and communications for Rockwood Holdings Inc. She succeedsKelly Pasterick, who has been named to the position of vice president, global financial processes for global primary products.
About - providing an abreviated version of the current print edition of E&MJ, WOMP is distributed throughout the world to decision makers in the global mining industry, the last week of every month.

Subscribe to E&MJ - To receive your own copy of the print edition of E&MJ, click here , and complete your details. E&MJ is available free of charge to qualified readers.

Contact - if you have views, opinons or comments or editoral that you would like to submit, we would be delighted to hear from you - click here

Top