Another Great Name Fades Away


For more than 100 years, the word Bucyrus was synonymous with mining. Caterpillar (Cat) completed the acquisition during July and the company is rebranding almost all of the product lines. Not many people realize the company was named after a small town in north central Ohio. Being able to correctly pronounce the name, however, was one clear way to distinguish between someone with some level of surface mining knowledge and an industry neophyte. Even in some of the most remote parts of the world, the locals new the name as it was often associated with a large electric shovel.
Cat recently invited me and about 30 other journalists to Milwaukee, Wisconsin, USA, to explain the plans for the future and the rationale behind the decisions. That's right Milwaukee, not Peoria. Prior to the acquisition, Bucyrus had purchased and renovated a corporate official facility in Oak Creek, Wis., a southern suburb. Cat obviously ......... read more

Steve Fiscor, Editor in Chief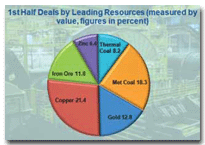 2011 Mining M&A: Blistering First Half, Slower After Mid-year
PricewaterhouseCoopers (PwC) released its biannual review of mining sector merger and acquisition (M&A) activity in early September 2011. The 33-page report outlines a record first half for mining deals, with 1,379 deals announced worth $71 billion, making it the busiest half year of M&A in the mining sector's history. However, this blistering pace slowed markedly after mid-year, the report notes, primarily as a result of jittery global equity markets.
Titled "Riders on the Storm…," the PwC report notes that first-half mining M&A activity was not all that it appeared to be. The majority of activity......... read more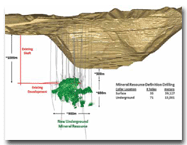 Kennecott Utah Copper Adds Underground Resources


Rio Tinto recently added 20 million mt of copper mineral resources grading 3.5% copper at its Kennecott Utah Copper Bingham Canyon mine near Salt Lake City, Utah, USA. The resource addition, known as the North Rim Skarn, increases the property's contained metal in mineral resources by 730,000 mt of copper, 1 million oz of gold and 13 million oz of silver over year-end 2010....... read more

Top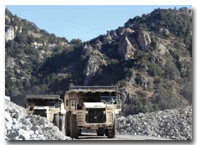 AuRico to Acquire Northgate in All-share Transaction


AuRico Gold and Northgate Minerals announced on August 29, 2011, a definitive acquisition agreement whereby AuRico will acquire Northgate in an all-share transaction. The agreement values Northgate at more than C$1.2 billion, based on AuRico share prices immediately following the announcement. The proposed transaction is subject to shareholder approval at AuRico and Northgate shareholder meetings scheduled for October 2011. AuRico Gold was previously named Gammon Gold. The name change to AuRico Gold was effective June 14, 2011. On receiving notice of the transaction, Primero Mining..... read more

Top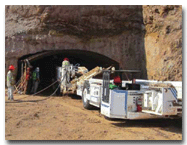 Underground Mining Under Way at Baja's Bolero Project


Baja Mining Corp. recently commenced underground mining of copper-cobaltzinc ore at its Boleo mine located near Santa Rosalia, Baja California Sur, Mexico. This, according to the company, is the first stage of an 18-month program, ramping up to full underground production in March 2013. According to the startup announcement, the first continuous mining unit was commissioned September 5, 2011, and will mine ore from Boleo's Manto 3 in the Texcoco Arroyo, which is 4 km west of the process plant construction site. Three main headings into Manto 3 ore will allow..... read more
| | |
| --- | --- |
| AROUND THE WORLD - USA & CANADA | |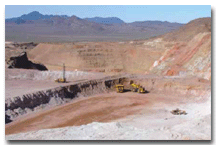 Allied Nevada Advances Hycroft Mill Project


Allied Nevada Gold has released the results of a positive milling feasibility study for its Hycroft mine near Winnemucca, Nevada. The company's board has approved capital spending to secure long-lead items and to complete detailed engineering for the project. Upon completion of detailed engineering and receipt of required permits, expected in January 2013, the company intends to move directly into the construction phase of the mill project. The mill project at Hycroft is separate from and in addition to an expansion of.... read more
Teck Upgrading Highland Valley and Trail Operations


Teck Resources is investing $475 million in a mill modernization project at Highland Valley Copper and $210 million at its Trail Operations to significantly increase its capacity to recycle end-of-life electronic waste (e-waste). Both operations are in British Columbia.The 40-year old mill at Highland Valley Copper will be modernized, and mill life will be extended to match expected mine life. The project is also expected to increase mill throughput by approximately 10% and copper recoveries by approximately 2%. Construction has begun, and the project is scheduled for completion by the end of 2013.... read more

Top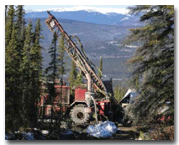 ITH Envisions Major Gold Project at Livengood


International Tower Hill Mines (ITH) has released an updated resource estimate for its Livengood gold project 115 km northwest of Fairbanks, Alaska, that significantly expands surface-mine mineralization to 16.5 million oz of gold in measured and indicated resources and 4.1 million oz of gold in inferred resources. At the same time, ITH reported the results of an updated preliminary economic assessment for the project that considers production of 664,000 oz/y of gold over the first five years of operation.... read more
| | |
| --- | --- |
| AROUND THE WORLD - Latin America | |
Minera Alumbrera Takes Option on Agua Rica Cu-Au Project


Xstrata Copper, Goldcorp and Yamana Gold announced in early September 2011 they have reached a definitive agreement providing Mineral Alumbrera the exclusive option to acquire Yamana's 100% interest in the feasibility-stage Agua Rica coppergold project. Minera Alumbrera is a joint venture between Xstrata Copper (manager and 50% owner), Goldcorp (37.5% owner), and Yamana (12.5% owner) that operates the Alumbrera mine in Catamarca province, Argentina. The Agua Rica project is located 35 km from the Alumbrera mine. Under the terms of the agreement, Minera Alumbrera…… read more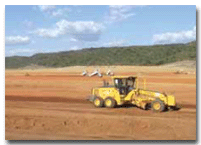 IFC Invests in Brazilian Phosphate Project


MBAC Fertilizer Corp. has entered into an agreement with IFC, a member of the World Bank Group, pursuant to which IFC has agreed to invest approximately C$33.6 million to acquire 10,829,900 common shares of MBAC at a price of C$3.10/share. Upon completion of the IFC placement, IFC will hold an interest representing approximately 11.1% on a non-diluted basis and 10.3% on a fully-diluted basis of the common shares outstanding. The proceeds from the IFC investment will be used by MBAC for the development of the Itafós- Arraias SSP project. In October…. read more

| | |
| --- | --- |
| AROUND THE WORLD - Australasia | |
Rio Tinto Investing in Pilbara Infrastructure


Rio Tinto has budgeted for three significant infrastructure projects in support of ongoing expansions of its iron ore production capacity in the Pilbara region of Western Australia. A US$520-million project (Rio Tinto share $417 million) will upgrade Rio Tinto's integrated Pilbara power and gas network; a $313- million project (Rio Tinto share $289 million) will add to its fuel infrastructure; and a $310-million project will assure a sustainable water supply. The power and gas project will deliver an additional 120 MW to sustain current capacity…. read more



Positive Results for Yalgoo Iron Ore Prefeasibility Study


Venus Metals Corp. has released positive results for a prefeasibility study of the Yalgoo magnetite iron ore project in the Mid West region of Western Australia, 200 km due east of Geraldton, that it is developing with 50% farm-in joint-venture partner Shandong Provincial Bureau of Geology and Minerals, of China. The project is based on seven exploration licenses totaling 208 km2. The Bilberatha Hill magnetite banded iron formation deposit is the main orebody under consideration. Project design currently calls for Yalgoo to produce 7.5 million mt/y of high-grade magnetite   …. read more

Top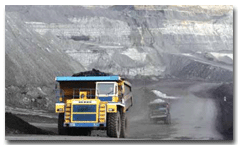 Kazakhmys Developing Major Copper Mine at Bozshakol
Kazakhstan copper producer Kazakhmys is proceeding with development of its major copper growth project at Bozshakol in northern Kazakhstan. Bozshakol is a Greenfield project located close to existing power, transportation and other infrastructure. The deposit has mineral resources of 1.2 billion mt at an average grade of 0.35% copper, including 832 million mt of measured and indicated resources at an average grade of 0.37% copper. The deposit also contains valuable gold and molybdenum. Bozshakol will have a production life of more than 40 years…. read more

Eldorado Plans Doubling of Production at Kişladağ
Eldorado Gold has released the results of an expansion study that outlines a potential doubling of production at its Kişladağ heap-leach gold mine in western Turkey. Assuming positive ongoing results related to final project details, a construction decision and placement of orders for long-lead equipment are expected by year-end 2011. Based on current proven and probable reserves of 10.2 million oz, the overall production rate for crushing, screening and stacking at Kişladağ is expected increase to 25 million mt/y, up from 12.5 million mt/y currently. Run-of-mine ore treatment…. read more



Palabora Stakeholders Rio Tinto and Anglo American Seeking to Divest


Rio Tinto and Anglo American informed the board of directors of Palabora Mining Co. in early September 2011 that they intend to divest their respective 57.7% and 16.8% interests in Palabora. Rio Tinto initiated a commercial process to sell its shareholding and Anglo American is participating in the process. Palabora's principal assets are integrated underground copper mining, smelting and refining operations in Limpopo province, South Africa. Production capacity is rated at about 80,000 mt/y of refined copper. The mine produces magnetite as a joint product. Current mine life is projected to early 2016…. read more

Endeavour/Adamas Merger Focuses on West African Gold
Endeavour Mining and Adamus Resources have entered into an all-stock merger agreement that would create a gold production and exploration company focused on West Africa. Endeavour is headquartered in Georgetown, Grand Cayman, and is listed on the Toronto Stock Exchange; Adamus is headquartered in West Perth, Western Australia, and is listed on the Australian Stock Exchange. The merged company would be listed on both exchanges. At the time of the merger announcement, the companies had a combined market capitalization of about $600 million. Endeavour's 90%-owned Youga mine in Burkina Faso is expected to produce 84,000…… read more

Top
| | |
| --- | --- |
| THIS MONTH IN COAL | |
Luminant to Close Mines; Files Suit Against EPA to Protect Reliability


Luminant, the largest electricity generator in the U.S. state of Texas, decided it would have to close facilities to comply with the U.S. Environmental Protection Agency's Cross-State Air Pollution Rule. The rule requires U.S. power generators to make drastic reductions in emissions beginning January 1, 2012. While Luminant is preparing to meet the rule's compliance deadline, it also filed a legal challenge in an effort to minimize the harm this rule will cause to power supply reliability in Texas. To meet what it terms the rule's unrealistic deadline and requirements…. read more

SouthGobi Resources Sets Monthly Record


Mongolian coal operator SouthGobi Resources, according to The ASIA Miner, has set a new monthly record of 441,665 metric tons (mt) of coal shipped in August, representing a substantial increase over shipping levels in the second quarter of 2011. SouthGobi's President and CEO Alexander Molyneux said, "We have seen a continual increase in capacity being allocated by customers to collect our coal. We are pleased to see our shipping rate reach a level of approximately 5.3 million mt of coal on an annualized basis so soon, which is on track to meet our targets…. read more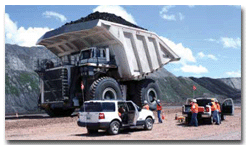 Peabody Truck Sets New World Record
Peabody Energy's North Antelope Rochelle mine in Wyoming, USA, now can officially claim itself as home to the world's largest mining truck body by volume. The body, designed and manufactured by Westech for a Liebherr T282C ultra-class haul truck, set the record at 447.3 tons, with a volume of 615.2 yd3. The Guinness World Book of Records officially recognized the claim in July…. read more
| | |
| --- | --- |
| FEATURE - Nordic Mining 2011 | |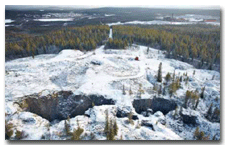 Growing Interest in Nordic Mineral Prospects
Our annual update explains how legal and fiscal stability are only two of several advantages attracting exploration and mining companies to the Nordic countries, and scans the latest advances from the region's mine technology suppliers

By Simon Walker, European Editor

Having provided a cornerstone for European hardrock mining for centuries, Norway, Sweden and Finland are once again attracting renewed interest as companies from around the world increase their exploration and development budgets. And while the fourth of the mainland Nordic countries, Denmark, cannot offer the same geological potential, across the north Atlantic, exploration spending in Greenland is also on the increase. The international mining community perceives the Nordic countries in general to be an attractive destination for exploration for a number of reasons……. read more

| | |
| --- | --- |
| FEATURE - Truck Driver Training | |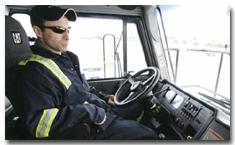 Oil Sands Producer Benefits from VISTA's TruckLogic™ Training System


Suncor Energy significantly improved the effectiveness of haul-truck operator instruction by using an innovative structured training curriculum

By Chuck Frey

Many mines miss a key opportunity for productivity improvement by not taking a closer look at the most significant group of people who influence it—haul truck operators—and more specifically, how they are trained. How can haul truck operator training be more effective and result in significant reductions in incidents and increases in productivity? By: • Considering how adults learn most effectively. By engaging them in three dimensions: hearing, seeing and doing (experience), trainees are better able to develop the knowledge, skill and (most importantly) the attitude to be safe, productive operators.• Improving the handoffs from the classroom to field coaching so skill-building and knowledge ..... read more

Top

For more companies with products in the Training market market -
Go Here
| | |
| --- | --- |
| FEATURE - Process Controls | |
Observe It, Measure It, Manage It


Effective plant process control needs data—lots of data—and sensor technology has taken big strides toward supplying the required information quickly and accurately

By Russell A. Carter, Managing Editor

On the scale of risk potential for industrial projects, the design and startup of a mineral processing plant most likely ranks in the upper percentile range. Unlike, say, an auto assembly plant, mine plants can't be cloned from one site to another. Each mineral deposit differs from seemingly similar deposits elsewhere, and it's impossible to pin down and eliminate every variable encountered when trying to process natural materials such as ore, coal or industrial minerals. Plus, unlike construction mistakes that often can be fixed quickly and sometimes even relatively cheaply, a defective flowsheet usually can't be corrected quite so easily. Apart from design errors, it occasionally happens that once a new plant progresses beyond the commissioning stage—after leaks and other obvious mechanical …... read more


For more companies with products in the Mineral Processing market -
Go Here
| | |
| --- | --- |
| FEATURE - CAT Merger | |

A New World Order for Mining OEMs



Cat integrates Bucyrus and unveils its future intentions

By Steve Fiscor, Editor-in-Chief

Caterpillar's $8.8 billion acquisition of Bucyrus is a big deal, even for the mining business. More than half of the world's mined commodities are extracted by surface mining methods. When the largest mining-class haul truck builder buys a company that has some of the largest loading tools, a large portion of the mining business will be immediately affected. Prior to this deal, Bucyrus had acquired Terex Mining and Deutsche Bergbau Technik (DBT), so the company was already much more than draglines, shovels and drills. For mining enthusiasts, seeing the Bucyrus name fade away will be difficult. Similar to the Bucyrus approach when it acquired companies, Cat will rebrand almost all of the equipment. That was not the original intention. As time passed after the initial announcement and miners worldwide began to grasp the reality of the situation, they impressed..... read more

Top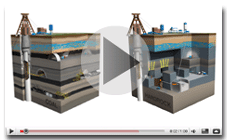 Whatever your challenges are: BASF - your mining partner
BASF Construction Chemicals serves the mining industry with much more than just equipment and chemicals for sprayed concrete. Its innovative MEYCO® solutions span everything from injection and backfill to thin spray-on liners, backed by the support and expert engineering knowledge of its global mining team... watch the video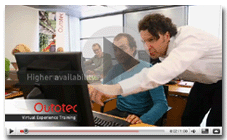 Outotec - Virtual Experience Training
Outotec Virtual Experience Training improves trainees knowledge and skills on how to operate a process circuit by exploiting an advanced process simulator developed by Outotec ... watch the video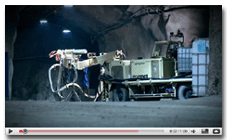 Normet - Spraymec 8100 VC
Spraymec 8100 VC is an electro-hydraulic self-propelled mobile concrete sprayer which optimizes concrete spraying in tunnel projects with variable tunnel cross sections .... watch the video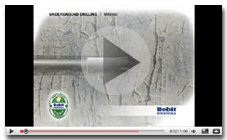 Robit Rocktools - Underground Drilling
Robit Rocktools Ltd. is a Finnish manufacturer of high quality drilling tools for mining, quarrying, and construction applications. Our main product lines are threaded button bits for rock drilling and concentric ring bit casing systems for overburden drilling. Since 1985 we have grown to satisfy customers in more than 60 countries with Robit® quality. "More holes -- More value" has always been the driving force of Robit Rocktools Ltd .... watch the video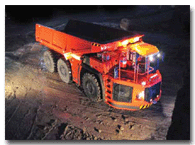 Sandvik's 60-Ton Underground Haulers Begin Duty at Mt. Lyell Copper


Sandvik Mining and Construction's Australia Pacific regional group recently secured a contract to supply eight 60- metric-ton-capacity TH660 underground haul trucks and an LH621 LHD to Redpath Australia for its Mt. Lyell copper mine on the west coast of Tasmania. Mt. Lyell is owned by Vedanta Resources, one of India's largest mining companies, and is operated by its Australian subsidiary Copper Mines of Tasmania. In late 2010, Redpath Australia won the tender to …. read more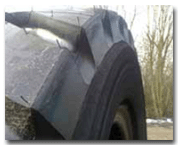 Rubber 'Fenders' Protect OTR Tires


The harsh working conditions often encountered by earthmover vehicles— and the tire damage opportunities that subsequently arise—has prompted tire supply and service company Kal Tire to further develop its "fendering" process for earthmover tires."The sidewall of a tire is a large exposed area and, at the same time, is the thinnest part of the tire," said Wayne Cornell, Kal Tire's U.K. and Africa manufacturing manager. "In harsh working environments this area is more susceptible to damage as the sidewall makes contact with objects—so the logical solution has always been to protect the sidewall by fendering…… read more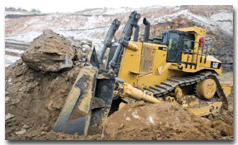 Heavyweight Bulldozer Models Feature Refined Design, High Fuel Efficiency


Caterpillar has upgraded its popular D11 bulldozer models, first introduced in 1986. The new D11T and D11T CD versions offer design refinements that include Enhanced Auto Shift, Dynamic Inclination Monitor, automatic climate control and available automated ripper control. The D11T and D11T CD's 850-net-hp (634-kW) C32 engine, according to Cat, allows the machines to work fuel-efficiently anywhere in the world, with blades ranging in capacity up …. read more

Top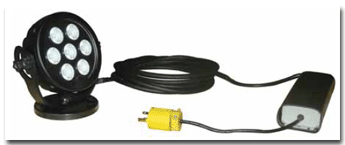 Powerful, Durable LED Blasting Light


Larson Electronics says its new Magnalight BL70-LED magnetic-mount blasting light uses LED technology and heavy-duty materials to provide excellent illumination while resisting the damaging effects of blasting applications. The light produces 6,020 lumens and includes an inline transformer that allows operation with standard 120–277V AC current. The units also can operate on 9–46V DC without the  .…… read more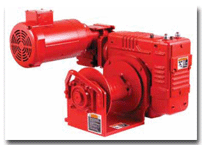 Power Winches for Bulk Materials Equipment Handling


Thern has introduced the Atlas II Series power winch, the latest addition to the company's line of winches and cranes designed for use in bulk handling applications. The versatile Atlas II, according to the company, is designed to provide the durability and portability necessary to accommodate a broad range of applications and requirements. With a durable, cast aluminum body, this compact, lightweight winch offers a 2-ton load capacity ideal for positioning conveyors and load-out spouts. Lifting handles built onto the frame enable easy attachment of lifting straps for additional convenience with worksite…. read more


Expanded AC Permanent Magnet Motor Line


Baldor Electric recently expanded its RPM AC permanent magnet (PM) product offering up to 1,200 hp (895 kW). According to the company, the RPM AC motor product line performs like a highhorsepower servo motor with low rotor inertia and high power density, and is now available in NEMA frame sizes 180, 210, 250, 280 and 440 with permanent magnet rotor construction. PM rotor technology offers improved efficiency that can translate into increased power density and synchronous (non-slip) speed performance. The addition of the 440 frame size to the…. read more
Laser-scanning Software Adds Features and Functionality


Maptek has released version 3.5 of its laser-scan modeling software, I-Site Studio. This version, according to the supplier, includes general enhancements in performance and usability. Filtering can now be done based on point selection, rather than the entire scan dataset. When used in conjunction with the new freehand or polygonal lasso selection tools, it reduces the time required to remove stray points caused .…. read more

Top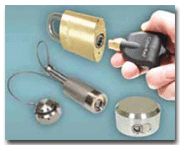 Smart Padlocks Provide Access Control and Tracking


Videx has incorporated CyberLock electronic access control technology into two smart padlocks: the Hockey Puck and the Bar Bell. The electronic Hockey Puck— suited for use in applications that require access control for containers, entry gates, substations or any location where there's no available power—has a stainless-steel body that completely surrounds a stainless- steel shackle when closed; the buried shackle design prevents attack by bolt cutters. The electronic Bar Bell—intended for applications such as securing tank valves….read more
NOVEMBER 21-24, 2011: Québec Exploration 2011—From Knowledge to Discovery, Québec, Canada. Contact: Gladys Chamberland; Tel: 418- 627-6292; E-mail: info@QuebecExploration.qc.ca; Web: www.QuebecExploration.qc.ca
NOVEMBER 29–30, 2011: LatAm International Mining Conference, Rio de Janeiro, Brazil. Contact: Sandeep Pokkali, Fleming Gulf Conference; Tel: 971 4609 1570; Fax: 971 4609 1589; E-mail: sandeep.pokkali@fleminggulf.com; Web: http://www.fleminggulf.com/energy/south-america/latam-international-mining-conference
NOVEMBER 30–DECEMBER 2, 2011: 8th International Mineral Processing Seminar, Santiago, Chile. Contact: Carolina Barahona, Gecamin Ltd.; Tel: (56-2) 652 15 42; E-mail: carolina.barahona@gecamin.cl; Web: www.procemin.cl
DECEMBER 6–9, 2011: The Mine Managers Show Asia 2011, Bali, Indonesia Contact: Terrapinn Pte Ltd., Ya Ling Ngt; Tel: 65 6322 2771; Fax: 65 6223 3554; E-mail: yaling.ng@terrapinn.com; Web: www.terrapin.com
FEBRUARY 12–15, 2012: 38th Annual Conference on Explosives and Blasting Technique, Nashville, Tennessee, USA. Contact: The International Society of Explosives Engineers; Tel: 440-349-4400; Fax: 440-349-3788; E-mail: isee@iss.org; Web: www.isee.org
FEBRUARY 19–22, 2012: 2012 SME Annual Meeting & Exhibit, Seattle, Washington, USA. Contact: Society for Mining, Metallurgy, and Exploration; Tel: 303-948-4200; E-mail: meetings@smenet.org; Web: www.smenet.org
JUNE 12-14, 2012: Euro Mine Expo 2012, Skellefteå, Sweden. Contact: Ann-Sofie Greander, Tel: +46 (0)60 14 65 81; E-mail: annsofie.greander@eurominexpo.com; Web: www.eurominexpo.com
SEPTEMBER 24–26, 2012: MINExpo, Las Vegas, Nevada, USA Contact: Hall-Erickson Inc.; Tel: 866-717-6463; E-mail: minexpo@heiexpo.com; Web: www.minexpo.com
For a full calendar of mining industry conferences and events - click here
| | |
| --- | --- |
| WHO'S MOVING WHERE | |

SRK Consulting has appointed John Kwofie head its new practice in Ghana's capital, Accra.

Sandvik recently separated its mining and construction groups. Effective January 1, 2012, Gary Hughes will take over as president of Sandvik Mining. Lars Josefsson, president of Sandvik Mining and Construction and member of the Group Executive Management.

The World Business Council for Sustainable Development has appointed Peter Bakker president, effective January 1, 2012. He succeeds Björn Stigson who is retiring.

AECOM has appointed Luigi (Lou) Bruno vice president of its minerals and metals practice within the firm's North America mining business.

B&W Mechanical Handling Ltd. has appointed Andy Blythe managing director.

Normet Group has appointed Riku Mäkinen CFO.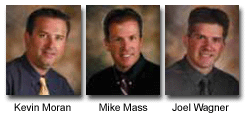 Flexco recently welcomed three new employees to its facility in Bolingbrook, Illinois. Kevin Moran and Mike Mass were appointed project managers, and Joel Wagner was appointed design engineer to support its transfer chute product line.

Byron Knelson, founder of Knelson Concentrators, recently passed away. He is well known for his contributions to the gold mining industry, which began with his quest for a better means to recover fine placer gold in the mid-1970s. His pursuit would ultimately revolutionize the application of gravity separation and lead him on an exciting and passionate journey resulting in the development and widespread commercialization of the Knelson Concentrator.
About - providing an abreviated version of the current print edition of E&MJ, WOMP is distributed throughout the world to decision makers in the global mining industry, the last week of every month.

Subscribe to E&MJ - To receive your own copy of the print edition of E&MJ, click here , and complete your details. E&MJ is available free of charge to qualified readers.

Contact - if you have views, opinons or comments or editoral that you would like to submit, we would be delighted to hear from you - click here

Top