Palabora Stakeholders Rio Tinto and Anglo American Seeking to Divest
---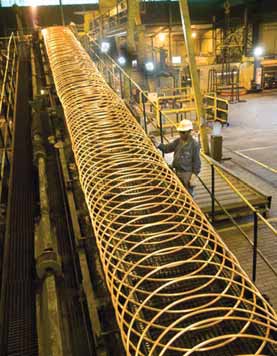 Palabora Mining's operations in Limpopo province, South Africa,
include underground copper mining, smelting and refining to
produce continuous cast rod for domestic consumption and
cathode for export.

Rio Tinto and Anglo American informed the board of directors of Palabora Mining Co. in early September 2011 that they intend to divest their respective 57.7% and 16.8% interests in Palabora. Rio Tinto initiated a commercial process to sell its shareholding and Anglo American is participating in the process.

Palabora's principal assets are integrated underground copper mining, smelting and refining operations in Limpopo province, South Africa. Production capacity is rated at about 80,000 mt/y of refined copper. The mine produces magnetite as a joint product. Current mine life is projected to early 2016.

According to the Rio Tinto statement, "Studies are under way for a potential extension of the mine's life to 2030, but it is no longer of sufficient scale to fit with Rio Tinto's strategy. Palabora also owns a magnetite stockpile, and the future of value creation at Palabora is likely to involve beneficiation of the magnetite through on-site processing, an activity outside Rio Tinto's strategic focus."

Palabora also owns a nearby vermiculite deposit, which is mined and processed for sale worldwide.

Rio Tinto Copper Chief Executive Andrew Harding said, "Rio Tinto is no longer the natural owner of Palabora due to the limited opportunity to significantly expand copper mining. We believe Palabora has a solid future under an owner who can develop the magnetite business alongside the existing copper and vermiculite operations. In the meantime, Rio Tinto will continue to focus on running the operations efficiently and safely. We will continue to engage with employees, the South African government and other stakeholders as the sale process develops and to ensure a smooth transition to a new owner."

Palabora operates a highly successful underground block-cave mine, producing 30,000 mt/d of copper ore. Underground mining was initiated in 2004 and reached its 30,000-mt/d capacity in May 2005. Mine production was previously from an open pit. The company was incorporated in South Africa in August 1956 and is South Africa's only producer of refined copper. The refinery produces continuous cast rod for the domestic market and cathodes for export.
---
As featured in Womp 2011 Vol 08 - www.womp-int.com