Gold Miners Converge on Denver

- Last month, the CEOs from all of the gold mining companies gathered at the Hyatt in Denver for the annual Denver Gold Forum. The Denver Gold Group hosts this exclusive event for gold executives, investors, analysts and the media, and this year they celebrated the forum's 20th anniversary. Looking around the Hyatt ballroom, one could only imagine how many billions of dollars of investments were at stake. The mood was very upbeat. After eight years of rising prices and increasing investment demand, according to the CPM Group, it is clear that the gold market is not experiencing just another bull market' along the lines of the five previous ones. In its annual report, CPM Gold Yearbook 2009, the group says the gold......... read more

Steve Fiscor, Editor in Chief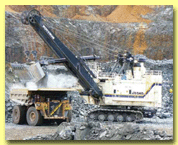 Newmont Starts Up at Boddington - Newmont Mining produced the first gold and copper concentrate at its Boddington mine in Western Australia in mid-August 2009, following start of operations in late July. Ramp-up to design capacity is expected to take about 12 months. Production over the first five years of operation will average about 1 million oz/y of gold and 30,000 mt/y of copper in concentrate. Costs applicable to sales, net of by-product credits, are expected to average $300/oz of gold over the same period. Capital costs are expected to come in at between $2.8 billion and $2.9 billion......... read more
Rio Tinto Comments on Recent Decisions in Mongolia

- Rio Tinto said it "welcomed" the Mongolian Parliament's recent approval of amendments to four laws that should clear the way for finalization of the investment agreement for the Oyu Tolgoi copper-gold complex in Mongolia's South Gobi region. Rio Tinto and Ivanhoe Mines Ltd., the development partners for the project, expect to formally sign the agreement with the government of Mongolia in the near future. Rio Tinto also noted that investment in the Oyu Tolgoi project through its shareholding in Ivanhoe Mines is consistent with its strategy of focusing on large-scale, long-life, low-cost assets....... read more

Top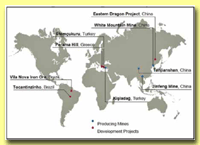 Eldorado Gold Set to Acquire Sino Gold for $2B

- Eldorado Gold and Sino Gold announced plans in late August 2009 for an agreed, all-share acquisition of Sino by Eldorado that values Sino at about C$2 billion. At the time of the announcement, Eldorado already held a 19.8% interest in Sino. Assuming completion of the transaction, the combined company will have four operating gold mines, three in China and one in Turkey, that are expected to produce a combined total of about 550,000 oz of gold in 2009. Two new mines, one in China and one in Turkey, are expected to lift production to about 850,000 oz in 2011...... read more

Top
Report Reveals Long-Term Benefits of Gold Mining to Developing Economies

- A Bristol Bay Alaska Native organization and several individuals filed a civil suit in Anchorage Superior Court on July 29, 2009, asserting that the Alaska Department of Natural Resources (DNR) repeatedly violated the Alaska Constitution in granting permits for Pebble mine exploration. The Pebble copper-gold-molybdenum project in southwest Alaska is being developed by the Pebble Limited Partnership, a 50:50 partnership between a wholly owned U.S. subsidiary of Anglo American.... read more
Nyrstar Buying Glencore's East Tennessee Mines - Nystar announced in mid-September 2009 that it has agreed to acquire the Glencore Group's East Tennessee Zinc mine complex in the U.S. for $126 million. The complex comprises the Young, Immel and Coy mines, all located within about 20 miles of each other and about 250 m east of Nyrstar's Clarksville, Tennessee, zinc smelter and its Gordonsville, Tennessee, zinc mine. The East Tennessee mines have been on care and maintenance since February 2009. The Glencore Group acquired the mines in May 2006 for $65 million and subsequently invested in plant upgrades..... read more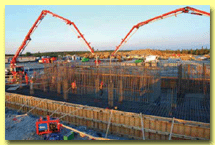 Osisko Starts Construction at its Malartic Gold Project - Osisko Mining received Quebec government authorization in late August 2009 to complete development of its Canadian Malartic open-pit gold project and is proceeding with construction of the mine and mill. Construction is expected to take 18 months, and the project is planned to be fully operational by the second quarter of 2011. Production is planned to average 591,000 oz/y of gold over 10 years of operation based on current proven and probable reserves of 6.28 million oz and will exceed 600,000 oz/y in the initial years of operation. Production costs of $319/oz will be in the lowest quartile of world gold producers.... read more

Top
Molycorp Plans to Restart Mining at Mountain Pass - Molycorp Minerals announced in early August 2009 that it has begun preparations for renewed mining of its Mountain Pass, California, rare earth deposit. Molycorp is currently producing about 4 million lb/y of rare earth products from previously mined ore. Current planning calls for a ramp up to production of 40 million lb/y of rare earth products over a three-year period. Renewal of mining at Mountain Pass requires dewatering of the open-pit mine, which has not been worked since 2002, and removal of overburden to expose fresh.... read more
| | |
| --- | --- |
| AROUND THE WORLD | Latin America |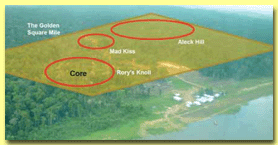 Guyana Goldfields Advances Aurora Project - Toronto-based Guyana Goldfields reported in late August 2009 completion of a positive, NI 43-101 compliant preliminary assessment of its Aurora gold project in northwest Guyana, along with plans to complete a definitive feasibility study by March 2010. The project is located 170 km west of Georgetown, Guyana's capital, in an area of low relief and dense rainforest. Rainfall averages 2,500 mm per year. The project can be accessed by barges during highwater levels, six months of the year…… read more
Silver Wheaton Buys into Barrick Silver Production - Barrick Gold and Silver Wheaton closed a transaction on September 22, 2009, whereby Silver Wheaton will acquire 25% of the life-of-mine silver production from Barrick's cross-border Pascua-Lama goldsilver project in Chile and Argentina. Silver Wheaton is also acquiring 100% of the silver production from Barrick's Lagunas Norte and Pierina mines in Peru and its Veladero mine in Argentina until project completion at Pascua-Lama. Silver production from these three mines is expected to average about 2.4 million oz/y over that period of time…. read more

Rio Tinto Reaches 3 Billion Ton Iron Ore Shipment Mark - Rio Tinto announced recently it had reached the historic milestone of exporting 3 billion mt of iron ore from Australia, highlighting the exponential growth of the nation's iron ore industry since its first shipment in 1966. The 3 billionth ton was loaded on to the Pacific Ruby, a Cape-size vessel berthed at Rio Tinto's recently expanded Cape Lambert Port. The 240,000-mt cargo consisted of iron ore from the Yandicoogina and Mesa J mines, and was bound for Posco, the largest South Korean steel producer…. read more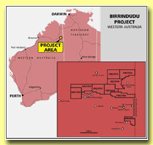 Toro to Advance Wiluna Uranium Project- Toro Energy Ltd. reported that it has raised a total of A$40 million in capital to apply to its efforts to achieve first production at its Western Australian uranium project by 2012. According to the company, proceeds from the capital raising will be sufficient to fund all approvals and completion of a bankable feasibility study by 2011 for Toro's Wiluna uranium project, along with other project and consolidation opportunities. Toro's major shareholder, Oz Minerals, contributed nearly half of the total raised to maintain its 49.9% shareholding in Toro, which is also developing the Napperby uranium project northwest of Alice Springs, and uranium prospective ground in South Australia and the African state of Namibia…. read more

Top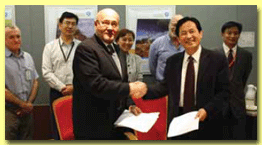 CSIRO, Chinese Geological Survey Sign Technology Accord - Australia's national science and research agency, CSIRO, has signed a Memorandum of Understanding (MoU) with the China Geological Survey (CGS). The signing follows a number of successful projects between CSIRO and CGS in the field of hyperspectral imaging. CGS is a non-profit government owned research institution involved in remote sensing research and applications, which reports directly to the Chinese Ministry of Land and Resources. This new collaborative relationship, according to CSIRO, will assist Australian geological technologies entering or planning to enter the Chinese market. It will also help further secure China as Australia's leading resource partner…. read more

Sumitomo to Move Ahead on Philippine Nickel Project - Sumitomo Metal Mining announced a decision in mid-September 2009 to proceed with a $1.3-billion project to build a plant to produce a mixed nickel-cobalt sulphide product at Taganito in the northeastern region of Mindanao Island in the Philippines. In tandem with its decision, Sumitomo concluded a memorandum of understanding on joint implementation of the project with Nickel Asia Corp., the Philippines' largest nickel mining company. The Taganito project is planned as a large-scale hydrometallurgical plant that will apply high-pressure acid leaching to produce 30,000 mt/y of nickel metal equivalent in a mixed nickel-cobalt product containing about 57% nickel. Taganito Mining Corp., a subsidiary of Nickel Asia, will supply low-grade nickel ore as plant feed .…. read more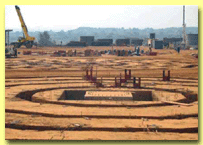 First Quantum Suspends Construction at Kolwezi - First Quantum Minerals suspended construction at the Kolwezi tailings project in the Democratic Republic of the Congo (DRC) as of September 16, 2009, following issuance of an order by the General Prosecutor of Katanga to seal the facilities of Kingamyambo Musonoi Tailings SARL (KMT). KMT holds the exploitation permit for the Kolwezi project under a Contract of Association and is owned 65% by First Quantum; 12.5% by Gecamines; 10% by Industrial Development Corp. of South Africa; 7.5% by the International Finance Corporation; and 5% by the government of the DRC …. read more

Banro Acquires Used Plant for Twangiza - Banro Corp. reported in mid-August that is has entered into an agreement to purchase a refurbished gold processing plant capable of achieving a throughput of 1.3 million mt/y for installation at its Twangiza gold project in the Democratic Republic of the Congo (E&MJ, July-August 2009, p. 14). The plant will be transported by sea from Australia to the port of Mombasa, Kenya and then by road to the Twangiza project site, where it will be erected and commissioned over the next 24 months…… read more

Top
BHP Billiton Acts to Protect Floodplains - BHP Billiton recently announced new initiatives for the Caroona coal project to ensure protection of the prime agricultural land on the floodplain and deep alluvial irrigation aquifers in the Liverpool Plains from long wall and open cut mining. "BHP Billiton and the NSW Government are committed to ensuring the protection of key agricultural land and the region's water supply, through an amendment to the existing Exploration Licence 6505 that governs the Caroona Coal Project," said Jimmy Wilson, president-energy coal, BHP Billiton. BHP Billiton undertook a review of its exploration and development plans and has provided recommendations to help address community concerns …. read more
Peabody Energy Establishes Asian Coal Trading Hub - During mid-September, Peabody Energy opened an office in Singapore that will serve as the new hub for Peabody COALTRADE International activities in Southeast Asia, further expanding the company's access to high-growth seaborne coal markets. "Singapore provides a central location to continue growing our leading coal trading and brokerage platform with prime access to the world's fastest-growing markets," said Peabody Chairman and CEO Gregory H. Boyce. "Our presence in Singapore will expand our sourcing and shipping capabilities to China, India, Indonesia and other key Asian markets. The expectation is that these markets will continue to expand at.…... read more

Top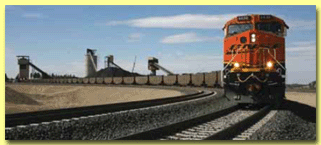 Signal Peak Begins Production in the U.S - Developers of a reactivated mine in southcentral Montana started shipping coal during early September to Midwestern power plants along a new 35-mile rail line, according to the Associated Press. The Signal Peak mine south of Roundup has undergone a $400-million expansion over the past year under the ownership of two Ohio companies, Boich Group and FirstEnergy. On September 3, 2009, Montana Governor Brian Schweitzer joined mining executives and Burlington Northern Sante Fe Railroad Chief Executive Matt Rose to dedicate a rail station that.…... read more

Top
Coal of Africa Loads First Train at Mooiplats - South African coal miner Coal of Africa Ltd. (CoAL) announced it has successfully completed its first sale and loading of its first train of mid-volatile "lean" coal mined at the Mooiplaats thermal coal project in the Mpumalanga Province. CoAL began trucking the coal from the Mooiplaats project during early September, with the first train loaded on September 11 at the Umlabo siding bound for the Matola Terminal in Maputo, Mozambique.…... read more

Top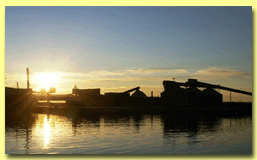 Feast, Famine and Faith
The Nordic region's mining firms and technology suppliers have not escaped the chill winds that swept through the world's financial and trading centers. But neither have they stopped key investment programs.



For some companies, particularly those producing zinc, 2008 was generally negative. But for most it was a year of two moods. Up until September, things seemed to be going very well, as was still the view of most mining and technology attendees at MINExpo in Las Vegas late in that month. A month later, when the first Euro Mine Expo took place in Skellefteå, Sweden, exploration drilling in the Nordic countries had pretty much been stopped, demand for industrial metals was disappearing, equipment orders were being postponed or withdrawn and equity markets slumped……. read more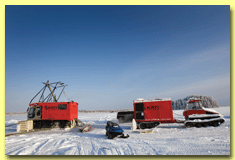 Mining High Latitude, Low Grade Magnetite
Iron ore production in the Nordic region is set to increase substantially with old mines being redeveloped, new resources exploited and existing mines expanded.

North of the Arctic Circle, the Fenno- Scandian Shield rocks of the Nordic countries host substantial magnetite deposits and some hematite. Substantial exploitation of these resources in three main areas started in the early 20th century. Although production by LKAB in Sweden has continued, the mines in Finland and Norway ceased working in 1988 and 1996. But the rapid growth in demand for iron ore in the present decade has occasioned a reevaluation of the resources previously mined in these locations...... read more

Top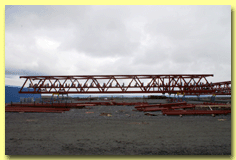 New Boliden Keeps New Aitik on Track
The Aitik 36 project is expected on stream next March. Smaller precious and base metal miners have experienced varying degrees of success.

The Aitik open-pit mine near Gällivare is the largest single supplier of copper concentrates to Boliden's Rönnskär smelter at Skelleftehamn, a 400-km haul by rail. The Aitik 36 project is intended to keep this feed stream cost competitive. The project will extend the mine's lifespan from 2016 to 2027 and will double the amount of ore mined from 18 to 36 million mt/y. Aitik 36 is by far the largest of the series of expansions Boliden has undertaken since the company started the mine in 1968. It will cut the production cost per ton of metal for the mine and will enable ore with lower grades than at present to be mined profitably. New Aitik is expected to achieve full capacity in 2014...... read more

Top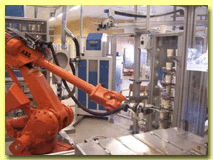 Drills Stopped, Now Turning
Just as mineral producers in the Nordic countries reacted rapidly to the "credit crunch" so did explorers—possibly even faster.

Anders Wangby, working with Västerbotten County in northern Sweden, reports that in the weeks following the financial crisis there were no new applications for exploration permits and many of the junior companies stopped their drilling programs. This had a severe impact on the contract drilling companies, resulting in one bankruptcy. The foreign-based exploration companies were particularly affected, whereas the Swedish mining and exploration companies did not cut their programs as dramatically, and some continued at normal levels with their drilling activities. In Finland, exploration activities did not slow down as much as in Sweden, mainly because GTK, the government geological survey, continued its...... read more

Top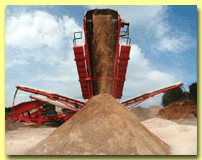 Time to Master Chess
Economic forecasting may be fraught with difficulty but thinking several moves ahead has become a necessity for technology providers

Some of the world's major suppliers of mining and mineral processing technology and equipment owe their existence to the Nordic region's domestic mining sector. Not neglecting those roots has provided a useful base load of "domestic" business for several companies during the downturn, for example Atlas Copco, Metso, Outotec and Sandvik's ongoing commitments at Aitik. Neighboring markets in the CIS have also been of some help. Likewise, working with the construction as well as the mining industry has been an advantage; for example, Grindex pumps draining four locks on the Trollhätte canal in southwest Sweden...... read more

Top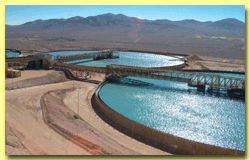 Paste Processing Potential
The size and capacity of paste thickeners grow to meet the demands of surface tailings disposal

By Steve Fiscor, Editor-in-Chief

Dewatering slurries to the consistency of paste is currently one of the more crucial aspects of mineral processing today. The benefits represent enormous potential not only within the ore processing circuit, but down stream as well. The workhorses behind this technology is the paste thickener. The increased underflow solids content that a paste thickener can achieve can create real benefits for several applications, including the counter current decantation (CCD) circuit, mine backfill, autoclave feed and surface tailings disposal impoundments...... read

Top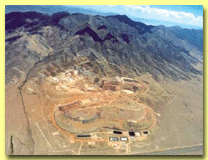 Nevada Mine Plans to Convert Geothermal Heat to High Voltage
Gold producer Florida Canyon will use heat recovered from its abundant supply of geothermal hot water to generate electricity

By Russell A. Carter, Managing Editor

With most of the mining industry still reeling from the financial blows of the global recession, it wouldn't be too surprising to see some of the industry's enthusiasm for "green" initiatives fading away, eclipsed by concerns about market trends, access to capital and other fundamental factors of business survival. The situation isn't quite that cut-and-dried, however, as mineral producers are finding that there are some financial nuggets to be mined in the green fields of environmental safety, cleaner fuels and energy conservation, to name just a few…... read more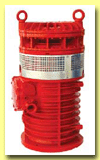 Pump Update: Pushing Performance Parameters

New products offer solutions for almost any pumping problem, from high head conditions to real-time data collection and alarm monitoring for large, mine-wide pumping systems

When it comes to pit dewatering and overall mine water management, there's no one-size-fits-all solution—every mine is different. But thanks to a steadily flowing pipeline of new pump products, along with a constant stream of refinements to existing models, there's almost always a ready solution for any size dewatering problem. Over the past year or so ,leading pump manufacturers have introduced a number of new models offering higher performance for challenging pumping applications..... read

Top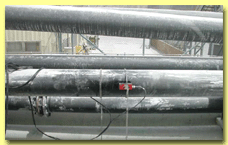 Clamp-On Ultrasonic System Solves Slurry Flow Measurement Problem - For a Chilean copper producer located in the Antofagasta region of northern Chile, finding a flow measurement system to replace their existing setup was a matter of thinking outside the box. Although several key performance requirements suited the electromagnetic flow meters the mining company had been using for years— including high accuracy and reliable performance— a pressing need for a low-maintenance, easily installed system disqualified that technology, and the company had to look elsewhere for alternative solutions …. read more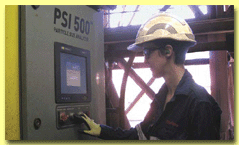 Outotec Installs First Laser Particle Size Analyzer - Outotec recently reported that the first iron ore installation in Australia of its PSI 500 particle size analyzer took place at Rio Tinto Iron Ore's Paraburdoo operation in the Pilbara region. The system, which uses laser diffraction technology, provides real time particle size analysis, essential to maximizing throughput and recoveries, said Brian McPherson, Outotec application engineerautomation. "The PSI 500 system, selected by Paraburdoo to reliably and continuously monitor feeds from the cyclones to the thickener, gives infinitely better process control than typical intermittent manual sampling methods."…… read more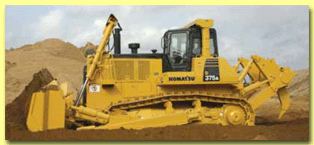 Komatsu Introduces Two New Models - Komatsu America Corp. recently unveiled a pair of new earthmoving machines—a mining- class bulldozer and a quarry-class wheel loader—both of which offer a number of performance improvements over previous versions. The company's new D375A- 6 crawler dozer, weighing 157,940 lb and powered by a Komatsu SAA6D170E-5 diesel rated at 636 gross hp, has been designed to compete for market share against Caterpillar's D10T. The D375A-6's more powerful engine, offering an 85 net hp increase over the previous D375A-5E0 model, is the same unit used in Komatsu's PC 1250LC-8 hydraulic…. read more

Top

Comprehensive Hardfacing Product Guide - Stoody, a leading supplier of hardfacing and joining welding electrodes, has produced an in-depth Hardfacing and High Alloy Product Selection Guide that includes its latest alloys, product descriptions, application photos that demonstrate the varied potential uses for the products, and other relevant information. The guide includes product packaging and part number information, and is divided into sections dealing with coated electrodes and bare rods, open-arc and gas-shielded wires, submerged arc wires, and high alloy joining and cladding .…… read more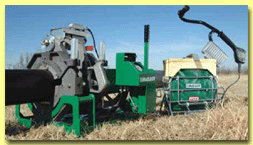 Compact Hand-Powered Pipe Fusion Machines - McElroy says its new DynaMc Hand Pump (HP) machines provide the power and pressure required to butt-fuse pipes sized 2-in. IPS to 12-in. DIPS (63 mm to 340 mm) with a hand-powered pump. The doubleaction hand pump, paired with high-velocity cylinders, creates faster carriage speeds for critical opening and closing during the fusion process. The DynaMc 28, 250 and 412 HPs—each available in two- and fourjaw configurations—come with an easy-lift cradle that can be removed…. read more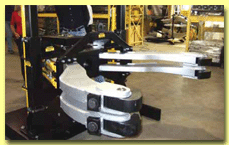 200-Ton-Capacity Gear Puller - Posi Lock's hydraulic line featuring patented "Safety Cage design" has again been expanded to include a four-jaw, 200-ton puller. The PH-200T puller's jaws have a reach of 50 in. (1,219 mm) and a spread range from 8 in. (203.2 mm) to 52.5 in. (1,333.5 mm). The hydraulic-powered dual mast lift cart will extend from ground to 5 ft (1,524 mm). The puller can be removed from the cart and can be used in either horizontal or vertical position. Jaws are hydraulically guided by the safety cage and jaw tips can be manually…. read more

Truck Scale Built for Mining Applications - Built specifically for mining and off-road vehicle weighing, Cardinal's new Yukon low-profile truck scale is built for extremely heavy-duty use, with gross capacity of up to 150 tons. The Yukon features a high 70- ton Concentrated Load Capacity, or CLC (a term defining a scale's ability to weigh loads concentrated in a relatively small area to replicate loads applied by a truck's axles). Each individual Yukon scale deck features eight massive 16-in. I-beams for superior strength; 3/8-in.-thick deck plate, with an optional 8-in. concrete deck available; and stainless steel 100,000-lb compression load cells.…. read more

Top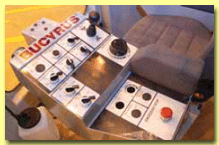 Enhanced Cab for Rotary Blasthole Drill Line - Bucyrus is offering an enhanced operator's cab for the its 49HR line of rotary blasthole drills. The cab enhancements, according to the company, are predicated upon the premise that drill operators work more efficiently when they are comfortable and alert, so a major aspect of Bucyrus's reconfiguration of the 49HR controls and console centered on improved ergonomics and comfort for operators. Bucyrus has incorporated a six-way adjustable seat with a mechanical swing suspension into the cab design….read more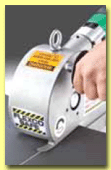 Electric Belt Cutter Speeds Installation and Repair - Flexco has introduced an electric conveyor belt cutter, designed to provide quick and easy cuts on all types of belting from the softest of natural rubbers to the hardest constructed solid woven PVC and fabric plied belts, according to the company. The belt cutter is available in two sizes: the EBC1 is capable of cutting a rubber belt up to 1-in. (25 mm) thick and up to a maximum 360 P.I.W. (630 N/m) on PVC belts while the EBC2 cuts rubber belts up to 2-in. (50 mm) thick and up to a maximum 1,140 P.I.W. (2,000 N/m) on PVC belts. The units' high-speed, steel blade is dual…. read more
NOVEMBER 2–8, 2009: 2009 Alaska Miners Association Annual Convention, Anchorage, Alaska, USA. Contact: Alaska Miners Association; Tel: 907-563-9229; Fax: 907-563-9225; E-mail: ama@alaskaminers.org; Web: www.alaskaminers.org
NOVEMBER 9–10, 2009: Flotation '09: 4th International Flotation Conference, Cape Town, South Africa Contact: Barry Wills; Tel: 44 (0)7768 234121; E-mail: bwills@min-eng.com; Web: www.min-eng.com
DECEMBER 2–4, 2009: PROCEMIN 2009—VI International Mineral Processing Seminar Santiago, Chile. Contact: Fabiola Bustamante; Tel: 56-2 6521555; E-mail: info@procemin2009.com; Web: www.procemin2009.com
FEBRUARY 4–5, 2010: Processing of Industrial Minerals '10-Istanbul, Istanbul, Turkey. Contact: Barry Wills; E-mail: bwills@min-eng.com; Web: www.min-eng.com/pim10
FEBRUARY 28–MARCH 3, 2010: 2010 SME Annual Meeting & Exhibit, Phoenix, Arizona, USA Contact: Colorado School of Mines; Tel: 800- 446-9488; E-mail: space@mines.edu; Web: www.inside.mines.edu/Outreach/cont_ed/econeval.shtml
MARCH 7–10, 2010: PDAC2010, Toronto, Canada. Contact: Prospectors & Developers Association of Canada; Tel: 416-362-1969; Fax: 416-362-010; E-mail: convention@pdac.ca; Web: www.pdac.ca
APRIL 12–16, 2010: Expomin, Santiago, Chile FISA S.A.; Tel: 562 530-7000; Fax: 562 530-7272; E-mail: info@fisa.com
APRIL 19–25, 2010: bauma Mining, Munich, Germany Contact: Messe Muenchen; Tel: 011-49-89-949-1348; Web: www.bauma.de
For a full calendar of mining industry conferences and events - click here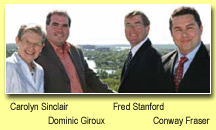 Laurentian University President Dominic Giroux announced that former president of Vale Inco Ontario Operations, Fred Stanford, has joined the university as one of its first executives-in-residence. Stanford, who has 28 years of experience in mining and operations, will help establish an international mining advisory committee at Laurentian and provide strategic advice in the development of innovative undergraduate and graduate programs that will meet the emerging needs of the mining industry.

Top
Mechel OAO announced the appointment of Boris Sedelnikov as managing director of Korshunov Mining Plant OAO. He succeeds Yuriy Efimenko, who has been named deputy general director and director of HR Department for Mechel Mining Management Company OOO.
Capital Gold Corp. has appointed John Brownlie president. Since February 2007, Brownlie has served on the company's board and as the COO. Former President, Gifford Dieterle, will continue as Capital Gold's CEO, chairman and treasurer.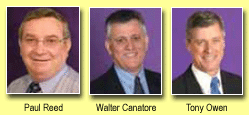 Sinclair Knight Merz has consolidated its iron ore project delivery expertise, by appointing Paul Reed as its business development manager and global iron ore commodity manager. SKM also promoted Walter Cantatore to manager-mining and metals for South America. He was previously manager-mining and metals for eastern Australia. The company promoted Tony Owen to that position.
Alcoa recently named Timothy D. Reyes president of Alcoa Materials Management, which is responsible for the commercial activities related to primary metal, alumina and bauxite within Alcoa's Global Primary Products business, and commodity price risk management and transportation for Alcoa Inc.
Romarco Minerals Inc. announced that it has expanded its management team with additions to its operations positions. Jim Wickens has been appointed Haile mill manager; Brent Anderson has been appointed mining engineer–Haile mine manager; and Arthur "Ott" Jackson has been appointed Haile health and safety manager.

The American Rock Mechanics Association (ARMA) granted the 2009 rock mechanics award in the category of Applied Rock Mechanics Research to the paper titled: "A Risk Evaluation Approach for Pit Slope Design" by Oskar Steffen, Luis-Fernando Contreras, Peter Terbrugge and Julian Venter of SRK Consulting SA (Pty) Ltd.

Universal Well Site Solutions announced that James May has joined the firm as vice president of marketing and customer solutions.
About - providing an abreviated version of the current print edition of E&MJ, WOMP is distributed throughout the world to decision makers in the global mining industry, the last week of every month.

Subscribe to E&MJ - To receive your own copy of the print edition of E&MJ, click here , and complete your details. E&MJ is available free of charge to qualified readers.

Contact - if you have views, opinons or comments or editoral that you would like to submit, we would be delighted to hear from you - click here

Top