Eldorado Gold Set to Acquire Sino Gold for $2B
---
Sino Gold's flagship operation is the Jinfeng surface/underground mine in Guizhou province, China, which currently produces about 151,000 oz/y. (Photo courtesy of Sino Gold)

Eldorado Gold and Sino Gold announced plans in late August 2009 for an agreed, all-share acquisition of Sino by Eldorado that values Sino at about C$2 billion. At the time of the announcement, Eldorado already held a 19.8% interest in Sino.

Assuming completion of the transaction, the combined company will have four operating gold mines, three in China and one in Turkey, that are expected to produce a combined total of about 550,000 oz of gold in 2009. Two new mines, one in China and one in Turkey, are expected to lift production to about 850,000 oz in 2011, and project development combined with expansion at existing operations offers the opportunity to increase production to more than 1 million oz/y by 2013. The combined company will have proven and probable reserves of 12.7 million oz.

Eldorado is headquartered in Vancouver, British Columbia; Sino is headquartered in Sydney, Australia. Eldorado plans to establish an Australian listing for its shares, which would allow Sino shareholders to hold their newly acquired Eldorado shares on the Australian Stock Exchange. The company will also maintain an important regional office in Sydney. The transaction is expected to close in December 2009.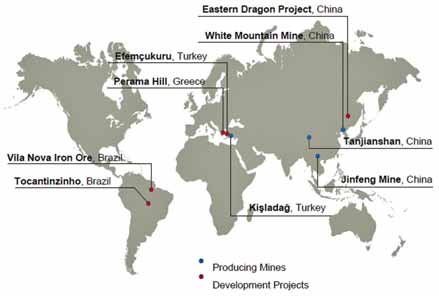 Following completion of Eldorado Gold's purchase of Sino Gold, valued at roughly $2 billion, the combined
company will own four active gold mines—three in China and one in Turkey—with two additional mines
scheduled for startup in 2011. Other projects, combined with existing mine expansions, could boost annual
gold production to more than 1 million oz/y by 2013.

Eldorado currently produces gold from the Kişladağ mine (100% owned) in Turkey and the Tanjianshan mine (90% owned) in China. Kişladağ is an open-pit mine that began production in July 2006 and that is forecast to produce 230,000 to 240,000 oz in 2009. Tanjianshan is an open-pit operation based on two separate deposits that began commercial production in February 2007 and that is forecast to produce 95,000 to 100,000 oz in 2009. In June 2008, Eldorado initiated construction of its underground Efemçukuru mine in Turkey, with startup planned for late 2010 at a designed production rate of 112,000 oz/y. Other Eldorado development assets include its Perama Hill gold project in Greece and its Tocantinzinho gold and Vila Nova iron ore projects in Brazil.

Sino Gold has current gold production from its 82%-owned, open-pit/ underground Jinfeng gold mine in Guizhou province, southern China, with current production of about 151,000 oz/y, and from its 95%-owned, underground White Mountain gold mine in Jilin province, northeast China, where commercial production began in January 2009, targeting design capacity of 65,000 oz/y. Sino is nearing a construction start at its open-pit/underground Eastern Dragon project in Heilongjiang province, northeast, China, with production planned at about 90,000 oz/y, and it is assessing the potential of its Beyinhar project in Inner Mongolia to be developed as an open-pit, heap leach gold operation.
---
As featured in Womp 2009 Vol 08 - www.womp-int.com