Toro to Advance Wiluna Uranium Project
---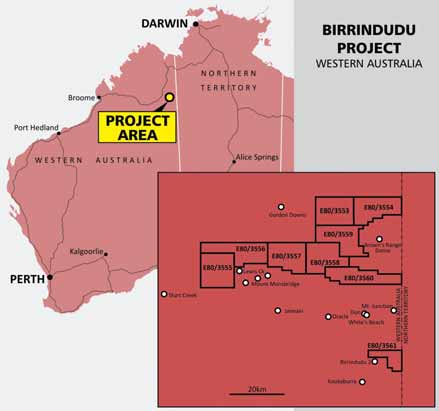 Toro Energy Ltd. reported that it has raised a total of A$40 million in capital to apply to its efforts to achieve first production at its Western Australian uranium project by 2012. According to the company, proceeds from the capital raising will be sufficient to fund all approvals and completion of a bankable feasibility study by 2011 for Toro's Wiluna uranium project, along with other project and consolidation opportunities.

Toro's major shareholder, Oz Minerals, contributed nearly half of the total raised to maintain its 49.9% shareholding in Toro, which is also developing the Napperby uranium project northwest of Alice Springs, and uranium prospective ground in South Australia and the African state of Namibia.

During 2008 a pre-feasibility study was completed by GRD Minproc on the Lake Way and Centipede deposits at Wiluna. The company said the study focused on four principal project development options—three at the prefeasibility level and one at a scoping level of accuracy—and concluded that the Wiluna project is economic at the forecast long term uranium price of US$80/lb U3O8 and a foreign exchange rate of A$:US$0.75, with first production targeted for 2012/13. Initial capital expenditure for the four options ranged from A$196 million to A$247 million.

Toro also announced it had signed a joint venture Heads of Agreement with Cameco Australia, part of the worldwide Cameco uranium group, to explore and develop the Birrindudu project in the Tanami region just inside Western Australia's border with the Northern Territory. According to the company, the project area encompasses Palaeoproterozoic metasedimentary Tanami Group that is unconformably overlain by the intracratonic platform sandstones Birrindudu Basin, analogous to the Alligator River Uranium Field, where there are established world-class deposits at Ranger, Jabiluka, Koongarra and Nabarlek.

Deposits of this style, the company stated in a press release, are characteristically high grade with large tonnage of contained uranium metal.

The JV partners have agreed upon an initial work program that entails heritage site clearance, helicopter-assisted geological mapping and sampling and possible ground geophysics (EM) to determine the position and depth to conductors. This will be followed up by the drilling of four or more diamond holes and possible expanded ground exploration.
---
As featured in Womp 2009 Vol 08 - www.womp-int.com