Features

PUMPS & PIPING
Pumping Progress.......read more

MINExpo 2008
MINExpo Brings it all Together... read more

UNDERGROUND COMMUNICATIONS
Making the most of underground communications networks.......read more






To update your details or renew your current print subscription or to receive your own edition of the print version of E&MJ -

CLICK HERE

Mining Companies Will Weather the Financial Storm - The news these days, in general, is not good especially for financial and commodity markets. The U.S. housing bubble bursts, big names in the insurance and investment community have fallen by the way side, and governments around the world are pumping money into the economy to prop up everything from financial institutions to auto industries. Investors are angry. As banks fail, many of them are seriously considering stashing money away at home. Who can blame them? Similar to most publicly-listed companies......... read more

Steve Fiscor, Editor in Chief

Vale Budgets $14.8 Billion for 2009 Capex - In mid-October 2008, Vale announced plans for capital expenditures (capex) of $14.8 billion in 2009, with $11.7 billion of the total going to more than 30 development projects in Brazil, Canada, Mozambique, Oman, Australia, Indonesia, Chile and Peru, among other nations. The Vale 2009 capex budget also includes $736 million for minerals exploration; $510 million for conceptual, pre-feasibility and feasibility studies.......... read more
Rio Tinto Sees China "Pausing for Breath" - In a statement accompanying Rio Tinto's third-quarter 2008 production report, company CEO Tom Albanese commented on the outlook for economic growth in China, especially as it relates to demand for Rio Tinto products. Albanese's views were somewhat cautionary, representing a shift from recent mining industry sentiment, which for the most part has continued to predict on-going strong........ read more

Top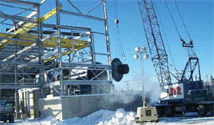 Crowflight Commissioning Bucko Lake Mine- Crowflight Minerals reported in early October 2008 that construction was nearly complete at its Bucko Lake nickel mine near Wabowden, Manitoba, in the Thompson Nickel Belt. Commissioning had begun, and ramp-up to full commercial production was expected to be complete by early 2009. Commissioning of the Bucko Lake crushing plant was essentially complete and crushing of ore had begun. Mill commissioning had been... read more

Mechel Commissions Voskhod Chrome Mine - Russian steelmaker Mechel OAO has commissioned its new Voskhod chrome ore mine in the Aktyubinsk region of northwest Kazakhstan. The President of the Russian Federation, Dmitry Medvedev; the President of the Republic of Kazakhstan, Nursultan Nazarbayev; and Mechel CEO, Igor V. Zyuzin, participated in the opening ceremony. Mechel acquired the....read more

Teck Cominco Restructures and Renames - Teck Cominco announced on October 1 a corporate restructuring into five commodity- based strategic business units (divisions), specializing in copper, zinc, gold, metallurgical coal and energy. At the same time, the company said it is simplifying its name and corporate brand to "Teck." The company's legal name will remain "Teck Cominco Limited" until its next annual general meeting in April 2009, when, subject to the approval of shareholders, the company proposes to change its legal name to "Teck Resources Limited."...... read more

Top
Eldorado Gold Exploring in Turkey, China, Brazil and Nevada - Eldorado Gold expects its exploration spending to total $20 million in 2008, with active projects in Turkey and China, where the company has producing mines, as well in Brazil and Nevada. In Turkey, Eldorado exploration has focused on its existing Kisladag mine, the adjacent Sayacik project, and the Efemçukuru development project, as well as regional... read more
SRA Places Zinc Mines on Care and Maintenance - Strategic Resource Acquisition Corp. (SRA) announced on October 10 that it was placing its Mid-Tennessee zinc mining and development operations on temporary care and maintenance as a result of the current zinc pricing and credit market environment. SRA had been pursuing a program of reactivation of former zinc-producing mines in the district and had brought the Gordonsville mine back into production in April 2008. The Cumberland and Elmwood mines..... read more

NovaGold Ramping Up at Rock Creek, Reports Donlin Creek Drill Results - NovaGold Resources initiated production at its Rock Creek mine near Nome, Alaska, during the second half of September 2008 and is ramping up to the mine's design production rate. Startup followed receipt of final regulatory authorizations, which require NovaGold to complete a number of environmental and operational tasks. Rock Creek is NovaGold's first producing gold mine.... read

Top

Bloom Lake Production Target Increased - Consolidated Thompson Iron Mines announced on September 29 that a feasibility study on the expansion of its Bloom Lake iron ore project in Labrador has confirmed the viability of a production rate increase to 8 million mt/y of iron ore concentrate beginning in September 2009. Previous planning for the project had been based on a 7-million-mt/y production rate. Concentrate will grade 66.5% Fe. In a subsequent project update on October 5, 2008, Consolidated Thompson reported that its current.... read more

Golden Star Completes Wassa Mill Repairs - In Ghana, Golden Star Resources recently announced that the pinion gear assembly on Wassa's Mill No. 2 ball mill that experienced mechanical failure in late August has been repaired and the mill has been recommissioned. Testing of Mill No. 2 commenced ahead of schedule on October 20, 2008, and ore feed began on October 21, 2008. The mill is now operating at 100% capacity, according to the company…… read more

Platinum Australia Commissioning Smokey Hills - Platinum Australia began commissioning its Smokey Hills platinum project on the eastern limb of the Bushveld Complex 300 km northeast of Johannesburg, South Africa, in early October 2008. The project's first flotation concentrates were scheduled to be shipped to Impala Platinum's Rustenburg smelter in early November. At design capacity, Smokey Hills will produce a combined 95,000 oz/y of platinum, palladium, rhodium and gold (4E PGM). Activation of the…. read more

Top

Impala Proposes Acquisition of Mvelaphanda and Northam - Impala Platinum (Implats) reported in early October that it has proposed a transaction to the boards of Mvelaphanda Resources and Northam Platinum to acquire the entire issued share capital of the two companies. Payment would be through a combination of Implats shares (70%) and cash (30%) valued at the time of the announcement at about $2.5 billion. Mvela currently owns 62.8% of Northam. Northam operates integrated platinum group metals mining, processing and smelting operations…. read more


Production from Argyle Diamonds Slated for Late 2010; Global Demand May Drop - The first underground production from the world's largest diamond mine, Western Australia's massive Argyle project, is now expected to come on stream early, by December 2010. That is 25 weeks ahead of schedule and under budget, as the mine pushes ahead with its A$1.86-billion expansion to take its open-pit output into an historic underground block…. read more


Court Backs Fortescue Bid for Rail Line Access - Australia's High Court ruled in late September 2008 that Fortescue Metals should not be barred from use of BHP Billiton's Mt. Newman rail line to transport iron ore in Western Australia's Pilbara region. A separate decision from a proceeding in the Australian Competition Tribunal is required before Fortescue would be able to negotiate terms of access to the rail line. The Competition Tribunal is expected to consider the issue in March or April 2009…. read more

Top

Carmen Copper on Track with Toledo Rehab - Carmen Copper Corp., a subsidiary of Atlas Consolidated Mining and Development Corp., is on track with the rehabilitation of its Toledo copper mine located in Toledo City, Cebu. In a disclosure to the Philippine Stock Exchange, Carmen Copper reported that it has essentially completed phase 1 of the rehab work and is now ready to process at about half of the planned maximum ore production…. read more


Elray Resources to Explore Zircon Sands Prospect - Elray Resources, a gold and precious metal mineral exploration company based in Phnom Penh, Cambodia, announced that it has acquired a 50% interest in a zircon sands mining project in Central Kalimantan, Indonesia. According to the company, its joint venture partner, PT. Indo Imperial Resources Tambang, has been successfully operating the project on a small scale for the last two years, and is teaming up with Elray Resources to take production to the next level.…. read more



Coeur Report Updates its Latin American Operations - On October 13, 2008, Coeur d'Alene Mines provided updates on production activities at its new San Bartolomé silver mine in Bolivia, construction activities at its Palmarejo silver and gold project in Chihuahua, Mexico, and exploration and operational activities at its Cerro Bayo silver and gold mine in Chile. Coeur said production continues to ramp up at San Bartolomé, and operating costs have remained high due to startup related issues, but Coeur anticipates that costs will decline as production…. read more...


Corriente Receives License for Port Construction - Vancouver, B.C., Canada-based Corriente Resources reported in late October that Ecuador's Ministry of Environment approved the Environmental License for Corriente to build and operate a dedicated port near Machala for the shipping of copper concentrate from the Corriente Copper Belt. The company owns a 27-hectare port site on the Santa Rosa Channel in Machala, which is connected to the company's Mirador copper project by a 400- km paved highway.…… read more

Top
Thiess Wins Indonesian Coal Mine Project - A major Australian construction and mining contractor, Thiess, has won a five year A$1 billion ($696 million) contract to develop and operate two coal mines in Indonesia, according to Business in Asia Today. The company's subsidiary PT Thiess Contractors Indonesia will provide mine planning.…. read more

Cleveland-Cliffs is Now Cliffs Natural Resources - Cleveland-Cliffs Inc announced on October 15 that it has changed its name to Cliffs Natural Resources Inc. In addition to the name change, the company also announced the formal adoption of "Cliffs," the one-word name by which it is commonly known, and introduced a new visual identity, including a new corporate logo. The new blue and green logo is suggestive of a cliff and its reflection in water, as well as the company's core mining business, which operates above ground and below. It also serves…... read

Top

China's Largest Open-Pit Coal Mine Ready for Production - China's largest open-cast coal mine, operated by Shenhua Zhungeer Energy, in the northern Inner Mongolia Autonomous Region, is set to start production. Estimated coal output was forecast to 7 million metric tons (mt) during the fourth quarter of this year. Reserves for the project are estimated at more than 1.7 billion mt of low-sulphur steam coal…... read more


Pumping Progress
With a recent flurry of new models adding higher performance and broader functionality to existing product lines, it's safe to say that there's a pump available for any conceivable mining application

There normally is a slow but steady trickle of product news from the mine pump and piping systems market sector, with suppliers periodically extending their product lines, updating existing models and introducing new accessories and services. However, in September that trickle turned into a torrent as the mining industry converged on Las Vegas, Nevada, USA, for MINExpo 2008 and manufacturers seized the opportunity to demonstrate new pump, valve and piping technology, and showcase their flagship products, which……. read more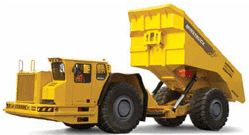 MINExpo Brings it All Together
Rarely do thousands of mine owners, managers and operators have the opportunity to mingle with the industry's leading vendors, in one location, over the course of a few days. MINExpo 2008 offered that opportunity—and the industry responded in record numbers.

MRiding the crest of a multi-year global wave of demand for mineral commodities, the MINExpo International 2008 trade show—featuring the latest and largest in equipment, products and services from the industry's many suppliers— drew a record crowd of 38,500 visitors to the Las Vegas, Nevada, Convention Center September 22-24, according to attendance figures reported by its sponsoring organization, the U.S.-based National Mining Association (NMA)...... read more

Mining: Tools Get Bigger, Faster and Smarter read more
Processing: Suppliers Expand Product Lines, Extend Global Reach read more
Consumables: Parts and Services: The Building Blocks of Successful Equipment Service Life read more



Top
UNDERGROUND COMMUNICATIONS
Making the Most of Underground Communications Networks
Underground mine communications systems are necessarily costly. Using them to boost productivity improves the ROI.

Return on the investment made in an underground communications network can be increased by maximizing the system's contribution to achieving greater productivity, argues Christoph Müller of Germany based Becker Mining Systems. The ability of Ethernet and IP-protocol based networks as price-efficient carriers for multipurpose communications in technical applications is proven and the IREDES standardization initiative now under way is enabling mining equipment to "talk" to central computer systems. As a result, single highly reliable underground multi-purpose networks can not only be utilized to enhance…... read more


Remote Control System for Large Caterpillar Bulldozers - Caterpillar has developed an integrated remote control system for its D10T, D11T and D11T CD bulldozers. According to the company, the system represents a critical technology in the evolution to autonomous mine sites, meeting ISO15817 and AS/NZS4240 safety standards and allowing operators to work safely in a broader range of applications. The Cat system, commercially available in 2009, is fully integrated…. read more

New Rotation Unit for Atlas Copco DTH/ITH Drill Rigs - Atlas Copco Rock Drills has introduced a new rotation unit for drilling blast holes in the 92-203 mm range. The DHR 6 is the latest model in the company's DHR series and meets customers' increased demands for air pressure of up to 35 bar with maximum torque of 6 Nm. This rating, according to the company, means the unit will allow a DTH (down-the-hole) hammer to be run at much greater power, significantly…… read more

Segmented Ring Gears Have No Size Limit - Finnish firm Moventas says it specializes in the design and manufacture of multi-segmented ring gears used to rotate large drums, kilns and mills of diameters from 3m and more, with no upper size limit due to the company's unique manufacturing process. With more than three decades of experience building large multi-segmented spur gears, Moventas has developed a multi-segmented helical ring gear that represents a continuation…. read more

Top

Minesite Lighting Units are Easily Transportable - The Australian company Allight offers the Nightshifter line of mobile lighting solutions for mining applications. With vibration-resistant, double-ended metal halide lamps ideal for operation in mobile equipment, Nightshifter lighting towers can provide optimum light output for mine sites and allow cost-effective transport between sites. Due to the line's small ground footprint, up to eight NH6000 towers and 10 NM4000s can be transported…… read more

Bulk Railcar Unloading Made Easier and Faster - Cyclonaire's CycloLift connectors are designed to reduce the time and eliminate the spillage associated with the job of mating conventional railcar connectors with hopper gates. Models are also available for hopper-bottom trucks, dual-outlet railcars, and come standard in sizes with custom-fit adapters. CycloLift connectors maintain a tight gate…. read more

Bucyrus Offers Wethead Cutting on its 25M CM Series - Wethead cutting technology is now available on the Bucyrus 25M series continuous miners. According to the company, the wethead concept is gaining popularity within the mining industry because of its advantages in dust control, noise reduction, operator comfort and visibility and a substantial improvement in bit life. Bucyrus says its wethead…. read more

Mine-Designed Welding Unit Offers Upgrades -Arcon Welding, supplier of welding units designed for mining and other demanding industrial applications, has updated its Workhorse 300S to improve worker safety and overall reliability. The updated products feature a VRD (voltage reduction device) or low-open circuit voltage model to reduce the possibility of electrical shock in damp areas and conditions. As this protection is built in to the welder's non-conductive, reinforced fiberglass.…. read more

Top

Fog Cannon Controls Dust - The Fog Cannon from Italian company Ecology SRL is designed to mitigate airborne particles and dust generated by open mining activities, general demolition work and industrial bulk material handling. The cannon, available in both manual and fully automated versions, emits a powerful fog jet of fine droplets of water/air and if desired, also a surfactant. Two kind of surfactant are available: agglomerating and film-forming. Surfactant ECS89 (certified by the German Ministry of Health, VDI 2584 and Ta-Luft.) creates a harmless fog.….read more

Satellite Phone with Full Features Packed Small- Iridium Satellite has unveiled its smallest, most powerful satellite phone, the Iridium 9555, which offers a significantly smaller size, a more hand-friendly form factor, an intuitive user interface, and new features such as an internally stowed antenna. The compact phone has a brighter screen, speaker, improved Short Messaging Service (SMS) and e-mail capabilities…. read more
FEBRUARY 8-11, 2009: 35th Annual Conference on Explosives and Blasting Technique, Denver, Colorado, USA Contact: International Society of Explosives Engineers; Tel. 440-349-4400; Fax: 440-349-3788; Web: www.isee.org

APRIL 1–2, 2009: GEO-9 Geo-Event, Coventry, U.K Contact: Robert Peel, The Marketing Edge; Tel: 44 (0)1666 823306; Fax: 44 (0)1666 824668; E-mail robert@market-it.co.uk

MAY 10-13, 2009: CIM, Canadian Institute of Mining Conference and Exhibition, Toronto, Canada Contact: Tel: 514-939-2710; Web: www.cim.org

JUNE 16–18, 2009: Exponor 2009, Antofagasta, Chile Contact: Tel: 56-66-454 306; Web www.exponor.cl

SEPTEMBER 15–18, 2009: ESCC 2009—European Symposium on Comminution and Classification, Espoo, Finland Contact: Web: www.escc2009.fi

For a full calendar of mining industry conferences and events - click here
Dr. Xolani Mkhwanazi was recently appointed chairman of BHP Billiton South Africa.

The Peruvian Minister of Energy and Mines, Juan Valdivia, recently resigned over allegations of corruption in the awarding of oil and gas concessions.

Top

Alcoa recently announced the appointments of Kurt Waldo as vice president and general counsel and Jake Siewert as vice president-business development and public strategy. The company also announced that William J. O'Rourke has been named vice president for Sustainability and Environment, Health and Safety.

Geovic Mining Corp. announced the appointment of Conrad B. Houser as senior vice president, as well as president of Geovic Energy Co., a wholly-owned subsidiary

Mine Radio Systems has appointed Cindy Chesney general manager, Canadian Operations.

Marston recently named Michael Ward senior geological consultant and Jerry DeWolfe geological consultant
River Consulting recently announced that Tim Harvey has been appointed director–material storage and handling systems and Bryan Krupp has been appointed director–project development.

Leica Geosystems, Inc. announced that Ken Mooyman, currently senior vice president of sales, has been promoted to president and CEO.
About - providing an abreviated version of the current print edition of E&MJ, WOMP is distributed throughout the world to decision makers in the global mining industry, the last week of every month.

Subscribe to E&MJ - To receive your own copy of the print edition of E&MJ, click here , and complete your details. E&MJ is available free of charge to qualified readers.

Contact - if you have views, opinons or comments or editoral that you would like to submit, we would be delighted to hear from you - click here

Top