The latest from the
World Mining Equipment
Video Library
View



PDAC Celebrates the Best at 2023 Awards Gala

The Awards Gala at the annual Prospectors & Developers Association of Canada (PDAC) meeting resembles the Oscars for the mining business. The PDAC rolls out the red carpet at the historic Fairmont Royal York hotel in downtown Toronto, and mining executives celebrate the achievements of their peers. As one would expect, the award winners have distinguished themselves in many ways, but this year's group had something else in common: self-reliance. Many of them rose from modest means and worked hard to achieve success. They saw value where others did not, and they mortgaged their homes on a hunch. The PDAC presented the Sustainability Award to the Lundin Foundation. The Lundin program focuses on four key areas: education and skills training, local supplier development, economic diversifi cation, and environmental innovation .... read more


Steve Fiscor, Publisher & Editor in Chief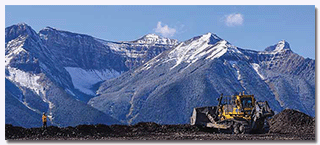 Teck Rejects Glencore Proposal
Last month, Teck Resources Ltd. announced its intention to split its business into two independent, publicly listed companies: Teck Metals Corp. and Elk Valley Resources Ltd. (EVR). Teck Metals will be positioned as a base metals mining company with a top-tier copper .... read more
Pan American Completes Acquisition of Yamana
Pan American Silver Corp. has completed its previously announced acquisition of all of the shares of Yamana Gold, Inc., following the sale by Yamana of its Canadian assets, including certain subsidiaries and partnerships which hold Yamana's interests in the Canadian Malartic mine, to Agnico Eagle Mines Ltd. (AEM). "This acquisition is transformative for Pan American, signifi cantly increasing the scale of our operations in Latin America where we have been operating for nearly three decades," said Michael Steinmann, president and CEO .... read more

Top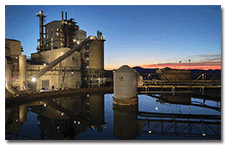 First Majestic Suspends Mining at Jerritt Canyon
First Majestic Silver Corp. announced that it is suspending all mining activities and reducing its workforce at Jerritt Canyon gold mine in Nevada, USA. Since the acquisition of Jerritt Canyon nearly a year ago, the company has been focused on increasing underground mining rates to sustainably feed the processing plant at a minimum of 3,000 tons per day..... read more


QB2 Announced First Copper Concentrate
Teck Resources announced that its Quebrada Blanca Phase 2 Project (QB2), located in northern Chile, has produced its first bulk copper concentrate, as the project advances commissioning and ramps up to full production through 2023. "First copper concentrate production at QB2 is an important milestone as we advance our commissioning and ramp up plan towards full production this year," said Jonathan Price, CEO. "This achievement is made possible by the dedicated and skilled teams who have worked diligently to progress ..... read more


| | |
| --- | --- |
| AROUND THE WORLD - USA & CANADA | |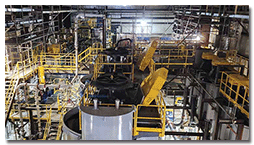 Jervois Suspends Construction at ICO
Jervois Global Ltd. said it has suspended fi nal construction and full concentrator commissioning at its Idaho Cobalt Operations mine (ICO) in Idaho, USA, due to continuing low cobalt prices and infl ationary impacts on construction costs. The company said it believes cobalt prices and demand will eventually improve. It also expects .... read more


Stillwater West Reports Damage to Shaft Headgear
Sibanye-Stillwater reported an incident at its Stillwater West mine in Montana, USA, during scheduled non-routine maintenance on the winder that services the vertical shaft accessing the deeper levels of the Stillwater West mine. This incident resulted in structural damage to the shaft headgear, winder house and winder rope. There were no injuries to personnel from this incident and investigations into the causes of the incident are underway. The company said the damage to the shaft infrastructure will require remediation ....read more

Top
Generation Signs Offtake Term Sheet With Glencore
Generation Mining Ltd. has fi nalized an offtake term sheet with Glencore International AG for copper concentrate, containing copper, palladium, platinum, gold, and silver, to be produced at the Marathon palladium-copper project, located near Marathon, Ontario. Under the term sheet, Glencore will purchase an average of 50% of the total copper concentrate to be produced from Marathon. It is expected that the concentrate will be treated by Glencore's Horne smelter in Quebec, Canada. The term sheet includes .... read more


| | |
| --- | --- |
| AROUND THE WORLD - Latin America | |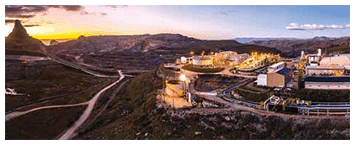 Boroo Completes the Construction and Startup of CMOP Phase 1
Boroo Pte. Ltd has achieved a significant milestone in the construction and startup of the planned CMOP project. Phase 1 of the project has been safely commissioned and is producing material to be stacked and leached in the existing stockpiles .... read more


Top
Las Bambas Begins Shipping Copper Concentrate in Peru
MMG reported that it has resumed copper concentrate shipments now that roadblocks in the Velille district, which had disrupted logistics transport, have been removed. The shipments to the port restarted on March 11 and the mine is ramping back up to full production. During February, MMG placed Las Bambas on care and maintenance. Throughout much of 2022, the mine experienced intermittent roadblocks affecting inbound and outbound transportation. Following the impeachment of Pedro Castillo, the previous President of Peru, widespread protests ... read more


| | |
| --- | --- |
| AROUND THE WORLD - Australasia | |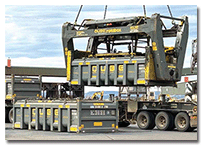 Abra Achieves First Concentrate Shipment
Galena Mining Ltd. announced the first concentrate shipment of 5,019 dry metric tons (dmt) left the port of Geraldton on Saturday, March 25, 2023. "The fi rst Abra concentrate shipment is a very important milestone for the project, and it is one that is very rewarding for all those who have been involved with the successful build and transition of the mine into production …. read more


Top

Wyloo Makes Takeover Bid for Mincor
Wyloo Metals Pty Ltd made an on-market takeover offer for all shares of Mincor Resources NL that it does not already own. Wyloo is Mincor's largest shareholder, with a 19.9% interest. The proposed acquisition, Wyloo said, is in line with the company's strategy to invest in and develop projects that will produce the raw materials needed for the rapid decarbonization of the global economy. The $0.94 cash per share offer implies an equity value for Mincor of approximately $511 million  …. read more


Gold Fields, AngloGold Ashanti Propose Ghana JV
Gold Fields and AngloGold Ashanti have agreed to the key terms for a proposed joint venture (JV) in Ghana between Gold Fields' Tarkwa and AngloGold Ashanti's neighboring Iduapriem mines. The Tarkwa mine is held by Gold Fields Ghana, in which Gold Fields currently owns a 90% share and the Government of Ghana (GoG) holds 10%. The Iduapriem mine is currently 100% owned by AngloGold Ashanti. Both mines are located near the town of Tarkwa …. read more
Top
Orion Secures Commitments for Capital Raise
Orion Minerals said it has secured firm commitments for a two-tranche share placement to raise approximately $8.8 million as part of a broader strategic funding package that will result in the introduction of a new cornerstone investor group and provide the company with an exceptional springboard to accelerate the development of both of its key base metal production hubs in South Africa's Northern Cape Province. Clover Alloys (SA), a privately owned South African mining group, which has experience developing and operating chrome operations .... read more



Rio Tinto Celebrates Underground Production at Oyu Tolgoi
The Prime Minister of Mongolia, Luvsannamsrain Oyun-Erdene, joined Rio Tinto CEO Jakob Stausholm 1.3 km underground to celebrate the commencement of underground production from the Oyu Tolgoi copper mine in the Gobi Desert. This was followed by a ceremony with Oyu Tolgoi employees and leaders, government of Mongolia representatives, Oyu Tolgoi Board .... read more


Top
| | |
| --- | --- |
| FEATURE - GET | |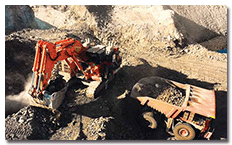 New GET Offers Durability, Productivity Gains
The newest GET systems and solutions have minimal labor requirements and offer maximal life

By Jesse Morton, Technical Writer

The newest ground engaging tool (GET) systems and related wear parts are designed to outlast predecessor systems, which is of critical value to remote mines and those facing staffi ng shortages. They also offer effi ciency and productivity gains. The top suppliers boast of support services that give timely assistance. They said that adoption represents a small change that yields measurable results. Condition Monitoring Helps Planning - CR Powered by Epiroc reported it offers new and proven digital tools for condition monitoring of GET that can help miners attain critical goals and answer trending challenges .... read more



For more companies with products in the GET market -
Go Here
| | |
| --- | --- |
| FEATURE - Underground Mining | |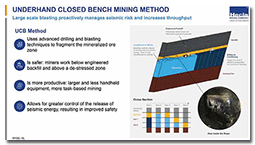 Hecla Introduces the UCB Mining Method at the Lucky Friday Mine
New mining method improves safety and productivity at depth

By Phillips S. Baker Jr., Hecla Mining and Chris Neville, Operations Manager, Lucky Friday

The Society for Mining, Metallurgy and Exploration (SME) presented Hecla Mining with the Robert E. Murray Innovation Award at its annual meeting, which was held in Denver, during February. What follows is an edited version of the presentation that Phillips S. Baker, Jr., CEO, Hecla Mining, and Chris Neville, operations manager for the Lucky Friday mine, delivered during the keynote session before accepting the award. Thanks in part to the Underhand Closed Bench (UCB) method, the Lucky Friday mine, located in Wallace, Idaho, USA, now produces more than 4 million ounces per year (oz/y) of silver ..... read more

Top

For more companies with products in the Underground market -
Go Here
| | |
| --- | --- |
| FEATURE - Material Handling | |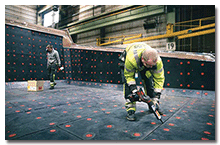 Moving Material More Efficiently
We look at challenges and opportunities in open-pit material handling operations.

By Carly Leonida, European Editor

The future of material handling in openpit mining operations in the near term can be neatly described in three words: optimization, efficiency and interoperability. While there are some game changing technological shifts on the horizon and the chance for new operations to be designed for different combinations and scales of equipment, for the vast majority of operations, there is still much that can be gained from bettering the performance of current systems and optimizing the interface between different equipment types and process stages. "For new mines, the main challenge today is scale," Stefan Ebert, Head of Product Line Revamps at FLSmidth told E&MJ. "For new developments, I think we're going to start to see a shift from ultra-class truck and shovel fleets in the pit to larger fleets of smaller, more agile equipment in a bid ..... read more


For more companies with products in the Material Handling market -
Go Here
| | |
| --- | --- |
| FEATURE - Rock Bolting | |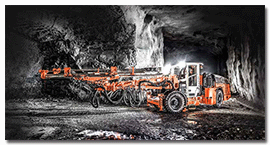 Reinforcing the Rock Mass
We look at advances in ground support components and their installation with six key suppliers

By Carly Leonida, European Editor

As underground mines deplete their richest, shallowest resources, many are delving deeper, following extensions of the orebodies upon which they're based. While increased depth may equal access to fresh resources, in most cases, it also brings higher rock stresses which can lead to diffi - cult ground conditions. As such, the quantity and complexity of the support systems required to keep operations safe and productive is of increasing concern. Legacy bolting equipment and bolt types can struggle in extreme ground conditions, and this is driving the development of new solutions. Peter Bray, Global Product Manager for Rock Reinforcement Equipment at Epiroc, spoke to .... read more

Top


For more companies with products in the Rock Bolting market -
Go Here
| | |
| --- | --- |
| Video Presentations | |
The latest listings from the World Mining Equipment Video Library - to view the video, click the image.
For more details on the Video Hub -

Go Here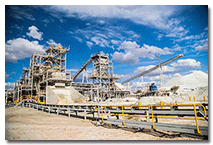 TOMRA Mining technology to be installed in the world's largest Lithium sorting plant at Pilbara Minerals
TOMRA Mining's unique experience in the design and installation of large-scale ore sorting plants and its collaborative approach was the key to the successful design of the world's largest lithium sorting plant. The installation has already started and is expected to reach completion in late 2023. Pilbara Minerals owns the world's largest, independent hard-rock lithium mine .... read more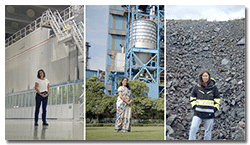 ABB - Unstoppable
ABB recently launched a new film series – Unstoppable - to underline the lives of women in industry and advocate for diversity. Highlighting the inspiring stories of three women who have broken down barriers and made significant contributions to their respective industries, the series profiles three remarkable female leaders in the mining ....read more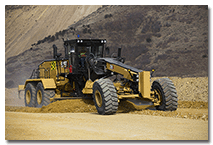 CAT - New High-Performance Circle for 24 and 24M Motor Graders
CAT have released a new High-Performance Circle (HPC) for Cat® 24 and 24M Motor Graders, improving machine performance, efficiency and uptime availability while maintaining haul roads at large mines. When paired with the Cat exclusive extended life blade rail wear strips, the company states that the new HPC reduces total cost of ownership .... read more

Top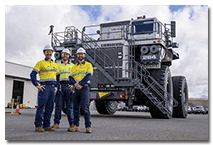 Liebherr: 2022 business year with new record turnover
The Liebherr Group finished the year 2022 with a new record turnover of €12,589 million. Compared to the previous year, the company thus recorded a turnover growth of €950 million or 8.2 %. Difficult general conditions, rapidly rising food and fuel prices, as well as the ongoing coronavirus pandemic and related regional lockdowns weighed on economic ....read more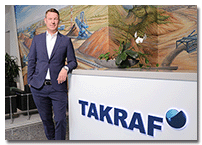 TAKRAF – Thomas Jabs, my first 100 days as CEO
Thomas Jabs took over the reins as TAKRAF Group CEO in December 2022, bringing with him more than 20 years' experience in the mining and plant engineering business in various executive and managerial positions, the most recent being Head of Global projects for FLSmidth. Now into his fourth month at the German-based, global provider of innovative .... read more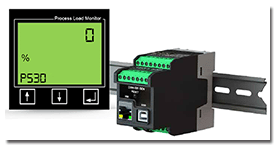 ITT PumpSmart - New PS30 Load Monitor
ITT Inc.'s PRO Services have introduced, PumpSmart PS30, their next-generation load monitor that uses a pump's motor as a sensor to protect industrial equipment from common machine failures. Using advanced logic, the user-friendly PS30 shuts down a pump by stopping its motor at the first signs of equipment .... read more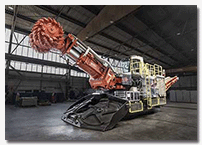 Sandvik Upgrades Roadheaders
Sandvik has upgraded its MT721 and MT521 tunneling roadheaders with several new features, aimed to further boost their excavation performance and customer profitability Equipped with geometrically optimized transverse cutter heads the MT series, renowned for their cutting performance in a wide range of rock formations are flexible, robust and heavy duty machines that can be used .…. read more

Top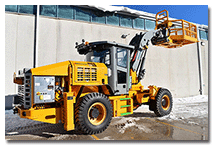 Maclean Engineering – Latest Addition to Elevated Work Platform Suite
MacLean Engineering is adding to its elevated work platform product suite with the launch of the ML5 Multi-Lift. The latest in the line of MacLean 5 Series, next-generation vehicles is now commercially available for customers around the globe as the first unit, a battery electric model, gets ready to ship from the MacLean production facility in Collingwood, Ontario, to its ....read more
APRIL 30 - MAY 3, 2023: Canadian Institute of Mining, Metallurgy and Petroleum (CIM), Montreal, Quebec, Canada.
Contact: Web: www.cim.org
MAY 9-11, 2022: US Coal Show, Pittsburgh, USA
Contact: Web: www.uscoalshow.com
JUNE 7- 9, 2023: Elko Mining Expo, Elko, Nevada, USA.
Contact: Web: https://exploreelko.com/top-events/elko-mining-expo/
JUNE 17-22, 2023: 19th North American Mine Ventilation Symposium, South Dakota School of Mines, Rapid City, South Dakota, USA.
Contact: Web: namvs2023.org
SEPTEMBER 25-29, 2023: Perumin, Cerro Juli, Arequipa, Peru.
Contact: Web: https://www.perumin.com/
DECEMBER 4-8, 2023: The American Exploration & Mining Association's annual meeting, Nugget Casino, Sparks, Nevada, USA.
Contact: Web: www.miningamerica.org
| | |
| --- | --- |
| WHO'S MOVING WHERE | |

Jamie Porter will join AEM as executive vice president, fi nance, and CFO. Most recently, he was the CFO for Alamos Gold Inc., a position he held from 2011 after joining Alamos Gold in 2005.

Victoria Peacey has been named Resolution Copper's new president and general manager. Most recently, Peacey was chief of staff for the COO for Rio Tinto Copper. Her previous roles at Resolution Copper include senior manager, community and external affairs, as well as senior manager, permitting and cultural heritage, where she played a key role in community engagement and technical studies that built strong local support for the project.
Alamos Gold announced that Greg Fisher, senior vice president of fi nance, has been promoted to CFO. He succeeds Jamie Porter, who will be leaving Alamos to pursue another opportunity in the mining industry.

Canagold Resources Ltd. appointed Colm Keogh as senior vice president, operations. Prior to his role at Canagold, he was employed by Barrick Gold, Billiton Metals, Inco Gold, Anglo American, AMC Mining Consultants, Shanoon Resources, and Eldorado Gold Corp..

Peter Mercer joined the American Pacifi c Mining Corp executive leadership team as senior vice president, advanced projects, focusing on the advancement of the Palmer VMS Project in Alaska. Most recently, he was vice president at Rambler Metals and Mining plc. Mercer has experience with the exploration and development of volcanic massive sulphide (VMS) and epithermal gold deposits.

Arizona Sonora appointed Victor Moraila as chief engineer. Most recently, he was chief mine engineer for Nevada Gold Mines' Long Canyon mine and prior to that, mine operations superintendent for SSR Mining's Marigold Mine.

Scott Melbye, executive vice president for Uranium Energy Corp., has been re-elected to serve another term as president of the Uranium Producers of America.
The Nevada Mining Association named Dana Bennett, Ph.D., as interim president. She previously served as the association's president. During Bennett's first term at the NVMA, she positioned the mining industry as key to the state's economic future in emerging technologies. As part of that effort, she served on the Nevada Board of Economic Development under both Governor Brian Sandoval and Governor Steve Sisolak.
About - providing an abreviated version of the current print edition of E&MJ, WOMP is distributed throughout the world to decision makers in the global mining industry, the last week of every month.

Subscribe to E&MJ - To receive your own copy of the print edition of E&MJ, click here , and complete your details. E&MJ is available free of charge to qualified readers.

Contact - if you have views, opinons or comments or editoral that you would like to submit, we would be delighted to hear from you - click here

Top