Moving Material More Efficiently
We look at challenges and opportunities in open-pit material handling operations

By Carly Leonida, European Editor
---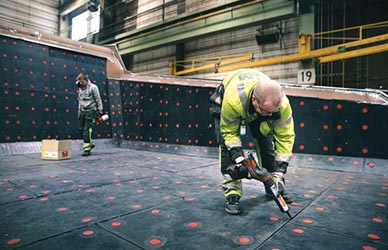 Installing Linard rubber panels on a truck. Linard rubber liners last at least four times longer
than steel liners. (Photo: Weir Minerals)

The future of material handling in openpit mining operations in the near term can be neatly described in three words: optimization, efficiency and interoperability. While there are some game changing technological shifts on the horizon and the chance for new operations to be designed for different combinations and scales of equipment, for the vast majority of operations, there is still much that can be gained from bettering the performance of current systems and optimizing the interface between different equipment types and process stages.

"For new mines, the main challenge today is scale," Stefan Ebert, Head of Product Line Revamps at FLSmidth told E&MJ. "For new developments, I think we're going to start to see a shift from ultra-class truck and shovel fleets in the pit to larger fleets of smaller, more agile equipment in a bid to optimize the flow of material to the processing plant." Smaller equipment not only offers the advantage of greater flexibility and the possibility to relocate operations quickly and easily. Their size means these units are also easier and safer to work around. Smaller trucks of less than 100 tons capacity don't require the same wide haul roads or ramps as ultra-class models, leaving less terrain to be cleared and less road surface to be maintained. Greater numbers also enable more redundancy to be built into the system in case of breakdowns. Technicians can switch out parts without the use of a gantry or a crane, and the skill sets required of fitters are more widely available.

There's also a wide choice of vendor- agnostic autonomy solutions (both semi and fully autonomous functions) for smaller equipment today and, likewise, fully-electric drive systems are already a reality for mines that wish to decarbonize their fleets quickly and cost effectively. "The flexibility that truck and shovel fleets offer in the pit is hard to beat," said Ebert. "And high angle conveying as a concept still has issues. But from the pit rim to the plant, relocatable conveyors offer the greatest efficiencies around energy consumption and operating costs."

In January, FLSmidth announced it's supplying the world's highest capacity in-pit crushing system to a leading copper miner in South America to boost its efficiency. The equipment is due to be delivered later this year and includes a Top Service Gyratory Crusher (TSUV), including a semi-mobile station and heavy-duty apron feeder. This primary gyratory crusher has a handling capacity of more than 12,000 metric tons per hour.

The company is also seeing "a strong push for energy optimization in conveying" through its Rail-Running Belt Conveyor technology. FLSmidth is currently engineering the first two run-of-mine installations for a top-10 global copper miner. The first system will be commissioned in Q4 of 2023, and the second in Q3 of 2024. This ultra-efficient technology has the potential to be disruptive as it can be applied as an upgrade to select existing conventional conveyors with a rapid payback.

Taking a Systems View of Change
Of course, any changes in material handling equipment/systems must also be reflected in mine design and planning, as well as in downstream processes. While it's relatively easy to build new concepts into greenfield developments and to optimize the subsequent steps within the mine, it's much trickier and more time consuming to work these into existing operations or brownfield developments.

"Material handling equipment represents a significant capital investment," Ebert explained. "Bear in mind that some of the biggest primary crushing plants in the world are being commissioned today. These types of operations are designed to handle millions of tons of material per day, and it would take easily 20 years or more to redesign and change that setup while maintaining production and economics. It's not just about the equipment. "I expect we'll see innovative, more autonomous material handling operations implemented at smaller metal mines first and then adapted for use in larger scale operations."

Today, simulation tools such as digital twins are proving invaluable in evaluating different equipment setups and determining what will and won't work over time given the financial, operational and physical constraints each mine is working with. For example, FLSmidth's Performance IQ digital solution allows evaluation of the complete flowsheet and for the global minimum and maximum points to be identified given the equipment interactions. This allows mines to optimize the interface between certain pieces of equipment.

"Performance IQ is useful in finding the optimal equipment combinations in both new installations and retrofits," Ebert said. "We also have a digital twin for overland conveyors which allows us to assess hardware upgrades and quantify the potential gains. Often mines are surprised at how much of a difference small upgrades can make over time in terms of energy efficiency and OPEX savings. Having that data can really help to build confidence and their business case." Although digital solutions can support operational optimization, systems interoperability can be a challenge today. "The mining industry has a very broad set of suppliers," said Ebert. "And there's been a lot of consolidation in recent years. Every company has their own island solutions and getting those to share data so that they can work optimally together is a big challenge. Groups like the GMG and OPC UA are working on common data standards, and it's something the industry must continue to push for if we want to get the most out of our mines."

For new mines and extensions, there is the potential to harness reduced scales of equipment, but Ebert doesn't anticipate any major changes to the status quo in material handling any time soon. "For existing operations, optimization of current material handling systems is the logical next step," he said. "There is the potential to do a lot more with less. The more data we create, the more analytics we run, the more we will be able to exploit those opportunities. And there are also some game changing technologies on the horizon, like sensor-based ore sorting at the mine face. That will signifi- cantly reduce the amount of material that mines need to handle and allow them to focus on moving only high-quality material which will have knock on effects in energy efficiency. By optimizing current processes and ensuring better interoperability between equipment and process stages there are significant gains to be made."

Liners, For Truck Bodies That Last Longer
On that note, there's much that can be done to optimize the handling of material in current truck operations. The repeated dumping of rock onto steel bodies means they tend to wear quite quickly and the damage that's associated with this transmits through the main chassis and drive of the truck. A lot of noise can also emanate from the use of steel bodies which can be a safety issue for operators.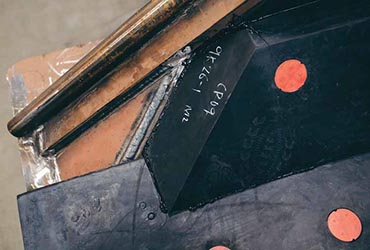 Linard rubber panels are 450% more impact absorbing than steel, which dramatically
improves driver comfort and reduces fatigue. (Photo: Weir Minerals)

Mark Doyle, Weir Minerals' Global Product Manager for Rubber and Hose, told E&MJ. "Operators are sitting in the haul trucks while they're loaded, so they have to withstand both the noise emissions and the impact. Weir Minerals' Linard rubber panels are 450% more impact absorbing than steel, which dramatically improves driver comfort and reduces fatigue." Most mining truck bodies are manufactured from Hardox steel, which is a hardened quenched steel, usually with an extra steel liner welded in place. These liners are typically 25mm thick and, although they're meant to act as wear liners, they don't offer much protection. They're also very heavy.

"Weir Minerals has developed a solution whereby we line the truck bodies with our range of Linard HD70 rubber instead of the 25 mm thick steel liners," said Doyle. "The rubber liners reduce the noise and cushion the load significantly. This also means that the damage isn't transmitted to the truck's axle, transmission or wheels and it's more comfortable for the driver." Linard rubber panels usually last at least four times longer than standard 25 mm Hardox steel panels — around 10,000-12,000 hours — without increasing the weight of the truck body. This means the operator can select a light or ultra-light weight body in place of a heavy steel body. This reduces the unladen weight of the truck without sacrificing any capacity. Additionally, utilizing a lightweight body means the damage typically seen in the ribs of the body and the chassis of the truck is minimized or eliminated altogether.

Usually when a steel liner wears out, the maintenance team either grinds out the old steel liner and welds in a new one or, alternatively, they replace the whole body. "On a new truck installation, our rubber panels typically take about five days to install, which is about the same time it takes to weld in steel bodies," said Doyle. "All the modular panels are designed with lifting lugs to aid in quick, easy and safe installation. Crucially, this is a boltin, bolt-out solution. Wear doesn't occur evenly across the body and with Linard rubber panels we're able to just replace the ones that are worn, whereas with steel liners the whole liner needs to be cut out and a new one welded in."

Weir Minerals' liners are made from Linard HD70, which is a blend of natural and synthetic rubber which has been developed for this particular duty. Doyle said: "This is currently one of the best rubber truck liners on the market, but we're still striving to improve our offering. For instance, through materials science, we're looking at making 30% improvements in our bromobutyl rubber and our Linard HD60 range, and we're developing various R&D models to improve the dry abrasion resistance of the material. Longer term, we'll continue to make improvements to Linatex and other rubber compounds."

He added: "There are other truck liner related issues that we work with our customers to address. For instance, if there's significant sticking of material, we might opt for an ultra-high-molecular-weight polyethylene body liner to overcome this problem. At the end of the day, each site experiences its own set of unique challenges and, as an OEM, we provide solutions that take these different conditions into account."

Counteracting Labor Shortages Through Reliability
Rising maintenance costs, reliability of industrial components and finding qualified maintenance personnel are also key challenges in conveying operations, and each factor can play a pivotal role in the bottom-line growth and maintainability of assets.

Ed Duda, Senior P2MRO Manager at Motion, explained: "The average mining operation maintenance personnel tenure is 5-7 years due to driving demand, lack of resources and a reduced work-life balance. Therefore, reliability efforts must be focused on to combat labor gaps and rising maintenance costs. The traditional P-F curve describes equipment health over time, and OEMs are beginning to include design for reliability and installation best practices. This will drive investigation into condition monitoring efforts and reduce overall maintenance costs."

IoT-enabled technologies such as condition monitoring and digital twins offer a strategic view into conveying operations and provide accessibility to overall equipment effectiveness. As IoT-enabled technologies are deployed, reliability metrics will provide insights into overall facility performance and support reduced maintenance costs year over year. Andy Jordan, Business Development Manager for Mi Conveyance Solutions at Motion, added: "Finding qualified maintenance personnel will continue to be a challenge for the foreseeable future. Using IoT-enabled technologies to identify potential failures before they happen and identify components that deliver the longest life will help counteract the maintenance labor shortage."

Motion recently worked with a USbased mining company that made a number of small investments in vibration and temperature technology for conveying equipment. The result was clean-inspect-lubricate maintenance work instead of repair and replace, translating into a 10x return on investment — around US$325K — in just the first seven months. Duda said that is typical for this type of investment. "Identifying a strategic partner that is able to support the adoption of IoT-enabled technologies, automation efforts and data management is key for maximum interoperability," he added.

Duda believes that more and more material handling operations will become data-driven in the next 10-20 years. "Current maintenance practices will no longer be sustainable due to the lack of industry experts," he said. "As the industry evolves, maintenance personnel will adopt the tools and resources to support lean manufacturing operations. Additionally, technology will become more cost-effective, and reliability solutions will be required by most operations."

Digital Insights Improve Conveying
Better belting can also result in a longer service life for conveyors with less maintenance and fewer change outs. Fenner Dunlop recently helped a limestone quarry customer in the US switch from cheaper belting to its premium X-Series belt. Although the product cost more upfront due to better quality, the cost savings the customer made over time through fewer maintenance issues and conveyor belt change outs meant the return on investment was much higher in the long run.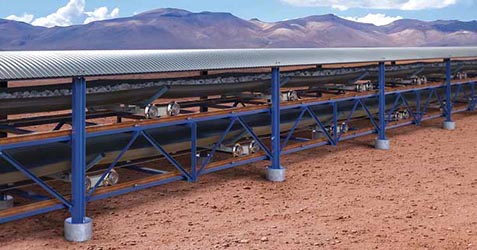 Rendering of FLSmidth's Rail-Running Belt Conveyor concept. The technology can be applied as an upgrade to select
existing conventional conveyors with rapid payback. (Image: FLSmidth)

Geoff Normanton, Divisional Vice President of Technology at Fenner Dunlop, told E&MJ: "Our X-Series conveyor belting is designed to outperform comparable plied offerings using less materials in production and weighing less in operation. Combined with low rolling resistant bottom covers, significant energy savings can be achieved. Lower rolling resistance means that less force is required for a belt to roll over idlers. This helps to reduce power consumption and lower operating costs."

IoT-enabled technologies and the data they produce are helping mines to optimize conveyor performance and lower the total cost of ownership. Birdsi is Fenner Dunlop's offering. This identifies potential belt issues before they create the need for larger, more time-intensive and expensive actions. Users can view current and historical belt health events and sensor status, automatically monitor the status of all conveyors on site from a single dashboard and send and view messages as well as resolutions. The platform is subscription based and provides instant access to information on conveyor belt condition, critical belt damage areas and trends in the system, belt health performance, and historical information for each belt health event.

The Fenner Dunlop Diagnostics and Monitoring Division also utilizes real world data to dynamically model conveyor belt operations and improve or add new functionality to the company's solutions. "Think of the large mass of data points from all the relevant sensors in a funnel," said said Mark Myers, Fenner Dunlop's Director of Diagnostics. "As we travel down the funnel, you start to see relevant connections which finally lead to insights. As the data is analyzed we look for predictive trends that will allow for early warning signs of imminent issues in the belting that can be replicated in system algorithms. That combined with automation of information flow to direct the new insight to the correct personnel allows for timely decisions to be made."

Normanton added: "We've also noticed a growing trend for greener solutions i.e., those that can lower mine energy consumption, carbon footprint and reduce waste. We use as many recycled materials in our rubber covers as we can. We run our manufacturing equipment meaningfully to conserve energy and electricity at our plants. Our conveyor belts are also produced domestically which means fewer carbon emissions are produced in transportation to a customer site."
---
As featured in Womp 2023 Vol 04 - www.womp-int.com