First Majestic Suspends Mining at Jerritt Canyon
---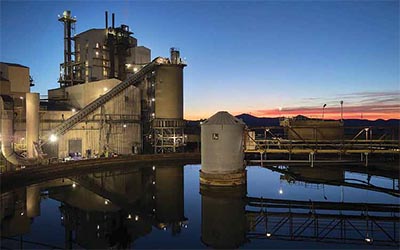 The Jerritt Canyon mine failed to sustainably feed the processing plant (above) with 3,000 tons
per day of ore. (Photo: First Majestic)

First Majestic Silver Corp. announced that it is suspending all mining activities and reducing its workforce at Jerritt Canyon gold mine in Nevada, USA. Since the acquisition of Jerritt Canyon nearly a year ago, the company has been focused on increasing underground mining rates to sustainably feed the processing plant at a minimum of 3,000 tons per day. Despite these efforts, the company said mining rates have remained below this threshold and cash costs per oz have remained higher than anticipated primarily due to ongoing challenges such as contractor inefficiencies and high costs, inflationary cost pressures, lower than expected head grades, and multiple extreme weather events affecting northern Nevada.

"The decision to temporarily suspend mining activities at Jerritt Canyon, which represented approximately 21% of the company's 2022 revenue, was driven by our goal to produce profitable ounces across the company," said Keith Neumeyer, president and CEO of First Majestic. "We have invested heavily at Jerritt Canyon and have been successful in executing several key projects. We rehabilitated and reopened the West Generator and Saval II underground mines and have successfully upgraded and modified the roaster and refinery off-gas handling systems to ensure we remain fully compliant with all state and federal air quality standards."

While mining activities have temporarily stopped, First Majestic intends to process approximately 45,000 metric tons (mt) of aboveground stockpiles during the next few months. The company said it will also continue exploring both nearmine and prospective regional greenfield targets to grow Jerritt Canyon's resources, which could enhance the economics for an eventual restart.
---
As featured in Womp 2023 Vol 04 - www.womp-int.com