The latest from the
World Mining Equipment
Video Library
View



A Contradiction in Terms

At the end of March, the President Joe Biden administration amended the U.S. Defense Production Act (DPA) to expand "the sustainable and responsible domestic mining, beneficiation, and value-added processing of strategic and critical materials necessary for the production of large-capacity batteries for the automotive, e-mobility and stationary storage sectors." They finally discovered the flaw in their plan to regulate the oil and gas sector out of business and shift the public to electric cars. The U.S. doesn't have the capacity to fulfill its own needs and would have to import metals from countries that might not be so friendly toward it in the future.

Seriously though, we try not to wade too deep into politics but sometimes it's unavoidable. Readers might recall that this is the same administration that only weeks before this DPA announcement cancelled mineral leases held by Twin Metals Minnesota, a company that is proposing an underground copper, nickel, cobalt and platinum group metals mine .... read more


Steve Fiscor, Publisher & Editor in Chief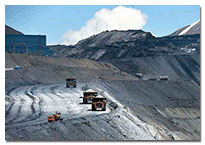 Centerra Gold Settles Kumtor Dispute; Turns Mine Over to Kyrgyzaltyn
Centerra Gold Inc. reached an agreement with Kyrgyzaltyn JSC and the Government of the Kyrgyz Republic to create a clean separation between the parties. Centerra will hand over ownership of the Kumtor mine, eliminating Kyrgyzaltyn's involvement and interest in the company and resolving their disputes. Centerra said the agreement has been approved .... read more
Capstone Completes Combination With Mantos
Capstone Mining Corp. announced the successful completion of the previously announced transaction combining Old Capstone and Mantos Copper Ltd., following the receipt of all regulatory approvals and the satisfaction of all closing conditions. Concurrent with the closing of the transaction, Mantos has been renamed Capstone Copper Corp., is headquartered in Vancouver, British Columbia, and represents .... read more

Top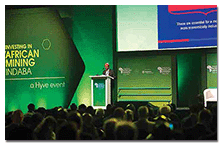 Mining Indaba to Explore the Evolution of African Mining
The Investing in African Mining Indaba, which is commonly known as the Mining Indaba, will take place May 9-12, at the Cape Town International Convention Center. The four-day event attracts junior, mid- tier and major mining companies, along with global and continental investors, heads of state, ministers and Africa's leading policymakers.... read more


Southern Copper Will Open New Zinc Plant in Mexico
Southern Copper Corp. is building a new concentrator at its Buenavista mine, in Sonora, Mexico. When it becomes operational in 2023, the company said it will produce approximately 100,000 metric tons per year (mt/y) of zinc and 20,000 mt/y of copper. Procurement has progressed and almost all (96%) of the main equipment is on-site. Construction site works are in progress. The project has all the necessary permits and the capital budget is $413 million. When completed, this new facility ..... read more


| | |
| --- | --- |
| AROUND THE WORLD - USA & CANADA | |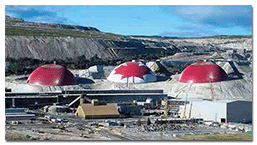 Highland Valley Achieves Copper Mark Verification
Teck Resources Ltd. announced its Highland Valley Copper operations (HVC) have been awarded the Copper Mark. Copper Mark is a voluntary assurance framework to promote responsible production practices and demonstrate commitment to the United Nations Sustainable Development Goals. To be verified for Copper Mark .... read more


Integra Completes PFS for Delamar Project
Integra Resources Corp. announced the results of the prefeasibility study (PFS) and mineral resource and reserve statement for its DeLamar Project located in southwestern Idaho. "The completion of the DeLamar prefeasibility study is a crowning achievement for the company, representing the culmination of two years of work by the Integra team and its various consultants," Integra Resources President and CEO George Salamis said. "Following on from the success of the 2019 preliminary economic assessment, this PFS is ....read more

Top
Arizona Sonoran's Cactus Mine Gets Aquifer Permit
The Arizona Department of Environmental Quality (ADEQ) granted Arizona Sonoran Copper Co. Inc.'s Cactus mine an amended aquifer protection permit. On July 29, 2021, the company was granted an Amended Aquifer Permit (APP) for the Stockpile Project, which has now been amended to add the Cactus mine's open pit and underground operations. "The issuance of this permit is a key milestone for ASCU in advancing the restart of operations at the Cactus mine and further de -risking of the project," Arizona Sonoran COO Ian McMullan .... read more


| | |
| --- | --- |
| AROUND THE WORLD - Latin America | |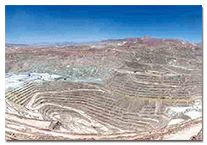 BHP Discuss Future Plans for Chile
Australian mining company BHP Group Ltd. plans to invest more than $10 billion in Chile to fuel growth in the world's largest copper-producing nation over the next 50 years, but made the investment conditional on the existence of certain conditions, which included regulatory and tax situations. Chile, which supplies nearly a quarter of the world's copper, recently elected... read more


Top
Rio Tinto Completes Rincon Lithium Acquisition
Rio Tinto has completed the acquisition of the Rincon lithium project in Argentina for $825 million, following approval from Australia's Foreign Investment Review Board (FIRB). A binding agreement to purchase the project from Rincon Mining, a company owned by funds managed by the private equity group Sentient Equity Partners, was announced in December. Rincon is a large, undeveloped lithium brine project located in the heart of the lithium triangle in the Salta province of Argentina, an emerging hub for greenfield projects ... read more


| | |
| --- | --- |
| AROUND THE WORLD - Australasia | |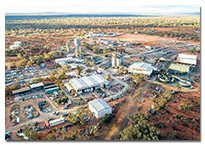 Glencore Sells CSA Copper Mine to MAC
Metals Acquisition Corp. (MAC) has entered into an agreement with Glencore plc to acquire the CSA copper mine in New South Wales, Australia. Glencore will receive $1.05 billion in cash, $50 million equity stake in MAC, and a 1.5% net smelter return life of mine royalty upon completion of the transaction. MAC will assume ownership and full operational control …. read more


Top

Kal Tire Wins Roy Hill Contract
Kal Tire's Mining Tire Group in Australia earned a five-year contract to provide mining tire management and maintenance services for Roy Hill, an open-pit iron ore mine with one of the largest fleets in the Pilbara region of Western Australia. Technicians began mobilizing in early April, bringing nearly 30 Kal Tire team members to the site to deliver the highest standards of safety and operational performance, the supplier said. "We're excited about re-establishing a collaborative partnership with Roy Hill," said Miles Rigney …. read more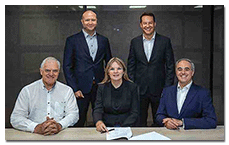 Ivanhoe Mines Secures Options to Power Platreef Mine With Solar, LNG
Ivanhoe Mines has secured options to use electricity generated from renewable, green, solar power together with liquefied natural gas (LNG) to power its tier-one Platreef palladium, rhodium, nickel, platinum, copper, and gold project in South Africa. Construction of Ivanhoe's first solar power plant at the Platreef mine is set to begin soon …. read more
Top
Celsius Begins Drilling at Opuwo Cobalt Project
Celsius Resources Ltd.'s Namibian subsidiary, Opuwo Cobalt Mining Pty Ltd. has commenced drilling at the Opuwo Cobalt Project. The first of eight PQ diamond drill holes has been completed. The ore was intercepted at the exact location modelled reinforcing the consistent nature of the Dolomite Ore Formation. There have been heavy rains on site delaying mobilization. Drilling is now occurring on two shifts and the remaining seven holes are scheduled to be completed by end of April. Past metallurgical test work carried out .... read more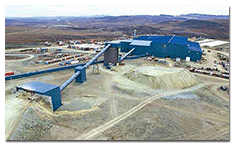 Kinross Will Sell Russian Assets
Canada-based Kinross Gold Corp. Entered into a definitive agreement with the Highland Gold Mining group to sell its Russian assets for $680 million in cash. Kinross will receive $400 million in cash for the Kupol mine and the surrounding exploration licenses, which includes payment of $100 million upon closing, as well as additional payments .... read more


Top
Pakistan, Balochistan Reach Agreement to Restart Reko Diq Project
Barrick Gold Corp. and the governments of Pakistan and Balochistan have reached an agreement on a framework that provides for the reconstitution of the Reko Diq project in the country's Balochistan province. The project, which was suspended in 2011 due to a dispute over the legality of its licensing process, hosts one of the world's largest undeveloped open pit copper-gold porphyry deposits. The project will be held 50% by Barrick and 50% by Pakistan stakeholders, comprising a 10% free-carried, non-contributing share held by .... read more



| | |
| --- | --- |
| THIS MONTH IN COAL | |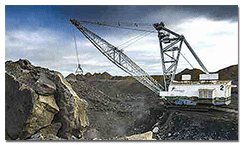 Thungela Resources Posts Nice Profit
South African coal operator Thungela Resources Ltd. recently released its first set of full-year results as a publicly listed company since its debut on the Johannesburg and the London Stock exchanges last year. The company delivered adjusted EBITDA of ZAR10 billion ($687 million); while net profit was ZAR6.9 billion ($474 million) versus a loss .... read more


Top
Coking Coal Production Commences at Lubu in Zimbabwe
Contango Holdings commenced production at its Lubu coking coal project in Zimbabwe. Production is under way on Block 2, which was selected given the high-quality coking coal found at that location and its proximity to the surface. Studies have defined an estimated 96 million metric tons (mt) of coking coal within Block 2, which forms part of a much larger Lubu resource, estimated at 1.25 billion mt. Contango is targeting a steady initial mining rate of 5,000 mt per month (mt/m). As previously reported, Contango will stockpile  …. read more

| | |
| --- | --- |
| FEATURE - Material Handling | |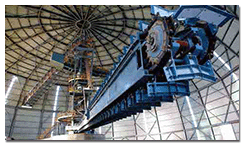 Material vs. Machinery – Meeting the Challenges of Mine-site Bulk Transport
Moving millions of tons of rock and dirt efficiently around a mine site takes talented engineering, tough equipment, and careful attention to maintenance and safety needs.

By Russell A. Carter, Contributing Editor

Continuity of material flow across a mine site is essential for profitable production, and the many inputs that affect how blasted rock, crushed ore, concentrates and waste can be efficiently moved from one point to another range from macro factors — terrain, climate or geology, for example — to microscale properties such as moisture content, friability and crushed particle size, in addition to the overall suitability of the site's bulk material handling equipment. Many of these items can vary by region and even across a specific site as weather, active mining areas or ore characteristics ..... read more



For more companies with products in the Material Handling market -
Go Here
| | |
| --- | --- |
| FEATURE - Shafts and Hoists | |

No Mucking About With Safety for UMS
Shaft-sinking company sees a zero-harm future.


Throughout its 60-year legacy, South Africa's United Mining Service (UMS) has helped mining companies extract value from the world's most challenging ore bodies. The company's shaft sinking division has gained invaluable experience and expertise from sinking more than 170,000 meters (m) of vertical shafts across the globe. As a specialist in underground projects, UMS is continuously seeking ways to optimize safety and production during the shaft sinking process. UMS CEO Digby Glover spoke about the innovations in shaft sinking that the company is applying across its international projects. "Shaft sinking has been evolving for years as hazards ..... read more

Top

For more companies with products in the Shafts and Hoists market -
Go Here
| | |
| --- | --- |
| FEATURE - Flotation | |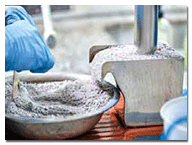 Floating New Ideas
A host of new technologies and designs are taking flotation performance to the next level

By Carly Leonida, European Editor

Flotation might be one of the longest standing techniques in beneficiation, but it's certainly not standing still. Today, new cell designs and digitally enabled control and monitoring technologies are not only driving efficiencies in traditional applications, but also opening new ones that speak to miner's ambitions to be profitable yet responsible providers of critical minerals and metals. The recent MINEXCHANGE event in Salt Lake City, USA, in March (the SME Annual Conference & Expo) heralded the launch of two new FLSmidth products — the WEMCO II and the REFLUX Flotation Cell (RFC) ..... read more


For more companies with products in the Flotation market -
Go Here
| | |
| --- | --- |
| FEATURE - Mining Tires | |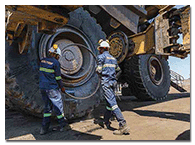 Learning to Roll With the Times
The mining tire market has faced significant change over the past 2-3 years. We ask suppliers and service companies how they're keeping mines up and running.

By Carly Leonida, European Editor

The COVID-19 pandemic disrupted every aspect of the mining tire market in 2020 and 2021, and suppliers, service providers and mines are still feeling the effects today. In the early days of the pandemic, government- mandated shutdowns and reduced workforce numbers as team members dealt with the pandemic in their communities, restricted site access. And, two years on, transportation challenges, including port tie-ups and shortages of containers in many ports, continue to hinder shipments of both raw materials and finished tires. "At the start of 2020, we honestly had no idea what was about to happen," said Dan Allan .... read more

Top


For more companies with products in the Mining Tires market -
Go Here
| | |
| --- | --- |
| Video Presentations | |
The latest listings from the World Mining Equipment Video Library - to view the video, click the image.
For more details on the Video Hub -

Go Here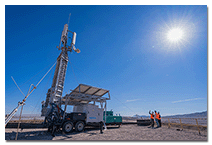 Nokia - Industrial-Grade Private Wireless Network for Minera Centinela
The mining industry is seeing a massive growth spurt in adopting digital transformation strategies, one of which is implementing industrial-grade connectivity. That is why Nokia and Antofagasta Minerals have deployed an industrial-grade private wireless network for Minera Centinela to support secure and reliable operations at this copper mine in Chile .... read more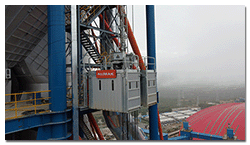 Alimak - Introduces a new series of Industrial Elevators
Alimak is proud to introduce the all-new ALIMAK SL-H, a passenger and freight elevator suitable for tough operating environments including cement plants, power stations, ports, shipyards, steelworks, mines, manufacturing, storage, and logistics facilities.....read more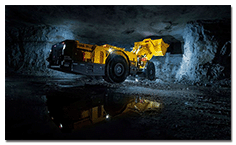 Epiroc wins large order for battery-electric mining equipment in South Africa
Epiroc, a leading productivity partner for the mining and Infrastructure industries, has won a large order for battery-electric mining equipment from Assmang Proprietary Limited to be used at a manganese ore mine in South Africa.... read more

Top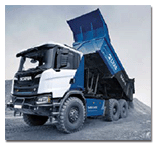 Scania Deploys Electric Trucks to LKAB
An electric Scania Heavy Tipper and an electric crane truck were deployed to LKAB's mine in Malmberget in northern Sweden, the supplier reported. The company said the development is part of a larger effort to shift to electric vehicles there. "The electric trucks are part of an ambition to set a new standard for sustainable mining, where fossil-fuel-free is used all the way," said Peter Gustavsson ....read more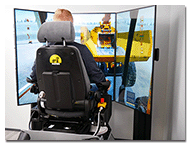 Sleipner - two new simulators to improve occupational safety and reduce training costs .
Sleipner Finland Oy has taken the need for improving working safety and remote training to a new level with their E-series products. The company has launched both portable and static simulators to train excavator operators at mine and quarry sites. The two new simulators have been created for different .... read more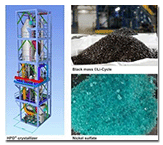 Veolia - Key Technology for Li-Cycle's Lithium-Ion Battery Recycling
Li-Cycle Holdings Corp. (Li-Cycle) has selected Veolia Water Technologies, Inc. (Veolia) as a partner for its lithium-ion battery recycling plant in Rochester, New York. The facility will help give life back to the equivalent of approximately 225,000 electric vehicle batteries per year by utilizing Veolia's HPD® crystallization technology to process recycled lithium-ion battery materials .... read more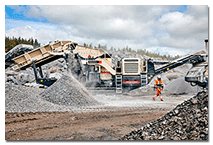 Metso Outotec develops new electric Lokotrack range
Metso Outotec is conducting a program to develop a new, complete range of electrically driven track-mounted crushers and screens. The new Lokotrack® range will be built on a unique platform that Metso Outotec has been developing since 2020 with a total R&D investment of EUR 20 million. The development work will take place primarily at Metso Outotec's technology .…. read more

Top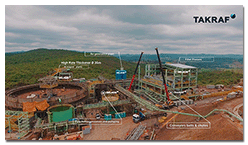 Managing and disposing of processing waste safely and effectively
Implementing a Dry Stack Tailings (DST) solution provides a safe and sustainable alternative to the storage of tailings in impoundments. The recent commissioning of a Dry Stack Tailings (DST) system supplied by TAKRAF to a Brazilian mine highlights the advanced expertise and unique positioning of the company to offer ....read more
MAY 1-4, 2022: Canadian Institute of Mining (CIM), Vancouver, British Columbia, Canada.
Contact: Web: www.cim.org
MAY 9-12, 2022: Investing in Africa Mining Indaba, Cape Town International Convention Center, Cape Town, South Africa.
Contact: Web: miningindaba.com
JUNE 6-10, 2022: Elko Mining Expo, Elko Convention Center, Elko, Nevada, USA
Contact: Web: www.exploreelko.com
JUNE 13-15, 2022: Prospectors & Developers Association of Canada (PDAC), Toronto, Ontario, Canada.
Contact: Web: www.pdac.ca
JUNE 13-16, 2022: Exponor 2021, Community Fairgrounds, Antofagasta, Chile.
Contact: Web: exponor.cl
JUNE 14-16, 2022: Euro Mine Expo, Kraft Center, Skelleftea, Sweden.
Contact: Web: www.euromineexpo.com
SEPTEMBER 26-30, 2022: Extemin/Perumin, Centro de Convenciones Cerro Juli, Arequipa, Peru.
Contact: Web: www.perumin.com
OCTOBER 24-30, 2022: bauma 2022, Munich, Germany.
Contact: Web: www.bauma.de
| | |
| --- | --- |
| WHO'S MOVING WHERE | |

New Gold Inc. appointed Patrick Godin as executive vice president and COO. Most recently, he was vice president and COO of Pretium Resources Inc.

Endeavour Silver Corp. announced that Geoffrey Handley will be retiring from the board of directors. He has been with the company since 2006, including nine years as chairman starting in 2012.
Allied Copper Corp. appointed Kyle Hookey as the interim CEO of the company. Hookey is presently an independent director and was previously CEO between August 2020 and October 2021. Richard Tremblay has resigned from the board of directors and as the CEO of the company.
Reunion Gold Corp. appointed Pierre Chenard to its board of directors. Since February 2021, Chenard has been executive chairman of Allied Gold Corp. From April 2019 to February 2021, he was executive vice president, corporate development and strategy at AngloGold Ashanti.

Perpetua Resources Corp. appointed Jessica Largent as CFO.

Piia Karhu has been nominated president, metals business area of Metso Outotec. Her previous role in the executive team was senior vice president, business development.

Arto Halonen was appointed as Robit Group CEO and Tommi Lehtonen has stepped down. Halonen has been the CFO and COO since March 2020.

Wood, appointed Jennifer Richmond as executive president of strategy and development. She joined Wood from Jacobs where she held a variety of leadership roles.
About - providing an abreviated version of the current print edition of E&MJ, WOMP is distributed throughout the world to decision makers in the global mining industry, the last week of every month.

Subscribe to E&MJ - To receive your own copy of the print edition of E&MJ, click here , and complete your details. E&MJ is available free of charge to qualified readers.

Contact - if you have views, opinons or comments or editoral that you would like to submit, we would be delighted to hear from you - click here

Top