The latest from the
World Mining Equipment
Video Library
View




Latest Bull Run or the Next Super Cycle?

With the exception of gold and silver, the prices for most metals rallied during February. Copper rose above $4/lb. Cobalt prices also surged. What miners need to determine is whether this is the beginning of another super cycle or just another upswing of the boom-and bust cycles that commodities endure. If it is the beginning of another super cycle as some suspect, then now is the time to make the investment in new projects and production capacity. If they are wrong, then they will just be committing to a raw materials overhang when demand cycles downward. The fortunes of mining companies have been won and lost on these gambles.

From where it stands now at the beginning of 2021, the mining industry is facing a glass full or half-full future. Half-empty should be in the rearview mirror for a while. .... read more


Steve Fiscor, Publisher & Editor in Chief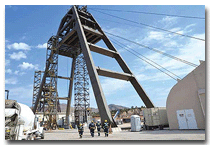 USFS Rescinds EIS for Resolution Copper Project
On March 1, the U.S. Department of Agriculture (USDA) stopped the Resolution Copper Project in Arizona in its tracks. The USDA directed the U.S. Forest Service (SFS) to withdraw a notice of availability and rescind the fi nal environmental impact statement (EIS) and draft record of decision that was just issued on January 15 .... read more
Newmont Reports 2020 Mineral Reserves of 94M Gold Oz
Newmont Corp. reported gold mineral reserves of 94.2 million attributable ounces (oz) for 2020 as compared to the company's adjusted 95.7 million oz at the end of 2019. Newmont exceeded its 2020 conversion target by replacing 80% of all depletion and maintaining its industry-leading position with the largest gold reserves. "As the world's leading gold company, Newmont has an exceptional history of exploration success and a track record of consistently delivering on our commitments," President and CEO Tom Palmer said .... read more

Top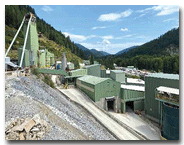 Hecla Will Ramp Up Silver Production in 2021
The Acknowledging modest disruptions in Quebec and Mexico, Hecla Mining Co. still managed to exceed the high end of its pre-COVID silver guidance by 1.4 million ounces (oz). In 2020, Hecla produced 13.5 million oz of silver, up 7% from 2019. "As we look to 2021, we see three significant value drivers," President and CEO Phillips S. Baker Jr. said. "First, with Lucky Friday running at full production.... read more


Antamina Will Invest $180M in Copper Concentrator
Compania Mineria Antamina has submitted a Sustainable Technical Report to improve the operation of its copper processing plant at Yanacancha in Peru, for review and approval before the National Service of Environmental Certifi cation for Sustainable Investments (SENACE), an office attached to the Ministry of the Environment of Peru. The project seeks to optimize the efficiency of its production process at the Yanacancha facilities, in the Ancash region, by optimizing equipment .... read more


| | |
| --- | --- |
| AROUND THE WORLD - USA & CANADA | |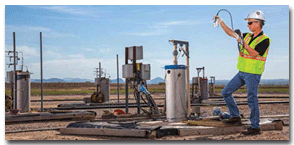 Florence Copper Finds Financial Support
A bond refinancing and upsize allowed Taseko Mines Ltd. to significantly strengthen its financial position and lowered its cost of capital. The company now has a cash balance of $200 million and no debt maturities until 2026, according to Taseko President Stuart McDonald. The majority of the required .... read more


E3 Opens Direct Lithium Extraction Facility
E3 Metals Corp. opened its direct lithium extraction (DLE) development and testing facility in Calgary, Alberta. This facility will be the site of the company's continued progression toward commercialization of its DLE technology. This includes the scale-up and lab prototype campaign in preparation for the fi eld pilot plant. All equipment within the facility is owned by E3 Metals and will be operated exclusively by E3 Metals' team. E3 Metals' DLE process test work will continue to extract lithium directly from oilfield brine sourced from the Leduc Reservoir ....read more

Top
Liberty Gold Approves Plan for Black Pine Project
Liberty Gold Corp. received receipt of approval of an amendment to its plan of operations at the Black Pine project. Located in southern Idaho, Black Pine is a past-producing, run-of-mine, oxide heap leach gold mine that contains a large, shallow, district-scale, Carlin-style sedimentary rock-hosted gold system. The plan includes a comprehensive access to an additional 4.6 square kilometers (km2) of an expansive gold system, bringing the total number of under the plan of operations to .... read more


| | |
| --- | --- |
| AROUND THE WORLD - Latin America | |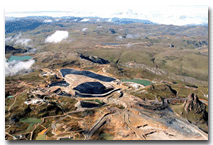 Barrick Will Sell Lagunas Norte Mine
Barrick Gold Corp. reached an agreement to sell its 100% interest in the Lagunas Norte mine in Peru to Boroo Pte Ltd. (Singapore) for a total consideration of up to $81 million, plus the assumption of Barrick's closure liability relating to Lagunas Norte of $226 million backed by an existing $173 million bonding obligation. The total consideration consists of ... read more


Top
Mexus Continues Operations at Santa Elena Mine
Mexus Gold US will continue to mine the Mexus III pit area at its Santa Elena mine located 54 kilometers from Caborca, Mexico. The increase in mining efforts comes after a 20-day slowdown due to a COVID outbreak of some of its mine employees. The crew is now COVID free with the company taking extra measures to ensure the safety of all involved. Mexus CEO Paul Thompson recently received a vaccination shot adding confidence when traveling to the mine and interacting with employees and representatives of other mining companies ... read more


| | |
| --- | --- |
| AROUND THE WORLD - Australasia | |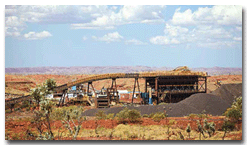 Fortescue Postpones Iron Bridge Magnetite Project
Fortescue Metals Group Ltd. performed a detailed review of the Iron Bridge magnetite project in the Pilbara region in Western Australia and decided to defer construction until the second-half of 2022. The review considered the forecast capital estimate and schedule for the project, taking into account the strength …. read more


Top

Macmahon Secures 4 Year $220M Contract at Deflector Underground Mine
Macmahon Holdings Ltd. was awarded a four-year contract with Silver Lake Resources to perform the mining works at the Deflector gold and copper mine in Western Australia. A Macmahon subsidiary, GBF, has been providing underground mining services at the Deflector mine since mining commenced in early 2016. Macmahon acquired 100% of GBF in 2019, and this business is now an important part of the company's strategy to expand in the underground mining services market …. read more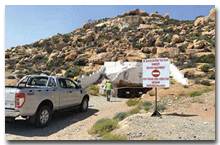 Orion to Acquire Okiep Copper Complex
At the beginning of February, Orion Minerals Ltd. entered into an agreement giving it exclusive rights and a clear pathway to acquire and consolidate a significant interest in the Okiep Copper Complex (OCC), located in South Africa's Northern Cape Province. The OCC holds the mineral rights for several large historical mines, which produced more than 2 million …. read more
Top
Energy Regulator Approves South Deep Solar Plant
Gold Fields said its electricity generation license has been approved by the National Energy Regulator of South Africa (NERSA) for the construction of a 40-MW solar power plant at its South Deep mine. The acting CEO of NERSA now has to authorize the license and Gold Fields expects a decision soon. All the regulatory approvals to proceed with the project are then in place. Stating that the solar plant has the potential to provide around 20% of South Deep's average electricity consumption, Gold Fields will update its definitive costings .... read more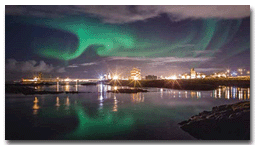 Power Agreement Makes ISAL More Competitive
Rio Tinto has reached agreement on an amended power contract that will allow the ISAL aluminum smelter in Iceland to continue operating with an improved competitive position. The agreement with power supplier, Landsvirkjun, will deliver a more competitive power price and energy flexibility that is mutually beneficial for both ISAL and Landsvirkjun, according to Rio Tinto. .... read more


Top
Polyus Will Offer Vaccinations to Miners
Russian gold mining company PJSC Polyus has launched a COVID-19 vaccination program for its production assets. The company aims to make the vaccine available to all employees as well as contractors. Vaccinations will take place at fi rstaid posts at the Olimpiada, Blagodatnoye and Verninskoye mines. Miners working at the Kuranakh, Alluvial and Natalka mines will be vaccinated at local medical centers … read more



| | |
| --- | --- |
| THIS MONTH IN COAL | |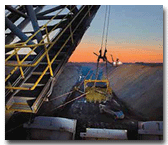 NACCO's Fourth Quarter Coal Deliveries Decline
North American Coal Co. (NACCO) delivered disappointing fourth quarter earnings, saying its revenues decreased substantially compared with the fourth quarter of 2019. The company attributed the results to a reduction in tons delivered by Mississippi Lignite Mining Co. due to a substantial decline in the number of days the customer's power plant operated in 2020 compared with 2019. During 2020, the company also closed two mines in Texas .... read more


Top

Anglo American Idles Moranbah North Mine in Queensland
Anglo American suspended operations at its Moranbah North longwall mine in Queensland as a safety precaution after elevated levels of gases were detected on February 20. Miners were withdrawn and operations remain idled. "Conditions underground are normalizing in response to the measures being taken," a spokesperson for Anglo American said. "The trigger for the underground withdrawal was elevated levels of some gases in the goaf (gob), which would indicate a coal heating issue  …. read more


-->
| | |
| --- | --- |
| FEATURE - GET and Wear Protection | |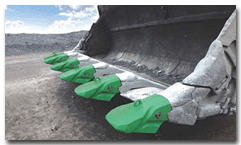 GET-ing to the Point
Ground engaging tools protect earthmover bucket and blade edges, and anti-wear plates and panels serve as sacrificial barriers against premature wear damage in a wide range of mine and plant applications. New materials and designs mean they'll be around for longer tours of duty.

By Russell A. Carter, Contributing Editor

There aren't many constants in mining. Ore grades vary from site to site and year to year, demand for commodities rises and falls and companies come and go. One thing that can be counted on to endure throughout time and place, however, is wear — the grinding, scratching and cracking of surfaces that occurs whenever and wherever abrasive material is moved from point A to point B. Even so, omnipresence is perhaps the only constant characteristic actually associated with wear. There are no universal remedies that solve all wear problems..... read more



For more companies with products in the GET and Wear Protection market -
Go Here
| | |
| --- | --- |
| FEATURE - Ore Haulage | |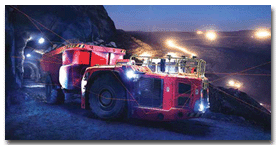 ESG Diversifies Haulage Underground
The growing opportunity for new haulage technologies and concepts underground.

By Carly Leonida, European Editor

As the old saying goes, if you always do what you've always done, you will always get what you've always gotten. In the past, what we've always gotten from mine haulage has been good enough, and there has been little incentive to break away from tried and tested methods (truck, conveyor, skip or rail) for material handling underground. While there has always been more variation in underground haulage methods than those used in surface mines, as operations delve deeper and pressures surrounding cost ..... read more

Top

For more companies with products in the Underground Haulage market -
Go Here
| | |
| --- | --- |
| FEATURE - Hydrometallurgy | |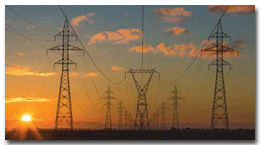 Disruptive Metallurgy for Cleaner, Greener Battery Metals
How novel hydrometallurgical processes are enabling more efficient and sustainable extraction of battery metals

By Carly Leonida, European Editor

The global shift toward electrification will balance the use of fossil fuels and transition individuals, groups and businesses to using more sustainable energy sources. But can the green energy revolution truly be called "green" if the metallurgical processes that underpin critical metals production carry a high level of inefficiency? And, just as importantly, can demand for metals like copper, nickel, lithium and cobalt be met with current production methods?..... read more


For more companies with products in the Mineral Processing market -
Go Here
| | |
| --- | --- |
| Communications | |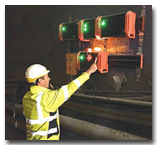 Change Your Mind, Change Your Mine
Advanced networks and communications solutions are gaining acceptance incrementally as knowledge of the numerous options and benefits available grows.

By Jesse Morton, Technical Writer

As in the civilian world, advances in communications technologies underground have vastly outpaced the advances in pretty much all other areas. Meanwhile, many mines that were prefeasibility- studied 30 years ago, that reached first production 20 years ago, and that are now in the prime of their life have developed according to long-term plans crafted back when the archetypal mine phone was the gold standard. When those mines have pushed their leaky feeder system as far as it will go, when their nearest mine phone .... read more

Top


For more companies with products in the Communications market -
Go Here
| | |
| --- | --- |
| Video Presentations | |
The latest listings from the World Mining Equipment Video Library - to view the video, click the image.
For more details on the Video Hub -

Go Here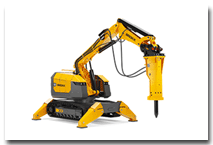 Brokk 900 Rotoboom
Ten years after the introduction of the Brokk 800, Brokk is now introducing the next generation with the all new Brokk 900 Using Brokk SmartPower™, the Brokk 900 delivers a 25% increase in output power and is available in two models. The standard Brokk 900 with the heaviest .... read more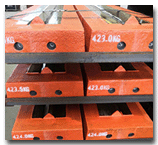 Element – blow bars serve 4 times longer
Spare and wear parts manufacturers, Element, have reported that on a recent project in the Kemerovo region of Russia, a set of their blow bars for an impact crusher with a horizontal shaft demonstrated an operational effectiveness four times that of the products previously used on the site.....read more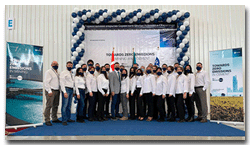 FLSmidth opens 5,200m² Supercenter in Kazakhstan
FLSmidth has opened a new Service Supercenter in Karagandy, Kazakhstan. The 5,200m² space will focus on the efficient delivery of mining equipment, component maintenance and facilitate rapid on-site service and 24/7 local support. The facility was inaugurated on 4 March 2021 to meet a high demand for service .... read more

Top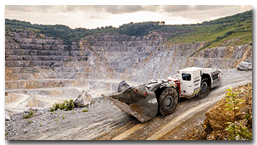 GHH - LF7 to fill the 7 tonnes gap
Heavy duty mining equipment manufacturer GHH, have extended their range of LHDs with a new addition, the articulated LF7. With a 7,000 kg payload, a driving position length of 8,900 mm, 2,240 mm wide at the bucket and 2,200 mm high at the cab when loaded. Powered by ....read more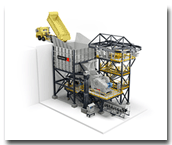 The first Metso Outotec FIT TM Crushing Station to be installed.
Amarillo Gold Corporation will be the first to use the new FIT™ crushing and screening solution from Metso Outotec. To be delivered to the Posse Gold project in Brazil, the station has a design capacity of 540t/h of ROM with an average production of 102.000Oz of gold/year (years 1 to 4) and consists of crushers, vibrating feeders and screens, as well as conveyors and related structures and .... read more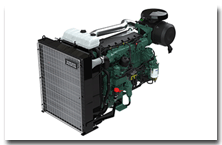 Volvo Penta expands genset range with D8 Stage II and Stage IIIA/TIER 3 Engine
Volvo Penta is launching a new addition to its genset product portfolio, the D8 Stage II and Stage IIIA/Tier 3 engine. The 8-litre power generation engine offers industry-leading power density and a compact size, combined with low fuel consumption and noise levels .... read more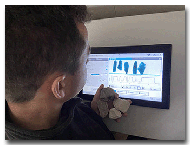 TOMRA ACT: Control without complexity
TOMRA Sorting Mining launches TOMRA ACT, a new intuitive user interface for easy optimization of work flow and a new image processing pipeline and additional process data for TOMRA Insight. The company claims that the new TOMRA ACT graphical user interface heralds a fundamental change in the way customers interact.…. read more

Top

Epiroc publishes Annual and Sustainability Report for 2020
Mining and infrastructure industries productivity partner Epiroc has published its Annual and Sustainability Report for 2020. The report describes how Epiroc, despite being significantly affected by the Covid-19 pandemic, adapted its way of working, lowered costs, prioritized innovation, showed resilience in profitability, and delivered solid results ....read more
MAY 4-6, 2021: Canadian Institute for Mining (CIM), Montreal, Quebec, Canada.
Contact: Web: www.convention.cim.org
MAY 25-27, 2021: Austmine 2021 Exhibition and Conference, Perth, Western Australia.
Contact: Web: austmineconference.com.au/
JUNE 1-3, 2021: Euro Mine Expo, Kraft Center, Skelleftea, Sweden.
Contact: Web: www.eurominexpo.com
JUNE 7-11, 2021: Elko Mining, Elko, Nevada, USA.
Contact: Web: www.ExploreElko.com
SEPTEMBER, 2021: MINExpo INTERNATIONAL, Las Vegas, Nevada. USA
Contact: Web: www.minexpo.com
OCTOBER 26-29, 2021: China Coal & Mining Expo 2021, Beijing, China.
Contact: Web: www.chinaminingcoal.com
For a full calendar of mining industry conferences and events - click here
| | |
| --- | --- |
| WHO'S MOVING WHERE | |

Anglo American plc announced that Elisabeth Brinton will join the board as a nonexecutive director. Brinton is executive vice president of global renewables and energy solutions at Royal Dutch Shell plc.

Fortescue advises of changes to its leadership and projects team. Greg Lilleyman, COO, has resigned from his position. Don Hyma, director of projects, and Manie McDonald, director of Iron Bridge, have also resigned from the business. Derek Brown, currently general manager of Solomon, has been appointed as acting director projects with the support of Fortescue's senior Projects team.

Northern Vertex Mining Corp. announced that Kenneth Berry will step down as president and CEO. Berry will remain a director of the company. Berry's duties will be assumed by the chairman and director, Douglas J. Hurst along with Michael G. Allen who will be appointed president of Northern Vertex

Pan American Silver Corp. announced that Ross Beaty, founder and chair of the board of directors, has informed the board that he will retire as chair and director at the Annual General Meeting on May 12. The board will appoint Gillian Winckler as chair of the board, and to name Beaty as chair emeritus, both effective May 12. Beaty founded Pan American Silver in 1994 and has served as chair since then; he also was CEO of the company from its inception until 2004.

SSR Mining Inc. appointed Alison White as executive vice president and CFO. Prior to joining SSR Mining, White held various corporate and regional roles at Newmont Mining including serving as the regional CFO for North America. Prior to joining Newmont, White was the vice president of internal audit for a global water and natural resources engineering firm. White has leadership and financial experience across various industries holding roles at MWH Global (now Stantec), KPMG, ConAgra Foods, Sun Microsystems and Ernst and Young.

Nickel Institute has elected Tina Litzinger, vice president, marketing, Sherritt International Corp., as chairperson. Her appointment is for a one-year term, renewable for a second year. Litzinger succeeds Dan Chandler who has left the nickel industry.

Turquoise Hill Resources Ltd. announced that Ulf Quellmann has resigned as the CEO. Steve Thibeault has been appointed interim CEO. He served as the CFO between June 2014 and April 2017 and led the negotiations of the funding agreements for Turquoise Hill that the company entered into with Rio Tinto in 2015.
Integra Resources Corp. appointed Carolyn Clark Loder to its board of directors. Most recently, she held the position of manager of mineral rights and public lands for Freeport-McMoRan Inc.
About - providing an abreviated version of the current print edition of E&MJ, WOMP is distributed throughout the world to decision makers in the global mining industry, the last week of every month.

Subscribe to E&MJ - To receive your own copy of the print edition of E&MJ, click here , and complete your details. E&MJ is available free of charge to qualified readers.

Contact - if you have views, opinons or comments or editoral that you would like to submit, we would be delighted to hear from you - click here

Top