Fortescue Postpones Iron Bridge Magnetite Project
---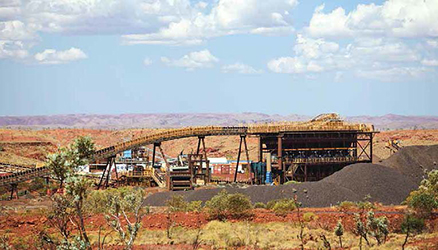 Cost overruns for a major iron ore project in Western Australia caused FMG to re-evaluate the project.
It also forced several executives to tender their resignations.


Fortescue Metals Group Ltd. performed a detailed review of the Iron Bridge magnetite project in the Pilbara region in Western Australia and decided to defer construction until the second-half of 2022. The review considered the forecast capital estimate and schedule for the project, taking into account the strength of the Australian dollar, access to resources and specialist skills, as well as other market factors.

The revised preliminary capital estimate is $3 billion, up from the previous estimate of $2.6 billion. The technical and commercial assessment is under way and is scheduled to be completed in 12 weeks. The Iron Bridge project is a joint venture between FMG Iron Bridge Ltd., via subsidiary FMG Magnetite Pty Ltd. (69%) and Formosa IB Pty Ltd. (31%). FMG Iron Bridge is jointly owned by Fortescue (88%) and Baosteel Resources International Co. Ltd. (12%)

Key areas of focus included assessment of the magnetite concentrate transportation solution and return water pipelines to Port Hedland; enhanced utilization of Fortescue's port and rail infrastructure; contractor strategy and selection; and logistics infrastructure to maintain the schedule for the delivery of large modular components through Port Hedland. Limited project works on critical path items will continue during the next 12 weeks, including engineering, off-site fabrication, procurement activities and site-based civil works.

As of January 31, the joint venture has incurred capital expenditure of approximately $1.1 billion since the stage 2 investment decision in April 2019. Fortescue's share of stage 2 investment is approximately $750 million. Fortescue has also contributed $274 million of deferred joint venture contributions relating to stage 1 of the project. Prior to the review being released, the company announced COO Greg Lilleyman, Don Hyma, director of projects, and Manie McDonald, director of iron bridge, have resigned from the company.

Commenting on the leadership changes, Fortescue CEO Elizabeth Gaines said, "At Fortescue, our commitment to our values and culture is our highest priority. What we've learned through our review of the Iron Bridge project to date is that we have lost sight of that critical focus. Since Fortescue was established, our values, above all else, have driven our behaviors and our decisions. These values were allowed to slip inside the Iron Bridge team."

Derek Brown, currently general manager of Solomon, has been appointed as acting director projects with the support of Fortescue's senior projects team. The project team comprises Andrew Hamilton, project director, Iron Bridge; Corey Dennis, project director port, rail, pipelines and power; and Warren Harris, project director, Iron Bridge and operational projects. Gaines added that she and CFO Ian Wells will forego all incentive payments this financial year. "We take this opportunity to reset the company's focus on our culture and values, which defines us and makes Fortescue a truly great company," she added.
---
As featured in Womp 2021 Vol 03 - www.womp-int.com