The latest from the
World Mining Equipment
Video Library
View




Nornickel Had a Bad Month

Russia's Nornickel is the world's largest palladium miner and one of the largest nickel miners. With palladium prices hovering around $2,000/oz, one would think this mining company would be set, and they were until a fuel tank at a power plant near Norilsk ruptured. The spill quickly snow-balled into full blown environmental disaster. No one was injured, but this event has brought unwanted attention to a proud mining company. During June, the company decided to sell non-core assets in Australia and, as this edition was going to press, it was defending itself from damages assessed by the federal environmental regulatory authority.

E&MJ doesn't normally report minor equipment mishaps and engineering fails. They happen every month. When the first press release from Nornickel arrived regarding the leak,it seemed like a formal acknowledgement of a minor incident. In a normal year, much like other mining companies, Nornickel would issue a dozen or so press releases. Soon, biweekly updates began to arrive .... read more


Steve Fiscor, Publisher & Editor in Chief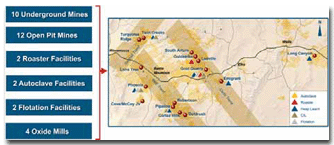 Nevada Gold Mines Exceeds All Expectations in First Year
Nevada Gold Mines (NGM), established a year ago, has posted an exceptional performance in its first 12 months of operation, according to Mark Bristow, president and chief executive of Barrick Gold Corp. Barrick operates NGM, the world's largest gold mining complex .... read more
Hudbay Appeals Stop-work Ruling for Rosemont
Hudbay Minerals Inc. filed an initial brief in federal appeals court to contest a district court ruling that halted construction on the company's Rosemont copper project in Arizona. The brief, filed with the U.S. Court of Appeals for the Ninth Circuit, followed one fi led by the federal government last week. Both briefs argued against the District Court of Arizona decision of July 31, 2019, to revoke the U.S. Forest Service's Final Record of Decision for the project, issued in June 2017. .... read more

Top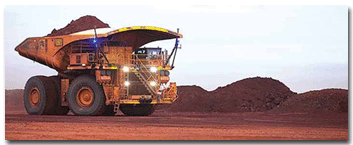 Fortescue Reaches Autonomous Milestone
Fortescue Metals Group celebrated an important milestone in the rollout of autonomous haulage at the Chichester Hub with the conversion of the 100th autonomous truck. The full conversion of 108 haul trucks at the Chichester Hub, which.... read more


Osisko PEA Supports Zinc-Lead Operations at Pine Point
Osisko Metals has reported results from an independent preliminary economic assessment (PEA) of its Pine Point zinc lead project near the town of Hay River in the Northwest Territories, Canada. Osisko Executive Chairman and CEO Robert Ware said, "The proposed mine plan would produce more than 450 million lb of zinc in its peak year and an annual average of nearly 330 million lb of zinc and 145 million lb of lead over its .... read more


| | |
| --- | --- |
| AROUND THE WORLD - USA & CANADA | |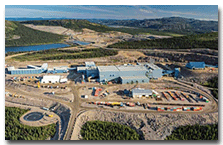 Vale Will Resume Operations at Voisey's Bay
Vale has moved from care and maintenance into a planned maintenance period at the Voisey's Bay Mine in Labrador, Canada, as a first step to resuming operations in early July. This includes restarting critical path activities related to the Voisey's Bay Mine Expansion Project, the company said. .... read more


Cliffs Plans to Restart Tilden Mine Early
Construction at Cleveland-Cliffs' Hot-Briquetted Iron (HBI) plant in Toledo, Ohio, will resume and the restart of its Tilden mining operations in Michigan will be accelerated, according to the company. Construction of the Toledo HBI plant was temporarily shut down on March 20. The company has begun the process of remobilizing the workforce to complete the project. It is expected to be completed in the fourth quarter due to mandatory social distancing....read more

Top
PolyMet Appeals Air Permit
On Tuesday, June 16, the Minnesota Supreme Court agreed to review a Minnesota Court of Appeals' ruling regarding PolyMet Mining's NorthMet Project air permit. Back in March, the Court of Appeals remanded the permit to the Minnesota Pollution Control Agency (MPCA) to provide more information. PolyMet and the MPCA sought a review of the decision. "We believe the MPCA in its permit appropriately accounted for the potential .... read more


| | |
| --- | --- |
| AROUND THE WORLD - Latin America | |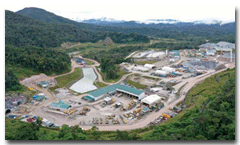 Lundin Reactivates Fruta del Norte
Canada-based Lundin Gold is preparing to restart operations at the Fruta del Norte gold mine in Ecuador. Operations ceased when restrictions were put in place to limit the exposure of the coronavirus (COVID-19). The company said its restarting and operating plan follows the guidelines of the Biosafety Prevention Protocols for the Mining Sector ... read more


Top
PEA Supports Lumina's Cangrejos Project in Ecuador
Cangrejos Project in Ecuador Lumina Gold has reported positive results from a preliminary economic assessment (PEA) of its Cangrejos gold-copper project in El Oro province, southwest Ecuador. The current PEA demonstrates substantial improvements over a previously reported 2018 PEA, with the addition of the Gran Bestia deposit, increased mineral resource definition, and an improved process flow sheet. Highlights of the Cangrejos PEA include life-of-mine (LOM) average annual payable production of 366,000 ounces (oz) of gold and 46 million ... read more


| | |
| --- | --- |
| AROUND THE WORLD - Australasia | |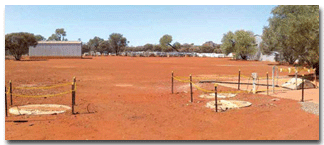 BHP Acquiring Norilsk's Australian Nickel Assets
BHP has agreed to acquire the Honeymoon Well Nickel Project comprising the Honeymoon Well development project and a 50% interest in the Albion Downs North and Jericho exploration joint ventures from MPI Nickel Pty Ltd, which is a wholly owned subsidiary …. read more


Top

Browns Range Will Restart
Northern Minerals Ltd. has made the decision to partially restart operations at the company's Browns Range Heavy Rare Earths Pilot Plant Project as well as recommence exploration activities across its tenements in the East Kimberley region of Western Australia. The decision follows the lifting of the commonwealth's biosecurity restrictions that applied to the Kimberley region as part of the coronavirus (COVID-19) control measures, which was the catalyst for the company …. read more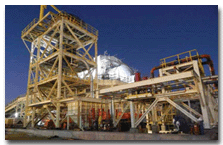 Kinross Agrees to Terms With Mauritania Government
Kinross Gold Corp. has reached an agreement with the Government of Mauritania to enhance their partnership, which the company said balances the interests of both parties. Under the agreement, the government will provide a 30-year exploitation license for Tasiast Sud, reinstatement of tax exemptions, and repayment of $40 million in exchange …. read more
Top
Consolidated Gold Will Build 10 Plants in Zambia
Zambia has built 10 milling plants to process gold in a drive to formalize artisanal and small-scale miners and diversify from copper mining, state mining investment company ZCCM-IH said. The project is being undertaken by Consolidated Gold Co. Ltd. (CGCZ), a gold processing and trading joint venture between Karma Mining Services and Rural Development and ZCCM-IH. Zambia's efforts are part of a continent-wide push to tackle informal mining of gold, which is driven .... read more



Zijin Acquires Guyana Goldfields
The mystery buyer for Guyana Goldfields was revealed to be China-based Zijin Mining. The two companies announced the binding arrangement agreement on June 12, where Zijin will acquire Guyana Goldfields for C$1.85 a share in cash. "The all-cash offer from Zijin represents a significant premium to the amended Silvercorp offer price and is an excellent outcome for Guyana Goldfield's shareholders," Guyana Goldfields .... read more


Top
Agreement is Reached for Long-term Power Supply for Oyu Tolgoi
Rio Tinto, Turquoise Hill and the Government of Mongolia have reached an agreement on the preferred domestic power solution for Oyu Tolgoi that paves the way for the government to fund and construct a state-owned power plant at Tavan Tolgoi. The agreement, which is a revision of the Power Source Framework Agreement (PSFA) signed in 2018, said they would all will work toward finalizing a Power Purchase Agreement … read more



| | |
| --- | --- |
| THIS MONTH IN COAL | |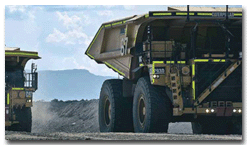 BMA Makes Major Investment for Daunia
The BHP Mitsubishi Alliance (BMA) recently announced it would introduce 34 autonomous trucks at the Daunia coal mine in Queensland, Australia, a $100 million investment. This is a multigenerational investment in the industry and state at a time when it is needed, explained BMA Asset President James Palmer. "This announcement is a vote of confidence in Central Queensland," he said. "At least 10 regional .... read more


Top

Westmoreland to Suspend Coal Valley Operations
Westmoreland Mining and its subsidiary Prairie Mines & Royalty ULC decided to suspend operations at its Coal Valley mine due to the significant constraints and challenges imposed by the COVID-19 pandemic. Since the start of the outbreak, the company said it has steadfastly prioritized the health, safety and well-being of its employees, the local community and all other stakeholders in its coordinated response to the virus. Based on its latest assessment of the situation, they ultimately concluded that there was no other option than to place the Coal Valley on care and maintenance …. read more


-->
| | |
| --- | --- |
| FEATURE - Roof Support | |

New Tools for Back Support
As more mines gravitate toward mechanized systems, operations consider roof support alternatives to improve safety and cycle times on lateral development

By Steve Fiscor, Editor-in-Chief

Some underground mines are fortunate. They are blessed with consistent geology and a competent rock formation. Their roof control plan will remain consistent throughout the life of the mine. For most mines, however, that's not the case. While mines in certain districts must deal with really poor ground conditions, the geology at other mines changes over time and the miners must learn to adapt. One of the bright spots for underground mining in the U.S. are the gold mining operations in the Carlin Trend. There has been considerable recent consolidation among the mines in this region with Barrick Gold and Newmont forming Nevada Gold Mines.... read more



For more companies with products in the Roof Bolts market -
Go Here
| | |
| --- | --- |
| FEATURE - Material Handling | |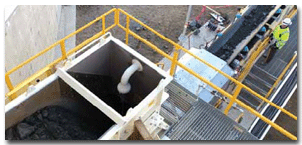 Moving Ahead in the Material World
Bulk material-handling equipment is the backbone of the industry, linking mines to plants and plants to terminals. Keep that link alive in the COVID-19 era by following the advice of OEMs and experts on safety, system integrity and spares availability.

By Russell A. Carter, Contributing Editor

Minus the means to move massive amounts of material, mining as it is known today would not exist. The ability to efficiently convey, stack, reclaim and feed materials ranging from rock to concentrates is intrinsic to the industry's success, and current trends are steering producers toward greater reliance on bulk handling systems and equipment to meet their needs. Foremost among these trends are the most obvious: Fewer high grade orebodies are being discovered, the volume of higher-grade ore in deposits currently being mined is shrinking, and producers must mine and process increasingly larger amounts of material to maintain profitability ..... read more

Top

For more companies with products in the Conveying market -
Go Here
| | |
| --- | --- |
| FEATURE - Blasthole Drilling | |

Changing the Rotary Drilling Narrative
Is bigger really better? Either way, the latest rigs on the market reflect shifting paradigms.

By Jesse Morton, Technical Writer

The new rotary drills on the market promise increased production, reduced cost and automation features. A couple differ from predecessor models and the competition in what they deliver for their size. What the suppliers will tell you is these benefi ts are the result of extensive R&D and, importantly, customer feedback. This could mean that customers, as their needs shift due to declining grade and increasing regulations, are shifting their expectations. As the headlines reveal, the big suppliers are happy to oblige..... read more


For more companies with products in the Drilling market -
Go Here
| | |
| --- | --- |
| Crusher Maintenance | |

TLC for Primary Crushers
A gyratory crusher is a significant investment for any mine. Take care of it and it will serve you well.

By Carly Leonida, European Editor

Primary gyratory crushers are easily the hardest working piece of fixed plant on a mine site. The gateway between extraction and processing, they bear the brunt of continuous operation, high feed volumes, and are subject to rock particles of extreme size variation and hardness. It is therefore vital that they are kept in top condition, maintained regularly and their performance optimized in sync with the rest of the crushing and screening circuit. Poor maintenance can result in unplanned shutdowns for repairs, premature failures and equipment damage all of which can be costly .... read more

Top


For more companies with products in the Crusher market -
Go Here
| | |
| --- | --- |
| Video Presentations | |
The latest listings from the World Mining Equipment Video Library - to view the video, click the image.
For more details on the Video Hub -

Go Here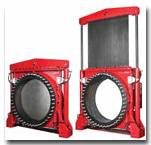 Valve Redesign Offers Safety, Less Leaks
Flowrox announced a new design for the Slurry Knife Gate that eliminates the valve's cylinder tower and instead puts two actuator cylinders on each side of the valve. With the new design, the valve's body is now cast in one piece. Without the tower, which can have a high center of gravity, the valve is easier to handle, more stable during .... read more

Modular Crushing Stations
Metso introduced FIT stations and Foresight stations, modularized crushing stations that focus on CAPEX reduction and shorter lead times. FIT stations are designed with the focus on speed and flexibility. The two FIT stations, the Re-crushing and the Jaw station, both fit into containers and require relatively limited welding to set up. Container delivery reduces delivery time by up to 25%, the company reported....read more

Reliable 6-in DTH Hammer, Bits
Varel introduced the Warrior DTH product line, starting with a 6-in. hammer the company described as a reliable workhorse, and a range of QL60 shank bits for it. The hammer features a robust piston, an optimized air cycle, simple design and premium quality .... read more

Top

Conveyor Bearings for High Peak Loads
SKF announced the UC 300 ball bearing units, which the company reported feature superior sealing and stronger locking, and are interchangeable with all Japanese-Industrial- Standards-compliant housings. The UC 300 is ideal for use in highly contaminated industrial environments, the company reported ....read more

Lithium Demand Ups Demand for Filters
Eriez reported strong demand for its Dry Vibrating Magnetic Filters (DVMFs) due to an uptick in worldwide lithium production for batteries. The filters are designed to remove very fine iron-bearing contaminants from hard-to-flow powders, such as lithium, the company reported. Lithium producers usually pulverize lithium.... read more


Test Shows Spiral Increases Recoveries
Multotec reported it developed and successfully tested the Multotec SC25 spiral concentrator, which eliminates beaching and enhances recoveries in the 1-mm to 3-mm fractions of high density material. The company described the spiral as a "game changer" in the recovery of the minus-1-mm fraction in ferrochrome slag .... read more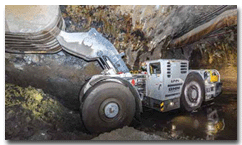 Stage V LHD Offers 285 kW and 9-m3 Bucket
GHH launched the LF-14 LHD with a Stage V engine. Previously released in 2018 with Stage IIIA and IV engines, the unit now comes with a Volvo TAD1381VE engine option. It offers 285-kilowatt (kW) power, with SCR and DPF exhaust systems. The LHD carries a 14-ton payload in an up to 9-m3 bucket. It is 11 m long, 3m wide and 2.4 m high.…. read more

Top
Dead Bed Nuts Increase Wear Life
CMS Cepcor introduced Dead Bed Teardrop Nuts. The style-cast manganese steel nuts suit Symons Nordberg cone crushers. The nuts offer improved weight distribution over the OEM design, and ensure safer maneuvering and handling, the company reported ....read more
SEPTEMBER 8-11, 2020: UGOL & Russia, Novokuznetsk, Russia.
Contact: Web: https://www.ugol-rossii.com
OCTOBER 20-22, 2020: MiningWorld Russia, Crocus Exhibition Center, Moscow, Russia
Contact: Web: www.miningworld.ru/
NOVEMBER 9-13, 2020: Expomin, Espacio Riesco, Santiago, Chile.
Contact: Web: https://www.expomin.cl
NOVEMBER 30-DECEMBER 4, 2020: The annual meeting of the American Exploration & Mining Association, USA.
Contact: Web: www.miningamerica.org
FEBRUARY 7-10, 2021: 47th Annual Conference on Explosives and Blasting Technique, Orlando, FL, USA.
Contact: Web: www.ISEE.org
FEBRUARY 28-MARCH 3, 2021: SME Annual Conference & Exposition, Colorado Convention Center, Denver, CO, USA.
Contact: Web: www.smenet.org
MARCH 14-17, 2021: Haulage & Loading 2021, Hilton El Conquistador Resort, Tucson, Arizona.
Contact: Web: www.haulageandloading.com
SEPTEMBER, 2021: MINExpo INTERNATIONAL, Las Vegas, Nevada. USA
Contact: Web: www.minexpo.com
For a full calendar of mining industry conferences and events - click here
| | |
| --- | --- |
| WHO'S MOVING WHERE | |
Hudbay Minerals Inc. appointed Steve Douglas as senior vice president and CFO. From 2014 to 2017, he was senior vice president and CFO at Agrium Inc., prior to its merger with Potash Corp. of Saskatchewan Inc., and served as executive vice president and chief integration officer at Nutrien Inc. until January 2019. Eugene Lei, interim CFO, will continue in his role as senior vice president, corporate development and strategy, and as a key member of the executive team.
PAO Severstal appointed Olga Kalashnikova as its new head of environment. Kalashnikova, who was previously responsible for Upstream environmental performance at Shell Russia, is now primarily focused on the development of a clear strategy and roadmap to decrease Severstal's carbon emissions. During more than 10 years at Royal Dutch Shell, she was responsible for ensuring best environmental practices were maintained at the group's joint ventures in Russia.

Horizon Minerals Ltd. advised that Peter Bilbe will step down as chair of the company, but will remain an independent nonexecutive director of Horizon. Non-executive Director Ashok Parekh will assume the role of chair, serving alongside Bilbe and Managing Director Jon Price.

Monument Mining Ltd. appointed Luther Nip as interim CFO. Previously, he has worked for Grant Thornton LLP as senior manager, and Ernst and Young LLP as manager of assurance services. Canada.

Gold X Mining Corp. appointed Robert Friedland as nonexecutive chairman of Gold X. Gold X's current Chairman and CEO Paul Matysek will relinquish the chairman role, but will remain a director and its CEO. Friedland is the founder and currently executive co-chairman of Ivanhoe Mines.
Manitou Gold Inc. appointed Peter MacPhail as a new director. MacPhail is the COO of Alamos Gold Inc.

Mark Savit has left his position as senior counsel at law firm Husch Blackwell to focus on his role as CEO at Predictive Compliance.

Carita Himberghas been appointed senior vice president, human resources, and a member of the Metso Outotec Executive Team. She will start in her new role at the latest before the end of the year. Himberg joins Metso Outotec from Stora Enso, where she works as senior vice president of human resources in the Packaging Materials Division.
About - providing an abreviated version of the current print edition of E&MJ, WOMP is distributed throughout the world to decision makers in the global mining industry, the last week of every month.

Subscribe to E&MJ - To receive your own copy of the print edition of E&MJ, click here , and complete your details. E&MJ is available free of charge to qualified readers.

Contact - if you have views, opinons or comments or editoral that you would like to submit, we would be delighted to hear from you - click here

Top