Moving Ahead in the Material World
Bulk material-handling equipment is the backbone of the industry, linking mines to plants and plants to terminals. Keep that link alive in the COVID-19 era by following the advice of OEMs and experts on safety, system integrity and spares availability

By Russell A. Carter, Contributing Editor
---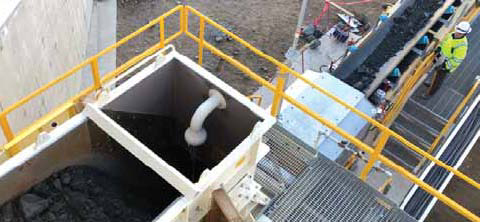 The pandemic has focused the mining industry's attention on the importance of protecting its workforce and planning for
higher levels of remote operations. Although there are many mine-site tasks that don't allow off-site support, such as
conveyor maintenance and repair, new digital and material-handling technology can help minimize employee presence
and risk in the field.

Minus the means to move massive amounts of material, mining as it is known today would not exist. The ability to efficiently convey, stack, reclaim and feed materials ranging from rock to concentrates is intrinsic to the industry's success, and current trends are steering producers toward greater reliance on bulk handling systems and equipment to meet their needs. Foremost among these trends are the most obvious: Fewer highgrade orebodies are being discovered, the volume of higher-grade ore in deposits currently being mined is shrinking, and producers must mine and process increasingly larger amounts of material to maintain profitability. And, just in case that's not enough, occasionally the outside world intervenes in ways that can be unexpectedly disruptive. The current COVID-19 pandemic is a prime example.

The industry's two-steps-forward, onestep- back progress in restarting operations after shutting down mines to protect workers from coronavirus-borne illness has highlighted problems that few operators ever expected to experience en masse. However, these notional "what-if" scenarios, often buried in dusty business-continuation plans, can become very real impediments to recovery. To name a new: • What if we can't persuade skilled or key workers to return, because they're concerned about health risks or have gone elsewhere for work during the shutdown? • What if we don't have the resources or time to fully train new hires before they're put to work? • What if local contractors go out of business or can't provide usual services and products due to workforce and supply chain problems? • What if major equipment suppliers can't fill our orders for new equipment or spare parts? • What if OEMs won't allow technicians and factory experts to travel to sites for consultation and troubleshooting?

These are concerns that can affect an entire operation from pit to port, and as seen from recent news and company reports, no aspect of underground or surface mining, processing and product transport is immune — including the mostly mechanical domain of bulk material handling where these "what-ifs?" can be filtered down to about three principal "how can we?" issues: • How can we best support and protect workers needed to maintain and repair material handling equipment? • How can we identify and apply the best available technology and expertise for maintaining efficient material flow during periods of uncertain labor, supply and capex/opex availability? • How can we assure that inventories of consumables, spare parts and tools are adequate for sustained operation during a period of sometimes unpredictable supply-chain delays and disruptions?

Starting With Safety
Conveyor-related injuries are always high on the list of industrial accident reports from regulatory agencies, and for good reason: belts, rollers, pulleys and drums move quickly and any distraction or misstep by a worker while inspecting or servicing them can be dangerous. While there are plenty of both low- and high-tech products available to assist in keeping workers safe and productive when working on or around conveyors, the most essential element is simple: Ensure that workers remain aware that they're in close proximity to powerful, fast-moving machinery that's not under their direct control.

As explained by Philip Dirige, senior specialist–ground control at Workplace Safety North, a Canadian health and safety training provider, "The typical conveyor belt travels around 400 feet or 122 meters per minute," Dirige said. "That means the belt is moving about six feet per second — so tools, loose clothing, hands and arms can be pulled into a pinch point before there is time to react." Even stopped belts can pose a hazard. "When a conveyor belt is moving, there will usually be more tension on the carrying side," observed Martin Engineering Process Engineer Dan Marshall. "If the conveyor is merely stopped and de-energized, that tension may remain in the belt in the form of stored energy."

Marshall said a system under tension will always try to approach equilibrium; that is, it will try to release the energy. This release will likely come in the form of a pulley slip, which occurs when the belt slides around the head pulley to equalize the tension. The distance the belt will move is proportional to the amount of tension stored and the belt's modulus (elasticity), possibly several feet. If a worker is on the belt or close enough to be pulled in during this sudden release of energy, injuries or death can occur.

"There's a simple rule of thumb regarding conveyors: If it's moving, don't touch it," Marshall continued. "The most common way to prevent inadvertent contact is with suitable guarding that renders the moving components inaccessible." For maintenance or repairs, procedures for lockout/tagout/blockout/test-out should always be followed when working on a stationary conveyor, and systems should be equipped with anti-rollback devices (backstops) on the head pulley.

Making Use of Mixed Reality
The likelihood that operations might be short-handed during or after pandemic-related events such as quarantine measures or layoffs — or may have to hire new, inexperienced workers for whatever reason — has both mine owners and industry vendors looking more closely at technologies and products that can help train workers and support them in the field. One promising area is mixed reality technology, commonly referred to as Augmented Reality/Virtual Reality (AR/VR). Another is a new generation of conveyor monitoring systems that listen to and analyze equipment sounds and call attention to possible trouble spots.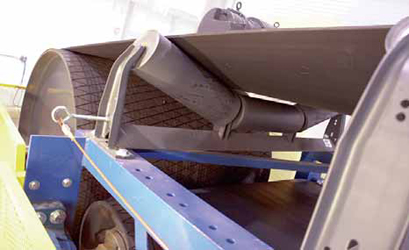 The pinch point between the belt and a carrying idler is one opportunity for an entrapment injury.

AR/VR technology has the potential to enable companies to deploy fewer workers in the field — and when they are needed at a site to help train, prepare and assist them in performing a task. As industrial- automation solutions provider Rockwell Automation pointed out, instead of walking along miles of conveyor to locate a problem, an AR/VR user can virtually travel the length of the belt using a digital twin on a computer or mobile device. Without ever physically visiting the control cabinet, the user can review the details of an issue and access data such as motor current and temperature to troubleshoot and make a diagnosis. On the basis of this information, a qualified technician can be dispatched to the exact location with the tools needed to fix the issue.

Rockwell also noted that the repair process itself presents another opportunity for mixed-reality technology. Using a mobile device or headset, technicians can use AR technology to see the device's current operating data overlaid on the physical device itself. They can also view digital work instructions to get step-bystep guidance for repairing the problem. And if they need help, a remote expert or partner can join them in the AR environment to talk them through the repair process. With both parties viewing the same thing, miscommunications that can have dangerous consequences during equipment servicing and repair can be avoided.

Additionally, the company said users can access existing 2D drawings and 3D models, or aerial photos of the mine to build the environments. Industrial IoT software can connect these AR or VR environments to data sources like control systems and ERP systems. And analytics software can combine and contextualize different raw data into relevant information for operators. To help introduce mine operators to the technology, Rockwell said that, in partnership with AR/VR solutions provider PTC, it's offering free access to PTC's Vuforia Chalk, a collaborative remote assistance tool, through August 31.

Power transmission specialist Voith Turbo told E&MJ its current product and services portfolios are designed to complement the industry's growing demand for "connected" equipment that combines reliability with increased flexibility and enhanced data awareness and analysis. Currently, Voith offers the VOCUS system, which allows customers to tap into Voith expertise without having to deploy additional service personnel to a site. The remote- service VOCUS data helmet is worn by a technician at the customer's site. With it, the technician records equipment conditions and then receives information from a centralized Voith specialist or team that can exchange details via pictures, data and sketches with other teams to create a full image of the situation. The Voith experts then guide the customer's team accordingly. VOCUS also can be used to assist with repairs, measurements and individual training (see Compact, Connected and In Control, p. 31 for additional information about Voith coupling technology.)

Even with high-tech support provided by AR/VR apps and IIoT systems, the actual act of repairing conveyor components can be strenuous and risky. Roller replacement is a typical maintenance task that can result in extended downtime for the operation and/or injury to the worker involved. This job commonly requires two people and may involve the use of improvisational tools and equipment such as crow bars, forklifts or hoists.

The French firm R. Brunone recently introduced Sparcric G — a solution designed to assist and de-risk replacement of rollers on any belt. Sparcric G uses an airbag to lift the belt away from the rollers, allowing workers to access three sets of rollers at a time. Brunone claimed the Sparcric G allows replacement to be safely performed by a single worker, using a hand pump to inflate the airbag and lift the conveyor belt off the rollers. Once the Sparcric G is installed and inflated, the worker has both hands free for work. According to the company, the device can reduce average time spent on replacement by 50%.

Repairs to underground conveyors often take place under cramped, dusty and dim conditions, in areas that may pose challenges for getting both workers and supplies to the trouble spot quickly and safely. In this kind of environment, time is of the essence — for the safety of the personnel involved and to minimize production downtime. That's where equipment such as Flender's self-aligning A-Series geared conveyor belt drive units find opportunities to prove their worth.

Flender, a Siemens company, pointed out that adequate space for complicated conveyor-drive measuring, alignment and installation work is not always available, so its A-Series conveyor drives are delivered fully assembled and don't require time-consuming alignment on site. A direct connection between motor and gear unit makes alignment unnecessary.

The A-Series' self-aligning system may be used as a right- or left-hand version without need for conversion, offering installers an unencumbered choice of which side of the conveyor belt the system can be fitted to at the site.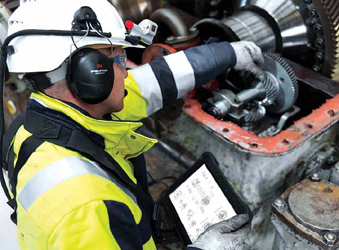 Voith says its VOCUS video collaboration equipment can be helpful for tasks
ranging from general troubleshooting during commissioning and operation, to
damage analysis, maintenance and assembly, installation of spare parts and
component replacement, repairs, inspection and training.

Conveyor monitoring systems have evolved to span a wide range of functions that start with basic safety and extend up to complete conveyor command and automation. Many are modularly designed, allowing operations to configure systems for site-specific needs and scale-up, if necessary. The latest systems, such as the Aura IQ system developed jointly by Australian mining research organization Mining3 and AVA Risk Group, employ sophisticated audio analysis and data collection techniques facilitated by fiber-optic communications and cloud storage and access.

Aura lQ uses a fiber optic-based detection and sensing platform developed by an AVA subsidiary, combined with Mining3's advanced signal processing algorithms, predictive analytics, and identification tools to acoustically monitor and assess conveyor health. By transmitting a series of short, laser pulses along a single fiber optic cable retrofitted along the length of a conveyor, acoustic disturbances from the conveyor system cause microscopic changes in the backscattered laser light that is then categorized into known parameters. Data is simultaneously gathered from the entire length of the monitored conveyor and processed by Aura IQ to preemptively alert operators, either on or off-site to potential failures before they happen, according to the developers.

Andrew Hames, AVA's head of innovation, extractives and energy, said, "A typical conveyor can have up to 7,000 bearings per kilometer, which means 7,000 potential points of failure. Aura IQ can monitor the condition of every conveyor roller, eliminating the need to walk the belt, and allowing a controlled and scheduled plan of roller maintenance and replacement to be put in place."

Dr. Paul Wilson, senior engineer at Mining3, explained the conceptual background and challenges encountered in adapting the technology for conveyor applications. Wilson said the technology was originally designed for oil and gas industry seismic and micro-seismic work and well inspections. Later applications broadened into pipeline monitoring, then to detecting oil theft from pipelines and general intrusion detection on perimeter fences.

An early problem was that the sensitive nature of the equipment allows it to pick up extraneous sounds — even that of single raindrops hitting the fiber. Because conveyors are acoustically noisy, the system's detector can register noise from sources such as steelwork resonances or loose bolts and even machinery parked nearby. Removing the noise and extracting useful signals required advanced statistical signal processing. Eventually, Wilson explained, as the signal processing technology was refined, it began to deliver diagnostically useful results, to the point where the commercial version of the technology now makes it possible to detect a broken ball or cracked cage in a ball race.

Stocking the Spares Warehouse
The challenges of operating in remote areas, encountering unpredictable environmental events and withstanding the erratic winds of workforce, regulatory and economic changes keep most mining companies on the lookout for innovative solutions to basic business problems — one of which is the threat of reduced spare-parts availability due to supply chain disruptions caused by global events such as the COVID19 pandemic.

Almost a decade ago, accounting and professional-services provider Deloitte published a report calling attention to the mining industry's unique and somewhat vulnerable position in the supply chain. For example, the volume of the industry's spare-parts demand is not huge by comparison with other industrial sectors, its needs are somewhat specialized, and there aren't an infinite number of suppliers interested in tackling the challenge of shipping goods to remote sites.

The report pointed out that spare-parts shortages can affect a company in a number of ways — some apparent and others not quite so clear-cut: Most obvious, given the high cost of unscheduled downtime in terms of lost production, would be the inability to immediately repair broken equipment and the ensuing impact on operations. Perhaps less obvious, the report said, is the possibility that companies failing to meet production targets and earnings expectations due to performance issues may see investors take their money elsewhere.

More recently, the Swiss Re Group, a leading provider of reinsurance, insurance and other forms of insurance-based risk transfer, released a set of suggested guidelines and measures that mines could follow to prepare for COVID19-related impacts on their operations. Included in the advice were recommendations pertaining to spare parts availability. They suggest, at a minimum: • Ensuring a good spare parts and consumable stock to allow continuous operation for longer periods without external dependence. • Reassessing the availability and lead times of critical spares and supplies. • Considering the following: – Are all critical spare parts available on site? – Do the business continuity plans consider critical spares availability and alternative consumable suppliers? – How long will consumable stocks last? – Are delays expected in the importation of goods? If so, what would the impact be in terms of time?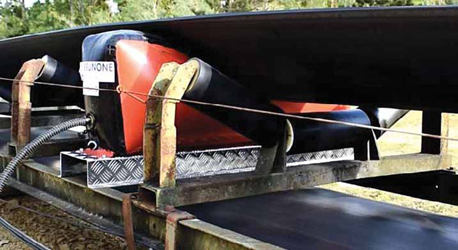 The Sparcric G developed by R. Brunone enables one worker to safely lift the belt for roller replacement.

Traditionally, mining has been seen as lagging in supply chain management compared with other industry sectors, yet minerals producers appear to have blunted most major impacts from pandemic-related parts shortages — in some cases by adopting innovative measures ranging from collective bargaining to online spares pooling, For example, in late April, the Minerals Council of Australia reported that more than 280 Australian resource companies had been authorized to cooperate in sourcing essential safety supplies and machinery spare parts to keep operating during the COVID-19 pandemic. The Australian Competition and Consumer Commission gave interim authorization to the MCA, the Australian Aluminum Council and state resources bodies to jointly source safety equipment and spare parts for mining equipment.

At the other end of the supply chain, manufacturers have taken steps to improve supply-chain performance by embracing digital technologies. Earlier this year, conveyor systems provider Beumer Group bought Sparrow Networks, a startup online marketplace that allows companies looking for specific parts to buy those parts from other companies that may have surplus quantities. Participants upload spare parts stock data from inhouse stock-management software or in Excel files. Sparrow reportedly formats the incoming data and enriches it by tapping into manufacturers' master parts data and then allows network members to search the data for needed spare parts. Sparrow, according to its founder Meir Veisberg, offers users "an almost unlimited pool of spare parts" and handles order fulfillment.

A recent announcement from Shell and IBM illustrates a somewhat different approach promising a variety of potential digital-marketplace benefits for miners. The two companies jointly launched Oren, a global B2B digital mining services marketplace platform aimed at helping mining companies find solutions related to safety, sustainability, mine planning and operational efficiency. Shell said it engaged with more than 350 mining businesses and found that 80% of those surveyed mentioned with challenges in their operations including diffi culty aggregating data to make actionable insights; lack of intelligent workflows due to siloed organizational working; improving sustainability; along with keeping employees safe while deploying autonomous technology. As a result, Oren is intended to help accelerate the adoption of digital services in the mining industry by facilitating technology transfer, innovation and integration from solution providers ranging from established enterprise companies to startups.

Although Oren's initial focus appears to be skewed toward mobile-equipment data collection and analysis or general lubrication concerns, among the functions offered is access to IBM's Maintenance, Repair and Operations Inventory Optimization Services, which are designed to allow users to optimally manage spare parts inventory. The MRO solution, according to IBM, can assist customers in deploying a centralized operational model that is scalable across sites, establishing and embedding stock parts rules into the system, sharing critical spares within a geographical region, reducing obsolete and inconsequential inventory items, standardizing procurement functions and tracking supplier performance.
---
As featured in Womp 2020 Vol 07 - www.womp-int.com