Changing the Rotary Drilling Narrative
Is bigger really better? Either way, the latest rigs on the market reflect shifting paradigms

By Jesse Morton, Technical Writer
---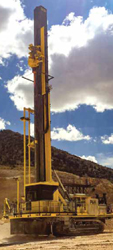 Field results suggest the
P&H 77XR, released last fall,
offers a reduction in
maintenance costs of 5% to
10%, an increase in drilling
time of as much as 12%, and
an improved availability of
2% to 5%, Komatsu reports.
(Photo: Komatsu)

The new rotary drills on the market promise increased production, reduced cost and automation features. A couple differ from predecessor models and the competition in what they deliver for their size. What the suppliers will tell you is these benefits are the result of extensive R&D and, importantly, customer feedback. This could mean that customers, as their needs shift due to declining grade and increasing regulations, are shifting their expectations. As the headlines reveal, the big suppliers are happy to oblige.

Higher Torque, More Efficient Drilling
Komatsu reported that customer feedback on the P&H 77XR blasthole drill (200- to 270-mm-diameter holes), released in September, reveals the rig delivers increased drilling efficiency and ease of operation. The company reported it has received positive operator feedback on the higher torque, enabling more efficient drilling. "Other feedback has been on vibration mitigation, where things like the increased torsional stiffness of the mast puts more energy into the ground, and not the structure; and on the lower works, the lower center of gravity with increased positioning, tractive effort, and turn-ability, which enables a smoother ride," Komatsu reported. "We have also found that our leveling system has resulted in quicker cycles by keeping the deck close to the ground, enabling effective straight holes."

Sergio Li, product manager, rotary drills, Komatsu, said since its release, the unit has been adopted for deployment in several different applications and has been met with success. "Most recent is coal mining in Australia. This is a dynamic application where multipass drilling at an angle calls for speed and precision. This is also a new market for Komatsu drills, which triggers things like change management for new products with new technology," he said. Some of the operator training was performed remotely, and similar training options are currently available for other customers, Li said. "Interestingly, we found that users said that the 77XR is 'really easy to learn.'"

Ease of operation is in part attributed to "ergonomics, such as joystick configuration with buttons in reach, using ISO symbols, screen placement, visibility and indicators," Li said. These features "enable operators to become quickly proficient. That, combined with new features like the Auto Bit Changer and easy accessibility to service points, like the location of the machine's hydraulic pumps, make for a nice design layout."

With intelligent compressor control and auto-bit handling, the 77XR gives customers the option of either rotary drilling or down-the-hole (DTH) hammer drilling. It offers a maximum single-pass depth of 16.8 m, a maximum multipass depth of 85 m, and maximum bit loading of 35,000 kg. It offers a pulldown force of 302 kN. The rotary head, with a hydraulic motor, is rated at 160 kW and offers 14.9 kN/m torque.

Komatsu reported that the enclosed mast design increases structural reliability. "Ergonomics and system optimization improve operational safety and comfort," the company reported. "An innovative rack-and-pinion system for pulldown, combined with a lightweight carriage, eliminates the requirement of constant maintenance to the pulldown system, and delivers a more consistent load. Higher maneuverability reduces the drill footprint."

Other standout features include an "interface that offers intuitive prompts for operator awareness, such as what went right or wrong and telling them why," Komatsu reported. "The machine is set up to be an ongoing lesson, continuously teaching the operator, while reducing the need to flip through many screens." The interface gives the operator the ability to create one-touch button control for a sequence of procedures to make "semiautonomous operational aides in performance optimization," the company reported. The supervisory control system, known as LINCS, significantly reduces complex troubleshooting.

"More importantly, the system logs all the data needed to optimize drilling performance, pointing you to the fundamental source of data and pre-sorting the key indicators," Komatsu reported. For sites with multiple operators running the drill, each with different operational preferences, the "data analytics, both onboard and off the drill, enables 'operator scorecards' to identify best practices to offer tools to increase performance of less-experienced drillers," the company reported. "Examples include increasing rotational speed, or more pulldown, or setup time, or carriage speed, or too much water injection caving the hole, whatever is necessary to achieve best practices."

Li said many of the innovations are, in part, the result of decades of research and experience. "We designed our new generation of drills based on our experience with structures on our legacy shovels and drills," he said. "Improvements in structures, compared to what has been done in the drill market for more than 50 years, allowed us to reduce significantly the time required for maintaining the main structural components, which translates into more productive time drilling." The big deliverable from that is increased output at a lower cost, Li said. "With our newest innovations, we expect to see a reduction in maintenance costs from 5% to 10%, an increase in drilling time of as much as 12%, and an improved availability of 2% to 5%." Those innovations were also, in part, based on customer feedback, Li said.

"We have redesigned drilling technology. We did this by basing our new designs in the voice of customer that we gathered over our years of drill experience," he said. "We listened to our customers around the world and offered solutions based on their needs and the disadvantages they experienced by using the traditional equipment." The feedback suggested that "there was a big gap between what was required and what they were getting," Li said. "This gap hasn't been filled in many, many years."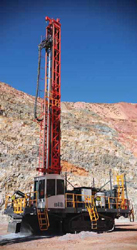 The compact size of the DR410i
allows the mine to complete drill
patterns with a smaller impact on
the environment, Sandvik reported.
(Photo: Sandvik)

Being able to tap the global Komatsu network has helped P&H, formerly part of Joy Global, fill that gap and others. "Now that we have joined the broader Komatsu family, we can leverage their worldwide presence and the extended resources available to service our equipment," Li said. "The foundations of our program now rely on our many years of drilling experience and the support and experience of the bigger Komatsu group."

Punches Above its Weight
Bigger is not always better. The DR410i rotary blasthole drill (152- to 251-mm-diameter holes) proves it by outperforming bigger units in field trials, Craig Hall, product manager, iSeries drills, rotary division, Sandvik, said. "The most common misconception in mining, at the moment, is the need to have the biggest drill possible at your operation," Hall said. "Sandvik challenges this misconception."

Planned for release in Q3 2020, the DR410i, which offers both rotary and down-the-hole hammer drilling, was first deployed to a gold mine in Nevada. The results exceeded customer expectations. "Early tests and time studies of our prototype DR410i drill unit shows that it consistently drills faster than competitor solutions in the same class," Hall said.

Such is par for the course for models in the Sandvik iSeries family. "We have seen our DR412i drill effi- ciently through some of the hardest ground around, iron ore," Hall said. "We have seen our DR416i drill exceed expectations in South America in large-diameter drilling," he said. "The DR410i drill is no different."

Following the path of the high-performing iSeries DR412i and DR416i drills, the Sandvik DR410i is pitched as a powerful and intelligent midsize blasthole drill. The unit can be powered by a Cat C18 Tier-4 engine (with non-Tier-4 options available), which comes standard with Sandvik's "advanced compressor management solution to help extend component life and also protect the environment by reducing the carbon emissions," Hall said. The rig features simple, ergonomic controls that contribute to both efficiency and safety.

The drill has two mast options available. The standard mast arrangement gives hole depths to 46.6 m, achievable across all pipe sizes offered. An extended mast option of 14-m (46 ft) first pass and a total depth of 32.3 m (106 ft) is available. It eliminates the need to change drill pipes. Capable of a 258-kN bit load, and maximum pulldown force of 222 kN, the drill "punches above its weight," Hall said. "Its compact platform makes it nimble and easy to move on any mining pattern," he said. "The size of the machine allows the mine to complete drill patterns with a smaller impact on the environment compared to some of the larger drills used to drill the same holes size."

Lower total cost of ownership is achieved by coupling parameters, which match the drilling application with onboard technologies that increase drilling efficiency and productivity, Hall said. That contributes to savings across the operation. "When combined with effective pattern and blasting design, fragmentation is improved allowing for cost savings and productivity improvements across the entire excavation chain," Hall said. "The DR410i assists in the process by drilling clean holes and offering the option of feeding measurement- while-drilling data into third-party systems to produce blasts tailored to ground conditions," he said. The rig features smart connectivity and comes automation ready, Demetre Harris, product manager, automation and technology, Sandvik, said.

"We design and develop our solutions to drill in any environment. This concept is not only for our drills, but the underlying technology as well," he said. "Our solutions are developed through our unifi ed Sandvik Intelligent Control System Architecture (SICA) and offer our customers technology-enhanced packages starting with onboard automation and graduating to remote fleet automation." The SICA Control system is common to all Sandvik mining solutions, both for underground and surface. This makes the DR410i capable of incorporating innovative functionality that was developed across the entire Sandvik portfolio.

For example, on the DR410i, SICA supports maintenance specialist tools that cut the time spent troubleshooting concerns within the system by 30% to 40%, Harris said. "The solution provides maintenance and operators the ability to diagnose the alarms and parameters within the drill without the need to attach diagnostic laptops, making the system easy to support, maintain, and service." The DR410i can be equipped with the Sandvik TIM3D High Precision Navigation Solution and with scalable AutoMine Multi-Lite and Fleet solutions, Harris said.

"TIM3D provides our customers the ability to create high-precision patterns onboard the drill rig," Harris said. "In addition, the solution has the capability of importing and exporting patterns and drilling data via USB for customers without network infrastructure." The AutoMine solution provides one operator the ability to remotely control and monitor one or more drills. It "was designed with the capability of direct connectivity to a line of sight or remote operating station," Harris said. "The benefit is that we have a solution even if an existing network infrastructure does not exist."

For customers with preexisting infrastructure, the DR410i can connect to an 802.11-capable network to transmit pattern progress and measurement- while-drilling data to a central hub. In addition, the drill closes the loop between plan and actual with optional third-party-integration capability. It can connect to other mining technologies to improve efficiency for the entire mining operation, the company reported. "The DR410 is designed to fit into current mining operations in any region of the world," Hall said. "No special requirements are needed to introduce the DR410 into any mining operation," he said. "Offering scalable solutions has always been a key driver for Sandvik." Currently, interest in the drill is coming from the gold sector, but it "is equally suited for other applications including coal mines," Hall said. "It is configured to suit any mining operation as well as major contractors looking for a dependable, efficient and highly productive drilling solution."

Efficient is the key word. It is the rig's raison d'ętre. The series was originally developed to answer a notable industry- wide trend in inefficiency. "We noticed that current solutions sold into the market included drilling parameters that were not aligned with application parameters," Hall said. "There appeared to be a drive among the competition to 'go big,' resulting in the market being flooded with drills containing bigger engines, bigger compressors using more fuel, and requiring increased capital input to maintain and operate."

The company launched the iSeries fleet to "build the right drill for the actual application, one which matches the key parameters of the application to specific drill capabilities," Hall said, "thus increasing efficiency and lowering the total cost of ownership while maximizing productivity." To make sure the solution and others in the series deliver, Sandvik set up a system that has company experts coordinating with customers to regularly assess units in the field. "Sandvik has implemented a four-level support program and a newly created feedback system for our drilling solutions," Hall said.

Feedback will better equip the company to continue "to change the game by offering solutions built to our customers' applications, lowering costs while getting the job done," Hall said. "As mentioned before, bigger is not always better. At Sandvik, we are pushing to change the narrative within the industry by developing sustainable solutions not just for today, but for the next five, 10, 15 years."

Single-pass Capability Cuts Costs
Epiroc released the DM30 II SP rotary blasthole drill (140- to 200-mm-diameter holes), which, the company reported, offers faster hole-to-hole drilling and contributes to lower costs per ton. The release comes after 15 months of extensive field trials proving the unit's single-pass capability, Heino Hammann, product line manager, blasthole drill rigs, Epiroc said. "Designed for longevity and with an 11-m single-pass feature, it can only add value and success to any customer." The rig is ideal for medium to large quarrying and mining operations, Hammann said. "We at Epiroc take pride in offering our customers the best solution for their operational needs, and this is no exception with the DM30 II SP being the best fit for this application," he said.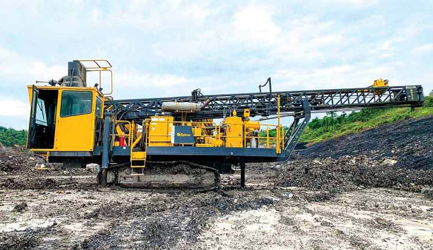 The DM30 II SP features an 11-m single-pass tower option that, Epiroc reports, increases productivity for
29- to 36-ft drilling conditions by eliminating the need to add a second drill steel. (Photo: Epiroc)

With both rotary and DTH drilling capability, the unit offers a hydraulic pulldown force of up to 30,000 lb (134 kN). The 11-m single-pass tower option increases productivity for 36-ft drilling conditions by eliminating the need to add a second drill steel. That feature pays dividends "in applications where adding drill rods could be as timely as drilling half the hole," Hammann said. "SP also allows for lower consumable costs due to no coupling and uncoupling of drill rods," he said. "In a very price-competitive mining environment, the DM30 II SP will contribute to a lower total cost per ton through safety, reliability, efficiency and productivity." Customers can choose a low- or high-pressure compressor. The drill's main structure has a design life of 45,000 hours.

The rig features a safe working environment for operators with a Falling Object Protective Structure cab that is pressurized, heated and cooled. The cab provides significantly reduced noise levels and excellent visibility, the company reported. "All operational functions are controlled from the driller's console, and the ergonomic layout allows operators to instantly switch from drilling to tramming for increased productivity," Epiroc reported. "In addition, the electric-over-hydraulic controls are common across the DM series, making operation easy for drillers with DMseries experience."

A 300-gallon fuel tank provides 14 hours of operation. The unit can adopt scalable automated features through the optional Epiroc Rig Control System (RCS) packages: RCS Lite Basic, Connected and Nav. "Built on the RCS 5 platform that comes standard on the Pit Viper series, RCS Lite offers a number of safety and interlock features," Epiroc reported. The system allows for scalable automation options without any major rebuild. "RCS Lite allows all Epiroc rotary drills to have the same onboard display and system for consistent operator training and service," Epiroc reported.

With a small footprint, the DM30 II SP maneuvers relatively easily on tight benches, and is simple to transport both in and between pits. Reduced cost of ownership is one of the primary benefits offered, Hammann said. "Designed off a proven platform and legacy products, the DM30 II SP will provide a more profitable operation through its single-pass capability, low-cost maintenance, and ease of transportability to any customer," he said. "It provides a lower total cost per ton through SP efficiency, productivity and scalable automated features. Easy and safer access to service points allows for less downtime and more time doing actual drilling."

Hammann said the development of the DM30 II SP was based in part on customer feedback. "Epiroc has always worked closely with its customers and the market, identifying needs," he said. The rig can "easily be integrated into any operation." "It is designed to allow for minimal to no impact on any process, workflow or routine," Hammann said. "Further, we work closely with our customers on the supply of aftermarket support, ultimately contributing to the success of their operations."

Hammann said the DM legacy products have been around for decades, valued and accepted by customers in various applications. "Through strong product offerings and industry-leading expertise, Epiroc will remain the leader in the blasthole drilling industry," he said. "We will continue to develop solutions that benefit our customers."

Unmatched Maneuverability
In Q2, Caterpillar released the MD6380 Rotary Blasthole Drill, with 251- to 381-mm-diameter holes, a single-pass hole depth of 19.8 m, and multipass hole depth of 39.5 m. Automation-ready and designed to be rebuilt when needed, the drill is made for large-scale mining, Cat reported. The rig offers reliable performance, high availability and more maneuverability, Lou McDuffy, marketing consultant, drills, Caterpillar, said.

"Caterpillar achieves this with the inclusion of Cat electronics, a matched powertrain, Cat technology, a new cab and operator station, all within a smaller footprint than competitive models," he said. "The working envelope of the MD6380 gives it unmatched maneuverability, allowing quick and efficient navigation." The powertrain is designed to effi- ciently manage loads generated by the compressor and hydraulics, "delivering superior fuel economy," the company reported. "The compressor is configured with electronic regulation and variable volume air control, allowing the driller to perfectly match compressor output to drill tool and application needs. It also lowers standby pressures while the machine is in idle, further improving fuel efficiency."
With a smaller working envelope,
the MD638 offers unmatched
maneuverability, allowing quick
and efficient navigation,
Caterpillar reported.
(Photo: Caterpillar)

The undercarriage has grease lubricated track pins, positive pin retention and automatic track chain tensioning, Cat reported. These features help "the undercarriage deliver extended durability and optimal performance on grades and in tough operating conditions." The rig features a spacious cab and superior operator comfort, the company reported. "Intuitive multifunction joystick controls and touchscreens promote efficient operation," Cat reported. "Display screens are adjustable to suit the driller's reach and line of sight." With a full-length driller window, large pane glass around the cab and four high-definition cameras, visibility is maximized.

The top tier benefits include an optimal mix of onboard air, feed force, rotary torque and machine mobility. The rig offers a best-in-class working envelope with a low center of gravity and ample approach angles, Cat reported. "These attributes give the machine superior maneuverability," Cat said. The rig comes "technology-ready to seamlessly interface with a mine's digital, remote control and autonomous operations plan," said Greg Scott, product and applications expert, drills, Cat. "The drills in the series use a common computing platform and software, and share the same key design principles for large structures, powertrain and major components," he said.

That platform and software is field proven, Cat reported. "Integrated machine protective features and interlocks help keep operators safe and the machine up and running by preventing potential failures or misuse," the company reported. "With Cat Electronic Technician, troubleshooting is quick and easy. Drill electronics also provide a common platform for the integration of automation solutions." The machine features Drill Assist, which includes auto-level, auto-retract jacks, auto-raise and auto-lower mast, and auto drill functions. The drill depth monitoring system helps to reduce both over- and under-drilling.

The unit also uses Cat MineStar Terrain for drilling, which provides precise hole location, production reporting and strata reporting. "Terrain seamlessly connects to Cat Command, offering a path to remote operation and autonomous drilling," Caterpillar reported. The MD6380 is capable of a pulldown force of 49,895 kg and a rotation torque of as much as 20,880 Nm. The Cat 3512C diesel engine produces 960 kW and delivers emissions performance equivalent to U.S. EPA Tier 2 and EU Stage II.

The rig is the latest in the series, which debuted in 2017 with the launch of the MD6250 (152- to 251-mm-diameter holes). In April, Caterpillar reported Thiess is trialing an MD6250 at the Mount Pleasant coal mine in Australia in a phased 12-month pilot project. The rig is equipped with Terrain and DrillAssist. The program has three phases: operator mission assist, semiautonomous drilling, and full autonomy. Currently, sem-autonomous drilling is under way.

The MD6250 advancements were built into the next and larger model, the MD6310 (203- to 311-mm-diameter holes). "In late 2019, the new MD6200 (127- to 200-mm-diameter holes) was launched, designed for production drilling in quarry and mining applications," McDuffy said. "In 2020, Cat launched this new ultra-class model, the MD6380." Since 2017, "the Cat Drill family has accumulated more than 100,000 hours of operation globally, working in coal, phosphate, aggregates, limestone, gold, copper, iron and magnetite," Matt Jacobs, commercial manager, drills, Caterpillar, said.

The drills are relatively easy to adopt thanks to the Cat dealer network, he said. "The new generation of Cat rotary blasthole drills use standard Cat components, systems, software and support networks," Jacobs said. "The adoption of drills into a customer's fleet is smooth and easy." The line enables Caterpillar to best serve customers "focused on safety, streamlined operations, improved production and lower total ownership costs," Jacobs said. "Caterpillar is excited about today, and ready for our customers' future needs."

The culmination of a decade of deep investments in R&D for new product development, the line speaks to "the company's ability to transition into the age of smart iron to meet customer needs," McDuffy said. "We paired robust mechanical designs with advanced technology resulting in a more productive, more reliable, more serviceable drill that can seamlessly accommodate multiple levels of technology and autonomy," he said. "The new Cat Drill product line is an example of the success of that ongoing commitment to developing products that meet the critical requirements of customers.
---
As featured in Womp 2020 Vol 07 - www.womp-int.com