The latest from the
World Mining Equipment
Video Library
View




Alberta's Crude Conundrum

Happy New Year! Most miners were ready to bid adieu to 2018. The year started off well, but forces beyond our control caused prices for most mined commodities to decline and jeopardized some business models. Canada's oil patch is probably feeling the most pain. As of January 1, a plan put in place by Alberta Premier Rachel Notley curtails crude production. This comes at a time when Albertans are swimming in oil. Recent decisions from federal judges in Canada and the U.S. are preventing the province from exporting more crude.
The irony in Canada abounds. In August, a Canadian federal court overturned approval for the Trans Mountain pipeline expansion, which would have doubled the pipeline's capacity to carry care .... read more


Steve Fiscor, Publisher & Editor in Chief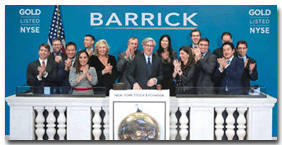 Gold Miners Kick Off New Year at NYSE
Trading in the shares of the new company created by the merger of Barrick Gold and Randgold Resources started at the opening of business on the New York and Toronto Stock Exchanges on Wednesday, January 2. The ringing of the opening bell at the New York Stock Exchange was performed by the company's executive chairman, John Thornton, accompanied be.... read more
Anglo Restarts Minas Rio
Anglo American plc announced the resumption of operations at its Minas-Rio iron ore operation in Brazil. The restart of the integrated iron ore operation follows an extensive and detailed technical inspection of the 529-kilometer (km) pipeline that carries the iron ore in slurry form from the mine to the port, the pre-emptive repair of certain sections of the pipeline, and receipt of the appropriate regulatory .... read more

Top
Diavik Yields Largest Diamond Ever Found in North America
Dominion Diamond Mines has reported recovery of the largest-known gem-quality diamond ever found in North America. The 553-carat yellow diamond was unearthed in October at the Diavik diamond mine, approximately 135 miles south of the Arctic Circle in Canada's Northwest Territories. The find far surpasses the previous record of 187.7 carats held by the Diavik Foxfire, recovered in 2015 .... read more


US May Lift Sanctions Against Rusal
The U.S. Department of Treasury told Congress in December it will remove sanctions imposed on three Russian companies tied to Russian businessman Oleg Deripaska, United Co. Rusal (major bauxite miner and aluminum smelter), its parent EN+ Group and JSC EuroSibEnergo (a Russian energy company). Rusal said it welcomes the Treasury's decision and will continue to do everything that is necessary to return .... read more

| | |
| --- | --- |
| AROUND THE WORLD - USA & CANADA | |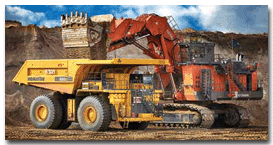 Alberta Initiates Oil Production Cuts
The Alberta government has mandated a short-term reduction in oil production that started on January 1. Under the mandate, production of raw crude oil and bitumen will be reduced by 325,000 barrels per day, an 8.7% reduction. Premier Rachel Notley announced the temporary measure in response to the historically high oil price differential that is costing the national economy more than $80 million per day, her office said .... read more


Minnesota Issues Last Major Permits for PolyMet Mine
Poly Met Mining Inc., a wholly-owned subsidiary of PolyMet Mining Corp., has received the final remaining state approvals for PolyMet to construct and operate the NorthMet copper-nickel-precious metals project in northeastern Minnesota. The Minnesota Pollution Control Agency issued the water quality (NPDES/SDS) and air quality permits and the Clean Water Act Section 401 water quality certification for the NorthMet mine. This follows the Department of Natural Resources' issuance in early November of the ....read more

Top
Monarques Advancing Wasamac Gold Project
Monarques Gold has reported positive results from a feasibility study of its Wasamac gold project 15 kilometers (km) west of Rouyn-Noranda, Quebec. The study describes an economically viable project, provides the basis for making a production decision, and serves to fully support the permitting and financing processes .... read more

| | |
| --- | --- |
| AROUND THE WORLD - Latin America | |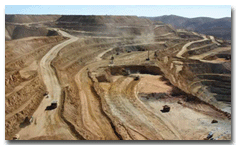 QB2 Construction to Proceed
Teck Resources Ltd. announced that Sumitomo Metal Mining Co. Ltd. and Sumitomo Corp. have agreed to acquire a 30% indirect interest in Compañia Minera Teck Quebrada Blanca S.A., which owns the Quebrada Blanca Phase 2 (QB2) project. The Teck board has also approved the QB2 project for full construction, with first production targeted for the second half of 2021 .... read more


Top
Stage 2 Expansion Approved for Olaroz Lithium Project
Orocobre Ltd., Toyota Tsusho Corp., and joint-venture company boards have approved investment in a Stage 2 Expansion of the brine-based Olaroz lithium facility in Jujuy province, northern Argentina. The expansion will increase Olaroz lithium carbonate (Li2CO3) production capacity by approximately 25,000 metric tons per year (mt/y), bringing total capacity to about 42,500 mt/y .... read more

| | |
| --- | --- |
| AROUND THE WORLD - Australasia | |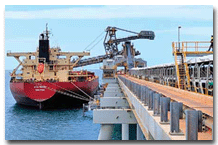 Amrun Mine Ships First Bauxite
Rio Tinto's new Amrun bauxite mine on the Cape York peninsula in north Queensland shipped its first bauxite in early December 2018, six weeks ahead of schedule. The $1.9 billion project will replace production from the company's depleting East Weipa mine and increase its annual bauxite exports by around 10 million metric tons per year (mt/y). At full production, Amrun will have the capacity to produce 22.8 million mt/y …. read more


Top

Gruyere Gold Production Could Increase
Gold Road Resources and Gruyere Mining Co., a member of the Gold Fields group, have released an updated mine plan for their 50:50 joint-venture Gruyere gold project, which is nearing completion 200 km east of Laverton, Western Australia. The life-of-mine plan now calls for gold production of about 300,000 ounces per year (oz/y) over a 12-year mine life, up from 270,000-oz/y forecast in the 2016 feasibility study …. read more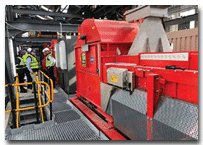 Lucapa Recovering Diamonds at the Mothae Mine in Lesotho
Lucapa Diamond Co. has recovered the first diamonds from the new commercial treatment plant at the Mothae mine in Lesotho. The plant incorporates advanced diamond recovery technology, including two X-ray transmission diamond recovery modules designed to recover large and rare Type IIa diamonds ahead of the secondary crushing circuit. The system will reduce …. read more
Top
Katanga Mining Expanding Production at Kamoto Copper
Katanga Mining has completed hot commissioning of Phase 2 of the whole-ore leach (WOL) processing facility at its 75% owned Kamoto Copper copper-cobalt mine in the Kolwezi district of Lualaba province, Democratic Republic of the Congo. Commissioning of the pre-leach circuits was continuing as scheduled in early December and was expected to be complete by the end of 2018. A progressive ramp-up of the facility is expected …. read more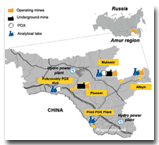 Petropavlovsk Processing Refractory Gold Concentrate at New POX Hub
Petropavlovsk PLC started processing refractory gold concentrate at the new Pressure Oxidation (POX) Hub at its Pokrovskiy mine site in the Amur region of far southeast Russia in late November. The company has three active mines in the Amur region: Pioneer, Malomir and Albyn …. read more


Top
Wafi -Golpu Signs MOU With Papua New Guinea
Newcrest Mining Ltd. and its Wafi -Golpu joint-venture partner Harmony Gold Mining Co. Ltd. signed a memorandum of understanding (MOU) with the state of Papua New Guinea. The MOU is an affirmation of the parties' intent to proceed with the Wafi -Golpu project, subject to finalization of the permitting process and Newcrest and Harmony board approvals .… read more



| | |
| --- | --- |
| THIS MONTH IN COAL | |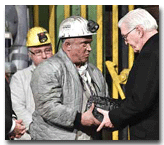 A Final Glück Auf for the German Hard Coal Mining Industry
By Gerd Strasmann

WUPPERTAL, Germany—During December, the long tradition of hard coal mining ended with an emotional final act at the Prosper-Haniel mine in Bottrop, Germany. With tears in their eyes and singing the song Glück Auf, based on the traditional German miner's greeting, miners brought the last piece of coal to daylight from a depth of about 1,000 m on Friday, December 21, 2018 .... read more


Top

Oyu Tolgoi Signs Power Source Framework Agreement
Turquoise Hill Resources signed a Power Source Framework Agreement (PSFA) between Oyu Tolgoi and the Government of Mongolia (Government), which provides a binding framework and pathway forward for the construction of a Tavan Tolgoi- based power project, as well as establishes the basis for a long-term domestic power solution for the mine. production …. read more


-->
| | |
| --- | --- |
| FEATURE - Plant Engineering | |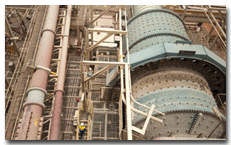 Newmont's Strategic Approach to Plant Optimization and Design is Paying Dividends
CEEC Medal winners inspire miners to add value and navigate to success.

By Sandy Worden and Alison Keogh

Newmont Mining is achieving sustainable improvements in its comminution circuits by taking a strategic approach to plant optimization and design, and sharing leading grinding practices across its 11 gold mining operations in the USA, Australia, Peru, Ghana and Suriname. Business effi ciency and production costs have been the main drivers for change in the company's comminution practices and, through these initiatives, Newmont has been able to reduce its production costs. Examples include addressing power consumption at Ahafo in Ghana .... read more



For more companies with products in the Plant Engineering market -
Go Here
| | |
| --- | --- |
| FEATURE - Blasting | |
Powder Factor: The Ineffective Design Tool
More modern approaches to spacing and blast design dramatically improve performance of blasts.

By Anthony Konya, M.S., and Cal Konya, Ph.D.

Since the first application of black powder for blasting in 1627, blasters and engineers have been using powder factor as a design tool. Powder factor is the ratio of pounds of explosive used in a blast to the total volume of rock blasted; a typical range for surface blasting is 1.0 to 2.0 pounds per cubic yard (lb/yd3). During the first few centuries of blasting the thought process was that each rock, depending on type and structural geology, had a specific powder factor ..... read more

Top

For more companies with products in the Blasting market -
Go Here
| | |
| --- | --- |
| FEATURE - Autonomous Haulage | |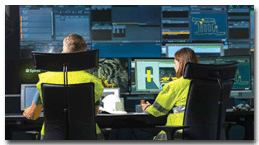 New Age Partners Dig Open Relationships
The framework of many corporate partnerships hatched today smash boundaries of traditional roles in the race to automate underground mining.

By Jesse Morton, Technical Writer

In late October, the mainstream press ran stories quoting Rio Tinto's CEO, Jean-Sebastien Jacques, on the state of mining. Jacques, a futurist, said the way forward will feature innovative "new partnerships" for breakthroughs in digitalization and automation, such as Tinto's work with Apple or its driverless trains in the Pilbara. If recent developments in underground haulage automation are any indication, those partnerships..... read more


For more companies with products in the Haulage market -
Go Here
| | |
| --- | --- |
| FEATURE - India Mining Report | |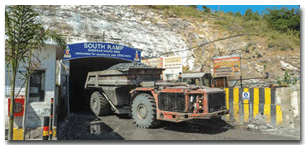 An Overview of Metal Mining in India
One step forward, two steps back.

By Ajoy K Das

"Time is short. If you have to achieve much, you've got to run," said Peter Munk, founder and former chairman, Barrick Gold. The Indian mining industry promised to achieve much. But it is defi nitely not running and time is running out, too. Gaps between enunciation of lofty potential and policy procrastinations, delays and actual performance of the sector, including investments on the ground have become glaring .... read more

Top

| | |
| --- | --- |
| Video Presentations | |
The latest listings from the World Mining Equipment Video Library - to view the video, click the image.
For more details on the Video Hub -

Go Here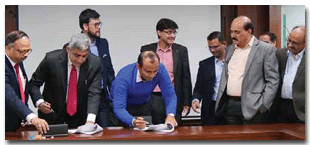 Hindustan Zinc, Normet Sign Service Agreement
Normet and Hindustan Zinc Ltd recently signed a $68 million, comprehensive, 4-year, cost-per-hour (CPH) service contract covering Normet equipment in Hindustan's mines in Rajasthan, India. The deal included a focus on operational and service improvements, as provided by Normet's SmartCare .... read more

Drilling Solutions Offer Longer Life, Cost Savings
Sandvik introduced the Alpha 360, a drilling tool system that complements the company's Alpha 330. Alpha 360 offers a reinforced design, features double the standard thread life, and enables hole accuracy capable of ensuring higher productivity, the company reported. It is designed for 48- to 51-mm-hole sizes in face drilling and bolting. The short thread on the round rod ....read more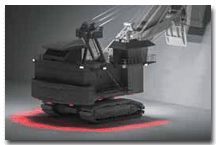 Light Creates Visible Safety Perimeter
The Phoenix Company introduced the Danger Light, a heavy-duty LED fixture that creates a distinct red beam around a shovel perimeter. The 42-watt fixture provides 2,100 lumens of efficient, LED light, and offers maintenance-free operation. The adjustable harp allows for aiming versatility with many equipment models .... read more

Top

Data Monitoring and Interpretation for Tires
BKT announced SPOTECH, a device that captures information on equipment position traced by satellite and delivers kinematic motion analysis. The system comprises a triaxial accelerometer positioned on the equipment that records latitudinal, longitudinal, and vertical movements, the forces involved, and speed and cycle duration ....read more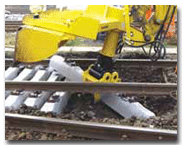 Railway Tie Change Attachments
KINSHOFER released the RBS, RBS20 and RBS20HPX, railway tie/sleeper changer attachments for efficient railway maintenance and repair. The attachments can be used with 12- to 24-ton rail excavators to quickly exchange existing concrete and wooden ties without disrupting the track. The attachments' large shields allow operators to easily clear ballast .... read more



Heaviest-in-class Stacker'
Superior Industries, Inc., debuted two new tracked conveyor models, the 75-ft tracked stacker and an 8-by-16-ft tracked feed hopper. At 34,000 pounds, the stacker will be one of the heaviest models available in its class. It is capable of handling up to 907 .... read more
Crusher Offers Class-leading Productivity
Terex Corporation subsidiary EvoQuip announced it will promote its Cobra 230 Impact Crusher at World of Concrete 2019. The crusher provides class-leading productivity, unmatched versatility and excellent fuel efficiency, the company .…. read more

Top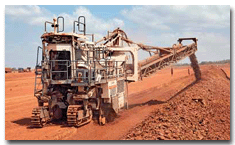 Surface Miners See Demand, Use in Guinea
Wirtgen reported more than two dozen of its surface miners are deployed to bauxite mines in Guinea, West Africa. The machines cut and crush the ore and pile it in a row alongside the machine path, creating high stockpiles for a superb bucket fill, Wirtgen reported. The machines leave behind a level surface that can serve as a stable ....read more
JANUARY 27-30, 2019: 45th Annual Conference on Explosives and BlastingnTechniques, Nashville, Tennessee, USA. Contact: Web: www.isee.org

>

FEBRUARY 24-27, 2019: SME Annual Conference & Expo, Denver, Colorado, USA. Contact: Web: www.smeannualconference.com

MARCH 3-6, 2019: SME Prospectors & Developers Association of Canada's annual conference, Metro Convention Center, Toronto, Canada. Contact: Web: www.pdac.ca.com

March 10-13, 2019: Haulage & Loading, Hilton El Conquistador Resort, Tucson, Arizona, USA. Contact: Web: www.haulageandloading.com

APRIL 8-14, 2019: bauma, Messe Muenchen, Munich, Germany. Contact: Web: www.bauma.de

>

APRIL 28-MAY 1, 2019: Canadian Institute of Mining (CIM 2019), Montreal, Canada. Contact: Web: www.cim.org

MAY 20-22, 2019: Longwall USA, Pittsburgh, Pennsylvania, USA. Contact: Web: www.longwallusa.com

MAY 27-30, 2019: Exponor Chile 2018, Antofagasta, Chile. Contact: Web: www.exponor.cl

For a full calendar of mining industry conferences and events - click here
| | |
| --- | --- |
| WHO'S MOVING WHERE | |

Barrick Gold announced management changes within the company's North America region. Michael Brown, currently president, Barrick USA, retired on December 31. Brown has been with Barrick since 1994, and has played an integral role in the growth and development of the company's U.S. operations. Catherine Raw, who was previous CFO, will take over responsibility for the U.S. operations in the newly-created position of COO for North America. Brown joined Barrick as vice president of government affairs in 1994. He became president in 2015.

Anglo American announced a number of senior management changes following the decision to divide the management of its global Base Metals business from its Strategy and Business Development activities. Duncan Wanblad will focus solely on his role as group director of strategy and business development and Ruben Fernandes, currently CEO of Anglo American in Brazil, will succeed Duncan Wanblad as CEO of Base Metals, effective March 1. Wilfred "Bill" Bruijn was appointed CEO of Anglo American in Brazil, succeeding Ruben Fernandes and reporting to Seamus French, CEO of Bulk Commodities. Most recently, Bruijn was CEO of Mineração Usiminas. Fernandes will join the Group Management Committee.

Glencore announced the following management changes: Peter Freyberg was appointed head of industrial mining assets. Gary Nagle appointed as head of coal assets. Japie Fullard appointed head of ferroalloys assets. Telis Mistakidis will retire as head of copper marketing. Nico Paraskevas was appointed head of copper marketing. Stuart Cutler will retire as head of ferroalloys marketing. Jason Kluk and Ruan Van Schalkwyk were appointed as joint heads of ferroalloys marketing.

Genesis Minerals Ltd. appointed Tommy McKeith as non-executive chairman. McKeith succeeds Richard Hill, who has stepped down from the board. McKeith is a geologist and mining executive with more than 30 years of experience. He spent six years as executive vice president, growth and international projects, at Gold Fields.

SNC-Lavalin appointed Sohail Samdani as senior vice president and general manager. Samdani has about 20 years of international experience in business management, engineering, project management, business development, strategy development and implementation in mining, metallurgy and infrastructure sectors. Previously, Samdani successfully led capital projects at SNC-Lavalin in the mining and metallurgy sector in North America as a vice president. He also held a number of project management positions during a 13-year tenure at WorleyParsons.

The American Exploration & Mining Association (AEMA) has selected Mark Compton as the new executive director, succeeding Laura Skaer who is retiring March 31, 2019, after serving as executive director for more than 22 years. Compton is rejoining AEMA after serving six years as the Utah Mining Association's (UMA) president.

The World Gold Council appointed David Tait as incoming CEO. Most recently, he was global head of fi xed income macro products at Credit Suisse. He will succeed Aram Shishmanian, who has served as CEO over the past 10 years.

Wolseley Canada Inc. appointed Kim Forgues vice president, human resources. Most recently, Forgues was a partner and head of the HR practice with Odgers Berndtson.
About - providing an abreviated version of the current print edition of E&MJ, WOMP is distributed throughout the world to decision makers in the global mining industry, the last week of every month.

Subscribe to E&MJ - To receive your own copy of the print edition of E&MJ, click here , and complete your details. E&MJ is available free of charge to qualified readers.

Contact - if you have views, opinons or comments or editoral that you would like to submit, we would be delighted to hear from you - click here

Top