Mining Industry Apps
View


The latest from the
World Mining Equipment
2nd Hand Market
View





Can Reindeer and Mining Coexist?



Annually, the October edition covers Nordic Mining & Technology. This year, the subject has been divided into two feature articles. The first covers mining activities in the region (Nordic Mining) and the second discusses some of the developments among suppliers in the region (Nordic Technology), who are also interested in exporting their equipment and expertise. The speakers and exhibitors at Euro Mine Expo 2014, which took place during June in Skellefteå, Sweden, offered some interesting insight into both of these areas.

Europe is rich in natural resources, but over time it has become a net-importer of most of the metals and minerals needed to sustain its economy. There is a movement afoot to promote mining within Europe to secure a long-term......... read more



Steve Fiscor, Editor in Chief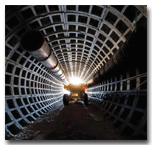 Botswana Opens its First Underground Diamond Mine
Gem Diamonds held an opening ceremony for its new Ghaghoo underground diamond mine in Botswana on September 5. The mine is the first underground diamond mine in Botswana, which is home to some of the world's largest, most profitable openpit diamond mines. The president of Botswana, Ian Khama, officiated at the mine opening. Gem Diamonds began commissioning the Ghaghoo processing plant during the first half of 2014, and the first diamonds were recovered in......... read more
Newmont Resumes Exporting Batu Hijau Concentrates


PT Newmont Nusa Tenggara (PTNNT) and Newmont Mining announced on September 22 receipt of a permit to export coppergold concentrates from the Batu Hijau mine on Sumbawa Island in Indonesia. Export of concentrates from Batu Hijau had been blocked since January as a result of new government regulations, including requirements for development of domestic smelter and refining facilities, and the imposition of a progressive export duty on copper concentrates in the amount of 25% in 2014, rising to 60% by mid-2016....... read more

Top
Agnico Eagle Expands in Mexico


Agnico Eagle Mines and Cayden Resources announced on September 8, an agreement whereby Agnico Eagle will acquire Cayden for total consideration of approximately C$205 million in cash and Agnico Eagle shares. Cayden is a junior Canadian company headquartered in Vancouver, British Columbia. Its key properties are its El Barqueňo property in Jalisco state and its Morelos Sur property in Guerrero state, Mexico. Agnico Eagle views the Cayden properties as a good fit with its current business in Mexico, which is focused primarily on its Pinos Altos operations in Chihuahua state. Pinos Altos produced..... read more

Top
AngloGold Ashanti Drops Proposed Restructuring


AngloGold Ashanti announced on September 15 that it would not pursue a proposed corporate restructuring, announced five days earlier, due to investor concerns about the size of the $2.1 billion equity capital raising needed for the restructuring to be implemented in accordance with regulatory and other requirements. The proposed restructuring would have created a London-listed entity to house the company's international assets, while its South African assets would have remained at AngloGold Ashanti..... read more
| | |
| --- | --- |
| AROUND THE WORLD - USA & CANADA | |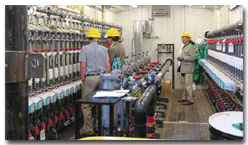 Uranerz Delivers First Nichols Ranch Uranium to Utilities


Uranerz Energy has delivered the first drums of U3O8 produced from its whollyowned Nichols Ranch in-situ recovery uranium project in the Powder River Basin of Wyoming. The shipment of approximately 36,000 lb was received in early September at ConverDyn's Metropolis Works in Metropolis, Illinois, for subsequent transfer to one of the company's utility customers. The delivery was made under one of Uranerz's longterm sales contracts. The company expected to make a second shipment before the end of September...... read more
US Steel Receives Approval to Expand Minntac Mine Area


U.S. Steel announced in mid-September that the U.S. Army Corps of Engineers has granted the final necessary federal permits for expansion of the taconite mining area at the company's Minntac operations at Mountain Iron, Minnesota. The mine expansion project had received the necessary state permits earlier this year. As a result, the Minntac mining operations will be expanded by 483 acres, adding 16 years of mine life and ensuring the long-term competitiveness of the operation. Approximately 100 jobs are being created as a result of the project.... read more

Top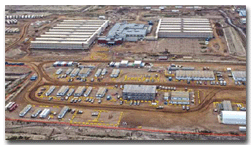 Fluor Gets $1.3B Fort Hills Utilities Contract


Fluor Corp. has been awarded an engineering, procurement, fabrication and construction contract by Fort Hills Energy L.P. for the utilities scope of the Fort Hills oil sands mining project. The project is located about 90 km north of Fort McMurray in Alberta, Canada. Fluor booked the contract for $1.3 billion in the third quarter of 2014. Jim Brittain, president of Fluor's Energy & Chemicals business for the Americas region, said, "Fluor will apply our unique modular.... read more

| | |
| --- | --- |
| AROUND THE WORLD - Latin America | |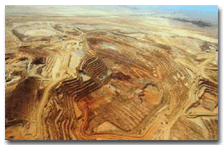 Fresnillo Buys Penmont Interest From Newmont for $450 Million


Fresnillo and Newmont Mining announced an agreement in mid-September whereby Fresnillo would acquire Newmont's 44% interest in their Penmont joint venture in Sonora, Mexico, for $450 million in cash. Fresnillo is 56% owner and operator of the joint venture. Assets included in the agreement are the Herradura, Noche Buena, and Soledad- Dipolos open-pit, heap-leach, Merrill Crowe mines; the Mega Centauro…… read more
Grupo Mexico Dealing with Spill at Buenavista del Cobre


Grupo Mexico spent much of August and September responding to issues created by an August 6 spill of 40,000 m 3 of acidic copper sulfate solution from its Buenavista del Cobre mine into the Bacanuchi River in Sonora state, Mexico. The Bacanuchi is a tributary to the Sonora River, which was also contaminated. Grupo Mexico established a $151 million trust fund to pay for cleanup and was working to overcome the impact of…. read more

| | |
| --- | --- |
| AROUND THE WORLD - Australasia | |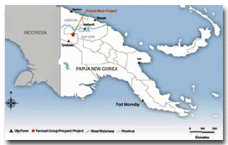 Frieda River Partners Update Project Development Concept


The joint-venture partners in the Frieda River copper-gold project in Papua New Guinea (PanAust. 80%/Highlands Pacific, 20%) released an updated development concept that will form the basis for a project feasibility study. The study will focus on a basecase assumption of average production of 125,000 metric tons per year (mt/y) of copper and 200,000 oz/y of gold in concentrate. Total life-of-mine mill feed is estimated at 600 million…. read more
Poseidon Buying Norilsk Lake Johnston Nickel Mines


Poseidon Nickel has agreed to acquire Norilsk Nickel's Lake Johnston nickel mines and associated infrastructure in Western Australia for A$1 million. The Lake Johnston property encompasses the Maggie Hays and Emily Ann underground mines and a concentrator and has been on care and maintenance since April 2013. Poseidon's acquisition of the property is in addition to its purchase of the Black Swan nickel mine from Norilsk, announced on July 7, (E&MJ, August 2014, p. 16). Black Swan is also in Western Australia …. read more

Top

Amulsar Output Projected at 205K Oz/y Gold for Lydian
Lydian International has announced positive results of an updated feasibility study of its 100% owned Amulsar gold project in southern Armenia. The study proposes development of a large-scale, low-cost, open-pit, heap-leach operation that would produce an average of 205,000 oz/y of gold over a mine life of 10.4 years. Initial capital costs to develop the project are estimated at $426 million, and allin sustaining production costs are estimated at $701/oz. The Amulsar property is located 115 km southwest of Armenia's capital city of Yerevan and covers an area…. read more


Didipio's Underground Development Plan Rescheduled
OceanaGold Corp. has announced preliminary results from an ongoing optimization study of its Didipio gold-copper operations on Luzon island in the Philippines. Oceana currently operates an open-pit mine and concentrator at Didipio that produced 45,266 oz of gold and 11,185 mt of copper in concentrate during the first half of 2014. Development of an underground mine has been an integral part of Oceana's planning for future Didipio operations, and the…. read more



Ivanhoe Finalizes BEE Participation in Platreef


Ivanhoe mines has transferred a combined 26% interest in its Platreef project on the Northern Limb of South Africa's Bushveld Complex to a black economic empowerment (BEE) structure, fulfilling requirements for the company's Mining Right application. Ivanhoe is planning a multiphased development of a large, mechanized, underground mine at Platreef. A preliminary economic assessment released in March estimated that a base-case operation mining 8 million…. read more

Allana Potash Awards Danakhil FEED Contract to AMEC Americas


Allana Potash has engaged AMEC Americas to complete Front End Engineering and Design (FEED) on its 1-million-metric-tonper- year (mt/y) Danakhil muriate of potash project in Ethiopia in anticipation of completion of project financing and expected start of construction. AMEC's work will be undertaken primarily by its Saskatoon, Saskatchewan, office and is estimated to take about six months to complete. The work will include design of process, maintenance, and service buildings; conveyance to and from the ponds; product…… read more

Top
| | |
| --- | --- |
| THIS MONTH IN COAL | |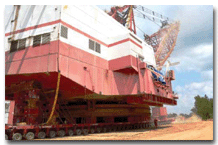 Luminant Completes Dragline Relocation Project


Luminant recently relocated four draglines more than 30 miles in total to new mining areas across east and central Texas using a state-of-the-art 1,000-wheel vehicle. Nearly 60 self-propelled modular transporters, trailers powered by up to nine 600-hp engines, were used to move the draglines—the smallest weighing 6 million lb and the two largest weighing 13 million lb each. This engineering achievement was no small feat, according to Steve Kopenitz, Luminant senior vice president of mining …. read more

BHP Retrenches More Australian Miners


Officials at BHP Billiton have announced the layoff of 700 workers at its central Queensland coal operations, amid a slackening market; the BHP Billiton-Mitsubishi Alliance (BMA) runs seven mines in the Bowen Basin. The job losses will "deliver further cost reductions and productivity improvements and remain viable for the long-term," company representatives said in a statement; the joint venture is one of the largest exporters of met coal…. read more

Alpha Builds LNG Facility to Fuel Wyoming Haul Trucks
Plum Energy will construct a liquefied natural gas (LNG) plant for Alpha Natural Resources on property adjacent to Alpha Coal West's Eagle Butte mine, near Gillette, Wyoming, USA. The Plum Energy facility will supply LNG for the mine's haul trucks. LNG is attractive from a price point when compared to the cost of conventional diesel fuel. "This project not only will reduce fuel costs for Alpha Coal West, but will also help solidify supply lines for other LNG users in the Powder River Basin," said Kirt Montague, CEO of Plum Energy…. read more
| | |
| --- | --- |
| FEATURE - Nordic Mining | |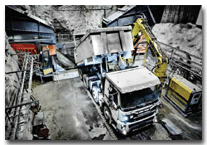 Feeling the Commodity Squeeze
As exploration budgets shrink and commodity prices drift, mining and exploration companies in the Nordic countries are adapting to new conditions—but their commitment to the region remains strong.

By Simon Walker, European Editor

According to SNL Metals and Minerals in the latest edition of its state of the market snapshot on exploration, the worst may now be over. "The long-awaited upswing in exploration has not yet started, but activity has at least been flat for the past five months," the company said. In relative terms, that is probably the closest to good news that exploration companies working in the Nordic region have heard this year. Activity on the ground may still be low in comparison with recent years, but on the other hand, companies have still been busy acquiring holdings over prospective areas, reflecting the……. read more

| | |
| --- | --- |
| FEATURE - Nordic Mining Technology | |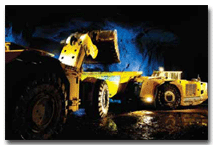 Nordic Suppliers Share Their Expertise with the World


When it comes to mining and mineral processing, they have long experience working with the hardest ores and deep mines

By Steve Fiscor, Editor-in-Chief

Annually, E&MJ offers a snapshot of what's happening in the Nordic region in its October edition. Several major equipment makers and engineering firms are headquartered in the region, companies such as Atlas Copco, FLSmidth, Metso, Outotec and Sandvik. Just below these market leaders is another emerging group of small- and medium-size suppliers that have cut their teeth providing equipment and services to the mines in the region, and they are looking to export their services to the world. Many of these suppliers gathered during June at the Euro Mine Expo 2014 conference, which was held in Skellefteå, Sweden. In this part of Norrland, there are probably half a dozen major mines within 50 km of Skellefteå. While the town has diversified into other sectors by attracting different types of business, it can't escape its role as a hub for miners in the region... read more

Top
| | |
| --- | --- |
| FEATURE - Haul Trucks | |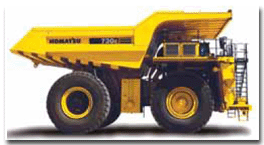 Builders Add Big-rig Features to Their Smaller Haulers


Lower-capacity rigid-body trucks are benefitting from the engineering design principles and upgraded feature sets of their bigger stablemates, while articulated dumpers continue to get tougher and more agile.

It's been a relatively quiet year for news of technological advances in the high- and ultra-capacity classes of mine haul trucks. Belarus-based truck builder BelAZ did announce in August that the first unit of its massive 450-ton-payload model 75710 hauler had been commissioned at a coal mine in the Kemerovo region of Russia; and, moving down several notches in size, Komatsu recently highlighted the AC-drive version of its 181-metric-ton (mt) 730-8 rigid hauler. But there have been a number of interesting product introductions along the lower half of the range, with Caterpillar, Hitachi and newcomer LoadPro announcing upgraded or new preproduction models in the 40–70-mt-payload rigid-body category; while…... read more


For more companies with products in the Haul Trucks market -
Go Here
| | |
| --- | --- |
| FEATURE - Conveyor Design | |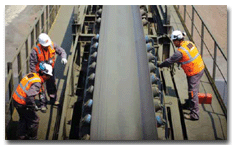 Common Carriers


Mines depend on conveyors for a multitude of materials handling tasks—and the newest systems are being asked to perform at higher workloads than ever before. Is the technology up to the task?

By Russell A. Carter, Managing Editor

WConveyor systems are a segment of mining technology that demands innovation— because the industry itself demands it. As mines become deeper, more remote and more expensive, end users are faced with a Hobson's choice of increased maintenance attention or higher downtime on conveyor systems that may, by necessity, be longer, more powerful and more complex than their predecessors—so the higher performance offered by sophisticated but expensive new conveyor technology must be accompanied by higher reliability to balance the cost-versus- benefit equation. At a conventional truck haulage operation, the loss of a truck..... read more

Top


For more companies with products in the Conveyor market -
Go Here
| | |
| --- | --- |
| APPS | |
Current and active 'Apps' from the mining market.
Sandvik Mining

- Solid Ground

Solid Ground, the twice-a-year global business and technology magazine from Sandvik Mining. Meet the miners who rely on our equipment and tools, service and technical solutions and read about our latest products in action at mining operations around the world. Each edition is loaded with stunning film clips and photos and special tablet-only features, in addition to the same engaging content as the print magazine..

New Issue out now
Download for Ipad - Download for Android


Grindex

- Toolbox

Grindex Toolbox, for hand held devices, provides a range of features to support a quick and easy selection of Grindex pumps as well as identification of Grindex original spares.
With this app you get a very convenient access to the wide range of Grindex offerings.
The application offers several powerful and easy to use functions: Pump selection, Spare parts identification, Cart function and Grindex Pumps school
All major languages are supported.

Get the App - Go Here


E&MJ - Engineering and Mining Journal



Engineering & Mining Journal (E&MJ) is the voice of the international mining community providing in-depth editorial to mining companies and the mining industry..

Get the App - Go Here


Sleipner

- Benefit Calculator

The Sleipner benefits calculator is an innovative tool that just with a few steps gives you the opportunity to calculate the benefits of using the groundbreaking Sleipner System in your mine. This powerful tool will provide you with information such as increase in production, fuel savings, reduction in CO2 emissions and all the other benefits you get out of the Sleipner Systems.

Get the App - Go Here


Orica



Pocket Blast Guide from Orica Mining Services provides access to blast calculations, conversions, product information and tools for managing blasting operations on mobile devices.

Get the App - Go Here

For more details on our Apps listing or details on how to list your App - Go Here
| | |
| --- | --- |
| 2nd HAND MARKET | |
The latest listings from the World Mining Equipment Market - for more details click the image
For more details on the WME Market -

Go Here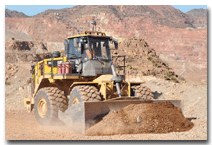 Latest Wheel Dozer Model Can be Configured for Specific Tasks


Caterpillar said its new 824K wheel dozer builds on the performance of predecessor models with engineering refinements in its power train, operator station and structures, and in features that enhance safety, serviceability and machine management. With a net power rating of 405 hp (302 kW) and a maximum operating weight of 74,966 lb (34,000 kg), the 824K is available with six-blade…. read more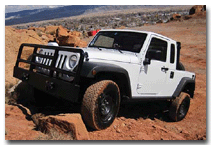 Underground Jeep Model has Mil-Spec Durability


A new version of Chrysler Group's heavyduty Jeep J8, outfitted for underground mine duty, is available in the North American market. It is powered by an Mine Safety and Health Administration (MSHA)-approved 2.8-liter turbo diesel built by VM Motori, a subsidiary of Fiat Chrysler Auto. The VM A428 engine produces 197 hp and requires a ventilation rate of 10,500 cfm. The J8 also is configured with Chrysler's WA580 five-speed…… read more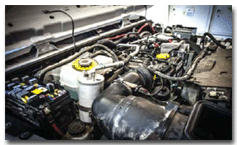 Underhood Compressor for Mining-certified Jeep


VMAC announced the latest application for its Underhood air compressor system: It is now available on the mining certified Jeep J8 (see item above). The air compressor is rated for up to 70 cfm and 175 psi. According to the company, the new compressor is application engineered for the J8. Rather than mounting the air-oil separator tank to the frame rail, where it normally resides on other applications, it is mounted in the box and takes up minimal space…. read more

Top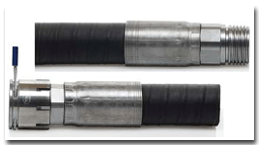 Longwall Couplings Offer Easier Installation, Removal


Gates' new iLok coupling addresses issues frequently encountered in underground longwall coal mines, where traditional staple-lock couplings often become corroded and can fuse together, making them difficult to service and disconnect. These conditions often result in unsafe practices when workers forcibly pry the couplings apart, endangering employees and equipment alike. The iLok couplings .…… read more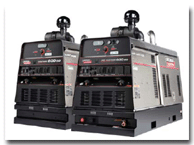 Heavy-duty Welder Designed with Mining in Mind


Lincoln Electric has added two new models in its industrial Vantage engine-driven welder series. The Vantage 600 SD and Air Vantage 600 SD are each equipped with a Tier 4 Final compliant turbo-charged diesel engine that meets all new EPA diesel fuel emission standards. Designed for heavy industrial applications such as mining, both engine-driven welders are engineered to handle a variety…. read more


Fire Suppression Systems for Offroad Equipment


AFEX fire suppression systems are designed and purpose-built to protect heavy off-road equipment from the threat of fire. At the heart of these systems is the AFEX Control Unit, which employs the latest in microprocessor technology to detect, and provide audible and visual signals to the operator, for any fire-related problem or alarm condition. These alerts are stored on the Control Unit's internal log for subsequent troubleshooting…. read more

Device Warns of Impending Damage to Vital Machinery


Emerson Process Management's new CSI 9360 vibration/position transmitter is intended to provide an economical solution for extending basic protection to compressor, pump and fan assets. Developed using OEM-supplied specifications, the transmitter detects emerging sleeve-bearing issues by capturing vibration or position data and translating it into a 4-20 mA signal for monitoring. This advanced warning allows customers to shut down these assets before significant equipment damage occurs  .…. read more

Top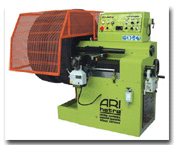 Drum/Disc Lathe Built to Handle Big Wheels


ARI-HETRA has introduced the WSBL2000 heavy-duty brake drum and disc lathe, designed specifically for truck and trailer wheels. According to the company, the WS-BL2000 brake lathe produces an evenly cut drum (maximum drum turning diameter 33.5 in.), rotor (maximum disc turning diameter 20 in.) or flywheel. The extra-large 60-mm- diameter arbor and oversized spindle dampens vibrations allowing it to work without the use of a tailstock—even for dual wheels with the drum attached. Advanced functions include powered in/out and left/right….read more
<

DECEMBER 1–5, 2014: AEMA 120th Annual Meeting, JA Nugget Casino Resort, Reno, Nevada, USA Contact: The American Exploration & Mining Association (formerly Northwest Mining Association); Tel: 509-624-1158; Web: www.miningamerica.org

FEBRUARY1–4, 2015: 41st Annual Conference on Explosives and Blasting Technique, New Orleans, Louisiana. Contact: Web: www.isee.org/2015-conference/

EBRUARY 15–18, 2015: 2015 SME Annual Conference & Expo CMA 117th National Western Mining Conference, Colorado Convention Center in Denver, USA. Contact: Web: www.smeannualconference.com/

MARCH 1–4, 2015: PDAC 2015, Metro Toronto Convention Centre, Toronto, Canada. Contact: Web: www.pdac.ca/convention

APRIL 14–17, 2015: 24th International Mining Congress and Exhibition of Turkey, Antalya, Turkey. Contact: Web: http://imcet.org.tr

MAY 11–15, 2015: Exponor Chile 2015, Community Activity and Trade Fairground, Association of Industries of Antofagasta, Antofagasta, Chile. Contact: Web: www.exponor.cl/

MAY 17–19, 2015: Haulage & Loading 2015, Wigwam Resort, Phoenix, Arizona, USA Contact: Tim Fearney, show director. Tel: +1 678-822-9804; E-mail: tfearney@mining-media.com; Web: www.haulageandloading.com

JUNE 16–18, 2015: Longwall USA Exhibition and Conference, David L. Lawrence Convention Center, Pittsburgh, Pennsylvania, USA. Contact: Web: www.longwallusa.com

For a full calendar of mining industry conferences and events - click here
| | |
| --- | --- |
| WHO'S MOVING WHERE | |

Probe Mines Ltd. announced that Jamie Sokalsky has been appointed as a director of the company. Sokalsky will be appointed as the non-executive chairman of the board of directors upon the retirement of Patrick Reid, current chairman. Sokalsky was president and CEO of Barrick Gold from June 2012 to September 2014. John Haflidson has been retained as senior mining advisor to work in developing the Borden Gold project.

OZ Minerals appointed Andrew Cole as the new managing director and CEO. Cole joins the company from Rio Tinto, where he has enjoyed a successful career over 22 years.

Uranium Energy Corp. appointed Scott Melbye as executive vice president. Prior to this, he spent 22 years with the Cameco Group of companies, both in the Saskatoon head office and with their U.S. subsidiaries. He last served as president of Cameco Inc.

Freeport-McMoRan appointed Mike Kendrick president- Climax Molybdenum Co. Kendrick has been with Freeport-McMoRan since 1997, and in 2009, moved to his current role of vice president-operational improvement, Freeport-McMoRan Mining Co. He will succeed Dave Thornton, who retired after 36 years.

Pershing Gold Corp. announced that Timothy M. Janke joined the company as COO. He was formerly COO for AuEx Ventures Inc. where he was responsible for operations planning and development of the Long Canyon project.

Sundance Resources announced that George Jones will retire as chairman at the end of November. Jones will be succeeded by former chief executive of Leighton Holdings, Wal King, who was appointed to the Sundance Board as non-executive deputy chairman in May.

ADX Energy announced that Paul Fink is stepping down as executive technical director to become a non-executive director.

Columbia Steel announced that Tony Miotke has accepted the position of dragline product engineering manager. Miotke joined Columbia Steel in 1999, having previously served as lead engineer for dragline products.
About - providing an abreviated version of the current print edition of E&MJ, WOMP is distributed throughout the world to decision makers in the global mining industry, the last week of every month.

Subscribe to E&MJ - To receive your own copy of the print edition of E&MJ, click here , and complete your details. E&MJ is available free of charge to qualified readers.

Contact - if you have views, opinons or comments or editoral that you would like to submit, we would be delighted to hear from you - click here

Next Issue - the next issue of Womp will be distributed on August 28th, along with the regular news and suppliers information, it will carry features on Shovel Performance, Blast Designs, Flotation and Mine Power Systems - click here

Top