Advancements in Technology
View





Training Good People to Be Great Miners



The mining industry has reached another fork in the road during 2012. The industry will now transition from scaling up great quantities of production capacity to optimizing the new projects they have recently brought online, while maintaining existing projects. As prices for metals soften, managers will turn their attention again to costs and profit margins.


Labor is one of those line items on the budget that continues to increase. It's also a complex consideration for most mines. Most mine managers can justify more money for quality work. Many mines outsource a great deal of work to professional mining contractors, who guarantee performance at a price. These miners either relocate or commute from other regions and return home when the "job" is done. Employing people from the surrounding communities to build a mine......... read more



Steve Fiscor, Editor in Chief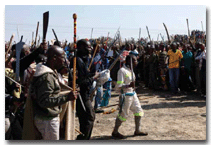 Peace Sought Following Violence at Lonmin's Marikana Mine
A week of violence that began on August 10, 2012, at Lonmin's Marikana platinum mine near Rustenburg, South Africa, culminated on August 16 when police shot into a crowd of striking mineworkers and their supporters, killing 34 and wounding 78. Another 10 people had been killed in violent incidents during the week prior to August 16. The immediate cause of the violence was credited to rivalry between the longestablished National Union of Mineworkers (NUM) and the relatively newer Association of Mineworkers and Construction Union (AMCU). AMCU has built membership, in part........ read more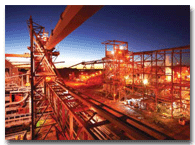 BHP Billiton Profit Drops; Olympic Dam Study Extended


Lower commodity prices and higher costs of production were major contributors to a 34.8% fall in BHP Billiton's attributable profit in its financial year ending June 30, 2012, down to $15.4 billion from $23.6 billion a year earlier. Reporting on August 22, 2012, the company noted that attributable profit for the year included a number of exceptional items: an impairment of $1.8 billion for the Fayetteville (United States) dry gas assets acquired from Chesapeake Energy in March 2011; an impairment of $355 million for its Nickel West (Australia)....... read more

Top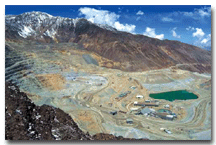 Anglo American and Codelco Settle Dispute over AAS


Anglo American and Codelco announced an agreement August 23, 2012, ending their dispute over ownership interests in Anglo subsidiary Anglo American Sur (AAS). The dispute began during the second half of 2011, when Codelco said it would exercise an option to acquire a American undermined Codelco's plan by selling a 24.5% interest in AAS to Mitsubishi. Mitsui was a factor in the dispute because it had agreed to finance Codelco's purchase of its targeted 49% AAS interest..... read more

Top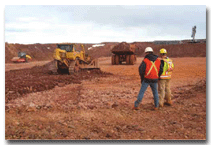 Feasibility Study for Proposed Labrador Trough Rail Line


Canadian National Railway (CN) announced on August 10, 2012, that a customer group of five mining companies— Cliffs Natural Resources, Labrador Iron Mines, New Millennium Iron, Cap- Ex Ventures Ltd. and Alderon Iron Ore— has committed to work with CN on a feasibility study into the construction of a proposed rail line and terminal handling facility to serve iron mines in the northern Labrador Trough of Quebec and Labrador. CN, its partner in the project La Caisse de dépôt..... read more
| | |
| --- | --- |
| AROUND THE WORLD - USA & CANADA | |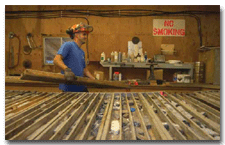 Canadian Zinc Reports Prairie Creek PFS, Plans Acquisition of Paragon Minerals


Canadian Zinc has reported the results of the preliminary feasibility study (PFS) on the company's 100%-owned Prairie Creek mine in the Northwest Territories, Canada, along with new independent mineral resource and mineral reserve estimates for the project. The company has also announced a planned acquisition of Paragon Minerals in an all-share transaction that values Paragon at C$2.8 million. Paragon is an...... read more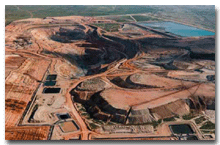 Paramount Reports Results for Sleeper PEA


Paramount Gold and Silver has reported the results of a preliminary economic assessment (PEA) for its 100%-owned Sleeper gold and silver project in Humboldt county, Nevada. Paramount acquired a 100% interest in the project in 2010, including the original Sleeper highgrade open-pit mine operated by Amax Gold from 1986 to 1996. The PEA was led by Scott E. Wilson Consulting Inc., using resource and geologic information developed by SRK Consulting (Chile) S.A. The Sleeper PEA proposes.... read more

Top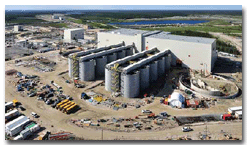 Construction 75% Complete at Detour Lake Gold


Detour Gold Corp. reported in late July that construction of its Detour Lake open-pit gold mine in northeastern Ontario is on schedule for gold production to start in the first quarter of 2013.
Construction was reported to be at the 75% completion mark. A significant portion of the remaining construction activities are within the process plant building where workers are proceeding with the mechanical, piping, electrical and instrumentation installations. In other areas, concrete placement and building.... read more

| | |
| --- | --- |
| AROUND THE WORLD - Latin America | |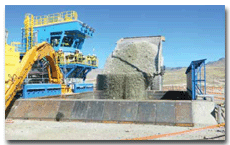 Xstrata Starts Commissioning at Antapaccay


Xstrata Copper started plant commissioning on time and within budget at its $1.47-billion Antapaccay copper project in southern Peru in early August 2012. The major, longlife open-pit is located about 10 km from Xstrata Copper's Tintaya open-pit mine, where mining activities are scheduled to come to an end by the first quarter of 2013. Antapaccay mine life is projected at more than 20 years. The project will initially produce an average of 160,000 mt/y of copper in concentrate, plus gold…… read more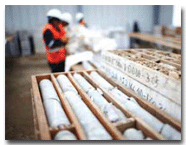 Hudbay Begins Construction at Constancia


Hudbay Minerals has begun construction at its open-pit Constancia copper mine in Chumbivilcas province in southern Peru following approval by its board of directors of a $1.5-billion investment in the project. The Constancia development schedule contemplates nine quarters of construction, with initial production in late 2014 and full production beginning in the second quarter of 2015. Production of contained copper in concentrate is expected to average approximately 118,000 mt/y during the first five full years of production (2015-2019) and 77,000 mt/y in subsequent years. Mine life will exceed 16 years. The concentrate…. read more

| | |
| --- | --- |
| AROUND THE WORLD - Australasia | |
Xstrata Advances McArthur River and Mount Margaret Projects


Xstrata has provided updates on activity at two of its mining operations in Australia. At Xstrata Zinc's McArthur River zinc mine in the Northern Territory, a $360-million investment has received corporate approval to more than double the mine's capacity from 2.5 million to 5.5 million mt/y of ore by 2014. The project remains subject to final Australian government approval. At Xstrata Copper's $124-million Mount Margaret copper mining…. read more

M&A Action in Australian Gold


Three agreed transactions have focused attention on a group of Australian gold producers that have operations primarily, but not exclusively, in Western Australia. St. Barbara Ltd. and Allied Gold have agreed to a transaction whereby St. Barbara will acquire Allied for cash and St. Barbara shares that value Allied at about A$552 million. Silver Lake Resources and Integra Mining have agreed to an all-share acquisition of Integra by Silver Lake that values Integra at about A$426 million. And Zijin Mining, China's largest gold producer, reported in early August it had acquired a more than 50% interest in Norton Gold Fields, following a May 2012 …. read more

Top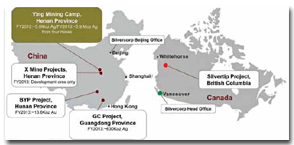 23,000-m Drilling Program at LM West and LM Silver Mines
Silvercorp Metals reports that a 23,000-m drilling program at its LM West and LM silver mines in the Ying Mining District, Henan province, China during the first half of 2012 substantially extended the down dip and striking extensions of previously defined mineralized zones within some major vein structures.
At LM West, drilling in the first half of 2012 totaled 17,974 m in 41 completed core holes using six underground…. read more


Oyu Tolgoi Phase-one Construction Nearing Completion
Turquoise Hill Resources, formerly Ivanhoe Mines, reported in mid-August 2012 that overall construction of the first phase of development of the Oyu Tolgoi copper-gold-silver project in the South Gobi region of Mongolia reached 90% completion at the end of the second quarter of 2012 and had advanced to 94% completion by the end of July. Total capital invested in first-phase construction to the end of second quarter was approximately $5.2 billion. Turquoise Hill holds a 66% interest in the project. The government of Mongolia…. read more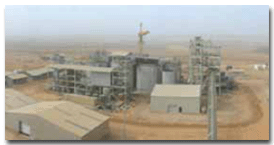 Endeavour Acquiring Avion in Agreed Transaction


Endeavour Mining and Avion Gold announced an agreement in early August 2012 whereby Endeavour will acquire Avion in an all-share transaction that values Avion at about C$389 million. Both companies' operations are focused on West Africa. Endeavour owns the Nzema open-pit gold mine in southwest Ghana and the Youga open-pit gold mine in south-central Burkina Faso, with combined production of about 200,000 oz/y. The company is developing its Agbaou gold project in…. read more


Wits Gold's De Bron-Merriespruit Project Moves to Final Feasibility
Wits Gold has appointed Turgis Consulting and MDM Engineering to complete the final feasibility study at the company's shallow De Bron-Merriespruit project in the southern Free State goldfield, South Africa. Turgis will be responsible for the detailed engineering and mine designs, while MDM will focus on the metallurgical plant and related design aspects. The study is slated for completion during the third quarter of 2013. Turgis recently completed the positive prefeasibility study (PFS) for the project, which confirmed that a mine at De Bron-Merriespruit was both technically and economically viable…… read more

Top
| | |
| --- | --- |
| THIS MONTH IN COAL | |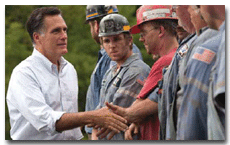 Romney Unveils Energy Policy Plan


A crucial component of Mitt Romney's plan for a stronger middle class is a comprehensive energy strategy to achieve North American energy independence by 2020 and establish America as an energy superpower in the 21st century. The recently nominated Republican presidential candidate has announced his national energy policy plan. Proposing significant regulatory reform and increased domestic energy production, Romney's plan promises to create 3 million jobs and more than $1 trillion in revenue by ramping up production of domestic energy …. read more

Rio Tinto to Close Blair Athol in Queensland


Rio Tinto Coal Australia's Blair Athol mine, near Clermont in Central Queensland, will finish mining operations this year after almost 30 years of production. Clermont Region General Manager of Operations Dawid Pretorius said the mine has been progressively scaling back production in a transition toward closure since 2010. "After close to three decades, Blair Athol's coal seams are largely mined out and the time has come to finish production," he said. "Coal mining has a  long and proud …. read more

NMA Scores Wins for the U.S. Coal Industry
Judges awarded the National Mining Association's (NMA) legal team two decisive wins in early August. The first case was WildEarth Guardians v. Ken Salazar and Antelope Coal LLC. The NMA entered to help defend the federal coal leasing program against environmental groups' challenges to the government's West Antelope II lease sale. The Powder River Basin (PRB) has been the venue for green activists who have repeatedly sought a legal toehold to tie up the federal coal leasing program by alleging environmental harm…. read more
| | |
| --- | --- |
| FEATURE - New Afton | |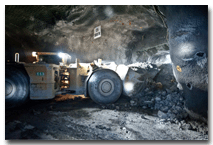 New Gold's New Afton Reaches Commercial Production
A team of seasoned professionals builds the next great block cave operation

By Steve Fiscor, Editor-in-Chief

During mid-July, about two weeks before New Gold's New Afton mine reached commercial production, E&MJ toured the mine and the new mill. The block cave mine had just blasted its 31st drawbell and the mill was transitioning from construction to operation. The progress the company had made in four years was remarkable. New Gold was breathing new life into the historic Afton mine.
Located about 10 km from Kamloops in south central British Columbia, the New Afton mine, which officially began production during June 2012, looks nothing like the old Afton mine. The Afton mine was originally operated by Teck Cominco as an open-pit coppergold mine. The old pit has been essentially drained and dewatered……. read more


For more companies with products in the Loaders Underground market -
Go Here
| | |
| --- | --- |
| FEATURE - DTH Drilling | |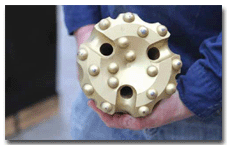 Productivity and Cost-efficiency Drive DTH Drilling


Down-the-hole (DTH) is one of the mainstream drilling technologies for mining and quarrying worldwide. Recent improvements have largely been aimed at making systems more fuel-efficient and at optimizing tool life.

By Simon Walker, European Editor

The development of down-the-hole (DTH) drilling stemmed from the realization that hole accuracy and the efficiency of transmitting power from drill to bit could be improved by placing the hammer as close as possible to the business-end of the drill string. As far as hole accuracy was concerned, by the late 1940s the need for deeper and deeper holes in both surface mines and quarries had led to problems with increasing deviation with depth, especially with small-diameter bits mounted on conventional sectional drill rods. Meanwhile, the nature of the rods themselves, and the way that they were joined using couplings, reduced the.... read more

Top

For more companies with products in the Drilling Equipment market -
Go Here
| | |
| --- | --- |
| FEATURE - Nonlinear Modeling | |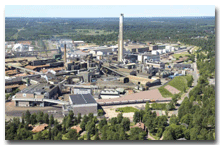 How Nonlinear Modeling Improved Understanding of a Hydrometallurgical Leaching Process


Development of quality mathematical models fit for industrial production processes, particularly leaching, has been considered to be very difficult. However, the results of a recent project illustrate that newer nonlinear modeling techniques have clearly improved the situation.

By Abhay Bulsari, Esa Lindell, Rauno Luoma and Tuomo Laukkanen

Mineral leaching processes are often quite complicated even if only one or two chemical reactions cause the leaching. The reactions are usually heterogeneous and can be mass-transfer limited or reaction-rate limited. At nickel products producer Norilsk Nickel Harjavalta Oy, the main reaction in the leaching process is a three-phase chemical reaction, and there are a few other reactions occurring in parallel leaching metals other than nickel. Such processes cannot be modeled practically…... read more


For more companies with products in the Mineral Processing market -
Go Here
| | |
| --- | --- |
| FEATURE - Australian Technology | |
CSIRO Helps Mining Industry Work More Efficiently


After a number of traditional global R&D leaders 'dropped the ball'—due to funding cuts, industry disinterest or complacency—Australia saw an opportunity, seized the initiative and became a world leader in mining-technology innovation

By John Miller, Australian Editor

With the introduction of a carbon tax in Australia and growing awareness of the need for more environmentally friendly exploration and mining practices, now more than ever the country's mining industry needs to work smarter and more efficiently to ensure its future viability. Australia's Commonwealth Scientific and Industrial Research Organization (CSIRO) is at the forefront of developing a range of technologies that can assist the industry improve its competitiveness and environmental performance. The CSIRO's Minerals Down Under Flagship works across the minerals..... read more

Top

| | |
| --- | --- |
| APPS | |
Current and active 'Apps' from the mining market.
Sandvik Expo



Sandvik Mining releases MINExpo iPad app featuring videos, 3-D tours and animations. Visit Sandvik Mining's tradeshow booth and get familiar with some of the latest products and services being showcased at MINExpo INTERNATIONAL 2012 — before even setting foot in Las Vegas.
"The app brings our MINExpo products and services to iPad users before the tradeshow," says Jeanette Svensson, Marketing Communications Manager at Sandvik Mining. "Whether you're at the office, on a plane or in a hotel room, Sandvik's showcase is always at your fingertips. Explore our offerings on your iPad, then come visit us in booth C-7309 to learn more."

Get the App - Go Here


Atlas Copco Underground



With the new app you easily and quickly get access to all the information you need from Atlas Copco. Here you will find our range of underground drilling rigs, loaders and trucks in high resolution images, presented as 3D turntables. THis makes it possible for you to view the product from all angles, in the palm of your hand. The app also contains videos, case stories, and a social news flow. And thanks to the GPS function, getting in contact with the nearest Atlas Copco representative has never been easier.

Get the App - Go Here


Rockmore International



ROCKMORE INTERNATIONAL is a leading global manufacturer of premium quality percussive rock drilling tools. Our high-performance products include threaded and tapered drill bits, DTH bits and hammers, extension and tunneling rods, integral and tapered rods, shank adapters and other drill tool accessories. With manufacturing centers in two hemispheres and distribution centers on nearly every continent, Rockmore International provides a wide range of quality tools to mining, construction, tunneling, quarrying, and water well projects all over the world.

Get the App - Go Here


Orica



Pocket Blast Guide from Orica Mining Services provides access to blast calculations, conversions, product information and tools for managing blasting operations on mobile devices

Get the App - Go Here


Sandvik Mining



Sandvik Mining is a leading global supplier of equipment and tools, service and technical solutions for the mining industry. The Sandvik Mining app provides you with the latest information and news about the company and its wide product range. It also features contact information for Sandvik Mining offices around the world. The app will be updated continuously so make sure to check for updates.

Get the App - Go Here


Michelin Truck Tire Locator



Find the nearest MICHELIN® truck tire or service provider wherever you go. Now you can find the nearest MICHELIN® truck tire or service provider wherever you go. Use the app to search for a provider by category or use it to call MICHELIN® ONCall™ directly. The app finds the nearest service providers based on your GPS location, or another location you enter yourself

Get the App - Go Here

For more details on our Apps listing or details on how to list your App - Go Here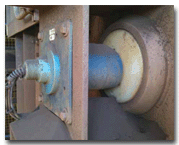 Enhanced Technology for Blocked Chute Detection


In the current "high volume equals higher profits" mining world, is there any excuse for settling for less than the best technology for the detection of blockage in chutes? Installing point detection devices in transfer chutes for blockage detection is necessary as it is an inexpensive way of pre-empting a chute blockage. These transfer chutes are everywhere at mining sites, and one plugged chute can stop production. Screens, both wet and sizing, are also key to the smooth operation of a facility, and they are just as susceptible (if not more) to blockages …. read more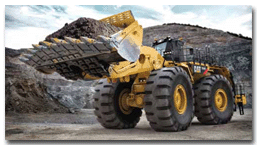 Cat's 994H Handles Heavy-duty Loading and Blending


Cat's largest wheel loader—the 994H— applies 1,463 net hp (1,092 kW) of power and an operating weight of 431,000 lb (195,500 kg) to the task of loading large mining trucks up to the rated capacity of Cat's 240-ton 793D. Lift configurations for the 994H include standard, high lift, extended high lift and super high lift, providing dump clearances at maximum lift that range from 19.2 ft (5.6 m) to 23.3 ft (7.1 m). Bucket choices include heavy-duty rock, high abrasion rock…… read more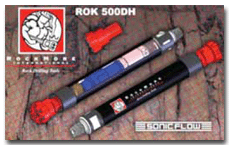 New DTH Hammer Designed for Deep Holes


Rockmore International's 5-in.-range ROK 500DH DTH hammer, the newest entry in its Deep Hole series, is intended to drill 5.5 to 6-in. (140 to 152-mm) diameter holes and designed to increase drilling effectiveness and efficiency in deep hole applications that may exceed 1,000 ft (300 m) in depth and include high volumes of water. The hammer has been designed to handle such challenges by incorporating new airflow and component design advancements, primarily in the air ports of…. read more

Top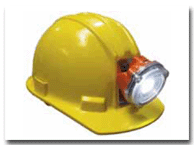 Miner Cap Lamp Works with Tracking Tags


NLT recently introduced its second-generation all-in-one mining cap lamp, the Genesis. The lamp's design includes the ability to integrate tracking tags while keeping the battery and light source in a single enclosure. Mine operators can choose from a number of standard RFID or Wi-Fi tags, powered by the cap lamp's high-capacity battery. Using the same contemporary design as NLT's Polaris lamp (shown here), the Genesis provides a light pattern that's .…… read more
Second-gen Fine Grinding Mills Offer Many Options


Innovative Technologies (IIT) says a variety of product and technology upgrades have been incorporated into the latest version of its new milling equipment developed for fine grinding of minerals. As part of a program of continuous product improvement, IIT notes it has further developed its patented 'm' series of high efficiency vertical milling equipment with the introduction of a new second generation system suitable for the milling of…. read more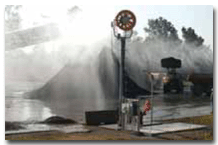 Tower Mounts Expand Dust Control Options


Dust Control Technology has developed a family of tower mounts for its atomized misting equipment that extends droplet hang time and range, while providing more precise aiming capability. By delivering millions of 50-200 micron droplets per minute from above dust-generating activities, towermounted units help commercial operations achieve superior particle control and prevent dust from migrating off-site, according to the company. Designed to withstand wind loads of at least 100 mi/hr…. read more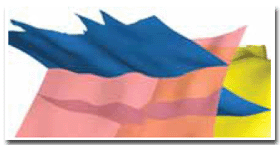 Software Builds Geological Shapes from Drillhole Data


MineSight Implicit Modeling (MSIM), soon to enter the market, will "revolutionize" the generation of geological surfaces and solids in a general mine planning system, according to software developer Mintec, which notes that constructing grade and lithological wireframe models routinely consumes geologists' time and attention. Generating accurate grade and geological .…. read more

Top

Field Computer Has Smartphone Style


Trimble's new Juno T41 handheld computer is designed to provide a smartphoneinspired option to users needing a rugged field computer. The Juno T41 handheld is a developer-friendly computing device for real-world field conditions, with either Windows or Android operating systems. Among the features included in the initial model are: Windows Embedded Handheld 6.5 or Android 2.3.4 Gingerbread operating system in choice of 10 languages; multi-touch user interface with capacitive….read more
OCTOBER 16–18, 2012: Coal Handling & Storage 2012, St. Louis, Missouri, USA. Contact: Tanna Holzer, Tel: 303-283-0640; E-mail: tholzer@mining-media.com; Web: www.mining-media.com
OCTOBER 19–31, 2012: 11th AusIMM Mill Operators' Conference 2012, Hobart, Tasmania. Contact: Belinda Martin, AusIMM; Tel: 61 3 9658 6125, Fax: 61 3 9662 3662; E-mail: bmartin@ausimm.com.au; Web: www.ausimm.com.au/milloperators2012/
OCTOBER 30–NOVEMBER 1, 2012 : Goldfields Mining Expo 2012, Kalgoorlie, Western Australia, Australia. Contact: Warren Queenan, Sales Manager, Reed Mining Events; Tel: 61 2 9422 2563; E-mail: warren.queenan@reedexhibitions.com.au; Web: www.goldfieldsminingexpo.com.au
NOVEMBER 14–16, 2012: Western Mining Electrical Association Bi-annual Meeting, San Antonio, Texas, USA. Contact: WMEA; Web: www.wmea.net
DECEMBER 3–5, 2012: Bauxite, Alumina and Aluminum Industry of Asia – Vision 2020, Nagpur, India. Contact: International Bauxite, Alumina & Aluminum Society (IBAAS); E-mail: info@ibaas.info; Web: www.ibaas.info
FEBRUARY 24–27, 2013: 142nd SME Annual Meeting and Exhibit and CMA 115th National Western Mining Conference, Denver, Colorado, USA. Contact: Society for Mining, Metallurgy & Exploration; Tel: 303-948- 4200; E-mail: meetings@smenet.org; Web: www.smenet.org/meetings
MARCH 3–6, 2013: PDAC 2013, International Convention, Trade Show & Investors Exchange-Mining Investment Show, Toronto, Canada Contact: Prospectors & Developers Association of Canada; Tel: 416-362-1969 ext. 1; Fax: 416-362-0101; E-mail: convention@pdac.ca; Web: www.pdac.ca
APRIL 15–21, 2013: bauma 2013, Munich, Germany. Contact: Messe München GmbH; Tel: 49 89 949-11348; Fax: 49 89 949-11349; E-mail: info@bauma.de; Web: www.bauma.de
For a full calendar of mining industry conferences and events - click here
| | |
| --- | --- |
| WHO'S MOVING WHERE | |

Kinross has appointed J. Paul Rollinson CEO, replacing Tye W. Burt. Rollinson has also replaced Burt on the board of directors. The company also announced that Brant Hinze has been promoted to president and COO; Geoffrey P. Gold has been promoted to executive vice president, corporate development and chief legal officer; and James Crossland has been promoted to executive vice president, corporate affairs.

Newmont Mining Corp. has promoted Gary Goldberg to president and COO.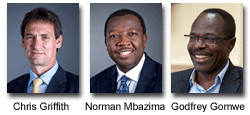 Anglo American plc announced a number of executive management changes across its South Africabased businesses following Neville Nicolau's decision to resign as CEO of Anglo American's Platinum business to pursue other interests. Anglo American Platinum Ltd. Has appointed Chris Griffith CEO; Kumba Iron Ore Ltd. has appointed Norman Mbazima CEO; Anglo American has appointed Godfrey Gomwe CEO of its thermal coal business; and Anglo American South Africa- Anglo American has appointed Khanyisile Kweyama executive director of Anglo American South Africa.

Great Basin Gold announced that President, CEO and Director, Ferdi Dippenaar has resigned. Lou Van Vuuren, CFO, has been appointed interim CEO and director. Patrick Cooke , a director of the company and the audit committee chair, will temporarily serve as unremunerated interim CFO.

Trans-Tasman Resources Ltd. has appointed Tim Crossley CEO.

Hillgrove Resources Ltd. announced that Managing Director Drew Simonsen has resigned. Russell Middleton, secretary and CFO, has been appointed acting CEO.

Brigus Gold Corp. has appointed Daniel Racine COO.

PwC has appointed Sean Hoover metals leader for its U.S. Industrial Products practice. He will take over the role from Robert McCutcheon, who now leads PwC's U.S. Industrial Products practice.
About - providing an abreviated version of the current print edition of E&MJ, WOMP is distributed throughout the world to decision makers in the global mining industry, the last week of every month.

Subscribe to E&MJ - To receive your own copy of the print edition of E&MJ, click here , and complete your details. E&MJ is available free of charge to qualified readers.

Contact - if you have views, opinons or comments or editoral that you would like to submit, we would be delighted to hear from you - click here

Top