The latest from the
World Mining Equipment
Video Library
View



Securing Domestic Supply Lines

Few mining companies had released third quarter earning statements as this edition was going to press. Foreshadowing announcements, however, were indicating that inflationary pressures are taking their toll. Meanwhile, a strong U.S. dollar and rising interest rates are keeping gold prices below $1,700/oz. Softening demand for base metals had also caused prices to dip, which is surprising considering that inventories for metals stand at extremely low levels. It now seems likely prices for all fossil fuels, especially diesel and gas (petrol), will begin climbing again. That could force some economies into a recession.
Other macro-economic factors that could impact miners include: the Russia-Ukraine conflict, China and mid-term elections in the U.S. .... read more


Steve Fiscor, Publisher & Editor in Chief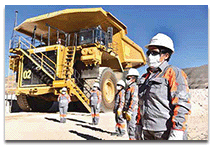 Anglo Starts Commercial Copper Production at Quellaveco
Anglo American plc announced the start of commercial copper operations at its Quellaveco project in Peru, following the successful testing of operations and final regulatory clearance. Quellaveco is expected to produce 300,000 metric tons per year (mt/y) of copper equivalent volume on average over its first 10 years. "Our delivery of Quellaveco, a major new world class .... read more
Newmont Delays Yanacocha Sulfides Project
Newmont Corp. has announced it will delay the full-funds investment decision for the Yanacocha Sulfides project in Peru to the second half of 2024. The company has also appointed Dean Gehring as Chief Development Officer, Peru, to lead its Yanacocha operations and the Sulfides project. After an extensive review of the Yanacocha Sulfides project scope and schedule, Newmont revised the project timeline The company cited unprecedented and evolving market conditions, including the continued war in Ukraine, record inflation rates .... read more

Top
Tailings Dam Fails at Jagersfontein Diamond Mine in South Africa
The Jagersfontein tailings dam suffered a failure on September 11. Liquid sludge flowing from the dam killed multiple people and sent as many as 40 to the hospital as it swept away homes and cars in the town of Jagersfontein in South Africa's Free State Province, 500km southwest of Johannesburg. Jagersfontein Developments, which is..... read more


AEM Partners with Teck on the San Nicolás Mine in Mexico
Agnico Eagle Mines Ltd. (AEM) purchased a 50% interest in Minas de San Nicolás, S.A.P.I. de C.V. (MSN), a Teck Resources subsidiary that owns the San Nicolás copper-zinc development project located in Zacatecas, Mexico. The $580 million transaction will make Teck and AEM 50:50 joint venture partners at San Nicolás. "The opportunity to add the operating and development experience of AEM should generate substantial benefits for the project including for all stakeholders throughout the project life cycle," Teck President and CEO Don Lindsay said ..... read more


| | |
| --- | --- |
| AROUND THE WORLD - USA & CANADA | |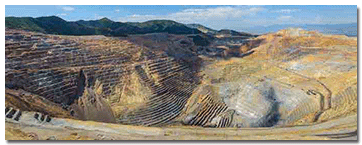 Underground Mining Begins at Kennecott
Rio Tinto has approved a $55 million investment in development capital to start underground mining and expand production at its Kennecott copper operations in Utah, United States. Underground mining will initially focus on an area known as .... read more


AngloGold Ashanti to AcquireSterling Properties from Coeur
AngloGold Ashanti has entered into an agreement with Coeur Mining to acquire its subsidiary, Coeur Sterling, Inc., for $150 million in cash. Coeur Sterling owns properties that abut AngloGold Ashanti's properties in the Beatty district of southern Nevada. The properties to be acquired in the transaction include Coeur's C-Horst, SNA, Secret Pass and Daisy ore bodies, as well as the decommissioned Sterling mine and all tenements that surround these properties. "This acquisition further enhances the value ....read more

Top
Bunker Hill Announces PFS for First Phase of Mine Restart
Bunker Hill Mining Corp. reported the results of a Prefeasibility Study (PFS) for the first phase of the restart of the Bunker Hill mine, located in Kellogg, Idaho, United States. The PFS estimates a $55 million initial capital cost to rapidly restart the mine by the end of 2023, generating more than $25 million of annual average free cash flow from an initial 5-year mine plan based on probable mineral reserves to produce more than 315 million lb of zinc, 145 million lb of lead, and 3 million oz of silver at an estimated all-in sustaining cost of .... read more


| | |
| --- | --- |
| AROUND THE WORLD - Latin America | |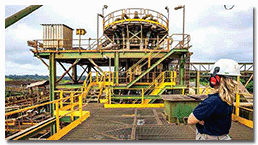 Great Panther Seeks Bankruptcy Protection
Vancouver-based Great Panther Mining Ltd. filed a notice of intention (NOI) to make a proposal under Canada's Bankruptcy and Insolvency Act, which will provide creditor protection while the company seeks to restructure its affairs. Great Panther owns the Tucano gold mine in Brazil. The company recently completed the sale of ... read more


Top
TZ Gold Project Moves Forward in Brazil
Quebec-based G Mining Ventures Corp. is proceeding with the construction of the Tocantinzinho (TZ) gold project. The company recently received essential installation license extensions, and it is moving forward with recruitment, engineering, procurement, and early works activities. "GMIN was reorganized in October 2020 with the objective of building the next intermediate gold producer," said G Mining Ventures President and CEO Louis-Pierre Gignac. "In less than two years, the management team acquired a great ... read more


| | |
| --- | --- |
| AROUND THE WORLD - Australasia | |
Greatland Secures Pathway to Fully Fund Havieron
Greatland Gold plc recently executed debt and equity agreements to secure up to a total of A$340 million ($230 million) in new funding that is expected to enable Greatland to fully fund its 30% share of Havieron into production. Discovered by Greatland in 2018, Havieron has the potential to become a long-life …. read more


Top

Rio Tinto and Baowu Form JV to Develop Western Range
Rio Tinto (54%) and China Baowu Steel Group Co. Ltd (46%) have agreed to enter into a joint venture with respect to the Western Range iron ore project in the Pilbara, Western Australia, investing a total of $2 billion to develop the mine. Western Range's annual production capacity of 25 million mt of iron ore will help sustain production of the Pilbara Blend from Rio Tinto's existing Paraburdoo mining hub. The project includes construction of a primary crusher and an 18-km conveyor system linking it to the existing Paraburdoo processing plant  …. read more


Ivanhoe, Gécamines Break Ground on Kipushi in DRC
Kipushi Corp. SA (KICO), a joint venture between Ivanhoe and DRC state-owned mining company Gécamines, recently hosted a breaking-ground ceremony to commemorate the start of construction of the …. read more
Top
Amplats Lowers Guidance on Smelter Issues
Anglo American Platinum (Amplats) lowered its 2022 refined production guidance to 3.7 - 3.9 million ounces (oz) of platinum group metal ounces (PGM) from 4.0 - 4.4 million PGM oz. The company said its quality assurance processes detected the delivery of sub-standard materials for the Polokwane smelter rebuild. Delivery of replacement materials will result in a 2-month delay for project completion. As a result, there will be a buildup in work-in-progress inventory in 2022 and a short-term timing impact to refined PGM production. "As we undergo our first .... read more



Carbon Capture Begins at NTPC Power Plant in India
Carbon capture is underway at NTPC's 500-MW, coal-fired power plant (Unit-13) at Vindhyachal Super Thermal Power Station, in Madhya Pradesh, India. The NTPC Energy Technology Research Alliance (NETRA) selected Carbon Clean and Green Power International Pvt. Ltd to set up the carbon capture plant at NTPC Vindhyachal. This plant is designed to capture 20 metric tons of carbon dioxide (CO2) per day, which will use a .... read more


Top
SSR Mining Restarts Ҫӧpler Mine in Turkey
SSR Mining said it has received the required regulatory approvals from Turkish Government authorities and will commence restart of all operations at the Ҫӧpler gold mine. During Ҫӧpler's temporary suspension, the company accelerated and completed planned maintenance in Ҫӧpler's sulphide plant that had been previously scheduled for the fourth quarter of 2022, which included scheduled partial relining of the face bricks in Autoclave No. 1. With this maintenance work now complete, the company said no .... read more



| | |
| --- | --- |
| THIS MONTH IN COAL | |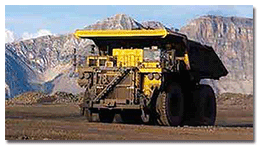 Teck Temporarily Suspends Operations at Elkview Coal
Teck Resources reported a structural failure of the plant feed conveyor belt at its Elkview metallurgical coal mine in the Elk Valley of British Columbia, Canada. Initial estimates are that production at Elkview Operations will be interrupted for 1-2 months as repairs are implemented. Teck said it will reschedule planned .... read more


Top
Federal Judge Rules Against Rosebud Expansion
Billings Federal District Court Judge Susan Watters ruled that the Department of Interior's Office of Surface Mining (OSM or the federal defendants) erred in approving Western Rosebud Mining's Area F permit application in June 2019. The court ruled that the OSM failed to consider the impact on the Yellowstone River and climate change. The expansion would allow Rosebud to mine an additional 6,500 acres containing about 70 million tons of coal, most of which would be burned by the Colstrip power plant to generate electricity  …. read more

| | |
| --- | --- |
| FEATURE - Nordic Mining 2022 | |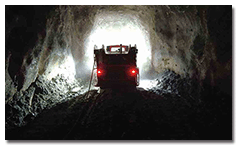 Setting the Standard for Safe, Sustainable Mining
News and developments from Scandinavian mining companies and suppliers

By Carly Leonida, European Editor

Ever the innovators, Scandinavian mining companies and mining equipment, technology and services (METS) providers have not disappointed in 2022. From releasing new high-performance autonomous and battery-electric vehicles (BEVs), to testing a new mining method, and acquisitions that edge towards the creation of net-zero flowsheets, in no other geography is the pace and quality of innovation so consistently high. With this in mind, let's look at some important projects and new products from the past 12 months ..... read more



For more companies with products in the BEV - Battery Electric Vehicles market -
Go Here
| | |
| --- | --- |
| FEATURE - Tailings Management | |
Strategies of Containment
Producers are taking a long, hard look at traditional methods of tailings management, and finding that new operational models, emerging technologies, integrated planning and periodic reassessment can be key in meeting future challenges.

By Russell A. Carter, Contributing Editor

Big numbers are important in mining. The industry depends on high levels of market demand for mineral commodities, large volumes of mine throughput, millions of tons of finished- product output and capex funding in the triple-digit billions to maintain essential profitability and growth. Right now, some of the biggest numbers it has to deal with are annual tailings production and cumulative tailings currently in impoundments – both of which are directly and indirectly linked to all of those affirmative indicators, but generally not in a positive way. Historically, tailings have been a liability for miners, and the level of that liability is rising. ..... read more

Top

For more companies with products in the Mineral Processing market -
Go Here
| | |
| --- | --- |
| FEATURE - Conveyors | |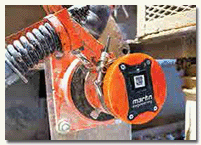 Industry 4.0 Solutions Improve Conveyor Performance
New and proven digitization, automation and machine monitoring solutions offer optimal conveyor designs, improved production, and simplified, safer maintenance

By Jesse Morton, Technical Writer

New and established Industry 4.0 solutions feature prominently in the latest news on mining conveyor solutions. While the pace of innovation in the sector is comparable to that of other sectors within the mining equipment space, the number of features and benefits offered by the top digitization, automation, and machine monitoring solutions appear to beat the averages. Undoubtedly, when these solutions are used, conveyor performance is improved, suppliers say. Further, conveyor design, monitoring, and maintenance tasks are simplified and made safer ..... read more


For more companies with products in the Conveyors market -
Go Here
| | |
| --- | --- |
| FEATURE - Maintenance | |
Shared Data and Experience Improves Maintenance Practices and Operational Performance
Technicians can now observe and share data in real time accelerating optimization rates.

By Steve Fiscor, Editor-in-Chief

Professionals learn from collaboration. Sharing their experience and bouncing ideas off one another allows them to think through problems with like-minded individuals. New approaches to work are allowing front-line managers to share notes (and photos) about breakdowns and repairs with colleagues halfway around the world either in real time or saved as reference material for when anyone in the company encounters similar problems. With the constant pursuit of continuous improvement, maintenance practices always garner attention. The costs and knock-on effects on availability and productivity can be profound. Extending the life of equipment or improving availability by a few percentage points can save a mining operation or a mill tens of millions of dollars .... read more

Top


For more companies with products in the Maintenance market -
Go Here
| | |
| --- | --- |
| Video Presentations | |
The latest listings from the World Mining Equipment Video Library - to view the video, click the image.
For more details on the Video Hub -

Go Here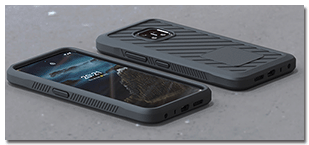 Nokia - specialised devices for hazardous environments.
Nokia is enhancing its range of ruggedised user equipment for use in hazardous, flammable, explosive and dusty environments with the introduction of news versions of the Nokia Industrial 5G field router and the .... read more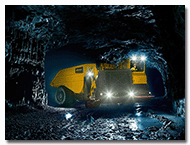 Epiroc - large order for mining trucks in Australia
Gold Fields, one of the world's largest gold producers, has ordered a fleet of Minetruck MT65 haulers with automation features to be used at the Granny Smith gold mine in Western Australia. The equipment order is valued at about MSEK 130 and was booked in the third quarter 2022.....read more
Intelsat Joins the ITU Partner 2 Connect Digital Coalition
Hannes Intelsat, operator of one of the world's largest integrated satellite and terrestrial network and provider of inflight connectivity (IFC), has joined the Partner2Connect Digital Coalition. The coalition is a multistakeholder alliance launched by the International Telecommunication Union (ITU) .... read more

Top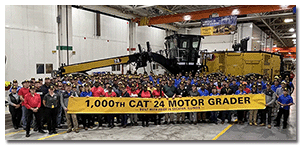 Caterpillar celebrates 1,000th Cat® 24 Motor Grader
In 1995, Caterpillar introduced the Cat® 24 Motor Grader specifically designed to build and maintain haul roads at mining sites with ultra-class haul trucks. Now in its third generation, the Cat 24 offers 399- to 518-kW (535- to 694-hp) ....read more
Volvo Construction Equipment - new gentle giant
Volvo Construction Equipment (Volvo CE) is introducing its biggest model yet to its continually expanding hybrid range. Boasting all the power of their non-hybrid counterparts, the 38-ton class EC380E Hybrid has the added benefit of being a more environmentally respectful choice, offering .... read more



Murray & Roberts Cementation steadily transforms its workforce
Transformation in the world of underground mining – historically dominated by white males – is not easy to achieve but Murray & Roberts Cementation, probably the biggest and best-known mining contractor operating in South Africa, believes it is making steady progress towards its goal of having a workforce that reflects the demographics .... read more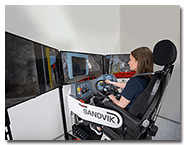 Sandvik, Digital Trainer – TH simulator, for trucks.
Sandvik is introducing a new operator training simulator, Digital Trainer – TH, an efficient and flexible tool for Sandvik truck operator training. Following on from the introduction of a similar solution for their Toro™ LH621i and Toro™ LH517i loaders in 2020, the Digital Trainer – TH is initially for the Toro™ TH663i and Toro™ TH551i trucks .…. read more

Top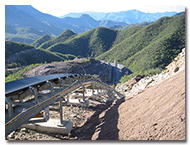 FLSmidth to supply overland conveyor system for a major copper-gold mine in Southeast Asia
FLSmidth has been chosen to supply an overland conveyor (OLC) for a large, established copper-gold mine in Southeast Asia, the order follows a large equipment order from the same customer and site earlier in 2022. The pit-to-plant conveying system, which is over 5km in length, has gearless drive ....read more
OCTOBER 24-30, 2022: bauma 2022, Munich, Germany.
Contact: Web: www.bauma.de
NOVEMBER 23-24, 2022: ABMEC Conference, Forest Pines, Lincoln, UK.
Contact: Web: https://abmec.org.uk/abmec-conference-exhibition-2022/
DECEMBER 6-9, 2022: American Exploration & Mining Association Conference, The Nugget, Reno, Nevada, USA.
Contact: Web: www.mining-america.org
FEBRUARY 3-8, 2023: International Society of Explosives Engineer's 49th Annual Conference on Explosives and Blasting Technique, San Antonio, Texas, USA.
Contact: Web: www.isee.org
FEBRUARY 26-MARCH 1, 2023: Society for Mining, Metallurgy and Exploration (SME) Annual Conference & Expo, Denver, Colorado USA.
Contact: Web: www.smenet.org
APRIL 2-5, 2023: Haulage & Loading, El Conquistador Resort, Tucson, Arizona USA.
Contact: Web: www.haulageandloading.com
MAY 9-11, 2022: US Coal Show, Pittsburgh, USA
Contact: Web: www.uscoalshow.com
JUNE 13-16, 2023: Expomin, Santiago, Chile
Contact: Web: www.expomin.cl
| | |
| --- | --- |
| WHO'S MOVING WHERE | |
Newmont Corp. announced that Aaron Puna will join its Executive Leadership Team as executive vice president and chief technology officer effective January 2023. Puna most recently served as CEO of Anglo American's copper business in Chile, where he led the implementation of Anglo American's autonomous haulage fleet at high altitude operations, which drove the country's copper production to more than 600,000 tons per year.

Quebec-based Nouveau Monde Graphite recently added three executives to its management team, which includes: Anoop Singh, P.E., as vice president, mining projects; Josée Gagnon, LL.B, MBA, as vice president, legal affairs, and corporate secretary; and Kelly LeBlanc as manager, indigenous relations.

Altaley Mining Corp. named Mike Struthers as its new CEO. He was previously CEO of Empire Metals Ltd., and current CEO of Candelaria Mining Corp. Altaley hopes to overcome recent challenges to deliver its Tahuehueto project in Mexico.

Piedmont Lithium announced the addition of two new senior leaders as part of its growth strategy to support the increasing demand for domestic lithium hydroxide. Nick Fouche , a Rio Tinto veteran with a global resume, has been named the senior vice president of capital projects; and Erin Sanders, an award-winning integrated communications strategist, has been named the vice president of corporate communications.

Archer Exploration Corp. appointedTom Meyer president and CEO. He replaces Keith Bodnarchuk, Archer's outgoing interim CEO, who will continue to work with Archer in an advisory role.

Sandvik has appointed Mats Eriksson as president of business area Sandvik Mining and Rock Solutions and new member of the Sandvik Group Executive Management, effective October 1, 2022. He is currently president of load and haul, a division within Sandvik Mining and Rock Solutions.

Cat-dealer Finning International Inc. will promote Kevin Parkes, currently Finning's COO, to president and CEO during mid November. He succeeds Scott Thomson, president and CEO, who is retiring after leading the company for the last nine years.

The U.S. National Mining Association named Mitch Krebs as its chairman of the board. Krebs is president, CEO and member of the board of Coeur Mining Inc.
About - providing an abreviated version of the current print edition of E&MJ, WOMP is distributed throughout the world to decision makers in the global mining industry, the last week of every month.

Subscribe to E&MJ - To receive your own copy of the print edition of E&MJ, click here , and complete your details. E&MJ is available free of charge to qualified readers.

Contact - if you have views, opinons or comments or editoral that you would like to submit, we would be delighted to hear from you - click here

Top