The latest from the
World Mining Equipment
Video Library
View




Emerging Transitions

The last month or so has been an incredibly busy period for E&MJ and the Mining Media International team. Coming off the heels of the annual PDAC event in Toronto, MMI hosted its first Haulage & Loading conference (H&L) in Tucson before heading off to the gigantic bauma equipment fair in Germany. During that period, MMI also published this edition of E&MJ along with the 2019 Best of Germany, a supplement it produces in cooperation with the Mining Division of the German Engineering Federation (VDMA Mining). Several noticeable transitions emerged along the way.
H&L 2019 was a big success for the MMI team. Success in the conference business, much like any business, is best defined by customer satisfaction .... read more


Steve Fiscor, Publisher & Editor in Chief

Iron Bridge Magnetite Project Gets Approval
Fortescue Metals Group Ltd. subsidiary FMG Magnetite Pty Ltd. and joint-venture partner Formosa Steel IB Pty Ltd. have approved the development of Stage 2 of the Iron Bridge Magnetite Project. It is located 145 kilometers (km) south of Port Hedland and owned through an unincorporated joint venture between FMG Iron Bridge Ltd., which has 69%, and Formosa, which.... read more
Debswana Investing $2B to Extend Life of Jwaneng Mine
Debswana Diamond Co., a 50/50 joint venture between the government of Botswana and De Beers Group, has initiated its Cut-9 project to extend the life of the Jwaneng mine in Botswana to 2035. The project is expected to yield an estimated 53 million carats of rough diamonds from 44 million metric tons (mt) of treated material .... read more

Top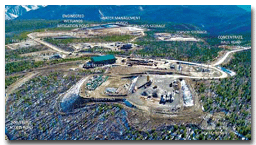 Jervois Mining, eCobalt Will Combine
Jervois Mining Ltd. and eCobalt Solutions Inc. have entered into an arrangement to combine. In the transaction, Jervois will acquire all of the issued and outstanding common shares of eCobalt that Jervois does not already own. On January 22, Jervois announced it would complete an at-market merger with M2 Cobalt Corp. by acquiring all .... read more


Premier Gold Sells Several Properties Project
Premier Gold Mines Ltd. has divested several non-core properties in four different transactions. Eight properties and one subsidiary has been sold or is optioned for total consideration of US$2.1 million. The related properties include the Geisler Property, located in the Red Lake district of Ontario, the Faymar Property in Timmins, Ontario, and the Santa Teresa Property, located in .... read more

| | |
| --- | --- |
| AROUND THE WORLD - USA & CANADA | |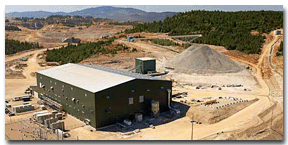 Copper Mountain Has New Plan for British Columbia Properties
Copper Mountain Mining has announced a new, integrated life-of-mine production plan for its Copper Mountain properties in southern British Columbia. The plan includes a modest expansion of throughput for the Copper Mountain mill from 40,000 metric tons per day (mt/d) to 45,000 mt/d and integrates production from the New Ingerbelle deposit 1 kilometer (km) .... read more


PolyMet Gets Final Federal Permit for NorthMet Project
PolyMet Mining Inc., a wholly-owned subsidiary of PolyMet Mining Corp., announced the U.S. Army Corps of Engineers has issued its Record of Decision and Section 404 wetlands permit for the NorthMet Project. Along with recently issued state permits, PolyMet now holds all necessary permits to construct and operate the NorthMet copper-nickel-precious metals mine and processing plant located near Hoyt Lakes, Minnesota ....read more

Top
Hudbay Gets Mine Plan of Operations for Rosemont
Hudbay Minerals Inc. has received the approved Mine Plan of Operations (MPO) for the Rosemont project, located in Arizona, from the U.S. Forest Service. The issuance of the MPO is the final administrative step in the permitting process. "Receiving the MPO is an important milestone that completes the permitting process at Rosemont," said Alan Hair, Hudbay president and chief executive officer. "With the receipt of the Section 404 Water .... read more

| | |
| --- | --- |
| AROUND THE WORLD - Latin America | |

Luminex Joins With BHP to Advance Concessions in Ecuador
Luminex Resources has entered into a non-binding letter of intent with BHP for an earn-in and joint-venture agreement on Luminex's Tarqui 1 & 2 mining concessions in southeast Ecuador. BHP will have the right to earn up to a 70% ownership interest in the property by investing up to $75 million in exploration expenditures and making up to $7 million in cash .... read more


Top
Agua Rica, Alumbrera Plan Integration
Yamana Gold, Glencore International, and Goldcorp have signed an integration agreement pursuant to which Yamana's Agua Rica project will be developed and operated using the existing infrastructure and facilities of the Alumbrera mine in Catamarca province, Argentina. The Alumbrera mine is owned 50% by Glencore, 37.5% by Goldcorp, and 12.5% by Yamana. Ownership of the integrated project is planned at Yamana 56.25%, Glencore 25%, and.... read more

| | |
| --- | --- |
| AROUND THE WORLD - Australasia | |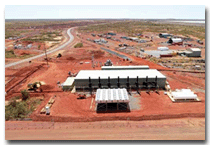 Newmont Finishes Tanami Power Project
Newmont Mining Corp. announced it has completed the Tanami Power Project in Australia safely and on schedule. The project included the installation of two power stations, a 66-kV interconnected power line, and a 275-mile (450 km) natural gas pipeline. The pipeline was built and will be maintained by Australian Gas Infrastructure Group …. read more


Top

Rio Tinto Commissions Amrun Bauxite Mine
Rio Tinto completed commissioning of its $1.9 billion Amrun bauxite mine on the Cape York peninsula in northern Queensland in early March. The mine and associated processing and port facilities are located about 40 kilometers (km) south of the company's existing East Weipa and Andoom mines and will replace depleting production from East Weipa …. read more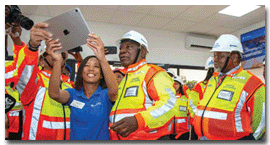 Vedanta Zinc Starts Gamsberg Mine
By Gavin du Venage, South African Editor
The Gamsberg zinc mine in South Africa's Northern Cape Province has now officially launched. The US$400 million project has a life of mine of 13 years and will produce 4 million tons per year (t/y) from its open pit, and another 250,000 tons annually of concentrate from its concentrator plant …. read more
Top
Endeavour's Ity CIL Project Pours First Gold
Endeavour Mining's Ity carbon-in-leach (CIL) project in Côte d'Ivoire poured its first gold on March 18, ahead of schedule and under budget. The initial pour yielded approximately 1,800 ounces (oz) of gold. CIL processing at Ity is coming on stream as the property's heap-leach operations are winding down. Mining and stacking activities for heap leaching ceased in mid-December. Residual gold from the heaps of up to 5,000 oz …. read more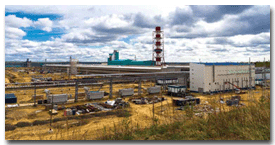 RUSAL, RusHydro Launch First Production Line of BoAZ
RUSAL, a leading global aluminum producer, and PJSC RusHydro, one of Russia's largest generating companies, have commissioned the first potline at the Boguchansky aluminum smelter (BoAZ), part of the Boguchany Energy and Metals Complex (BEMO). The joint agreement, which includes the BEMO project consisting of the Boguchansky aluminum smelter and Boguchanskaya HPP, was signed …. read more


Top
Eldorado Gold Restarts Mining at Kişladağ
As of April 1, mining, crushing and placing of ore on the Kişladağ heap-leach pad has resumed, according to the owner, Eldorado Gold. Further testwork is under way to determine the effects of a 250-day leach cycles on deeper material, the results of which are expected to be available in late 2019 or early 2020, the company said. "My thanks to Matt Badylak, Kişladağ general manager, and the team at site, as resumption of operations .… read more



| | |
| --- | --- |
| THIS MONTH IN COAL | |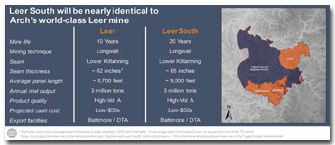 Arch Coal Starts Development of New Coking Coal Mine in West Virginia
Arch Coal Inc. has commenced development of a new, world-class longwall mine in Barbour County, West Virginia, USA, that will produce an estimated 3 million tons of premium, High-Vol A coking coal annually for sale into an undersupplied global marketplace. The new mine, Leer South, will be similar in virtually every .... read more


Top

-->
| | |
| --- | --- |
| FEATURE - Leach Pad Design | |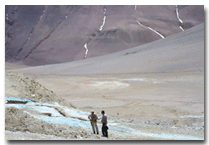 Designing Leach Pads for the Longview
Experts say studies conducted early should give insight that can be used throughout the life of the system.

By Jesse Morton, Technical Writer

The common thread in the advice on heap-leach pad (HLP) system design given to E&MJ by high-level people at a handful of junior mining companies centers largely on preparing for the worst. Specifically, it covers the basic and early steps required to minimize the chances of the worst ever occurring. Whether the miner is operating in lush, subtropical Mexico or the barrens of Nevada, when planning a pad, the long-term goal of closing it in the distant future, without incident, should be the .... read more


| | |
| --- | --- |
| FEATURE - Waste Management | |

Shrinking the Waste Line
Producers and service providers are mapping out pathways to more eco-friendly handling of mining's solid-waste materials ranging from tires to trash.

By Russell A. Carter, Contributing Editor.

Mine operators expect to encounter unanticipated incidents throughout the life of a project. It could be an outcome of a bad decision in an early stage of development, an unexpected natural event, or a shift in the regulatory framework. Maybe the drilling contractor pulled cores that were too small in diameter to provide valid crushing samples during the testwork phase. Or, years of unprecedented drought shrink a once abundant water supply to a trickle. Changes to mining taxes and royalties ..... read more

Top
| | |
| --- | --- |
| FEATURE - Dragline Maintenance | |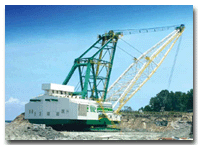 Keeping the Largest Machines Moving
In addition to routine maintenance, planners should consider new motor and braking technology during upgrades.

By Steve Fiscor, Editor

Draglines are not only some of the most efficient tools for moving material, they are likely the oldest continuously operating machines in the mining business. That's a testament to the original engineering and design and current maintenance programs. Technology has evolved substantially as these machines have aged. Unfortunately, slack market conditions prevented mine operators from making all the changes they wanted to over the years. In many cases, maintenance programs were collision.... read more


For more companies with products in the Dragline market -
Go Here
| | |
| --- | --- |
| FEATURE - Shaft Sinking | |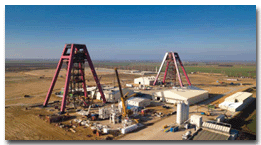 Boring the Shafts at Slavkaliy's Nezhinskiy Project
Shaft-sinking crews flatten the SBR learning curve with experience.

Slavkaliy began the planning phase for the Nezhinskiy potash mine near Soligorsk, Belarus, eight years ago. In July 2017, the company began working with Deilmann- Haniel , a member of The Redpath Group, to construct two freeze shafts and approximately 9,000 meters (m) of horizontal excavations. The difference between this shaft-sinking project and previous ones in the region is that it will use Herrenknecht's Shaft Boring Roadheader (SBR) .... read more



Top

| | |
| --- | --- |
| Video Presentations | |
The latest listings from the World Mining Equipment Video Library - to view the video, click the image.
For more details on the Video Hub -

Go Here

Eriez Says Ball/SAG Mill Trunnion Magnets Offer Savings
Separation technology specialist Eriez has published a white paper stating that performance metrics collected from installations of its trunnion magnets worldwide indicate a six-month to one-year payback when compared with trommel screen installations .... read more
New Modules for Sandvik's OptiMine Platform
Sandvik announced three new OptiMine modules, focused on analytics and visualization. The platform now offers the Location-based Analytics, the Smart Scheduler, and the Enhanced 3D Mine Visualization modules. The Location-based Analytics gives real-time information on events and operations, allowing the user models ....read more

Rugged Compressor Range Offers Efficiency
Atlas Copco released the GA 110-160 VSD+ oil-injected screw compressor range, the latest air compressor range in the smart AIR solutions portfolio. It features a new state-of-the-art compression element. The models in the range are, on average, 12% more effi cient than predecessor competition, the company reported. Features include Smart Injection technology, ensuring that just the right amount of oil is working .... read more

Top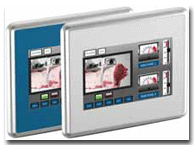 ABB Launches Drive, Interface, Bearing Solutions
ABB launched the CP600-Pro control panel line, adding to the CP600 platform. The panel is a premium interface for high-end applications and challenging installations, the company reported. The CP600-Pro can operate within the -4° to 140°F temperature range, and features a true glass-touch screen for clear information display ....read more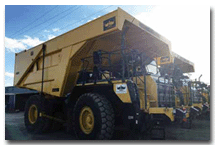 New Tailgate for Komatsu Haulers
Philippi-Hagenbuch Inc. announced a new version of the Autogate Tailgate. The tailgate is designed with a traditional outrigger that bolts to the undercarriage. It requires no welding to the frame, allowing operators to retain Komatsu's original OEM truck frame warranty. The tailgate's superstructure provides stability, quality .... read more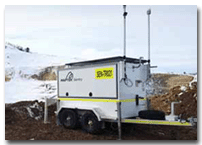 Stability Monitoring System for Frigid Climates
Maptek released a cold climate model of its Sentry system for stability monitoring. The company reported it redesigned all the major components in the standard- temperature Sentry mobile system to achieve the specifications. The system can operate continuously from -20° to 50°C, with operation for a limited time .... read more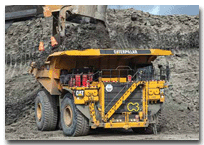 Popular Hauler Meets Tier 4 Rules
Caterpillar reported the 797F hauler is available in a Tier 4 Final-compliant configuration. The updated hauler is equipped with an exhaust after treatment system featuring selective catalytic reduction, which uses diesel-exhaust fluid to lower NOx emissions. The after treatment system uses less than 11% new content, Cat reported. The Tier 4 Final 797F reduces total specific fluid-consumption .…. read more

Top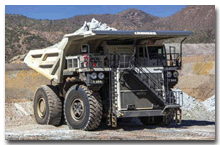 Hauler Upgrades Boost Capacity, Performance
Liebherr Mining Equipment Newport News Co. reported the latest upgrades for the T 264 hauler results in a higher payload capacity of 240 metric tons (mt). The hauler offers multiple engine options with power ratings up to 2,013 kilowatts (kW) or 2,700 horsepower (hp). The upgraded front-wheel design and braking system offer quicker reaction times to increase safety for operators, the company reported ....read more
MAY 7-9, 2019: Arminera, Centro Costa Salguero, Buenos Aires, Argentina. Contact: Web: www.arminera.com.ar

>
MAY 18-25, 2019: ALTA 2019, 24th Annual Metallurgical Conference, Perth, Australia. Contact: Web: www.altamet.com.au
MAY 20-22, 2019: Longwall USA, Pittsburgh, Pennsylvania, USA. Contact: Web: www.longwallusa.com
MAY 27-30, 2019: Exponor Chile 2018, Antofagasta, Chile. Contact: Web: www.exponor.cl
JUNE 3-7, 2019: 34th Annual Elko Mining Expo, Elko Convention Center, Elko, Nevada, USA. Contact: Web: www.exploreelko.com
JUNE 4-6, 2019: The 39th APCOM Mining Goes Digital conference, Wroclaw, Poland Contact: Web: www.apcom.info
AUGUST 27-29, 2019: AIMEX, Sydney Showgrounds, Sydney, Australia. Contact: Web: www.aimex.au
SEPTEMBER 9-12, 2019: Exposibram, the Brazilian Mining Expo & Congress, Expominas, Belo Horizonte, Brazil. Contact: Web: www.portaldamineracao.com.br/exposibram
For a full calendar of mining industry conferences and events - click here
| | |
| --- | --- |
| WHO'S MOVING WHERE | |

Corvus Gold Inc. appointed Ron Largent to the board of directors and has assumed the role as chairman. Most recently, Largent was COO-international for AngloGold Ashanti.

Torq Resources Inc appointed Stacy Rowa as CFO and the resignation of Peter Rees as CFO and corporate secretary. Rowa has been with the company since 2016 serving as corporate controller.

Hal Quinn, president and CEO of the National Mining Association (NMA), will retire at the end of 2019. Quinn has served as president and chief executive offi cer for 11 years, the longest-tenured head of the organization, and another 23 years in various leadership roles within NMA and its predecessor organizations. Executive search fi rm Lochlin Partners has been retained to lead the search for his successor.

Carly Leonida joined Engineering & Mining Journal as European editor.

Global Mining Guidelines Group welcomed a new vice chair, Kalev Ruberg, former vice president of digital systems and CIO at Teck Resources Ltd. He has held the position of CIO with Teck since 2006. He was appointed vice president, digital systems, in 2017.

Sergio Hernandez has been appointed the new executive Director of APRIMIN. He worked as executive vice president of the Chilean Copper Commission from 2014 to 2019. Before that, he was deputy secretary of mining between 1994 and 1997, director and auditor of EMAIN, and director of Banco Internacional and some insurance companies. Hernández graduated from the Universidad de Chile, and he is a specialist on economy, tax law, mining law and corporate law.

Normet has nominated Aaro Cantell as interim CEO. The intention is that Aaro will hold the position until a permanent CEO is chosen. Robin Lindahl, current president and CEO, will step down.

CEEC appointed Mike Battersby chair of the board of directors. Battersby has been a CEEC director since 2012.
About - providing an abreviated version of the current print edition of E&MJ, WOMP is distributed throughout the world to decision makers in the global mining industry, the last week of every month.

Subscribe to E&MJ - To receive your own copy of the print edition of E&MJ, click here , and complete your details. E&MJ is available free of charge to qualified readers.

Contact - if you have views, opinons or comments or editoral that you would like to submit, we would be delighted to hear from you - click here

Top