The latest from the
World Mining Equipment
Video Library
View




Balash Impresses the Crowd at AEMA Keynote

The line for the 2018 American Exploration & Mining Association (AEMA) keynote luncheon was long and some miners were agitated. For $50 per seat, the AEMA had promised U.S. Department of Interior (DOI) Secretary Ryan Zinke, but he didn't turn up. Based on the conversations held in line, however, Zinke's approval rating among western miners isn't as high as one would think. The skeptics believed that is why the DOI dispatched Joe Balash, assistant DOI secretary for lands and minerals, to address the crowd.
Next year will be a transitional year for the AEMA with its Executive Director Laura Skaer passing the torch to Mark Compton. Before Balash was introduced to a large, crowded room, the association took careof some important business. The new incoming AEMA President Steve Alfers was the emcee. He explained how Skaer transformed a regional mining association into .... read more


Steve Fiscor, Publisher & Editor in Chief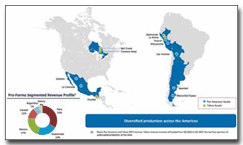 Pan American Silver, Tahoe Resources Create Diversified Silver Miner
Pan American Silver Corp. announced it has entered into a definitive agreement to acquire all of the outstanding shares of Tahoe Resources, creating a new midtier precious metals mining company, the two companies said. Shareholders of Tahoe will be entitled to elect to receive common shares of Pan American and/ or cash in exchange for their shares of Tahoe. Additional consideration will be.... read more
Evrim Signs 3-year Exploration Alliance
Evrim Resources Corp. has signed a three-year exploration alliance agreement with Meridian Gold Co., a subsidiary of Yamana Gold. The alliance allows Evrim royalty-free access to Yamana's dataset in the western United States for gold and base metal project generation. The dataset contains information from more than 7,000 locations ranging from early-stage exploration to advanced .... read more

Top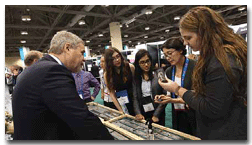 PDAC 2019 Offers Educational Sessions, Honors Industry Leaders
The annual Prospectors & Developers Association of Canada's (PDAC) convention kicks off March 3, 2019, at the Toronto Convention Center. The technical program offers delegates ample opportunities to learn and network. The opening session and keynote take place Monday morning, but sessions are planned for Sunday afternoon. The event concludes on Wednesday, March 6. The keynote session on Monday .... read more


ICMM Commits to Human Rights Principles
The International Council on Mining and Metals (ICMM) has committed its members to implement the United Nations Guiding Principles on Business and Human Rights. Speaking at the UN Annual Forum on Business and Human Rights, Tom Butler, ICMM's CEO, announced the council's new performance expectations that will define what mining with principles looks like in practice, by setting a benchmark for the industry's environmental .... read more

| | |
| --- | --- |
| AROUND THE WORLD - USA & CANADA | |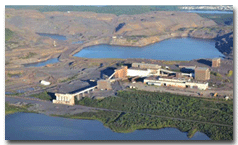 Tacora Resources Completes Scully Mine Restart Financing
Tacora Resources Inc. announced on November 27 it has closed on the funding required to restart the Scully mine in Wabush, Newfoundland, and Labrador, Canada. This includes US$212 million in private equity and senior secured debt financing, together with existing commitments for up to US$64 million in mining equipment debt financing .... read more


Bunker Hill Works Out Lease Arrangement
After reaching an agreement with the property owner, Bunker Hill Mining has reinstated the lease on the Bunker Hill mine. "We are very pleased to have worked out an agreement with the mine owner, Placer Mining Corp., to enable us to continue our effort to ultimately reopen the mine and make it a productive asset," said John Ryan, interim CEO. "I believe the discussions we have had over the last several weeks ....read more

Top

NAP Outlines Plans to Extend LDI Mine Life
In its third-quarter earnings report, North American Palladium (NAP) announced increased palladium production and a new plan to extend the mine life at the Lac de Iles mines (LDI). Underground production was 565,277 metric tons (mt) at an average grade of 3.2 grams/mt (g/mt) this quarter compared to 500,560 mt .... read more

| | |
| --- | --- |
| AROUND THE WORLD - Latin America | |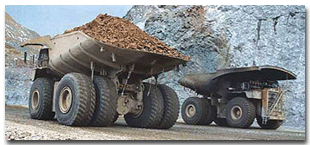 Los Pelambres Expansion Adds 60,000 MT of Copper Production
By Oscar Martinez Bruna, Latin America Editor

ANTOFAGASTA, CHILE—Antofagasta plc announced the approval of the expansion of its subsidiary Minera Los Pelambres, which is 60% owned by Antofagasta and 40% owned by consortiums led by JX Nippon and Mitsubishi. The expansion will add an average of 60,000 metric tons (mt) of copper per year to the mine's production over the first 15 years of operation .... read more


Top
Capstone Reactivates Santo Domingo
Canada's Capstone Mining announced positive results for the Santo Domingo project, a copper, iron and gold deposit that they have been studying for years. The firm, which owns 70% of the mining company — the remaining 30% is owned by Korean company Kores — announced a strategic process to explore several alternatives to develop it, including the sale of part of the project .... read more

| | |
| --- | --- |
| AROUND THE WORLD - Australasia | |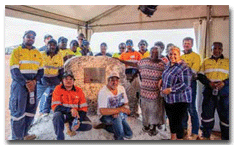 Developers Celebrate Pilgangoora Achievements at Official Opening
Pilbara Minerals recently celebrated a major milestone with the official opening of the Pilgangoora lithium-tantalum project by Western Australia's Minister for Mines and Petroleum, the Hon. Bill Johnston MLA. The opening ceremony, which was held on site approximately 120 kilometers (km) south of Port Hedland in Western Australia …. read more


Top

Rio Tinto to Develop Koodaideri as Most Technologically Advanced
Rio Tinto has approved a $2.6 billion investment in the Koodaideri iron ore mine in Western Australia, which will allow it to develop its most technologically advanced mine. Koodaideri will deliver a new production hub for Rio Tinto's worldclass iron ore business in the Pilbara, incorporating a processing plant and infrastructure, including a 166-kilometer rail line connecting the mine to the existing network. Construction will start next year …. read more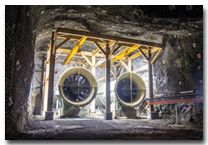 Newmont Declares Commercial Production at Subika Underground in Ghana
Newmont Mining has achieved commercial production at the Subika Underground project, adding higher-grade, lower-cost gold production at the Ahafo mine in Ghana, the company said. Subika Underground represents Newmont's third profitable expansion in 2018 and its 10th completed project since 2013. The project was delivered on schedule and within …. read more
Top
AngloGold Ashanti Signs Obuasi Mining Contract
AngloGold Ashanti announced fi nalization of a fi ve-year underground mining contract at the Obuasi redevelopment project with Underground Mining Alliance Ltd. (UMA), a joint venture between African Underground Mining Services (AUMS) and Accra- based Rocksure International, a wholly-owned Ghanaian mining contractor …. read more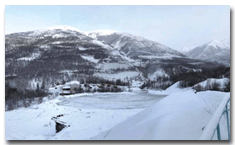 Polymetal Begins Building Nezhda Gold Mine in Russia
Polymetal International has started construction at its Nezhda gold project in northeast Yakutia, Russia. The life-ofmine plan includes 19 years of conventional open-pit mining from 2019 through 2037 and 17 years of underground mining from 2029 through 2045 …. read more


Top
Eldorado Converting Kışladağ From Heap Leach to Milling
Following completion of a feasibility study into the viability of operating a milling facility at its Kışladağ gold mine in western Turkey, Eldorado Gold has elected to proceed with construction of the project. The mine until now has produced gold via heap leaching; however, the company stopped stacking ore on the leach .… read more



| | |
| --- | --- |
| THIS MONTH IN COAL | |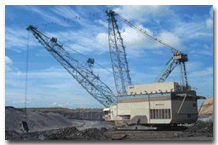 New Hope Acquires Controlling Interest in Bengalla JV
New Hope has reached a binding commitment with Taipower with respect to the Bengalla Joint Venture (JV). Taipower will purchase a further 10% interest in the Bengalla JV by participating in the sale by Wesfarmers Ltd. of its 40% interest to New Hope. Mitsui has waived its preemptive right with respect to the Wesfarmers transaction .... read more


Top

Queensland Approves EIS for China Stone Coal Project
MacMines Austasia Pty Ltd. has received approval from Queensland's coordinator general for the China Stone Coal project, a major step for the development of another huge Australian coal project. Mac- Mines Austasia is a subsidiary of the Meijin Energy Group, a privately held Chinese energy company. Meijin is also China's top metallurgical coke producer and has interests in coal mining, steel production and clean energy production …. read more


-->
| | |
| --- | --- |
| FEATURE - China Mining 2018 | |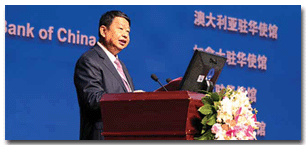 China's Miners Promote New Era of Openness and Cooperation
Major reforms within the mining sector and the government will foster green mines at home and greater investment abroad.

By Steve Fiscor, Editor

During the 20th China Mining conference, it quickly became apparent that major changes are taking place. The theme of the conference, which was held at the Meijiang Convention Center in Tianjin during mid-October, was "New Pattern of Opening, New Model for Cooperation." Being the fourth largest city in China and the 11th largest in the world, Tianjin was an ideal backdrop for this discussion with its modern amenities and infrastructure. Similar to Toronto or Frankfurt, it's also a major banking center. useful .... read more


| | |
| --- | --- |
| FEATURE - Flotation | |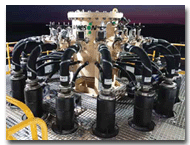 Defeating the Deleterious
Whether at the head of a circuit or scavenging tailings, today's flotation innovations address challenges presented by declining grades, rising costs and aging plants.

By Jesse Morton, Technical Writer

In 1903, E&MJ received a letter from a Londoner requesting "attention" for a flotation method that separated oxide of iron from copper sulphide, "giving a highgrade copper concentrate, salable to copper smelters." At the time, flotation, as a discipline, was in its infancy. The solution, being trialed at a couple of mines in the United Kingdom, represented a much-needed first and a "great success." It piped oil into a watery ore slurry and agitated the useful ..... read more

Top

For more companies with products in the Flotation market -
Go Here
| | |
| --- | --- |
| FEATURE - Stockpile Management | |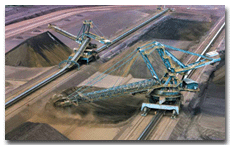 Measuring Staying on Top of Stockpile Management Monitoring
Smarter, quicker solutions emerge for measuring and controlling stockpile size and quality.

By Russell A. Carter, Contributing Editor

In tradition-driven industries like mining, deep-rooted habits and customs die hard. Pre-digital-world miners might have mistakenly equated task familiarity with productivity, while managers could lean heavily on institutional memory to plan projects and budgets. But things change: Big Data is driving the industry down a path in which old policies and practices are regarded with suspicion and new sources of information shine bright lights into the dim corners of conventional mining business intelligence. In the process..... read more


For more companies with products in the Stockpiling market -
Go Here
| | |
| --- | --- |
| FEATURE - Utility Equipment | |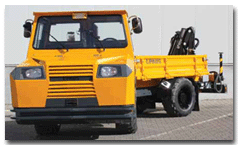 Supporting Underground Production
Specialty equipment manufacturers celebrate milestones.

By Steve Fiscor, Editor

Underground production crews gain all the glory for steady advancement. Without the support of utility equipment, however, their jobs would be much more diffi cult. Whether it's transferring supplies, delivering fuel, spraying shotcrete or charging blastholes, various pieces of utility equipment play a vital role in underground mining. Most mining districts have regional suppliers that build custom equipment for the mines. Over time, several of these .... read more

Top


For more companies with products in the Utility Vehicles market -
Go Here
| | |
| --- | --- |
| Video Presentations | |
The latest listings from the World Mining Equipment Video Library - to view the video, click the image.
For more details on the Video Hub -

Go Here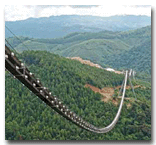 2K Tons Limestone Per Hour Hauled Above Treetops
Doppelmayr reported Cementos Progreso, S. A. selected RopeCon to haul limestone and marl 1.6 km from a crusher, over the treetops of the hilly San Juan Sacatepéquez countryside, and to the San Gabriel cement plant in southeastern Guatemala. The limestone is mined in a quarry located roughly 200 meters (m) lower than the cement plant .... read more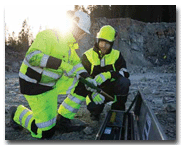 Devico Turns 30
Devico celebrated its 30th anniversary at the historic Baardshaug Manor in Orkanger, Norway. The founder, Viktor Tokle, marked the occasion with a speech on the company's history and achievements. "To see all the great, dedicated Devico employees we have today around the world, remembering the hard work and difficult challenges on the way to becoming the global market leader within our field, is simply incredible," he said ....read more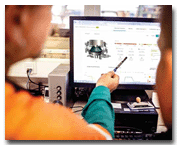 Metso Unveils Plant Predictive Maintenance Solution
Metso has expanded its digital Metso Metrics offering with the launch of a new predictive maintenance solution for mining equipment, aimed to help maximize the uptime and performance of comminution circuits. The service was introduced at the recent Automation Fair conference hosted by Rockwell Automation in Philadelphia, Pennsylvania, USA .... read more

Top

Modular Trommel Line Offers Long Life, Easier Maintenance
FLSmidth recently introduced a completely re-engineered trommel chassis and associated screen media package. The new trommel designs, said the company, have been developed using Finite Element Analysis (FEA) design calculations to ensure they are structurally sound and can offer excellent service life. The re-engineered trommel frames ....read more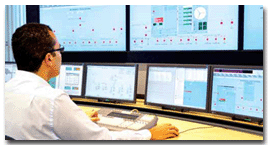 ABB Updates Plant Power Control Software Library
ABB has modified its ABB Ability System 800xA Power Control Library (formerly MIDAS Library) software to include more options to communicate with and control electrical devices throughout the power infrastructure for mining and mineral processing operations. The digital solution now .... read more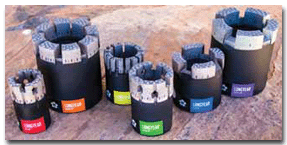 Bits 'Cut Faster, Last Longer'
Boart Longyear announced the availability of the Longyear Diamond Bit Series. The series offers a range of color-coded bits, each of a set hardness on the Mohs scale. Each is optimal for specific mining conditions. The bits cut faster and last longer .... read more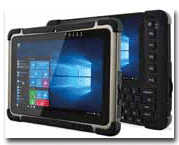 Rugged Computers for 'Harsh' Conditions
JLT Mobile Computers released the rugged MT2010 and MT2010K computers. The latter features an integrated waterproof keyboard. Both leverage Windows 10, an Intel Core i5-7200U Kaby Lake CPU, Intel HD Graphics, and a 1920-by-1200-pixel optically bonded .…. read more

Top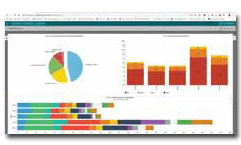 Analytics Software and Support Services
Hexagon's Mining division introduced HxGN MineEnterprise CAS Analytics, a Web-based reporting and analytics platform. The solution monitors and controls critical risk events by connecting a multitude of data sources via live dashboards, visualizing all aspects of the company's collision avoidance system (CAS), the company reported. Based on situational ....read more
JANUARY 27-30, 2019: 45th Annual Conference on Explosives and BlastingnTechniques, Nashville, Tennessee, USA. Contact: Web: www.isee.org

>

FEBRUARY 24-27, 2019: SME Annual Conference & Expo, Denver, Colorado, USA. Contact: Web: www.smeannualconference.com

MARCH 3-6, 2019: SME Prospectors & Developers Association of Canada's annual conference, Metro Convention Center, Toronto, Canada. Contact: Web: www.pdac.ca.com

March 10-13, 2019: Haulage & Loading, Hilton El Conquistador Resort, Tucson, Arizona, USA. Contact: Web: www.haulageandloading.com

APRIL 8-14, 2019: bauma, Messe Muenchen, Munich, Germany. Contact: Web: www.bauma.de

>

APRIL 28-MAY 1, 2019: Canadian Institute of Mining (CIM 2019), Montreal, Canada. Contact: Web: www.cim.org

MAY 20-22, 2019: Longwall USA, Pittsburgh, Pennsylvania, USA. Contact: Web: www.longwallusa.com

MAY 27-30, 2019: Exponor Chile 2018, Antofagasta, Chile. Contact: Web: www.exponor.cl

For a full calendar of mining industry conferences and events - click here
| | |
| --- | --- |
| WHO'S MOVING WHERE | |

Newmont Mining Corp. promoted Tom Palmer to president and COO. Since May 2016, Palmer has been executive vice president and COO. transition.

Capstone Mining Corp. announced that Gregg Bush, senior vice president and COO, will retire from the company. At this time, Capstone does not anticipate fi lling the role of COO with its decentralized operating model.

Compass Minerals Board of Directors and Fran Malecha have mutually agreed that Malecha will step down from his position as president, CEO and board member. Dick Grant, lead independent director, will serve as chairman of the board and interim CEO until a permanent CEO is named. Upon appointment of the company's new president and CEO, Grant will serve as nonexecutive chairman of the board.

SilverCrest Metals Inc. appointed Pierre Beaudoin as COO. He will step down from the SilverCrest Board in December. He recently led the construction, startup and operation of the Detour Lake mine.

Dominique Llonch is the new chairman of Nidec Industrial Solutions and CEO of Nidec ASI. Llonch succeeds Giovanni Barra, who has been at the helm of the company since 2013. Before joining Nidec, he held the position of general manager, projects, Europe and Africa, in General Electric.

Epiroc appointed Martin Hjerpe as senior vice president, mergers and acquisitions and strategy, starting March 1, 2019. He is currently partner at McKinsey & Co. Hjerpe will be a member of Epiroc's Group Management.

Johnson Crushers International promoted Rob Killgore to company president. Killgore joined JCI in 2016 and served as manufacturing manager.

Telsmith hired Don Ruppert , who joins as regional sales manager covering New York, Pennsylvania, New Jersey, Maryland, Delaware as his primary focus. He has more than 25 years of experience.
About - providing an abreviated version of the current print edition of E&MJ, WOMP is distributed throughout the world to decision makers in the global mining industry, the last week of every month.

Subscribe to E&MJ - To receive your own copy of the print edition of E&MJ, click here , and complete your details. E&MJ is available free of charge to qualified readers.

Contact - if you have views, opinons or comments or editoral that you would like to submit, we would be delighted to hear from you - click here

Top