The latest from the
World Mining Equipment
Video Library
View



Concerns Grow Over Peruvian Instability

Mining companies are growing concerned about the political situation that has emerged in Peru, which is now the second-largest copper producer and a significant gold producer. During July, Peru elected Pedro Castillo as its 63rd president.
He was born and raised in Peru's Cajamarca Province, a major gold mining district. Castillo is a member of the leftist Peru Libre (Free Peru) party and attained prominence during a 2017 teacher's strike. He said he wants to increase tax revenue from the mining sector to fund social programs. He recently appointed Mirtha Vásquez as prime minister.
Vásquez is a lawyer turned politician who represented Máxima Acuña in a land dispute case involving the proposed Conga project in 2016. She replaced Guido Bellido, who served as Peru's prime minister for about two months.
Speaking on TVPeru, Vásquez assured viewers that she will embrace Castillo's commitment to promote mining investment in Peru. "Many people think that, because I have defended environmental issues, I am anti-mining," Vásquez said. "What I am suggesting is the need to tell companies that they have to work responsibly. What is needed is to regulate some .... read more


Steve Fiscor, Publisher & Editor in Chief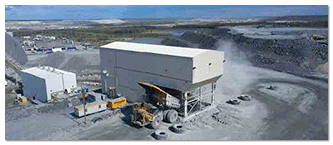 Agnico Eagle Acquires Kirkland Lake
Agnico Eagle Mines Ltd. (AEM) has entered into a C$13 billion ($10 billion) all-stock agreement to acquire Kirkland Lake Gold Ltd. (KLG) in a "merger of equals," which would retain the AEM name and be headquartered at AEM's existing head office. KLG shareholders .... read more
AngloGold Ashanti Acquires Corvus Gold
AngloGold Ashanti Ltd. has agreed to acquire the remaining 80.5% of common shares of Corvus Gold Inc. not already owned by AngloGold Ashanti for approximately $370 million. The combination further consolidates one of the largest new gold districts in the state (the Beatty District) and provides the opportunity for AngloGold Ashanti to establish, in the medium and longer term, a meaningful, lowcost production base in a premier mining jurisdiction, according to the company .... read more

Top
ITA Study – Tin surfed the pandemic wave.
The seventeenth annual survey of tin users carried out by the International Tin Association (ITA) estimated that refined tin use in 2020 decreased -1.6% to 361,900 tonnes, with a preliminary estimate of 7.2% expansion during 2021, attributed to recovery from the COVID-19 pandemic. These data are much more positive than last year's study, reflecting unexpected boosts to tin use such as working from home .... read more


ioneer Will Advance Rhyolite Ridge to Production
ioneer Ltd. will establish a joint venture with Sibanye-Stillwater Ltd. to develop Rhyolite Ridge, a lithium-boron project located in Nevada, USA. Under the terms of the agreement, Sibanye-Stillwater will contribute $490 million for a 50% interest in the joint venture, with ioneer maintaining a 50% interest and continuing to operate the project. In addition, the company has entered into a subscription agreement with.... read more


| | |
| --- | --- |
| AROUND THE WORLD - USA & CANADA | |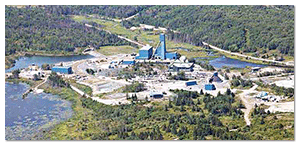 Stranded Totten Miners Reach Surface
Gold Vale Canada reported that all 39 miners, who were stranded underground at its Totten mine in Sudbury, Ontario, Canada, safely returned to the surface on September 29. The miners had been underground since reporting for dayshift on September 26 when damage to the shaft rendered it inoperable. "Getting everyone home safe and healthy was our top priority and we're glad that our emergency plans and procedures worked to deliver that outcome,".... read more


Gensource Potash Secures $C280M for Tugaske
Gensource Potash Corp., a Saskatchewan based fertilizer development company, received commitment letters from its two mandated joint lead debt arrangers, KfW IPEX-Bank and Societe Generale. They will provide a senior secured debt facility for a total of up to $C280 million ($221 million) to fund the construction and ramp up of the Tugaske potash development project. "We are delighted to achieve yet another significant milestone toward making Tugaske the first potash ....read more

Top
Underground Test Mining is Initiated at Granite Creek
i-80 Gold Corp. reported the initial rehab of the underground workings has been completed at its Granite Creek mine, located in Humboldt County, Nevada, and an underground test mining program is now under way. Granite Creek hosts both open pit and underground resources and is located at the north end of the Battle Mountain-Eureka Trend at its intersection with the Getchell gold belt in Nevada. The underground deposit at Granite Creek represents one of the highest-grade gold deposits in North America with resource grades greater than 10 grams per metric ton (g/mt) of gold. .... read more


| | |
| --- | --- |
| AROUND THE WORLD - Latin America | |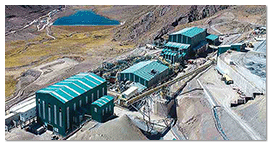 Strike Continues at Buenaventura's Uchucchacua
Peru's Compañia de Minas Buenaventura S.A.A. announced that a strike, initiated on September 13 by the local community surrounding its Uchucchacua operations, continues. Mining has been suspended as access to operations have been blocked. The strike results from the community's claim that Buenaventura has violated ... read more


Top
Las Bambas Blockade is Lifted
MMG's Las Bambas mine in Peru has reached an agreement with the communities of Chumbivilcas (Cusco) along the route it uses to ship concentrate and receive supplies, where they will be able to work as suppliers and in return they will no longer block the southern mining corridor, according to Peru's Ministry of Energy and Mines (Minem). "Today, a possible long-term alliance for the development of the towns is being built. The communities of Chumbivilcas and the Las Bambas Mining reach an agreement," Minem said in a statement... read more


| | |
| --- | --- |
| AROUND THE WORLD - Australasia | |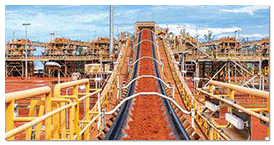 Rio Tinto Will Triple Weipa's Solar Capacity
Rio Tinto has approved a new solar farm and battery storage at Weipa in Queensland, in a move that will more than triple the local electricity network's solar generation capacity and help provide cleaner power to Rio Tinto's operations. Under the plans, EDL has been contracted to build, own and operate a 4-megawatt (MW) solar plant and 4 MW/4 MWh of battery storage at Weipa. Work on the battery facilities will start this year …. read more


Top

New Research Will Bring Fiber Optic Technology to Australia's Resources Sector
A Curtin research team will work to bring leading broadband fi ber optic acoustic sensing technology to the Australian oil and gas, mining and environmental monitoring industries, offering a more cost-effective and safer resource extraction process. As part of the Federal Government's Global Innovation Linkages Program, the team — led by Professor Roman Pevzner from Curtin's Western Australia School of Mines, Minerals, Energy and Chemical Engineering — will partner with international collaborators to test …. read more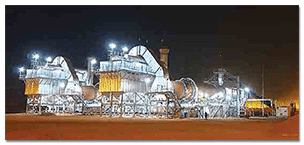 Guinea Coup Could Impact Rusal
Russia's largest aluminum producer Rusal is under a threat of losing a third of aluminum output after Guinea President Alpha Condé was ousted in a military coup, the Russian state news outlet Ria Novosti reported, citing a source in the Russian aluminum industry. "The risks of shrinking raw material supply for aluminum production are more real than ever. Rusal could possibly lose one-third …. read more
Top
Asante Gold Begins to Refurbish Bibiani Plant
Following a period of detailed review, Asante Gold Corp. mobilized local company Harlequin International to initiate the refurbishment of their 3-million-metric-tonper- year (mt/y) Bibiani mine processing plant in Ghana. Asante anticipates that the process plant refurbishment project will be complete in June 2022. "I am impressed by the quality of people, resources and record of success in the .... read more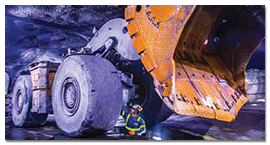 Sandfire Resources Will Buy MATSA Copper Complex in Spain
Sandfire Resources entered into a binding sale and purchase agreement with Trafigura and Mabudala Investment Co. to acquire all of Minas De Aguas Tenidas (MATSA) for $1.865 billion. The transaction is expected to be completed in the first quarter of 2022. The transaction includes the MATSA mining complex in the Iberian Pyrite Belt in Spain, which comprises three .... read more


Top

KGHM Plans to Build First SMR for Mining
KGHM Polska Miedź, the Polish copper giant, has signed a joint commitment with the companies NuScale Power, an American leader among producers of small modular reactors technology, and with PBE Molecule, to develop small modular reactor (SMR) technology. NuScale's technology for SMRs enables the production of clean, renewable and cost-effective energy, KGHM said. Under the agreement, NuScale will support KGHM with the implementation of SMR technology to replace existing coal-based energy sources. This clean energy is .... read more



| | |
| --- | --- |
| THIS MONTH IN COAL | |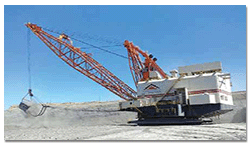 NTEC Assumes Operations at Navajo Mine
Navajo Transitional Energy Co. (NTEC) became the first tribally owned coal mining company to operate a coal mine on tribal land after NTEC assumed direct operations at the Navajo mine on October 1. Although NTEC has been the owner of the Navajo mine since 2013, North American Coal Corp. (NACCO) had been the contract mine operator since 2017. "Our business has grown and developed to a point where it is no longer necessary for NTEC .... read more


Top
PacifiCorp Will Close Jim Bridger Longwall Mine
Bridger Coal Co. plans to permanently close Wyoming's only underground coal mining operation as soon as November 19. Jon Brown, general manager-mines for Pacific Minerals Inc. (PMI), a subsidiary of PacifiCorp, issued a Worker Adjustment and Retraining Notice to Rock Springs Mayor Tim Kaumo on September 3, saying nearly 100 miners will be affected by the decision. The Jim Bridger longwall mine supplied roughly 2.4 million tons of bituminous coal to PacifiCorp's Jim Bridger power plant. Already during 2021, the underground operations have  …. read more

| | |
| --- | --- |
| FEATURE - Nordic Mining 2021 | |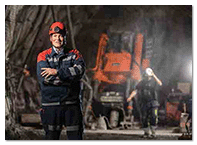 New Caving Method Sparks Raise Mining Revival
LKAB's Kiruna mine will soon start testing a new mining method called raise caving. We spoke to Dr. Matthias Wimmer to learn more about the technique and its origins.

By Carly Leonida, European Editor

On May 28, Swedish miner LKAB announced it was working with industry and academic partners to develop and prove a new mining method called raise caving. The concept literally turns traditional cave mining on its head, and once proven, the benefits could extend the life of LKAB's underground operations (and others around the globe) by years as well as unlocking new deposits. We caught up with Dr. Matthias Wimmer, manager for mining technology at the Kiruna mine in Sweden, to find out more. in ..... read more



For more companies with products in the Raise Mining market -
Go Here
| | |
| --- | --- |
| FEATURE - Nordic METS 2021 | |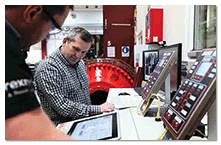 Scandinavia, Mining's Innovation Hotbed
We ask 13 Scandinavian METS providers about their approach to innovation, both at home and away.

By Carly Leonida, European Editor

Scandinavia is an area synonymous with innovation. Alongside geographies like Australia and Canada, the Nordics are a renowned hotbed for the research and development of new mining technologies. The Fennoscandian Shield has provided both challenge and opportunity in this respect. For hundreds of years, it's mineral bounty has enticed mining companies to explore and exploit its depths and they, in turn, have leaned heavily on local mining equipment, technology and service (METS) companies to provide enabling solutions. The high standard of performance and quality built into these products mean that both they and their creators are held in high regard globally ..... read more

Top

For more companies with products in the Drives market -
Go Here
| | |
| --- | --- |
| FEATURE - Ventilation | |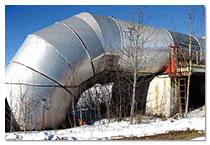 Vent Tech Shortage Hits Amid Automation Push
Suppliers fill the gaps, design optimization plans, and install high-tech solutions to help miners get more time at the face and reduce their carbon footprints.

By Jesse Morton, Technical Writer

Ventilation on demand (VOD) is big right now. It cuts power costs and shrinks the carbon footprint, helps boost production by improving re-entry time, and makes for a safer work environment. These benefits speak to the top goals of the C-Suite at major mining companies, and the result is a nice spike in business for companies that supply VOD solutions, said Bracken Spencer, principal engineer, Alpine Consulting & Mining Engineering. "VOD systems allow for the ventilation system to be more efficiently considered as a sum of their parts as opposed to individual areas, zones or levels," he said ..... read more


For more companies with products in the Ventilation market -
Go Here
| | |
| --- | --- |
| FEATURE - Conveyors | |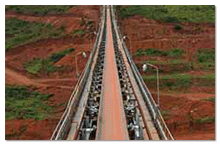 New Conveyor Tech: Designing for Productivity
Miners can choose from an array of system configurations, products and services that help keep the ore moving by detecting and analyzing – or just avoiding – problems that cause unplanned stoppages.

By Russell A. Carter, Contributing Editor

Think "conveyor," and a perception of continual motion comes to mind. That's probably why it's always startling to see a main conveyor offline during a production shift, because that means the stoppage is most likely unscheduled — and therefore expensive. The prospect of unplanned belt downtime is high on the list of concerns that keep production and maintenance managers on edge — and consequently is a major driving force behind the constant flow of new and improved conveyor designs, components and services available from OEMs and aftermarket suppliers. Mine conveyor systems are getting more complex and powerful to meet challenges .... read more

Top


For more companies with products in the Conveyors market -
Go Here
| | |
| --- | --- |
| Video Presentations | |
The latest listings from the World Mining Equipment Video Library - to view the video, click the image.
For more details on the Video Hub -

Go Here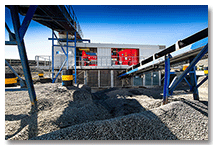 STOMRA's XRT technology: a game-changer at Letšeng Diamond Mine in Lesotho
TOMRA'S XRT sensor-based sorting technology unlocks significant value for Gem Diamonds at its Letšeng Diamond Mine. It delivered an effective solution for coarse fractions in historical tailings dumps, recovering 15 times the initial investment in 4 years. This success has led to the installation .... read more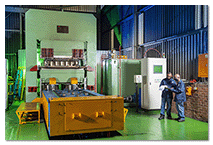 New presses give Multotec the edge in mill linings
Multotec has added two new rubber vulcanisation presses at its manufacturing facility in Spartan, Gauteng – enabling them to raise quality levels whilst reducing lead times.The new additions have improved both the production capacity of the facility as well as the dimensional capability in the production of lifter bars, shell plates, head plates and grate plates.....read more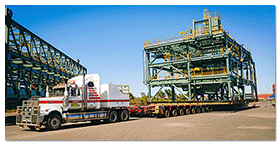 Modern modular mine built from bigger blocks
The State of Western Australia is one of the world's key producers of iron ore – a critical raw material in steelmaking. But such resources are in remote locations, even by Australia's vast standards. BHP's US$3.6 billion South Flank project, located in the Pilbara region, uses digital connectivity and autonomous-ready fleets .... read more

Top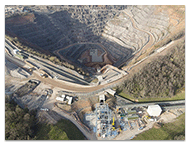 Doppelmayr Restoration Solution
Aggregate Industries UK Ltd has recently developed a new extension at its Bardon Hill Quarry near Leicester in the United Kingdom. To sustain quarrying activities, a separate material handling system is required to extract, process and transport overburden for emplacement within the existing quarry as part of ....read more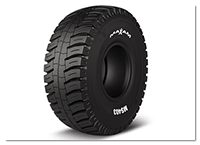 MAXAM 59/80R63 - for the most challenging open pit mining applications.
MAXAM announces the new addition and its biggest open pit mining tire, the MS403 59/80R63 to their large mining series. Utilizing pioneering compounding technology and cutting-edge engineering, the MS403 is manufactured in MAXAM's state-of-the-art radial tire facility. To meet the most challenging application requirements in the open pit mining segment .... read more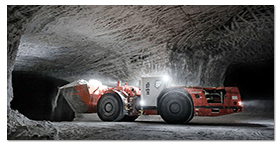 LHD Redesigned for More Capacity
Sandvik announced the new 15-metricton (mt) Toro LH515i load-haul-dump (LHD), which has 1 mt greater capacity than its predecessor, but with the same footprint. The LHD was redesigned from the ground up, the supplier said. The LH515i features a new Sandvik intelligent control system with a touchscreen colour display, making loader health monitoring easy .... read more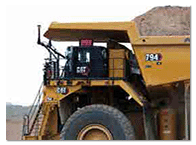 Electric Autonomous Truck
Caterpillar showcased a 794 AC autonomous truck equipped with MineStar Command. The truck is the first electric-drive model equipped with Command. Command enables fully autonomous haulage. Unmanned, the truck will operate in a fleet, interact with other equipment, and integrate with mining processes and systems .…. read more

Top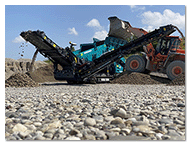 New Powerscreen Titan Range Packs a Big Punch
Powerscreen - provider of mobile crushing and screening equipment, has launched its new Titan range, a new range of secondary scalping screens that provide a cost-effective solution in high volume, smaller sized, or recycling applications. The Titan range, which includes three models the Titan 600, Titan 1300 and the Titan 2300, is a simplification of Powerscreen's high-performing Warrior ....read more
DECEMBER 5-10, 2021: American Exploration & Mining Association, Sparks, Nevada, USA.
Contact: Web: www.miningamerica.org
JANUARY 30-FEBRUARY 2, 2022: International Society of Explosives Engineers (ISEE), Las Vegas, Nevada, USA.
Contact: Web: www.isee.org
FEBRUARY 27-MARCH 2, 2022: Society for Mining, Metallurgy and Exploration (SME), Salt Lake City, Utah, USA
Contact: Web: www.smenet.org
MARCH 2-9, 2022: Prospectors & Developers Association of Canada (PDAC), Toronto, Ontario, Canada.
Contact: Web: www.pdac.ca
APRIL 27-29, 2022: Expomina, Jockey Exhibition Center, Lima, Peru.
Contact: Web: www.pdac.ca
MAY 1-4, 2022: Canadian Institute of Mining (CIM), Vancouver, British Columbia, Canada.
Contact: Web: www.cim.org
JUNE 14-16, 2022: Euro Mine Expo, Kraft Center, Skelleftea, Sweden.
Contact: Web: www.eurominexpo.com
For a full calendar of mining industry conferences and events - click here
| | |
| --- | --- |
| WHO'S MOVING WHERE | |

Lundin Mining Corp. announced that President and CEO Marie Inkster will step down on December 31 for personal reasons. Peter Rockandel has been selected to assume the role of president and CEO and will join the board of directors on January 1, 2022. Inkster joined Lundin Mining in 2008 and served as CFO for 10 years prior to being appointed president and CEO, and director in 2018. Rockandel has nearly 30 years of experience in the global resources and mining sectors, including currently as the company's senior vice president, corporate development and investor relations.

ArcelorMittal appointed Stefan Buys as executive vice president and CEO. Buys replaced Simon Wandke who is retiring. Buys joined ArcelorMittal from Rio Tinto Iron Ore where, as managing director of Pilbara Mining, he supervised the iron ore mining operations in Western Australia.
Asante Gold Corp. welcomed Walter Agbey as metallurgical manager. Agbey has 26 years of experience with mining companies in Ghana. He has worked to develop and commission three gold processing plants, including the Bibiani plant. He is a former metallurgical-processing manager for the Chirano, Nzema, and Asanko-Goldfi elds Nkran gold mines. He has previously been the project manager responsible for several plant upgrades.

Wiluna Mining Corp. Ltd. announced the following changes to its board of directors. Experienced company director and mining and oil and gas executive Lisa Mitchell will join the board of directors as a nonexecutive director. Long serving Executive Operations Director Neil Meadows stepped down from the board of directors. Meadows will continue as COO.

Silver Bull Resources Inc. and Arras Minerals Corp. appointed Darren Klinck to both companies as president. Klinck will also be joining the board of directors of Arras. Most recently, he was president and CEO of Bluestone Resources, following the acquisition of the Cerro Blanco gold project in Guatemala in 2017.

Western Copper and Gold Corp. appointed Shena Shaw as vice president, environmental and community affairs. She has been managing projects and contributing to environmental assessments across the North for nearly 20 years.

Loncor Gold Inc. appointed John Barker as CEO. He was previously vice president of business development.

Triumph Gold Corp. appointed Brian May as president. May was the chief geoscientist with Triumph Gold since November 2020 and was an integral part of the exploration team that prepared and executed the 2021 exploration program at Freegold Mountain. Most recently, he was a senior geologist with Elko Mining Group.
About - providing an abreviated version of the current print edition of E&MJ, WOMP is distributed throughout the world to decision makers in the global mining industry, the last week of every month.

Subscribe to E&MJ - To receive your own copy of the print edition of E&MJ, click here , and complete your details. E&MJ is available free of charge to qualified readers.

Contact - if you have views, opinons or comments or editoral that you would like to submit, we would be delighted to hear from you - click here

Top