The latest from the
World Mining Equipment
Video Library
View




The Data Protection Reality Check

The European Union's General Data Protection Rule (GDPR) caused quite the flurry of activity a few months ago. It and similar rules in Canada are forcing companies that maintain lists to explain how customer data is handled, and it also has had an impact as far as compliance with anti-spam policies related to email. Now companies must gain permission from those living in the European Union (EU) and Canada to email them and they must indicate they understand the company's privacy policy. The deadline for compliance seemed to sneak up on some marketers and those who had cut corners are now scrambling to maintain lists in the aftermath.
This was a major, long-overdue wake-up call for companies that have been playing fast and loose with customer data. It also gave consumers a chance to reconsider the .... read more

Steve Fiscor, Publisher & Editor in Chief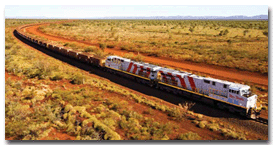 Rio Tinto Achieves First Delivery of Iron Ore With World's Largest Robot
Rio Tinto has achieved a significant milestone with the first delivery of iron ore by an autonomous train in the Pilbara, Western Australia. The autonomous train, consisting of three locomotives and carrying around 28,000 metric tons (mt) of iron ore, traveled more than 280 kilometers (km) from Rio Tinto's mining operations in Tom Price to the port of Cape Lambert on July 10. It was monitored remotely by operators from Rio Tinto's Operations.... read more
Inalum Buys Rio Tinto's Interest in Grasberg
Rio Tinto, PT Indonesia Asahan Aluminium (Inalum) and Freeport-McMoRan (FCX) have signed a non-binding agreement relating to the future ownership of the Grasberg mine in Indonesia. Under the terms of the agreement, Inalum will acquire all of Rio Tinto's interests associated with its joint venture with PT Freeport Indonesia (PT-FI) and 100% of FCX's interests in PT Indocopper .... read more

Top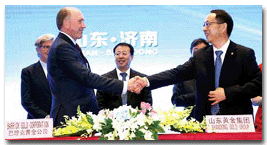 Barrick Strengthens Cooperation Agreement With Shandong Gold
Barrick Gold Corp. announced on July 9 it has entered into an enhanced strategic cooperation agreement with Shandong Gold Group Co. Ltd., deepening its partnership with one of China's leading mining companies. The agreement builds upon an earlier one signed between the two companies in April 2017, when Shandong Gold Mining Co. Ltd. acquired 50% of Barrick's Veladero mine in Argentina .... read more


Newmont Acquires 50% Stake in Galore Creek
Newmont Mining announced its plans to acquire a 50% interest in the Galore Creek Partnership (GCP) from NOVAGOLD Resources, and to form a partnership with Teck Resources, who owns the remaining stake. Galore Creek, located in British Columbia, is one of the largest undeveloped copper-gold projects with resources previously reported by Teck of 8 million ounces (oz) of gold and 9 billion lb .... read more

| | |
| --- | --- |
| AROUND THE WORLD - USA & CANADA | |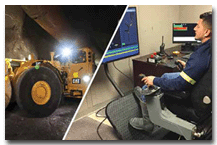 Newmont Completes 2 Nevada Gold Projects
Newmont Mining completed its Northwest Exodus project in Nevada, extending mine life from the Exodus underground operation in the Carlin North area for 10 years. The project was completed safely, ahead of schedule and within a budget of $69 million .... read more


Centerra Provides Update on Mount Milligan
Centerra Gold Inc. is taking steps to secure longer term, more stable sources of water supply for the Mount Milligan mine. The company has filed a formal request with the British Columbia Environmental Assessment Office for an amendment to its environmental assessment certificate to provide additional short-term water sources through to 2020, and to initiate the development of a longer-term water supply plan for subsequent years ....read more

Top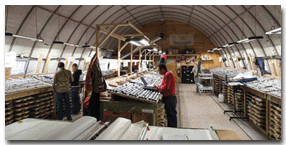 Agnico Eagle Begins Construction at Amaruq
Agnico Eagle Mines has received the Type A water license for the Whale Tail pit at its Amaruq gold project, approximately 50 kilometers (km) northwest of its Meadowbank mine in Nunavut, Canada, allowing project development to begin. Preliminary construction work and stripping of the Whale Tail pit is under way, and development remains on schedule and budget .... read more

| | |
| --- | --- |
| AROUND THE WORLD - Latin America | |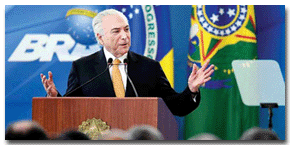 New Legislation Modernizing Brazilian Mining Legal Framework
In July 2017, Brazil President Michel Temer issued three Provisional Decrees (Medidas Provisórias 789, 790 and 791) to bring changes to the Brazilian mining legal framework. The decrees, however, must be examined and approved by Congress, before they are put into effect. Provisional Decree 790, which was aimed to change the Brazilian Mining Code, was not brought to a vote in due time and its validity expired in November 2017. On the other hand, Provisional Decrees 789, which provided for changes .... read more


Top
Codelco to Receive US$1B From Chile
The Chilean government recently announced an extraordinary capitalization plan to invest US$1 billion into Codelco to help the current unstable situation that is facing one of the most important copper producers in the world. The announcement was made by Minister of Finance Felipe Larraín, together with Minister of Mining Baldo Prokurica, and Chairman of Codelco Juan Benavides .... read more

| | |
| --- | --- |
| AROUND THE WORLD - Australasia | |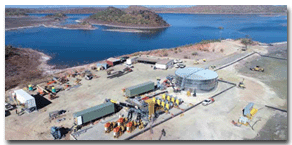 Century Mine Advances Toward Production Reward
New Century Resources, an Australian base metals development company, provided an update on its efforts to restart the Century mine in Queensland. The company will reprocess tailings and is upgrading the existing infrastructure, which includies a large-scale, multitrain flotation plant, 700-person camp, private airport, mining fleet, grid power connection, slurry pipeline and port facility to bring the mine into production …. read more


Top

Boss Outlines Plans for Honeymoom Restart
Boss Resources has launched a restart strategy for the previously operated Honeymoon in-situ leach uranium mine in eastern South Australia. Boss acquired the project in December 2015 when it acquired Uranium One Inc. The project is expected to produce an average of 3.2 million pounds per year (lb/y) of U308, at an average life-of-mine allin sustaining cost of $23.90/lb and cash costs of $15.60/lb of U308 equivalent …. read more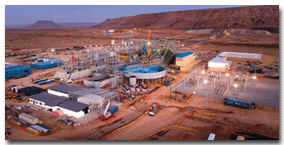 Commissioning Begins at Gamsberg
Vedanta Zinc International is nearing startup of its Gamsberg open-pit zinc mine in South Africa's Northern Cape Province and expects to produce the first zinc concentrate by early September. Feeding of ore to the front end of the plant (run-of-mine crusher, conveyor and coarse-ore stock pile sections) began in early July to build the required crushedore stockpile. First feed to the flotation and dewatering sections of the plant was scheduled for the end of July …. read more
Top
Kibali Underground Ramp-up Continues
Gold production at the Kibali mine in the Democratic Republic of Congo is rising steadily on the back of the optimization of its automated underground operation, and it is on track to beat its guidance of 730,000 ounces (oz) for this year, Randgold Resources CEO Mark Bristow said. The record results expected for the second quarter were achieved without a single lost-time injury, Bristow added …. read more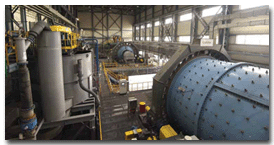 Polymetal Starts Up Kyzyl Gold Mine
Polymetal International has started up its Kyzyl gold mine in northeast Kazakhstan, ahead of schedule and below budget. Kyzyl produced its first gold concentrate on June 25, following completion of all construction and commissioning activities. Polymetal plans to produce 80,000 ounces (oz) of payable gold at Kyzyl in 2018, ramping up to 280,000 oz in 2019 and 330,000 oz per year (oz/y) thereafter at all-in sustaining costs of $500/oz to $550/oz …. read more


Top
Hod Maden Project in Turkey Targets 200,000 oz/y of Gold
Sandstorm Gold has reported summary results of a prefeasibility study (PFS) of the Hod Maden project in northeast Turkey that forecasts production of an average of 200,000 ounces per year (oz/y) of gold and 12,600 metric tons per year (mt/y) of copper in concentrate over a mine life of 11 years. The project is owned 30% by Sandstorm and 70% by Lidya Madencilik, which is the operator .… read more



| | |
| --- | --- |
| THIS MONTH IN COAL | |

Australian Met Operations Propel Peabody's Performance
During the second quarter of 2018, Peabody Energy reported a 4% increase in revenues to $1.31 billion driven by a 20% increase in Australian met and thermal coal sales. "Peabody's diversified portfolio continues to generate substantial returns, led by 39% margins from the company's Australian platform, as we capitalize on continued strength in seaborne metallurgical and thermal coal fundamentals," said Peabody President and CEO Glenn Kellow .... read more


Top

Alliance Reports Increased Coal Sales, Exports
Alliance Resource Partners said strong second-quarter coal sales volumes led total revenues higher to $516.1 million, an increase of 29.4% compared to the second quarter of 2017. Alliance is now essentially sold out for its planned 2018 sales volumes and has increased its anticipated export sales for this year to approximately 11.1 million tons …. read more


-->
| | |
| --- | --- |
| FEATURE - Mineral Processing | |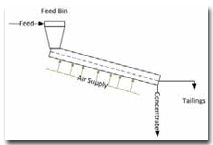 Development of Dry Gravity Separator
A retirement hobby may lead to mineral processing breakthrough

By George Rodger

In the mid-1970s, dry concentration of gold and tungsten minerals was investigated and a dry process pilot plant designed for a North African government for gold and tungsten deposits in the Sahara desert. A 5-gram-per-metric-ton (g/mt) gold deposit was selected as the location to operate the dry pilot plant for one year. Dry tables were selected as the concentration device with air being the fluid medium. Treating five particle size .... read more



For more companies with products in the Mineral Processing market -
Go Here
| | |
| --- | --- |
| FEATURE - Screening Machines | |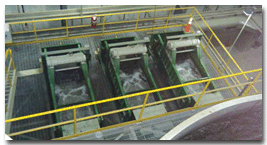 Designed to Stay Off Your Mind
The latest in screening solution offerings are promoted as producing results while reducing labor costs

By Jesse Morton, Technical Writer

Thinking about a screening solution generally only happens when either something goes wrong with one or when designing a plant. The rest of the time, screening is that endless background sound and should stay that way. That is exactly why suppliers seek to fully prove their screening solutions prior to release. Upon release, the typical elevator pitch focuses on the reliability of the solution. A glance at the recent news from suppliers reveals the emphasis they place on successful field testing, the deep knowledge in the brains behind the solution, and how it is something miners can easily order, install, maintain and forget ..... read more

Top

For more companies with products in the Screening market -
Go Here
| | |
| --- | --- |
| FEATURE - Tires | |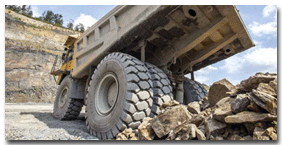 Keep Mine Tires Turning With Something Old, Something New
New technologies can help fleet operators run OTR tires at peak performance, but even high-tech needs backup from time-tested practices such as proper selection, basic service and committed management

By Russell A. Carter, Contributing Editor

For certain types of equipment in a typical mine production fleet, tires are the principal, and often the only connection between the machine and the dirt, providing the sole means to steer and stop the vehicle and carry payloads in an efficient manner. That means there's a lot riding on the massive rubber, synthetic fabric and steel doughnuts found on the four corners of haul trucks and loaders, ranging from operator safety and comfort to production efficiency and overall vehicle operating expense. And when supply.... read more


For more companies with products in the Tires market -
Go Here
| | |
| --- | --- |
| FEATURE - Loading Techniques | |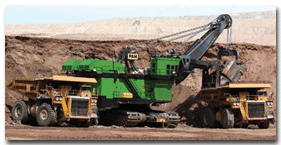 Guided Spotting
A new open-pit loading technology to improve excavation load cycles

By Greg Lanz

As the mining industry continues its climb out of this latest depression, openpit mining organizations are striving to improve productivity wherever possible. One area that has large potential optimization gains is in the excavation load cycle, as inefficient truck spotting while loading and dumping can significantly impact a mine's productivity. While this challenge has gone largely unresolved historically, new and emerging operator-assist technologies may finally provide the solution that mine operators need to improve productivity while loading and dumping .... read more

Top


For more companies with products in the Loading market -
Go Here
| | |
| --- | --- |
| Video Presentations | |
The latest listings from the World Mining Equipment Video Library - to view the video, click the image.
For more details on the Video Hub -

Go Here

Tertiary Cone Crusher
Telsmith Inc. announced the T900, a 900-horsepower cone crusher solution that offers increased volume capacities over predecessors and competitors, the company reported. With a 15-in. feedsize capacity, a throughput range of 500 to 2,134 metric tons per hour (mt/h), and the largest in-class clearing stroke (254 mm [or 10.0 in.]), the T900 is designed for the secondary or tertiary position in .... read more
Cubic Fuel Tank Offers Security, Storage
Western Global introduced the EnviroCube, a fuel tank designed to keep fuel secure and control access to ports. Unlike round tanks, the EnviroCube stays within height, length and width standards for over-theroad transport, the company reported. It also occupies less space on-site compared to round tanks. Once on-site, contractors can move the tank via crane-lifting hooks or four-way forklift pockets ....read more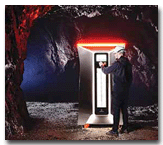 Modular Core Shed for Fast Sample Results
Orexplore launched the GeoCore X10, a digital drilling cores laboratory, which analyzes the element concentrations and minerals contained in a drill core and provides a 3D representation of the rock's internal structure, the company reported. By using the lab to examine multiple drill cores from different holes and different depths, geologists can form estimates .... read more

Top

Coring Rods With Self-aligning Threads
Boart Longyear launched XQ Wireline Coring Rods for drilling and coring. The rods, having been tested at 30 exploration locations, are proven to be stronger, last longer, and are easier to make and break than RQ rods, the company reported. Featuring self-aligning, double-start threads, the rod's joints engage without wedging or jamming, the company reported. They also nix box bulging. Thread design includes a -20° reverse flank angle for ....read more

Dewatering Pump
Netzsch's dewatering pump skids include a tank, progressing cavity pump with right angle gearmotor, inspection ladder, valves, and piping mounted on a common galvanized steel skid. Custom units can leverage a belt drive or can feature a control panel (with or without VFD on a removable stand) and instrumentation .... read more



Remote Control for Hoists
J.D. Neuhaus unveiled three remote-control solutions, the RC-X, RC-S, and RC-SP, each comprised of a transmitter and receiver and designed for integration with the company's air hoist or crane solutions. All components are housed in compact, shock-resistant glass-reinforced plastic casing rated at protection class IP65. A breathable membrane guides condensation away from the interior to the exterior. The receiver can be .... read more

External High-speed Backstop Clutch
Tsubaki launched the BRUS Series, an external high-speed backstop clutch line designed to replace the Falk BIF model backstops, the company reported. The line uses a unique felt ring seal and labyrinth body-seal design to prevent grease leaking or ingress of contaminants .…. read more

Top

Spring-rewind Fuel Hose Reels
Hannay Reels Inc. released the N800 Series of spring rewind reels, designed for ¾-in. or 1-in. I.D. hose. The reels, for fuel dispensing and waste oil evacuation hoses, can withstand between 2,000 and 6,000 pounds per square ....read more
SEPTEMBER 10-14, 2018: Electra Mining Africa, Expo Centre Nasrec, Johannesburg, South Africa Contact: Web: www.electramining.co.za

>

SEPTEMBER 20-22, 2018: China Mining 2018, Tianjin Meijiang Convention Center, Tianjin, Peoples Republic of China. Contact: Web: www.chinaminingtj.org

DECEMBER 3-7, 2018: American Exploration & Mining Association annual meeting, Spokane, Washington, USA Contact: Web: www.miningamerica.org

DECEMBER 4-5, 2018: 1st International Conference on High Performance Mining, RWTH Aachen University, Aachen, Germany. Contact: Web: www.high-performance-mining.com

JANUARY 27-30, 2019: 45th Annual Conference on Explosives and Blasting Techniques, Nashville, Tennessee, USA. Contact: Web: www.isee.org

FEBRUARY 24-27, 2019: SME Annual Conference & Expo, Denver, Colorado, USA. Contact: Web: www.smeannualconference.com

>

March 10-13, 2019: Haulage & Loading, Hilton El Conquistador Resort, Tucson, Arizona, USA. Contact: Web: www.haulageandloading.com

MAY 10-13, 2019: Longwall USA, Pittsburgh, Pennsylvania, USA. Contact: Web: www.longwallusa.com

For a full calendar of mining industry conferences and events - click here
| | |
| --- | --- |
| WHO'S MOVING WHERE | |

AngloGold Ashanti appointed Kelvin Dushnisky as CEO and an executive director of the board of directors, effective September 1. He joins from Barrick Gold Corp., where he holds the role of president and executive director. Dushnisky replaces outgoing CEO Srinivasan Venkatakrishnan, who departs at the end of August for a role at Vedanta Resources.

Lundin Mining announced that, following a successful seven-year tenure as the company's president and CEO, Paul Conibear has announced his intention to retire. Marie Inkster, senior vice president and CFO, has been selected to assume the role of president and CEO upon Conibear's retirement.
Canadian Zinc appointed Don MacDonald , current president, CEO. Most recently, he was acting president and CEO of KGHM International.

Turquoise Hill Resources appointed CFO Luke Colton to the additional position of interim CEO. As previously disclosed, current CEO Jeff Tygesen is retiring from the company.

McEwen Mining Inc. appointed Chris Stewart as the president and COO, effective September 1. He replaces Xavier Ochoa who resigned. Most recently, he was the president and CEO of Treasury Metals.

Cobalt 27 Capital Corp. appointed Martin Vydra as head of strategy. Vydra joins Cobalt 27 after a 31-year career with Sherritt International Corp. where he was senior vice president of metals.

Eldorado Gold Corp. appointed Philip Yee as executive vice president and CFO. Most recently, he was executive vice president and CFO at Kirkland Lake Gold. .
K+S Aktiengesellschaft announced that Sam Farris has succeeded Dr. Ulrich Lamp as president following Lamp's retirement. Farris has been working for K+S since August 2011, most recently in the role of senior vice president and general manager of Bethune mine.
About - providing an abreviated version of the current print edition of E&MJ, WOMP is distributed throughout the world to decision makers in the global mining industry, the last week of every month.

Subscribe to E&MJ - To receive your own copy of the print edition of E&MJ, click here , and complete your details. E&MJ is available free of charge to qualified readers.

Contact - if you have views, opinons or comments or editoral that you would like to submit, we would be delighted to hear from you - click here

Top