The latest from the
World Mining Equipment
2nd Hand Market
View





Permitting Poses Problems for US Miners



This edition has a heavy copper influence. Readers interested in the copper business should note the features on the CRU Copper Report and the Morenci Expansion.

The CRU Copper Report shows how future copper demand will outstrip production with an inflection point starting in 2017-2018. That's good news for an industry that seems hard-pressed for anything positive these days.

The Morenci Expansion, is a mining success story, but it was brought about in part by a failure in U.S. minerals policy. When Freeport-McMoRan was reviewing its list of copper mining and processing projects with the best future potential, Morenci had unused permitted processing capacity. The operative word being: Permitted.

During mid-May, Red Conger, president of Freeport-McMoRan Americas, on behalf of the National Mining Association (NMA), testified before the U.S. Senate Committee ......... read more


Steve Fiscor, Editor in Chief



Oyu Tolgoi Shareholders Agree on Underground Mine Development
The government of Mongolia, Turquoise Hill Resources, and Rio Tinto signed an Oyu Tolgoi Underground Mine Development and Financing Plan on May 18, reactivating a project that had been stalled since August 2013. Oyu Tolgoi is owned 66% by Turquoise Hill Resources and 34% by the government of Mongolia. Rio Tinto owns a 51% share of Turquoise Hill Resources and manages the project. Until the May 18 agreement, unresolved issues between the government and the companies had blocked progress......... read more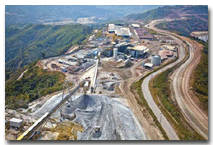 PanAust Welcomes A$1.2B Guangdong Rising Takeover


Australia-based copper-gold producer PanAust recommended on May 8 that its shareholders accept an all-cash offer of A$1.85/share from Guangdong Rising Assets Management for PanAust shares that Guangdong Rising did not already own. The offer valued PanAust at about A$1.2 billion. Guangdong Rising already held a 24.26% interest in PanAust. Guangdong Rising is owned by the government of China's Guangdong province. PanAust produces copper and gold at its Phu Kham and Ban Houayxai mines in northern Laos and has pre-development....... read more

Top
Shareholders Approve South32 Demerger


BHP Billiton shareholders voted 98.05% in favor of the company's proposed demerger of certain assets into a new company named South32 during simultaneous shareholder general meetings in London, England, and Perth, Australia, on May 6. The demerger was scheduled to be fully effective before the end of May. As a result of the demerger, eligible BHP shareholders received one South32 share for each BHP Billiton share held. The South32 shares trade on the Australian, London, and Johannesburg stock exchanges. South32's head office is located in Perth, and a regional head office and...... read more

Top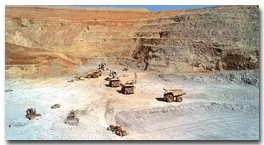 Barrick Sells Cowal Mine to Evolution for $550 Million


Barrick Gold announced an agreement on May 24 to sell its Cowal gold mine in New South Wales, Australia, to Evolution Mining for $550 million in cash. Cowal mine is an open-pit mine located in central New South Wales, approximately 350 km west of Sydney. Its gold production in 2015 is expected to be in the range of 250,000 to 280,000 oz at allin sustaining costs of $740-$775/oz. For Evolution, the Cowal purchase agreement was the second in a little more than a month. On April 20, the company agreed to an..... read more

| | |
| --- | --- |
| AROUND THE WORLD - USA & CANADA | |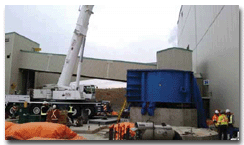 New Afton Mill Expansion Ahead of Schedule


New Gold reported in late April that the mill expansion project at its New Afton operations near Kamloops, British Columbia, was in the process of being commissioned, ahead of schedule and below budget. The plant's Vertimill was successfully commissioned in mid- April, approximately one month ahead of schedule. Additional flotation cells were being commissioned. The mill expansion is designed to take mill throughput capacity to 14,000 metric tons per day (mt/d). The mill processed about 4.8 million mt of ore in 2014.... read more
Sabina Contemplating Nunavut Gold Project


Sabina Gold & Silver Corp. has reported the results of a feasibility study of its 100% owned Back River gold project in Nunavut, Canada. The project is located in the West Kitikmeot region of Nunavut, approximately 75 km from tide water at Bathurst Inlet and 520 km northeast of Yellowknife, Northwest Territories. The Back River project is made up of a series of five claim blocks of which only two, Goose and George, have been the primary focus of exploration and resource development to date. The two sites are... read more

Top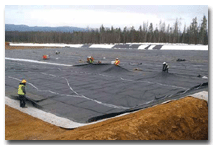 Formation Metals Reactivating Cobalt Project


Formation Metals has completed a positive preliminary economic assessment (PEA) of completion of its Idaho Cobalt project in east-central Idaho. The company placed the project on care and maintenance in 2013 due to low metal prices after construction was partially complete. The Idaho Cobalt project comprised an underground mine and mill outside the town of Salmon, Idaho, and a cobalt production refining facility (CPF) to be located at a railhead in southern Idaho. Current plans call for a comb.... read more
| | |
| --- | --- |
| AROUND THE WORLD - Latin America | |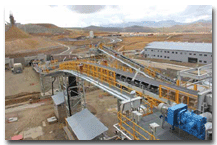 Hudbay Reaches Commercial Production at Constancia


Hudbay Minerals' new Constancia copper operations in southern Peru achieved commercial production on April 30, having ramped up from start of production in December 2014. Ocean shipments of Constancia copper concentrates began in April, and approximately 20,500 metric tons (mt) had been shipped by the end of the month. Throughput at the Constancia plant averaged 78,635 mt/d during April, just short of design capacity of 80,000 mt/d. "The ramp up has met management's expectations with regards to throughput…… read more

Violent Tia Maria Protests Prompt State of Emergency


On May 22, Peruvian Premier Pedro Cateriano declared a state of emergency in Islay province, southern Peru, in response to ongoing violent protests against Southern Copper's $1.4 billion Tia Maria copper project. At the time of the government announcement, more than 1,000 army troops and 4,000 police officers were deployed in the region of the project, where at least three protestors and one police officer had died in clashes. The state of emergency was to last at least 60 days and included suspension of some civil liberties, including the inviolability of homes, freedom of movement…. read more

| | |
| --- | --- |
| AROUND THE WORLD - Australasia | |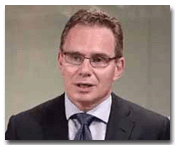 Australia's Government: No Iron Ore Industry Inquiry


The government of Australia announced on May 21 that it would not back a parliamentary inquiry into the country's iron ore industry and the iron ore market. "After discussing the issue with regulatory bodies and stakeholders across the resources sector, the government will not be initiating an inquiry at this time," Australian Treasurer Joe Hockey said. Fortescue Metals Chairman Andrew Forrest had been the most vocal backer of the suggestion for a parliamentary inquiry…. read more



OceanaGold Agrees to Buy Newmont's Waihi Operations


OceanaGold has signed a non-binding letter of intent with Newmont Mining to acquire Newmont's Waihi gold operations in New Zealand for $101 million in cash. Newmont will also retain a 1% net smelter royalty for gold ounces mined from one specific exploration tenement capped at 300,000 oz of production. The companies expect the transaction to close in the third quarter of 2015. OceanaGold is forecasting 2015 production of 295,000 to 335,000 oz of gold, not including Waihi, and 21,000 to 23,000 mt of copper. Newmont Mining is the world's second largest gold mining company …. read more

Top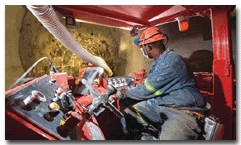 New Cullinan Facililty Will Improve Diamond Recovery, Cut Costs
Petra Diamonds has announced plans to construct a new processing plant at its Cullinan diamond mine in Gauteng province, South Africa, 40 km east of Pretoria. Throughput capacity will be 6 million metric tons per year (mt/y). Capital cost of the project is estimated at about R1,650 million ($142.8 million). The Cullinan mine has been in production since 1902 and is known for consistently producing large, high-value diamonds, including the.…. read more

Barrick Reverses Decision to Suspend Lumwana Mining
Barrick Gold's report of its first quarter 2015 financial and operating results included a note that, following a Zambian government decision to drop a recently enacted 20% gross royalty on open-pit mines, the company's Lumwana copper will continue operations as usual. Barrick announced on December 18, 2014, that it intended to suspend operations at Lumwana following passage of legislation that raised the royalty rate on the country's open-pit mining operations from 6% to 20%…. read more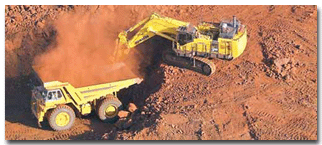 Indian Iron Ore Import Dependency to Increase


With iron ore exports in the western Indian coastal province of Goa unlikely to resume before the onset of the monsoon rains and several Indian steel mills firming up iron ore imports, the country's net import dependency on iron ore was expected to increase during the current fiscal period. According to the Federation of Indian Mineral Industries (FIMI), a representative body of domestic miners, Indian iron ore import dependency was expected to increase in 2015–2016 considering that the difference…. read more

Mongolia Takes Another Step Toward Ovoot Mine Railway Concession
Aspire Mining's Mongolian rail subsidiary, Northern Railways, has received a formal letter from the Mongolian government confirming that a multidepartmental working group has been established to negotiate a rail concession for the Erdenet to Ovoot Railway. The letter was received from the Mongolian Investment Agency, which is the body charged with negotiating concession agreements, and is in accordance with a cabinet resolution. The working group comprises representatives from the Ministries of Roads and Transportation, Environment, Finance and Investment Agency. In accordance with the…… read more

Top
| | |
| --- | --- |
| THIS MONTH IN COAL | |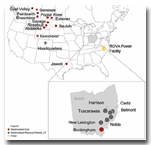 Westmoreland to Purchase BHP's San Juan Mine


Westmoreland Coal Co. has agreed in principal to purchase the San Juan mine in Farmington, New Mexico, from BHP Billiton and enter into a new long-term coal supply agreement with the owners of the San Juan Generating Station (SJGS). The contemplated new coal supply agreement stated that Westmoreland will take over operations at the beginning of 2016. The new coal supply agreement expires in 2022, but SJGS owners can…. read more

MEC Slashes Workforce


Murray Energy Corp. (MEC) announced more than 1,800 hourly and salaried job cuts from its operations in West Virginia, Ohio and Illinois and a complete idle of one longwall mine. It cited increased natural gas use for its decision, along with "the ongoing destruction of the U.S. coal industry by President Barack Obama." Excessive coal severance taxes in West Virginia also played a role in the respective mine cuts in that state, the company noted. The biggest loss of the entire…. read more

Teck to Temporarily Suspend Met Coal Production
Teck Resources will implement temporary shutdowns in the third quarter at its six Canadian metallurgical coal mining operations to align production and inventories with changing coal market conditions. Each of Teck's met coal operations will be temporarily shut down for approximately three weeks in the quarter. Shutdowns will be staggered over the summer months among the operations. "Rather than push incremental tons into an over-supplied market, we are taking a disciplined…. read more
| | |
| --- | --- |
| FEATURE - Morenci Expansion | |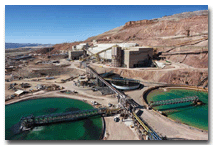 Expansion Program Propels Morenci's Copper Production to World Class
Freeport-McMoRan discovers large sulphide copper reserves and restores milling operations adding energy-efficient capacity

By Steve Fiscor, Editor-in-Chief

Few American mines have a history and a deposit as rich as Freeport-McMoRan's Morenci mine. Located in the mountains of southeast Arizona, copper has been mined in this district for nearly 150 years. Ironically, at a time when most copper mines are seeing ore grades and reserves dwindle, and new copper discoveries are rare, Morenci has found a large primary sulphide deposit below its existing operations and increased its copper production. Generations of copper miners have cut their teeth at Morenci. The copper ore that attracted the first miners was rich by today's standards (15% copper). As the high grade ore disappeared on the surface, the miners ventured underground. Picks and shovels were eventually replaced by mechanical equipment and large scale open-pit operations. For much of the 20th century, Morenci was one of the world's major copper mining operations……. read more

| | |
| --- | --- |
| FEATURE - Crushers | |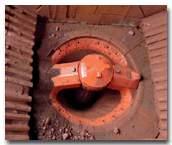 Rocks and Hard Places


Primary crushers hold the key to successful ore processing. E&MJ asked some of the world's leading manufacturers for their insights into the technology and current practice

By Simon Walker, European Editor

There's a lot at stake for a primary crusher. Its working environment is as tough as it gets, yet reliability is critical. To put it in simple terms: no primary crusher, no production. As E&MJ noted in its November 2010 article on the topic (pp.38–42), "an effective crusher is a key component of any mineral- production system, paving the way for all of the subsequent stages of extraction technology. The crusher goes down, and the mine marks time." In practical terms, a primary crusher— be it a gyratory or a jaw crusher—is asked to handle everything that the mine can dump in it, and still keep working. It may need some assistance from time to time from a boom-mounted breaker to handle grossly oversized rocks, but aside from that, it is on its own ..... read more

Top
| | |
| --- | --- |
| FEATURE - CRU Copper Report | |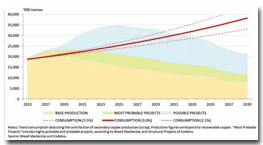 Bauxite and Alumina: Growth Maintained


Industry leaders discuss the current situation in the coppper market and possible soliutions to meet future demand growth.

By Steve Fiscor, Editor-in-Chief

Those who follow the copper business are well aware of the situation the sector faces. Soft prices are forcing miners to cut costs per pound while they simultaneously grow production to maintain copper output in the face of declining ore grades. That's a tough assignment considering that many of the inputs are beyond the mine's control, such as power, water, labor, regulatory compliance, etc., and are increasing as well. In addition, the annual growth levels associated with the industry's largest customer, China, have diminished. Fortunately, the copper mining business does not make decisions based on a snapshot of today's situation. They have a long-term vision and they are bullish on copper. And, the good news is that prices…... read more

| | |
| --- | --- |
| FEATURE - Water Management | |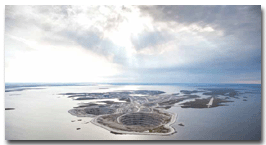 Managing a Critical Resource


With rare exceptions, water is key to minerals recovery. Meanwhile, mining is venturing further into already water-stresssed areas of the world. E&MJ looks at some of the implications

By Simon Walker, European Editor

Like the level in an unpumped sump, awareness of the importance of effective management of water resources has been rising inexorably across mining and mineral processing in recent years. That has not long been the case, however, and the fact that several of the regular conferences on mining-sector water management have only reached their third or fourth event shows that this is indeed a relatively new focus for the industry. And the triggers for this new-found appreciation of a long-standing topic? Multi-fold, depending on which particular aspect of water management is under consideration. In terms of supply, the increasing reliance of Andean open-pit mines on desalinization plants has had a major influence. Rising social awareness in the same..... read more

Top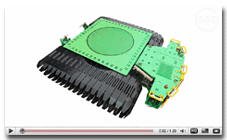 MMD - Atlas 500T Transporter
The MMD Atlas 500T transporter is the latest technology from MMD, enabling semi-mobile structures to be relocated safely and efficiently. MMDs equipment allows mines to take full advantage of short haul truck and shovel operations.
- Negotiates grades up to 10%
- Automatic payload leveling capabilities
- A range of transporters available (200T-750T)
 Web: www.mmdsizers.com ... watch the video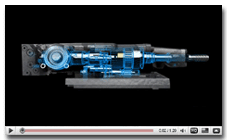 Rock Drill Kits - Standardize your repairs. Maximize your uptime
We've bundled key loose parts into kits to help you standardize maintenance work for various rock drill components. Whether you're in need of a complete overhaul or a specific repair, we've assembled the right kit of parts for you. Available for every generation of Sandvik rock drill, the parts in our endurance kits and repair kits are manufactured from the highest-quality materials to help ensure performance and reliability. These genuine OEM parts boast better tolerance in the harshest applications ... watch the video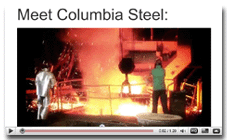 Columbia Steel
Columbia Steel manufactures replacement wear parts for all popular gyratory, cone, and jaw crushers, offering the broadest selection of designs of any single manufacturer in the world. Columbia castings are available in a full range of wear resistant alloys, including their proprietary Xtralloy 24% manganese steel.  All made in USA.... watch the video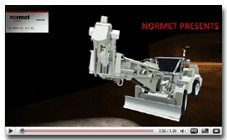 Normet - Concrete Spraying and Scaling simulator overview
Normet provides a simulator offering for concrete spraying (shotcrete) and scaling..... watch the video


| | |
| --- | --- |
| 2nd HAND MARKET | |
The latest listings from the World Mining Equipment Market - for more details click the image
For more details on the WME - Market -

Go Here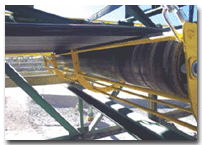 Conveyor Idler Cage Protects Workers


According to ASGCO, one of the most easily preventable conveyor accident sources is a dislodged return idler falling onto an unsuspecting worker. Misaligned belts often come into contact with return idler brackets, shearing them off and allowing the idler to break free. ASGCO has developed a simple solution for an additional measure of safety—the ASGCO Safe-Guard return idler cage is designed to catch the return idler from falling onto workers or equipment, preventing injuries and damage to critical components …. read more

Dust Filter Offers High Performance in Harsh Environments


The new HemiPleat Synthetic dust collector filter from Camfil Air Pollution Control (APC) combines high-efficiency synthetic media with proprietary open-pleat technology. The washable media is resistant to moisture and can handle heavy dust loading conditions and/or hygroscopic or sticky dusts. The HemiPleat Synthetic filter usesa lightweight, 100% spun bond polyester media in a pleated design that maximizes surface area while maintaining open pleat spacing. According to Camfil, wider spacing of the patented HemiPleat design …… read more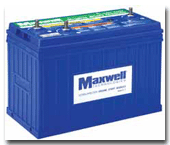 Ultracapacitor Module Starts Balky Diesel Engines


When subjected to extended periods of non-use or low temperatures, diesel engines are often difficult to start. Maxwell Technologies now offers a 24-volt ultracapacitor- based Engine Start Module (ESM), claimed to be ideal for improving equipment uptime and power reliability in industrial vehicles with diesel engines. Unlike batteries, which produce and store energy by means of a chemical reaction, ultracapacitors store energy in an electric field. This electrostatic energy storage …. read more

Top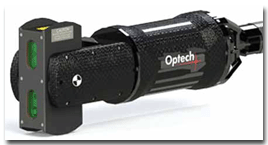 Underground Cavity Scanner Features New Design


Teledyne Optech's CMS V500 features a complete redesign of its Cavity Monitoring System that introduces a live video feed, cable-free operation, and other critical new features that improve safety and efficiency in underground mining. A new camera now integrated in the sensor head lets operators measure and visually inspect ore passes and shafts simultaneously to improve .…… read more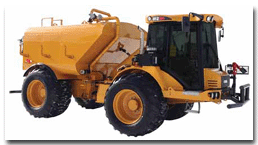 Articulated Water Truck


Curry Supply Co. has teamed up with Hydrema US Inc. to produce 2,500 gallon articulated water trucks on a Hydrema chassis. These new low-profile off-highway trucks are ideal when working on rough to normal terrain where low operating height is a concern, or where unstable ground conditions are a factor. These off-road articulated water trucks feature a low center of gravity, a no-weld tank mounting design, an interior tank coating that exceeds industry…. read more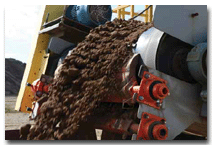 Conveyor Belt Cleaner


A new conveyor belt cleaner has been engineered to contain a smaller total volume of urethane, while maximizing the usable area, produced in a streamlined process that allows the manufacturer to reduce the purchase price and overall cost of ownership. By minimizing the non-consumable portion of the blade, the heavy-duty primary belt cleaner delivers the same performance and durability as the model it replaces, while reducing the amount of urethane going to landfills. Manufactured…. read more

Anti-fog Lens Coating


The HydroShield anti-fog lens coating applies new technology that delivers up to 60 times longer fog-free protection and two times greater scratch resistance than competitive anti-fog coated products, according to Uvex. The coating's superior anti-fog performance improves worker safety and productivity while its anti-scratch properties extend lens life. Available on four.…. read more

Top

Rib-cooled Motors


Baldor's NXR line of high voltage ribcooled motors has grown with higher power ranges and increased ingress protection up to IP66. The higher protection is especially important for dusty applications and IP66 means that the enclosure is completely dust tight and will withstand powerful water jets. The NXR motors are available in frame sizes 355-450 and in the power range of 100-1,250 kW. The size, shape and positioning of the cooling ribs have been optimized for best….read more
SEPTEMBER 1–4, 2015: AIMEX 2015, Sydney Showground, Sydney, Australia. Contact: Web: www.aimex.com
SEPTEMBER 8–9, 2015: Turkey-Eurasia Mining Show, The Conrad Hotel, Istanbul, Turkey. Contact: Web: www.terrapinn.com/conference/ the-turkey-eurasia-mining-show/index.stm
SEPTEMBER 9–12, 2015: Mining Indonesia 2015 Jakarta International Expo, Jakarta, Indonesia. Contact: Web: http://mining-indonesia.com
SEPTEMBER 12–16, 2015: Electra Mining, Expo Centre, Nasrec, Johannesburg, South Africa. Contact: Web: www.electramining.co.za
SEPTEMBER 14–17, 2015: Exposibram 2015, Expominas, Belo Horizonte, Minas Gerais, Brazil. Contact: Web: www.exposibram.org.br.
APRIL 11–17, 2016: bauma, Messe Munchen, Munich, Germany Contact: Web: www.bauma.de
APRIL 25–29, 2016: Expomin, Espacio Riesco, Santiago, Chile Contact: Web: www.expomin.cl
JUNE 14–16, 2016: Euro Mine Expo, Skelleftea, Sweden. Contact: Web: www.eurominexpo.com
SEPTEMBER 26–28, 2016: MINExpo INTERNATIONAL 2016, Las Vegas Convention Center, Las Vegas, Nevada, USA. Contact: Web: www.minexpo.com
| | |
| --- | --- |
| WHO'S MOVING WHERE | |

Jan Moström has been appointed CEO of LKAB.  Previously, he was director of mining operations for Boliden. Current LKAB President and CEO Lars-Eric Aarowill leave his post when Moström takes over on September 15.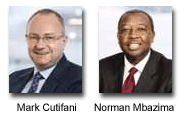 Following Michael Spicer's decision  to retire as chairman of the Anglo American South Africa (AASA) Board, Mark Cutifani, CEO of Anglo American, will assume the role of chairman. Norman Mbazima, CEO of Kumba Iron Ore, will assume the role of deputy chairman of AASA, fulfilling the fiduciary duties of the AASA Board while continuing to lead the Kumba business. Anglo American has appointed Andile Sangqu to the newly established role of executive head of AASA. Khanyisile Kweyama has resigned from Anglo American to focus on her role as CEO of Business Unity South Africa. Harry Calver is also retiring from the AASA Board.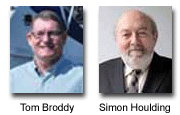 The Canadian Institute of Mining, Metallurgy and Petroleum (CIM) honored more than 50 individuals and organizations for their achievements in various fields of mining at the CIM Awards Gala in Montréal in May. Tom Broddy, manager, engineering projects, for Taseko Mines Ltd., received the distinguished service award. Tom Lane, exploration and metallurgy director for CAMIRO received the A.O. Dufresne Exploration Achievement Award. Simon Houlding, vice president professional development for EduMine, received the Vale Medal for Meritorious Contributions to Mining.

Law firm Dorsey & Whitney announced that I. Daniel Colton has joined the firm's regulatory affairs group in Minneapolis. Most recently, he served as general counsel and vice president of regulatory and legal affairs at Antofagasta plc's Twin Metals Minnesota.

Aaron Rosso recently joined Flexco as senior product manager, heavy-duty mechanical belt fasteners.
About - providing an abreviated version of the current print edition of E&MJ, WOMP is distributed throughout the world to decision makers in the global mining industry, the last week of every month.

Subscribe to E&MJ - To receive your own copy of the print edition of E&MJ, click here , and complete your details. E&MJ is available free of charge to qualified readers.

Contact - if you have views, opinons or comments or editoral that you would like to submit, we would be delighted to hear from you - click here

Top