Features

SATELLITE COMMUNICATIONS
Portable Satellite Terminals Connect Remote Regions in Real Time.......read more

MINING SOFTWARE
Vendors Boot Up a New Generation of Mining Software... read more

SCANDINAVIAN MINING 2008
Detailed feature reviewing the Scandinavian market.......read more

WEST AFRICAN MINING
The Challenges and Potential for West Africa......read more






To update your details or renew your current print subscription or to receive your own edition of the print version of E&MJ -

CLICK HERE

The Hottest Ticket in Town… - As this edition goes to press, Mining Media's publishing team, editors and mining writers are traveling from Las Vegas back to their respective locations around the globe. Most of the mining and processing professionals fortunate enough to attend MINExpo 2008 would agree that it lived up to all expectations. The event was billed as the world's largest mining exposition by its organizer, the National Mining Association (NMA), the U.S. mining industry's Washington, D.C.-based trade group. With more than 41,000 in total attendance, no one could dispute that claim. MINExpo opened with several mining dignitaries cutting a ribbon Monday morning (September 26, 2008), including among others......... read more

Steve Fiscor, Editor in Chief

Regulators Slow BHP-Rio Tinto Offer Process - Actions of regulators in early September slowed BHP Billiton's effort to buy out Rio Tinto and likely have pushed any resolution of the offer process into 2009. The European Commission, which poses the highest hurdle for BHP to clear, announced that it had suspended a December 9 deadline for its antitrust review of the offer, while regulators in Australia and Japan indicated that they had serious reservations.......... read more
Sterling Mining Suspends Production at Sunshine Mine - During mid-September, Sterling Mining Co. announced it would suspend commercial production activities at the Sunshine mine in Idaho. Since 2003, Sterling Mining staff and employees have been engaged in rehabilitating and resuming production at the Sunshine mine. However, despite resuming production in late 2007, the company said it had encountered a series of unforeseen and unavoidable delays........ read more

Top
Rusoro Completes Venezuelan Agreements- Rusoro Mining announced that it has formally completed landmark agreements with the Venezuelan Ministry of Basic Industry and Mines (MIBAM) to custom mill ore from various operations in the El Callao District and to officially begin processing the ore being developed at the Isidora mine. A series of contracts will allow Rusoro to process ore at Choco 10 for Minerven. The ore will include sands, tailings and other sources being evaluated from their various operations... read more
Rio Tinto Signs Copper Exploration Agreements - Rio Tinto has signed two exploration joint venture agreements with Codelco's 100% owned subsidiary, CCM Los Andes, in Chile. These agreements follow the first exploration agreement signed between Rio Tinto and Codelco in January 2008. The new properties to be explored are the Esteli and Paloma prospects in northern Chile. The Esteli property adjoins the Exploradora property, which was subject to the first joint venture agreement between Rio Tinto and Codelco....read more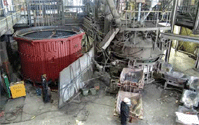 Braemore Completes Upgrade, PGM Production Increases - Braemore Resources plc reported that it successfully installed a new 3.2-mw smelter at the Mintek facility in Johannesburg, South Africa. The new facility is capable of processing around 2,000 metric tons per month and producing platinum group metals (PGMs) in an iron-nickel alloy at an annualized rate of up to 70,000 oz per year depending on feed grade. The smelting facility will steadily increase production over the coming weeks to reach these targeted processing rates. Braemore said it had accelerated...... read more

Top
South Africa's Gold Production Continues to Decline - Even though South Africa's total gold production for the second quarter increased by 9% to 56,933 kg compared to the first quarter of 2008, on a year-onyear basis gold production was down by 10.4% in the second quarter illustrating the continued impact that the electricity supply curtailment has had on the sector. In the first quarter of 2008 production had fallen by 16.8%. The one positive that can be drawn here is that at least the year-on-year decline in production... read more
Nord Resources Proceeds with Construction at Johnson Camp - Nord Resources, which is reactivating copper mining at the Johnson Camp heap leach mine 65 miles east of Tucson, Arizona, has been issued the Arizona Department of Environmental Quality airquality permit required to proceed with construction at the mine. Contractors were mobilizing on site as of mid-August to begin installation of the new crushing and conveying system and other equipment. The company expects to reach full production from new ore in the Spring of 2009 at an estimated rate of 26 million lb/y..... read more

Thompson Creek Takes Option on Lucky Jack - Thompson Creek Metals has entered into a definitive exploration, development, and mining operating agreement with U.S. Energy regarding U.S. Energy's Lucky Jack molybdenum property in Gunnison County, Colorado. The Lucky Jack property is the renamed Mt. Emmons molybdenum property that was investigated by AMAX in the 1970s. AMAX reportedly spent more than $150 million delineating, planning and permitting the property.... read

Top

Coeur Continues Appeal for Original Kensington Permit - Coeur d'Alene Mines Corp. announced that, due to further substantial delay in the Environmental Assessment process triggered by a federal agency's recent actions, it has requested the Forest Service to terminate the permitting process for a potential alternative Kensington paste tailings plan. The company continues to pursue its original tailings plan for Kensington, which is pending in the U.S. Supreme Court. A decision on the appeal is expected in the first or second quarter of 2009.... read more

Vale Begins Bayóvar Phosphate Construction - Vale announced in early September that it has started construction of its $479-million Bayóvar phosphate project in northern Peru. Production is scheduled to begin in 2010 at a nominal capacity of 3.9 million mt/y of phosphate rock. The project includes a harbor with loading capacity for 7.9 million mt/y of phosphate rock. The Bayóvar project has 238 million mt of reserves. The project will initially produce…… read more

Farallon Starting Up G-9 Mine in Mexico - Commissioning of Farallon Resources' G-9 zinc-copper-lead-silver-gold mine in Guerrero state, Mexico, was progressing as planned as of late August 2008. New equipment, including a third Sandvik jumbo drill, an 8-yd3 Elphinstone loader and four Kenworth trucks, had recently arrived at site, completing the mining fleet needed to meet targeted mine production of 1,500 mt/d. Haulage of concentrates by truck to the port of Manzanillo was scheduled…. read more

Top

Vista Completes Paredones Amarillos Feasibility Study - Vista Gold announced in early September 2008 the results of a feasibility study prepared by SRK Consulting on Vista's wholly owned Paredones Amarillos gold project located about 55 km south of La Paz, Baja California Sur, Mexico. The study proposes an open-pit mining operation that would produce 1.2 million oz of gold over a mine life of 9.5 years, including 142,900 oz/y during the first five years and an average of 127,400 oz/y over the life of the mine. Proven and probable reserves…. read more


Kangaroo Metals to Acquire California Creek Tin Mine - Kangaroo Metals Ltd., a diversified exploration and mining company with projects in North Queensland and Tasmania, has completed its due diligence examination of the California Creek alluvial tin mine and will progress to purchase. The California Creek alluvial mining operation is centrally placed on KML's current California (EPM14877) and California West (EPM14357) tenements…. read more


Freeport Reports Small Scale Failure at Grasberg - Freeport-McMoRan Copper & Gold Inc. reported what it described as a small scale failure encompassing approximately 75,000 metric tons (mt) of material occurred at the Grasberg open-pit. There were no injuries or property damage. Mining and milling activities are continuing normally but access to the high grade section of "7 South" will be restricted until remediation activities are completed and safe access to this mining area can be assured. The company expects to complete remediation of the area and resume…. read more

Top

Russia to Develop Aluminum Smelter, Power Plant in Libya - Moscow-based UC RUSAL, the world's largest aluminum and alumina producer, announced that it has signed a Memorandum of Understanding (MoU) with the Libyan State Economic and Social Development Fund (ESDF) to create a joint venture to develop an energy and metals complex in Libya. The agreement sets out a plan to develop an aluminum smelter with a capacity of 600,000 metric tons (mt) per year and…. read more


Peabody Energy Explores Coal Resource in Inner Mongolia - Peabody Energy has entered into an agreement with the government of Inner Mongolia and other Chinese partners to explore development opportunities for a large surface mine and downstream coal gasification facility that would produce methanol, chemicals or fuel products. The majority of coal from the mine would be dedicated for fuel supply to the coal conversion plant.…. read more



Cluff Gold Commissions Second West African Mine - Cluff Gold began commissioning the open-pit, heap-leach Kalsaka gold project in Burkina Faso in late August 2008 and expects to have it ramped up to design production capacity of 60,000 oz/y of gold by year-end. Kalsaka is Cluff's second mine to come into production in West Africa this year. Its 40,000-oz/y Angovia gold mine in Côte d'Ivoire poured its first gold on March 14. The two projects are expected to produce a combined total of 100,000 oz in 2009…. read more...


Semafo Inaugurates Mana Mine - Semafo announced that on June 30, 2008, the company hosted the official inauguration of its Mana mine in Burkina Faso. His Excellence Tertius Zongo, Prime Minister of Burkina Faso presided over the ceremony along with Semafo's President and CEO, Benoit La Salle. Government officials from Burkina Faso and Canada along with members of the media and invited guests attended the event.…… read more

Top
BMA Completes Acquisition of New Saraji - BHP Billiton Mitsubishi Alliance (BMA) announced that it has completed the previously announced acquisition of the New Saraji Project from New Hope Corp. Ltd. for a $1 billion cash consideration. The project will now be known as Saraji East. It is an undeveloped metallurgical coal resource located adjacent to BMA's Saraji mine near Dysart.…. read more

New Inyanda Supports Exxaro's South African Export Ambitions - Diversified South African-based resources group Exxaro Resources commissioned its new Inyanda coal mine which is currently ramping-up to produce 1.5 million metric tons per year (mt/y) of A-grade thermal coal for the export market. The open cast mine, situated near Witbank in Mpumalanga, has been developed at a cost of R269 million and is expected to achieve its full production capacity of 1.5 million mt/y in the third quarter of 2008…... read

Top

Coalcorp Presells Colombian Coal - Coalcorp Mining Inc. recently announced it has agreed with an existing customer to restructure its forward coal sales. The agreement provides for the sale of an additional 12.5 million metric tons (mt) of coal from its La Francia mine at an average FOB port sales price averaging $123/mt, with deliveries commencing in 2009. The net effect on all of Coalcorp's forward sales commitments over the next six years is that a total of 30.7 million mt of coal at a combined average FOB port price of $81 per mt has now been presold…... read more

Portable Satellite Terminals Connect Remote Regions in Real Time
Filling the gap between the dish and hand-held devices, these units are finding new applications in exploration and operations
By Steve Fiscor, Editor-in-Chief

Miners and geologists working in remote locations often become accustomed to quiet, inaccessibility. With resources stretched thin and decisions being made in an instant , however, the ability to connect to the rest of the world is important. Internet and cellular connectivity in some cases might mean a half-day trip to an urban center. If communicating with headquarters was the sole purpose for the trip, the travel downtime could be viewed as a nuisance at best and more likely a complete waste of time……. read more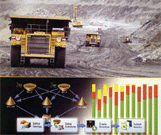 Vendors Boot Up a New Generation of Mining Software
From complete mine management down to the smallest detail of process or machine design, the latest programs are claimed to process and display data easier, faster and more accurately
By Russell A. Carter, Managing Editor

MINExpo 2008, the huge international mining trade show held September 22–24 in Las Vegas, Nevada, USA, offered a bonanza of information for attendees interested in the latest loading, haulage and processing "iron" and the services and ancillary machinery needed to support it. However, perhaps not as visually imposing as 400-ton-payload haul trucks and massive excavators—but still highly important to a producer's bottom line—was a raft of new or improved mining software products introduced at the show that ranged from complete mine management suite upgrades to specialized financial modules...... read more

Top
New Technology Set to Unlock Low-Grade Nordic Mineral Resources
Leading edge technology is bringing mineralization previously regarded as unsuitable for mining to production, extending the lives of existing mines and finding new resources
By Kyran Casteel, European Editor

The regeneration of mining as a significant contributor to the economies of Finland and Sweden continues apace with both local and foreign companies participating. At least one mid-size international mining company, Canada's First Quantum Minerals, has recently joined the party, taking over the 5-million-mt/y nickel-copper ore open-pit mine development project at Kevitsa in Finland. Another Canadian firm, Gold-Ore Resources, has acquired a 90% stake in the polymetallic Norrliden project from the Lundin subsidiary North Atlantic Natural Resources, having already purchased the Bjorkdal gold mine in the Skellefte mining field in Sweden…... read more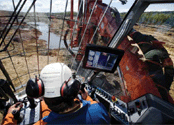 Innovation and Improvisation Keep Talvivaara on Track - Development of the Talvivaara Mining Co. (TMC) project, located in the Sotkamo region of eastern Finland and one of the largest known nickel sulphide deposits in Europe, has attracted a great deal of public attention in Finland and elsewhere, for a number of economic and technological reasons…. read more...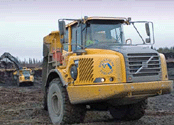 AEM Pools Canadian and Finnish Experience in Arctic Lapland - Although it has probably attracted less attention than Talvivaara, the Agnico- Eagle Mines Limited (AEM) Kittilä gold mine is nevertheless a major development for Finland and is also using mineral processing technology new to the country. Furthermore, some commentators expect the operation to be more profitable…. read more...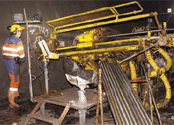 Double Act: How Kemi Plans to Underpin Outokumpu's Ferrochrome Expansion - Managers at the integrated Kemi mine, which supplies the chromium for ferrochrome and stainless steel production at the Outokumpu Tornio Works in Finland, 2008 might have expected 2008 to be a relatively uneventful year. After all, as Jyrki Salmi (manager-mining) and Heikki Pekkarinen (manager-mineral processing) explained last year…. read more...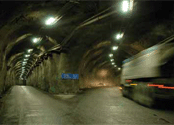 Established Miners Seek Economies of Scale - Although the major Nordic mining companies have generally enjoyed profitable operation through the past 12 months, not all the individual mines have performed well. And long-term, a key objective is to contain costs, at least partly by increasing the scale of operations…. read more...
Mining Technology Suppliers Focus on High Tech Solutions - The major mining technology suppliers headquartered in the Nordic countries deliver a high proportion of their sales to foreign markets. To a considerable extent their success has been based on the advanced technology developed to meet the technical and economic challenges posed by their domestic mining industries…. read more...
Global Mineral Processing Firms Refine Strategies - The global mineral processing and metallurgical technology suppliers based in the Nordic region continue their efforts to minimize delivery times through worldwide supply chain management, albeit not without difficulty. But they are maintaining investment in new technology development and have also been paying attention to broader business strategies…. read more...
The Challenges and Potential for West Africa
Despite the high logistics and operating costs involved, mining is booming in this remote region
By Antonio Ruffini, South Africa-based Editor

With virtual unanimity suppliers of mining services, minerals exploration groups and mine owners admit that operating in West Africa poses its challenges. Ralf Hennecke, general manager of international marketing for South Africa-based explosives company BME, a group that supplies five mines in West Africa, notes that for many, that region is seen as a difficult place to do business. "It is just a bit more extreme than other places," Hennecke said. "The climate, the dust, the heat, the remoteness. And, in particular, West Africa is logistically challenging."..... read more

Top

Normet Scores Big Equipment Order from MMC Norilsk - Finnish mining and tunnel equipment manufacturer Normet Group recently reported that it had been awarded the largest deal in its corporate history, a €20- million-plus equipment sale to Russian mining company MMC Norilsk Nickel. The transaction, according to Normet, includes more than 60 mining vehicles for concrete spraying, rock removal, charging, personnel and explosives transport…. read more

New Generation Outotec Thickeners Go into Kolwezi Cobalt-Copper Project - Outotec recently reported that a state-of the-art thickening system designed for First Quantum Minerals' $550 million plus Kolwezi project in the Democratic Republic will be the first of its kind. Nine Outotec thickeners are due for delivery and installation at the Kolwezi cobalt and copper tailings operation in early 2009. Outotec's technology for the Kolwezi project involves 42-m, high-rate preleach thickeners. In what the company describes as a world…… read more

Cat's New 785D Hauler Features New Body, Higher Performance - Caterpillar's new 785D rigid haul truck offers a target payload range of 142 to 155 tons (129 to 141 mt) depending on the specific configuration. The range, according to Cat, enables new trucks to integrate well with fleets of earlier 785s. The new truck is powered by a Cat 3512C HD engine that maintains fuel efficiency, delivers 1,348 net horsepower (1,005 kW) and is compliant with U.S. EPA Tier II emissions standards. The engine is capable of operating at altitudes up to 14,000 ft (4,267 m) with no derating;…. read more

Top

Long Range Scanner Boasts High Measurement Rate and Accuracy - U.K-based 3D Laser Mapping's ultra long range laser scanner is designed to capture millimeter-accurate 3-D mapping at very high speeds with a range of capture of over one mile. The first customer for the new scanner system, Mining Surveys, a specialist surveying company which primarily works within the heavy civil engineering, mining and waste industries, is planning to use the innovative laser measurement system to expand their operations into new…… read more

Survey Data Collector Offers Rugged Case and Improved Convenience - Carlson Software has introduced the new Carlson Surveyor+ data collector, a magnesium- cased, ruggedized version with an IP67 water and dust-resistant ingress rating. In addition to more memory capacity and increased operating speed than the company's current Surveyor model, the Surveyor+ is capable of holding an extra battery to increase operating time…. read more

Oil Skimmer Removes Pond and Pool Residue - The Model 6V oil recovery system from Oil Skimmers Inc. is claimed to efficiently remove oily wastes that float on the surface of water. In operation, a specially formulated collector tube skims oil from the water surface: the oil adheres to the outside of the closed-loop tube, which is slowly drawn across the surface of the water and into the oil skimmer. The tube is drawn into the oil skimmer and through scrapers that remove the oil…. read more

Airborne Imaging System Offers Efficient Processing, Faster Workflow - Leica Geosystems claims its new ADS80 airborne digital sensor is superior to any other large-format digital airborne imaging technology available. According to the company, two available sensor-head configurations support the widest range of geospatial applications from orthophoto to 3-D feature mapping. Improved data throughput from an all-new control unit with flash memory facilitates simultaneous data acquisition of equal resolution imagery in all bands for photogrammetry and remote sensing applications.…. read more

Top

Foam Sealant has New Formula and Packaging - Touch-n-Seal is offering an improved version of its rib and roof air ventilation control foam sealant. The proprietary, nonstrength- enhancing sealant is a two-part polyurethane expanding foam system that provides an air/moisture barrier which, after application, isolates a coal seam from air movement that can cause scaling and general spalling of coal off the ribs and roof in underground mines.….read more

Borehole Plugs Can be Installed with One Hand- MTi Group, a manufacturer and distributor of drill and blast consumables to the global mining sector, announces the release of the Solo BlastBag borehole plugs, claimed to be the first ever single-handed deployable, two-speed BlastBag. According to the company, the bags' two-speed aerosol latch is the first of its kind and works in all temperatures from extreme heat to extreme cold. As the name implies, Solo indicates the ability to deploy and use the product with one hand…. read more
SEPTEMBER 22-24, 2008: MINExpo 2008, Las Vegas, Nevada, USA Contact: Hall Erickson; Tel: 800-752-6312; Fax: 630-434-1216; E-mail: minexpo@heiexpo.com; Web: minexpo.com

SEPTEMBER 24-28, XXIV International Mineral Processing Congress (IMPC), Beijing, China Conference Secretariat; Tel: 86-10-68310569; Fax: 86-10-68317050; E-mail: impcexhibition@gmail.com

OCTOBER 1-3, 2008: PROCEMIN 2008, Santiago, Chile Contact: Fabiola Bustamante; Tel: 56-2 652 1555; Fax: 56-2 652 1570; E-mail: info@procemin.cl; Web: www.procemin.cl

FEBRUARY 8-11, 2009: 35th Annual Conference on Explosives and Blasting Technique, Denver, Colorado, USA. Contact: International Society of Explosives Engineers; Tel. 440-349-4400; Fax: 440-349-3788; Web: www.isee.org

For a full calendar of mining industry conferences and events - click here


Golden Star Resources Ltd. announced the appointment of John Labate as senior vice president and CFO.

Great Basin Gold Ltd. announced the following appointments: Phil Bentley has been named vice president: ore resources and geology; Don MacKinnon has been named Hollister mine's superintendent; Richard Yancey has been named Hollister mine's chief geologist; and Michael Curlook has been appointed head of investor relations and corporate development.

Top

Bauxite Resources Ltd. announced the appointment of Daniel Tenardi as managing director.
Mintek recently announced that Alan McKenzie has been appointed manager of the minerals processing division; Marthie Kotze has been appointed consultant for the hydrometallurgy division; Neale Baartjes has been appointed manager of the mineral economics strategy unit; Sakhi Simelane has been appointed CFO; and Sindiswa Gaven has been appointed manager of the small-scale mining and beneficiation division.

Raw Materials Group recently appointed Dr. Per Storm managing director. The firm also announced that Tom Niemi, former deputy chief executive of Boliden; present chairman Finnish Geological Survey, has been named chairman of the board. Karl-Axel Waplan, executive vice president European Operations Northland Resources; chairman endomines; former CEO Lundin Mining, has been named to the board of directors

Veolia ES Technical Solutions, LLC announced the appointment of Jim Bell as president and CEO. He replaces Philippe Martin, who has been appointed vice president, innovation and technology for Veolia Environnement.

Ben Schatz, president and owner of ChemGrout, Inc. located in LaGrange Park, Illinois, USA, is celebrating his 40th year with the company.

Olof Persson has recently been named president of Volvo Construction Equipment. He replaces Tony Helsham who will remain in the Volvo Group Executive Committee. Persson, currently president of Volvo Aero, will be replaced by Staffan Zackrisson
About - providing an abreviated version of the current print edition of E&MJ, WOMP is distributed throughout the world to decision makers in the global mining industry, the last week of every month.

Subscribe to E&MJ - To receive your own copy of the print edition of E&MJ, click here , and complete your details. E&MJ is available free of charge to qualified readers.

Contact - if you have views, opinons or comments or editoral that you would like to submit, we would be delighted to hear from you - click here

Top