Albemarle to Acquire Liontown
---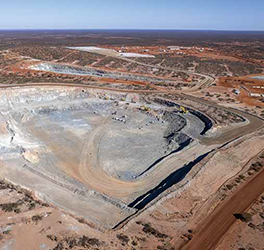 Liontown has signed offtake agreements for the spodumene
concentrate that will be produced at Kathleen Valley from mid-2024.
(Photo: Liontown)

Albemarle Corp., a global leader in lithium production, confirmed that it will be working toward the execution of a binding agreement to acquire Liontown Resources Ltd. Albemarle submitted a revised proposal for A$3 per share, which values the company at $4.3 billion on an equity value basis.

The revised proposal is subject to several conditions before it would be binding, including due diligence to the satisfaction of Albemarle; the Liontown board unanimously recommending the proposal; and entry into a mutually acceptable scheme implementation deed. After reviewing the revised proposal, the Liontown board said it would allow Albemarle an opportunity to conduct a limited period of exclusive due diligence, subject to customary fiduciary exceptions, to enable it to put forward a binding proposal.

Liontown controls two hard rock lithium projects in West Australia, Kathleen Valley and Buldania. Kathleen Valley is located on the western edge of the Norseman-Wiluna Greenstone Belt about 680 km northeast of Perth. It will be one of the world's largest lithium mines when it comes into production in mid-2024. A total of 20 mineralized pegmatites have been modelled at Kathleen Valley hosted by two, outcropping, northwest/southeast-trending pegmatite swarms — a shallowly-dipping, north-eastern swarm, and a steeper dipping south-western swarm. The two swarms are interpreted to merge at depth to form a single, thick, moderately dipping mineralised body that remains open down-dip and along strike.

Buldania is loctaed near the known deposits of Mt Marion (metric tons (mt)) and Bald Hill (26 million mt) lithium deposits, 600 km east of Perth. Liontown has signed offtake agreements with LG Energy Solution (LGES), Tesla and Ford, who are considered foundation customers for the spodumene concentrate that will be produced at Kathleen Valley from mid-2024.

Liontown's offtake commitments of up to 450,000 mt/y represent approximately 90% of Kathleen Valley's production capacity of approximately 500,000 mt/y. During mid-August, Liontown signed a $1 billion contract with Byrnecut Australia Pty Ltd for the Underground Mining Services, which will underpin the development and production of the Kathleen Valley. The tender and award covers all aspects of underground construction, including significant early capitalized development, approximately 60 km of a total 90 km during the 4-year contract period.
---
As featured in Womp 2023 Vol 09 - www.womp-int.com