Top Network Solutions Cut Costs, Increase Production
The leading communications network solutions for underground mines offer ease of installation, expansion and repair, and increased productivity

Jesse Morton, Technical Writer
---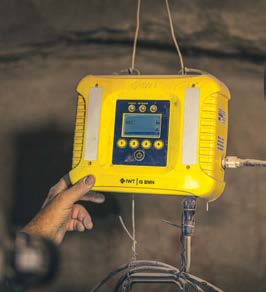 The Sentinel Battery Mesh Node can support numerous last-mile
applications, and is one of the core technologies driving
Innovative Wireless Technologies' innovation projects.
(Photo: Innovative Wireless Technologies)

The leading communications network solutions for underground mining offer cost savings associated with ease of installation, expansion and maintenance. Additionally, less resources spent on troubleshooting and repairs can translate to more resources given to production, the suppliers said. And of course more production means more revenues, which is the raison d'être of the growing ranks of potential customers generating the demand for these state-of-the art solutions.

Adding Capabilities to Improve Safety, Efficiency
Innovative Wireless Technologies (IWT) said it is helping develop miner safety and efficiency initiatives that could launch in 2023 and that "pair seamlessly" with the company's advanced underground communications solutions. For example, the initiatives are being developed around the capabilities offered by IWT's Analytics Platform, a comprehensive digital offering that can be used to improve productivity, safety and compliance, said Jeremiah Colling, director of marketing. "The Analytics Platform provides situational awareness for mining operators and can identify constraints in mining processes, root causes for unplanned downtime, and preventative maintenance measures to create a safer working environment."

The solution was designed to help customers attain that elusive extra "percentage point of productivity" and improved "safety of their workforce," he said. "IWT is motivated to design solutions for how miners operate," he said. "We are not intimidated by difficult problems and thrive on these challenges." The announcement highlights the company's commitment to helping their customers improve their operations in numerous areas and in the face of an increasingly stringent regulations environment, said Eric Hansen, CEO. "As other communication providers prepare end-of-life statements for their products and exit the mining business, IWT is expanding its portfolio with new products, features, technologies and use cases for the IWT Sentinel Communication System."

The company's flagship "Sentinel system is unique in that it is an all-digital wireless network that combines multiple systems into a single solution: voice, text, tracking, gas monitoring, high-speed data, analytics, and more," Colling said. Each Sentinel system deployed is customized to the specifics of the operation. Each is "fully scalable and expandable to meet mine operators' needs today and well into the future," he said. Benefits of deployment include "significant savings" over competitor solutions. Sentinel is an "easy-to-use system with no wires to install, fix, move or retirein- place," Colling said.

"Basic communication components that improve efficiencies, such as voice communication and real-time tracking, are enhanced with the ability to communicate actionable data, especially in challenging areas where fiber is unavailable, or remote areas where power is a concern," he said. "It's in this area that IWT's wireless Sentinel System excels." Having reliable communications in every area of the mine gives the needed visibility to "minimize fine amounts," Colling said. "Mines are able to achieve lower fine amounts in part because of the integration of voice, text, tracking, gas monitoring, and data reduces the total number of systems to maintain," he said. "This reduces the demand for skilled labor resources to maintain, and allows them to support production efforts instead of compliance efforts."

For example, a Western U.S.A. coal operation uses Sentinel Wireless Gas Monitors (WGMs) to wirelessly communicate, directly to dispatch in real time, gas readings from boreholes located several miles from the mine office. "The once-labor- intensive task of traveling to well sites and recording gas readings was replaced with an accurate, real-time data-collection process that increases miner safety and frees up time for other tasks," Colling said. "The mine can also program the WGMs with alarm thresholds for push notifications, run detailed reports, and use historical data to monitor trends, all with their communication system."

A hard rock miner uses Sentinel to support a remote machine monitoring solution for their raise borer. "Since the machine is critical to the mining process, the status must be continually monitored in real time to maintain operational efficiency," he said. A fiber network connection to the machine was prohibited due to the layout of the working section.

"The solution was to add Sentinel Uniti Nodes throughout the entry of the raise bore machine," Colling said. "The nodes deliver standard voice communications and Wi-Fi coverage to collect data from the machine, as well as a wireless fiber link to relay machine data back to the mine's office," he said. "This allowed the mine to remotely monitor the raise borer and have voice communication all on one system."

Feature upgrades to components are available and enable IWT engineers to customize a system for an operation. For example, when a large underground coal mine struggle to obtain reliable carbon monoxide readings at underground charging stations, IWT engineers innovated to upgrade the WGM analytics system.

"Excess hydrogen can be generated by the charging station, causing false readings and alarms in these areas," Colling said. "After learning of this issue, IWT engineers created a hydrogen- compensated CO solution for the WGMs used in these areas," he said. "The H2-compensated CO algorithm significantly reduced false alarms, and because the mine uses a Sentinel Dispatch Station as part of their communication system, they are able to view readings and alarms aboveground as well as broadcast alarms directly to miner handsets in the vicinity of the sensor."

Which shows how "IWT has been reliably enabling the most critical underground communications for the mining industry for more than 17 years," Hansen said. "The ability to scale the system, add capabilities, collect information from machines, atmospheric monitors, asset and personnel location devices, and a wide variety of sensors, is what sets Sentinel apart."

Giving Last-Mile Connectivity, Remote Control
Maestro Digital Mine reported it is in the initial design stages of upgrading the popular Plexus PowerNet. "It is still in the planning and initializing phase right now, early development," said Ashton Gobbo, P. Eng., senior project manager, Maestro Digital Mine. "It is going to have more powerful diagnostic tools and more powerful features," he said. "You can expect that in the future, so stay tuned."
Plexus PowerNet can extend an existing underground communications network as much as 1.5 km to support
multiple applications in the working area at the face. Above, a node at Sibanye Stillwater's Bathopele mine.
(Image: Dwyka Mining Services)

Plexus PowerNet, with a growing global population, is a high-speed, low-latency, low-jitter last-mile network extension solution providing power and Ethernet over coax cable. "Instead of needing to carry power and data separately, we are doing it now over a single coax cable," Gobbo said. "It is flexible and easy to work with for the rough contours of an underground mine."

The cable connects Plexus nodes, with as few as three and as many as 12 in a system. The solution is designed to be added onto and extend almost any existing network as much as 1.5 km, but, depending on the applications, can sometimes go further. "If you want to go further than that, we do have a repeater node, which will boost the signal so you can go even further," Gobbo said.

Dwyka Mining Services has a 3-km Plexus PowerNet last-mile system in a customer's mine. "They have to have a couple repeaters in there, but they can get communication over 3 km," he said. "You can continue that with more repeaters." Plexus PowerNet can support teleremote- and remote-control applications, personnel and equipment tracking, sensors, cameras and more. "We are doing vehicle tracking where you would set up tracking barriers around the mine, and then on your equipment or on your personnel you would have tracking beacons," Gobbo said.

"When they pass one of those barriers, it would know where they are," he said. "That data would then get passed through the Plexus up to the surface and let them know." It is being used to support air quality monitoring. Dwyka Mining Services made headlines in H1 2022 for using a robotic dog equipped with a Maestro Digital Mine Zephyr AQS air-quality sensing solution. "You can monitor gas, airflow, pressure, humidity, temperature," Gobbo said. Those sensing solutions can be "directly connected to the Plexus."

For a customer, Plexus PowerNet is used to support a camera to monitor pastefill operations. "They wanted to monitor an area that was 2,000 ft from their network switch," he said. "They put one node at the start, one node at the camera, and then the coax cable carried the power and the data," Gobbo said. "So it was easy to install and easy to set up." Plexus PowerNet can be used to support WiFi at the face, a setup that was showcased at Mining Transformed 2022 at the NORCAT Underground Center in Ontario, Canada, in September. "It was the first underground exhibition in the world, and the Plexus was used as the networking backbone," he said. The solution can support "pretty much any IP-based device," he said. "I know there are some applications where they want remote connectivity for blasting," Gobbo said. "It could handle that application," he said. "Your trigger pretty much would send the message over the network and the Plexus, and it would trigger the blast."

Maestro Digital Mine offers a power supply solution for the system. "You need a 48- to 54-V DC power supply and it has to be rated for 10 amps max," he said. "Our power supplies come with a nice quarter-turn bayonet connector," Gobbo said. "You basically push it in and clip it on, and it supplies power." Each Plexus node has a power port. "So depending on wherever your power substation is that you can connect the power supply to, you can just connect directly to the nearest Plexus node," he said. "It will then boost the voltage for the entire system."

Plexus PowerNet offers lower capex and opex. "It lowers capex because you only need a single cable to connect the system," Gobbo said. "And you eliminate two cables that you would otherwise need, one for power, one for data," he said. "Everything about the Plexus is done over a single cable." Because it can be quickly installed, extended and repaired, it lowers opex. Compared to other solutions, the Plexus node is "very rugged, strong and robust," he said. "It withstands constant blast concussions, so you need less repairs." And if damaged, each node has a USB key containing the configuration data. "All you have to do is take the USB from the damaged node, put it in the new node, and it will automatically upload all of the configurations," he said.

Tough to break and quick to repair or replace, the nodes "reduce the operating costs," he said. "If you are spending more time operating, that directly translates to more production," Gobbo said. "And more production translates directly into more revenue." The system is "fully agnostic," he said. "You can add it to any existing network infrastructure and it will operate seamlessly," Gobbo said. "All of the protocols that the Plexus runs are all IEEE standard."

Newmont was an early customer, trialing the solution shortly after it became available more than a half decade ago. "In late 2017, we installed the first one at Borden," he said. At the time, Borden was a relatively new mine. Since then, the mine has added nodes. "Now on every level they are using Plexus nodes," Gobbo said. "And they were also our first user of the tele-remote application," he said. The mine tele-operates from surface an underground LHD. "For the past five years they have been using the Plexus with tele-remote applications and they love it." Last year, Newmont trialed Plexus PowerNet at Cerro Negro, in Argentina. "They absolutely loved it," Gobbo said. "They are ordering 35 nodes."

The planned upgrades to the system will only amplify the existing benefits offered, Gobbo said. The foremost benefit offered is improved safety, which is the result of real-time data from underground operations available to support decision- making on the surface. "The other thing is it is now enabling applications like the tele-remote and the remote control to actually eliminate general workers from the most dangerous parts of the mine," he said. "Safety is good but if you can eliminate them completely from that situation, that completely eliminates the risk," Gobbo said. "Plexus helps with that."

Advancing 2030 Goals in the Mideast
Subsoil Technologies said the installation of a Northern Lights Technologies (NLT) underground communication network for Al Masane Al Kobra Mining Co. (AMAK Mining) in Saudi Arabia went as planned despite supply chain challenges. As of this writing, leadership at the supplier said the project is on time, under budget, and more than meets customer expectations. "The feedback from AMAK personnel is that Subsoil Technologies provided a solution that exceeded their expectations because it was low cost and simple to install," said Tendayi V. Mwayi, sales director, Subsoil Technologies.
A Northern Lights Technologies 1-Gbps WiFi network offers one of the
lowest cost per km of connectivity, said provider Subsoil Technologies.
(Image: Subsoil Technologies)

The solution includes a 1-Gbps WiFi network, real-time positioning system for people and equipment with evacuation system, and rugged mine phones. "The WiFi network is manufactured in Australia by NLT Digital," Mwayi said. "It offers one of the lowest cost per km of connectivity in mining and construction tunnels." The tracking system, Digital Mine, is also a NLT Digital product. "It is a simple application that allows visualization of underground operations," he said.

GroundHog FMS and Short Interval Control serve as the production management system. "It is a highly flexible and low-cost production management system for surface and underground mines," Mwayi said. "The phones are rugged android devices called Telos 590," he said. "They are rated IP67 making them suitable for the dusty and humid environments in underground mines."

AMAK signed Subsoil Technologies after a 2-year search. The miner "chose the solution because these systems met their requirements fully, had impressive reference installations at a number of sites across the world, and were well-supported in the region," he said. "The AMAK team had confidence in Subsoil Technologies because the company offered fair commercial terms and committed resources to meet installation deadlines in spite of prevailing chip shortages and shipping delays." Both posed "big challenges" that "delayed production."

Subsoil Technologies answered by "airfreighting the goods instead of transporting by sea freight," he said. "The logistics of sending an installation team to the site were also a challenge; however, AMAK supported Subsoil Technologies by providing a team of engineers who were trained to perform the installation themselves." Implementation launched in November 2022. As of this writing, the network was operational. "Now that the mine is connected, personnel can be reached quicker over the mobile phones wherever they may be in the mine," he said. "Delays are also reduced because the miners can escalate their delays to the relevant person and have a quick response to resolve their issues so that they can perform and complete their duties on time." The project was calendared for completion in mid-February.

AMAK is one of a few private-sector mining companies in Saudi Arabia. Located near Najran, the polymetallic gold operation, which spans a surface mine and three connected underground mines, started in 2008. "Saudi Arabia is determined to fulfill the objectives set out in its vision 2030 and forward looking companies such as AMAK are pioneers in adopting and executing vision 2030 in their strategies," Mwayi said. "Subsoil Technologies are proud to be associated with this grand vision, and we are excited at what lies ahead as the rest of the mining industry grows towards this vision."

The installation was the first by Subsoil Technologies in the Middle East "and it establishes credibility for the brand in the region," Mwayi said. "We expect that AMAK will be a notable reference to clients in the Middle East for years to come." South Africa's Subsoil Technologies launched in 2019 with a mission "to close the knowledge and expertise gap in industrial communication networks and internet of things," Mwayi said.

"The company is a partner of companies such as Nokia, Huawei, Vodacom, OpsCORE, GroundHog, CGG and NLT, and provides simple bespoke communication and operations management solutions for mines in Africa and the Middle East," he said. "Low cost of ownership, ease of operation and ease of maintenance are some of the criteria that Subsoil Technologies considers in selecting partners and building solutions."
---
As featured in Womp 2023 Vol 02 - www.womp-int.com