IDP Extends Kamoa-Kakula Mine Life Beyond 2060
---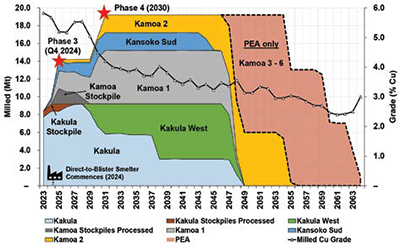 Kamoa-Kakula 2023 IDP life-of-mine development plan by deposit. (Source: OreWin, 2023)

Ivanhoe announced positive findings of an independent Integrated Development Plan (2023 IDP) for the Kamoa- Kakula Copper Complex in the Democratic Republic of Congo (DRC). The 2023 IDP consists of a pre-feasibility study (PFS) for the Phase 3 and Phase 4 expansions of the complex over a 33-year mine life, as well as an updated preliminary economic assessment (PEA) that includes a life-of-mine extension case to 42 years overall.

The PFS evaluates a staged increase in production capacity at Kamoa- Kakula from the current nominal throughput rate of 7.6 million metric tons per year (mt/y) up to a total of 19.2 million mt/y by 2030. First, the throughput of the Phase 1 and 2 concentrators will be increased to 9.2 million mt/y by the completion of the current debottlenecking program.

Phase 3 includes the ongoing construction of a new 5 million mt/y concentrator, located at Kamoa, which is targeted to be completed in Q4 2024. As part of the Phase 3 expansion, a direct-to-blister (DBF) flash smelter is under construction to produce approximately 500,000 mt of 99+% pure copper metal, and the replacement of Turbine No. 5 at the Inga II hydroelectric power station is well underway. The turbine replacement will supply an additional 178 megawatts (MW) of clean hydroelectric power to the national grid and provide power for Phase 3. The smelter is also expected to produce 650,000 to 800,000 mt/y of sulphuric acid for sale in the domestic DRC market.

Phase 4, planned for later in the decade, includes the construction of an additional 5-million-mt/y concentrator in parallel to Phase 3, which will be fed by mines in the Kamoa area, bringing overall production up to 19.2 million mt/y. The PEA evaluates a further 9-year extension to mine life, from four additional mines, maintaining production from the Phase 1-4 concentrators beyond 2060.

Ivanhoe Mines' Executive Cochairman Robert Friedland said: "This IDP reveals the true, long-life nature of the Kamoa-Kakula Copper Complex, which will be producing 'green', highgrade copper metal for the better part of this century. It also demonstrates the bright future and vast potential for the DRC and its people, which is ready to become a world leader in the responsible supply of vital electric metals required by governments around the world to enact policies to combat climate change.

The Phase 1 and 2 concentrators will process ore initially from the Kakula mine, which is being expanded to meet this capacity, and then supported by the Kakula West mine from 2029. The Kamoa concentrator will be fed with ore from the existing Kansoko Sud mine, as well as new mines under development known as Kamoa 1 and 2. The PEA adds four new underground mines in the Kamoa area (called Kamoa Nos. 3, 4, 5 and 6) to maintain the overall production rate of up to 19.2 million mt/y. Ivanhoe said the Phase 1 and 2 de-bottlenecking program is more than 90% complete, which will deliver increased copper production to fund the Phase 3 and 4 expansions.

To meet the expanded plant capacity of Phase 1 and 2, the Kakula mine and associated material-handling capacity is undergoing an expansion which will enable an increased mining rate of between 8 million mt/y and 9 million mt/y. Together with existing stockpiled material at Kakula, this will provide the feed for the Phase 1 and Phase 2 debottlenecked concentrators at a throughput rate of 9.2 million mt/y. As of the end of December 2022, Kakula's surface ore stockpiles totalled approximately 3.01 million mt at an estimated grade of 4.2% copper, containing over 126,000 mt of copper.

As the Kakula stockpiles near depletion, high-grade ore fed into the Phase 1 and Phase 2 concentrators from Kakula Mine will be supplemented with ore from a new underground mine at Kakula West. The Kamoa-Kakula complex produced 333,497 mt of copper in concentrate in 2022, achieving the upper end of its original 2022 production guidance range of 290,000 to 340,000 mt, which represents a year-over-year increase of 215%. For 2023, Kamoa-Kakula's guidance range is 390,000-430,000 mt contained copper in concentrate.
---
As featured in Womp 2023 Vol 02 - www.womp-int.com