Newcrest to Move Forward With Lihir 14A Expansion
---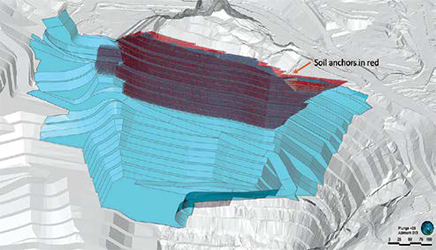 Using pitwall anchors (red), Newcrest believes it can use a steeper pitwall to access more reserves at Lihir.

Newcrest Mining Ltd. has received approval from its board for the Lihir Phase 14A Feasibility Study (14A FS), endorsing the project into full implementation. As part of the 14A FS, site investigation and trial works have been completed and a robust plan has been developed which extends the Phase 14 cutback and safely steepens the walls of the pit using pitwall anchors. Completion of a drilling program has significantly improved the geotechnical knowledge of the cutback area and enabled refinement of the anchor design and placement to better suit the geotechnical conditions.

"The development of Phase 14A is another innovative step forward in realizing the full potential of Lihir," Newcrest Interim CEO Sherry Duhe said. "The findings of the study are expected to deliver gold production from an additional high grade ore source which would have otherwise been inaccessible through standard mining techniques."

Newcrest believes the application of steep wall technologies in the north and east of the Kapit orebody, together with an alternative seepage barrier design, will allow them to safely access additional high-grade zones outside the current ore reserve and extend the elevated production profile beyond FY31.

For an estimated total capital expenditure of approximately $280 million, Phase 14A is expected to add incremental production of 400,000 oz of gold over the next four years. The 14A FS projects a 48% internal rate of return and a payback of 2.9 years. Mining of Phase 14A commenced in the June 2022 quarter and will continue through to FY27. Ore mined from Phase 14A will displace lowergrade ore feed to the processing plant, with approximately 13 million metric tons (mt) of high- and medium-grade ore to be fed through to FY26. Lowergrade material will be stockpiled and fed progressively over the remaining mine life, for total projected production of 800,000 oz of gold.

Further application of the civil steep slope technology used in Phase 14A is being assessed to potentially unlock additional high-grade mineralization outside the current ore reserve in the northern and eastern extents of the Kapit orebody. This work has the potential to improve the production profile beyond FY31, before the high-grade ore from Kapit declines. The design optimization and associated impact on the longer term production profile is expected to be completed in the second half of CY2023.

In addition, following completion of the Seepage Barrier Feasibility Study in October 2021, an alternative seepage barrier design, the Nearshore Soil Barrier (NSB) option, is currently being studied. The NSB would sit between the No Coffer Dam limit and the existing shoreline of the Inner Harbour, approximately 500 m west of the proposed Kapit Seepage Barrier. Initial work indicates that the NSB would be a simpler solution, faster to construct and less costly. A pre-feasibility study-level assessment of the NSB option is currently underway and is expected to be completed in CY2023.
---
As featured in Womp 2023 Vol 02 - www.womp-int.com