MMG Idles Las Bambas
---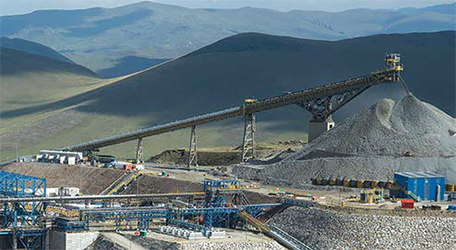 The Las Bambas mine (above) currently has 85,000 mt of copper stockpiled at the site. (Photo: MMG)

Widespread civil unrest in Peru, which started in early December, has now become a problem for the mines. So much so that MMG announced that it placed its Las Bambas mine on care and maintenance starting February 1, 2023. Throughout much of 2022, the mine experienced intermittent roadblocks affecting inbound and outbound transportation. Following the impeachment of Pedro Castillo, the previous President of Peru, widespread protests have caused disruptions along the Southern Road Corridor, affecting the broader mining industry.

MMG said it has mobilized its site security team and the Las Bambas property remains secure. The company said its priority is the health, safety and security of all employees, contractors and the broader community members. The transport disruptions essentially forced MMG to progressively slow its operations at Las Bambas due to a shortage of critical supplies. At the end of January the company said the situation remained unchanged, and the mine would be unable to continue to produce copper.

The company said it has made progress with dialogue across the six communities that participated in the mid-year protests, as well as with other communities located along the Heavy Haul Road logistics corridor. Discussions with the Huancuire community resumed in January 2023 and ongoing dialogue forums to discuss implementation of agreements with the Fuerabamba community have been established. Unfortunately, all dialogue has been tabled due to security concerns amid nation-wide protests.

Inventory levels on site increased to around 85,000 metric tons (mt) of copper metal (contained in concentrate) at the end of 2022. Las Bambas produced 254,836 mt of copper in 2022, which was slightly above the latest guidance of 250,000 mt, supported by a newly commissioned third ball mill. However, it was 12% lower than 2021, including operational disruptions that cost the company more than 50 days in Q2 2022.

For 2023, MMG believes Las Bambas could produce 265,000 to 305,000 mt, but that would be subject to a swift resolution to the wide-spread political protests and a resumption of stability in concentrate transport logistics.
---
As featured in Womp 2023 Vol 02 - www.womp-int.com