Biden Withdraws Minnesota Lands from Development
---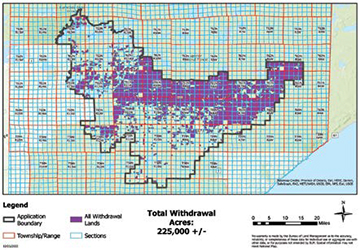 This map shows the recent withdrawal of lands from mining in the Superior National
Forest. The area within the bright green box would be the location of the proposed Twin
Metals mine. (Source: BLM)

On January 26, 2023, the Biden-Harris administration withdrew more than 225,500 acres in northeastern Minnesota, lands that border the Boundary Waters. Secretary of the Interior Deb Haaland signed Public Land Order 7917 withdrawing the land in the Superior National Forest "from disposition under the United States mineral and geothermal leasing laws for a 20-year period, subject to valid existing rights." The lands included in the withdrawal will directly impact Antofagasta plc's proposed Twin Metals mine. The proposed operation would sit just to the east of the border of Lake and St. Louis Counties, specifically (T62N, R11W and T61N, R11W).

"It's difficult to square the announcement of this significant land withdrawal with the Biden administration's stated goals on electrification, the energy transition and supply chain security," said Rich Nolan, president and CEO of the U.S. National Mining Association. "At a time when demand for minerals such as copper, nickel and cobalt are skyrocketing for use in electric vehicles and solar and wind infrastructure, the administration is withdrawing hundreds of thousands of acres of land that could provide U.S. manufacturers with plentiful sources of these same minerals. It's nonsensical when you look at where the U.S. wants to be globally as a leader in manufacturing, innovation and climate."

In October 2021, the U.S. Forest Service (USFS) submitted a withdrawal application to the Interior Department's Bureau of Land Management (BLM), which manages the subsurface mineral estate under the national forest. The agency said extensive public input was sought on the requested withdrawal, and the USFS conducted a "science-based environmental assessment" to evaluate the potential impacts of prohibiting new mineral and geothermal exploration and development within the Rainy River watershed for the next 20 years.
---
As featured in Womp 2023 Vol 02 - www.womp-int.com