Ma'aden Announces Major New Venture and Strategic Partnerships
---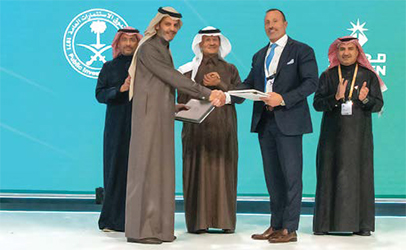 Ma'aden CEO Robert Wilt shakes hands with leaders from Saudi Arabia's PIF after signing an
agreement to establish a company to invest in mining assets globally.

The Saudi Arabian Mining Co. (Ma'aden) announced a major new venture with the Public Investment Fund (PIF). A new, jointly owned company will make significant investments internationally into upstream strategic minerals opportunities, securing value chains critical to industrial development and energy transition in the Kingdom.

Ma'aden has also signed strategic partnerships with Barrick Gold and Ivanhoe Electric (IE) to develop globally significant strategic mineral resources in the Kingdom to fuel the development of the sector internationally. The company said these agreements will play an important role in unlocking value from its exploration and development portfolio, expanding its international reach, and bringing new skills and technology into the sector in Saudi Arabia.

The new company established with PIF will be incorporated after obtaining approvals from the relevant authorities, and satisfying certain conditions of the JV agreement. Ma'aden will own 51% of the company, and PIF 49%. The company's capital will amount to $50 million and it will initially invest in iron ore, copper, nickel, and lithium as a non-operating partner taking minority equity positions. This will provide physical offtake of critical minerals to ensure supply security for domestic mineral downstream sectors, and position Saudi Arabia as a key partner in achieving global supply-chain resilience. "This is a significant step for Ma'aden as we develop the mining sector in Saudi Arabia and position the Kingdom as a key ally in securing the metals of the future," Robert Wilt, CEO of Ma'aden, said.

Ma'aden purchased a 9.9% interest in IE for $126 million, allowing it to appoint one independent director to the IE Board. Approximately 10.2 million new common shares in IE will be issued at a price of $12.38/share (See Prospecting, p. 23). As part of the agreement, Ma'aden and IE will also establish a 50:50 joint venture to explore for copper, gold, nickel and silver in Saudi Arabia. Ma'aden and IE will explore approximately 48,500 km2 of selected license areas that demonstrate potential. The joint venture will provide Ma'aden with access to IE's proprietary Typhoon technology, which conducts geophysical surveys using high powered transmitters to detect the presence of sulphide minerals containing copper, nickel, gold and silver. Ma'aden believes this will help accelerate, de-risk and advance exploration and development activities, enabling it to realize value from its exploration assets.

Barrick Gold is strengthening its relationship with Ma'aden through two new joint venture agreements to explore and develop the Jabal Sayid South and Umm Ad Damar license areas. The close proximity of the new license areas to Jabal Sayid and the associated mine infrastructure will enable the partners to capture synergies between the three areas.

Ma'aden has also entered into more than 20 agreements and MOUs with a number of high-profile market-leading organizations to integrate new technologies and innovation into its exploration and mining operations. These will further reduce energy consumption, improve water and environmental management, advance decarbonization, and improve health and safety. Partners include companies such as Nokia, Shell, Bechtel and Eurasian Resources Group (ERG) S.à r.l.

Ma'aden operates 17 mines, has more than 6,000 employees and exports products to more than 30 countries. It is embarking on massive growth over the next 18 years across its phosphate, aluminum, gold, copper and precious minearls operations — to leverage the Kingdom's estimated $1.3 trillion mineral endowment.
---
As featured in Womp 2023 Vol 02 - www.womp-int.com