Back to the Grind
There are huge process efficiency gains to be made in milling. We explore current developments with four frontrunners.

By Carly Leonida, European Editor
---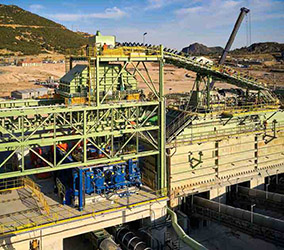 Weir Minerals' Enduron HPGR in a gold mine application.
(Photo: Weir Minerals)

Grinding material as effectively as possible means using as little energy as possible. That means only grinding the material that's of value and removing waste material early in the flowsheet. "That is why ore characterization is important," said Bjorn Dierx, Global Product Manager for Enduron HPGR at Weir Minerals. "If mines have a deep intelligence of the components that are in their ore, they can reject low-value material with greater accuracy, which means only consuming energy on the stuff that's worth processing."

High-pressure grinding rolls (HPGRs) are becoming increasingly accepted in comminution. "This is a global trend and we're seeing it being utilized beyond the traditional hard rock applications, like gold, copper and magnetite iron ore," Dierx told E&MJ. "For instance, HPGR technology is also being adopted in industrial minerals, particularly in combination with our air classification system where we can commit to strict product quality requirements. And, of course, it does this without using water, which isn't just beneficial from an environmental point of view, but also delivers a higher purity of product because there's less contamination and oxidation."

In addition to only grinding the valuable material and doing that as effi- ciently as possible, Weir Minerals is also looking at ways minerals can be recovered from a coarser size fraction. This allows for more efficient mineral liberation, while reducing water and energy consumption. "Weir Minerals recently announced a cooperative agreement with Eriez, a market leader in coarse particle flotation (CPF) equipment, and I think we'll increasingly see miners adopt this innovative solution," said Dierx.

"One thing that I'm hearing more frequently from miners is that they want more flexible systems in terms of operability. In many regions, there are challenges around available grid capacity; operators want the option of balancing their energy consumption to maximize energy efficiency, which means they might want to switch the grinding system off for a few hours during peak periods. Compared to traditional semi-autogenous grinding (SAG)-ball mill-crusher (SABC) circuits, which typically have long ramp up and ramp down times, the combination of HPGR and vertical stirred mills is a lot quicker to power up and down."

Weir and Partners Pioneer New Flowsheet
Weir Minerals is expanding its solutions- based approach to grinding. Having recently signed a partnership agreement with Swiss Tower Mills (STM), the company now offers a fully integrated solution for grinding with Enduron HPGRs and vertical stirred mills. Dierx said Weir has customers considering this combination for both greenfield and brownfield applications.

"This solutions-based approach is delivering a higher quality product and much better recovery results," he explained. "The HPGR and vertical stirred mill solution delivers a product with a steep particle-size distribution (PSD), which essentially means there aren't excessive fines or particles that don't benefit the recovery process. So, regardless of the feed input of the system, operators get a consistent feed to the downstream recovery process. This benefits the handleability and control function of the recovery circuit and delivers a better yield of valuable minerals."

Weir Minerals has been doing a lot of test work with its partners — STM, Eriez and Anglo American — to develop what it calls 'the flowsheet of the future.' Combining several available technologies, this new comminution circuit uses significantly less energy compared to conventional flowsheets, which helps reduce operator's carbon footprint and operating costs.

Dierx explained: "Traditionally, the HPGR is followed by energy inefficient ball milling. However, for coarser applications in secondary grinding, the advantages associated with the vertical stirred mill, which is typically more energy efficient, are becoming more widely recognized. "In addition, CPF allows improved metal recoveries at a coarser product size from the vertical stirred mill, resulting in further reductions in the total required energy consumption across the process."

The regrinding of the produced CPF concentrate can be realized in a second energy-efficient vertical stirred mill. The overall energy saving offered by this type of flowsheet is potentially more than the sum of each of the individual process equipment units; in other words, the energy savings accumulate, which highlights the importance of thinking about process challenges holistically.

"Going forward, we're working on analyzing the grinding fundamentals so that we can develop more effective ways of utilizing the available energy to reduce the size of the rocks," Dierx told E&MJ. "For instance, this might involve a combination of pre-treatments upstream from the HPGR. We're exploring opportunities around ore sorting and pre-cracking with microwaves, among other things. "We're also working on improving ore characterization via the systems we have under the Weir-Motion Metrics umbrella. These technologies allow us to accurately measure the performance of our equipment and create a more efficient autonomous system that prevents overgrinding and, therefore, uses energy more efficiently."

FLSmidth Goes Vertical
"Sustainability is on everyone's mind today, Joe Dziedzina, Product Line Manager, Milling & Grinding at FLSmidth, told E&MJ. "It has been well documented that the majority of energy consumed in mining comes from the grinding circuit. Green initiatives such as electric vehicles and renewable energy (wind power) require vast amounts of mineral resources. As such, the focus intensifies on power-efficient grinding technologies to extract these minerals in a sustainable manner. "Being a full flowsheet provider, FLSmidth is now in a better place than ever to offer the best possible grinding solution without bias. By adding the market leader in HPGR technology to our product line, we feel that FLSmidth is a leader in grinding technology."
FLS recently introduced its vertical steel media tower mill — the FLS Tower Mill (FTM)
— to expand its grinding offering. (Photo: FLSmidth)

In addition to their lower energy consumption, comminution tools such as HPGRs and vertical roller mills (VRM) produce a finely ground product without utilizing any grinding media. This means that the CO2 emissions generated through grinding media manufacturing can also be reduced. Dziedzina explained: "In wet grinding, vertical media mills are trending for low-grade ore concentrators, reducing CO2 emissions by minimizing energy and media consumption. Open-circuit regrind mills, like FLSmidth's ceramic media VXPmill, eliminate recirculating loads, additional pump power and water consumption over conventional ball mills and vertical steel media mills."

FLS recently introduced its vertical steel media tower mill — the FLS Tower Mill (FTM) — to expand its flowsheet offering. "Tower mills reduce both energy and media consumption in secondary, tertiary and regrind applications over horizontal ball mills ," explained Peter Wulff, Global Product Manager, Fine Grinding at FLSmidth. "Energy savings range from 25-50%, which not only increases the profit per ton of product, but also reduces CAPEX on installation costs due to the small footprint of vertical mills."

In October 2022, FLS announced that it had delivered an FTM-4500 to a large gold mine in the Dominican Republic. Described as "the world's largest vertical steel-media mill", the FTM-4500 pairs variable speed drive (VSD) technology with a TEAAC motor from ABB to drive two different mill throughputs. "At full production capacity, the miner utilizes the FTM-4500 for fine grinding more than 500 [metric] tons per hour (mt/h). When operations occasionally need to lower gold production, the FTM's VFD allows adjustment to the agitator screw's speed which, in combination with reduced media charge, results in up to 45% reduction in mill throughput," Wulff added.

Standard FTM sizes include the 1,000-hp, 3,500-hp as well, and soon a 6,700-hp version. With commissioning expected in the coming months. During 2022, FLS's legacy stirred ceramic media mill, the VXP, was also added to both greenfield and brownfield sites to improve recovery and add process value. And, in 2023, at least three VXP installations will be commissioned in Sub-Saharan Africa and Mexico in gold plants, reinforcing the VXP's main application.

"Also in 2023, the first and largest VXP10000 with 3 MW installed power is scheduled for delivery to the Sabina Gold & Silver Goose Island plant," explained Wulff. "A further two VXP10000 units were selected for a large zinc concentrator in Kazakhstan, displacing other grinding technologies that are less efficient at achieving a 14-micron product size."

Grinding technologies are a key part of FLS' MissionZero initiative. This provides a three-pronged approach to sustainable mining — zero energy waste, zero water waste, and zero emissions. "We have ongoing R&D test work to address every aspect of the flowsheet — not just directly associated with grinding, but also exploring how different grinding technologies may provide metallurgical benefits to downstream processes such as flotation and dewatering," added Dziedzina. "These tests should complete in first half of 2023 with details on our findings to follow."

Valley Forge Equips Mills for Future-proof Performance
Valley Forge & Bolt Mfg. Co. provides standard and custom fasteners and services for grinding mills. Chief Operating Officer and industry veteran, Bret Halley, spoke to E&MJ about some of the trends and changes he's seen in recent years. "There's been a clear move towards larger mills and solutions for larger applications in mining," he said. "Diameters are going up resulting in larger fasteners being required. Tightening these fasteners has its challenges, and we're seeing many questions regarding how our products are monitoring tension or how we can show bolt load inside an existing or future mill project. Our users want to see their fasteners communicate directly with their control or computer system, allowing them to continuously monitor efficiency and safety."
Valley Forge's Remote Tension Monitoring (RTM) series of meters. (Photo: Valley Forge)

Engineering Manager, Jason Melville, added: "We are seeing milling applications larger than 42-ft diameter on the horizon. This requires either more or larger fasteners. Increasing our capabilities in forging is essential to driving innovation in milling. At Valley Forge we've invested in larger machines to accommodate this change from our OEM partners. We're now able to go all the way to 2.5-in. diameter liner bolts for grinding mill flange applications. We always want to position ourselves for the future and invest in machinery for the manufacture of larger liner bolts and rotating critical hardware."

Valley Forge now offers various wireless communication systems for fasteners to provide feedback during operations. These include both Wi-fiand radio frequency solutions depending upon the application. SPC4 users can select a model which best fits their individual requirements and operating environment to continuously monitor load and eliminate torque-based measurements; SPC4 meters are fully interchangeable, so any meter works on any SPC4 fastener.

Each meter offers different features, including analog gauges, handheld digital displays, data logging capabilities, intrinsically safe analog operation and even the ability to control powered tightening tools. For example, the SPC4 702 Meter from the Remote Tension Monitoring (RTM) series fastens loads wirelessly, remotely and while in use. The meter can be snapped on or threaded onto the end of the SPC4 bolt to instantly turn it into a data-gathering remote monitoring device. The meter remains in place while information is collected and sent to a Valley Forge data- logging station or to the mine's own condition monitoring or SCADA system.

Halley noted: "We've seen opportunities lately for the refurbishment of older mills with what we call the 'SPC4 Advantage' using our RTM series. Upgrades give mills longer run times. Using our wireless technology, our partners can start the mill and measure the load in problem areas while it's in motion and resolve issues as needed. This prevents unnecessary shutdowns and all but eliminates extended down time. If there are no issues, they always get a balanced view of the mill's integrity. We save them huge costs in downtime."

Melville added: "In order to respond to needs of this industry, we have also developed high-temperature Sealing Mill Liner Bolts. Industries like silica require fasteners that can handle temperatures of up to 300°. We can now assist in preventing fugitive emissions in dry grinding applications with increased accuracy. This has value in other high-temperature applications like cement as well as wet grinding mills."

Andritz Perfects APC
Mineral recovery processes are inherently challenging to control due to ore type variations, nonlinearity and the complicated dynamics described by self-regulating, integrating, and multivariable process responses. In a recent paper titled Autonomous and efficient mineral processing operations using advanced process control, Khatibi et al., explained that: "In recent years, the mining community has expressed a desire for a comprehensive plant automation strategy by adopting optimization technologies and replacing classic regulatory/ proportional–integral– derivative (PID) control with advanced process control (APC)."

The Andritz ACE APC strategy includes model predictive control (MPC) for stabilization of the regulatory controls and an additional optimization layer to manage process targets. This solution has been successfully deployed in various mining and mineral processing applications, including SAG and ball mills. "SAG mills can be difficult to control due to transport delays in the ore reclaim feed system and the integrating-type response exhibited by the SAG mill weight as it approaches maximum fill capacity," said the authors. "An integrating response is characterized by the accumulation of material over time, and this can be difficult to control when combined with transport delays. At lower weight values, the SAG mill exhibits a self-regulating response, which is inherently stable and easier to control. The integrating response of the SAG mill weight when the mill approaches its full capacity is challenging, because it brings the weight to the runaway zone quickly if appropriate control actions are not taken."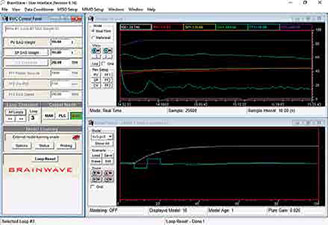 Screenshot showing BrainWave SAG mill weight control performance.
(Image: Andritz)

Andritz's SAG Mill ACE is designed to manage the primary control functions of the SAG mill and reclaim feed rate control. The objective is to maximize throughput by maintaining a stable mill fill weight while keeping the operational and plant variables in an acceptable range. A stable mill weight is important to achieve constant grind performance and maximum production rate. The APC solution uses BrainWave MPC controllers for closed loop control of all the critical variables on the SAG mill circuit. The BrainWave controller configuration automatically changes from a stable self-regulating process response when the SAG mill is moderately loaded to the integrating process response when the weight is close to the maximum limit defined by the operator. This allows ACE to maintain optimal control performance under all fill ranges. Mill fill volume, ore properties, and mill speed are highly correlated to the grinding capacity and throughput of the mill. Therefore, decreasing variability of the mill's weight improves efficiency. In addition to typical instrumentation, such as a bearing pressure/weightometer and flow meters, PSD and mill fill volume data can be utilized to further enhance the ACE APC solution.

SAG ACE has been implemented by various major mining companies globally. The authors explained how, in a recent application, the SAG ACE solution was developed, installed and commissioned remotely for a major mining company in Canada. According to the performance improvement calculation, a 5.3% increase of throughput was achieved using ACE.

"The automatic scenario change in the APC system, which adapts the MPC controllers for the rapid ore changes in the plant, helped to improve autonomy of the controls," they said in the paper. "The APC solution also helped to maximize efficiency and minimize the carbon footprint per ton milled. Specific energy consumption also decreased by approximately 15%."

Andritz's Ball Mill ACE is designed to manage the primary control functions of ball mills and hydrocyclones. The results obtained on a recently commissioned Ball Mill ACE system in the USA included a 40% reduction in variability of hydrocyclone pressure, which provides consistent P80 recovery/grade. The enhanced autonomy and improved control of the key variables of the ball mill circuit enabled the operation to increase throughput/feed in the SAG mill while maintaining product recovery.
---
As featured in Womp 2023 Vol 01 - www.womp-int.com