Conuma Buys Quintette Mine from Teck
---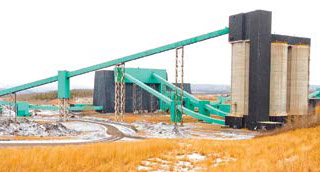 The Quintette mine produced 67 million mt before it was idled in 2000.

Teck Resources Ltd. agreed to sell to a subsidiary of Conuma Resources Ltd. all the assets and liabilities of the Quintette metallurgical coal mine in north-eastern British Columbia, Canada. Conuma will pay Teck $120 million in cash in staged payments over the next 36 months, and an ongoing 25% net profl fits interest royalty, first payable after Conuma recovers its investment in Quintette. Located in Tumbler Ridge, B.C., the Quintette mine closed in August 2000 after producing more than 67 million metric tons (mt) of met coal. It has been on care and maintenance since it closed.

Conuma Resources is also headquartered in Tumbler Ridge. It began purchasing properties in the Peace River coalfield (PRC) during 2016 and today it operates the Wolverine mine. The PRC is known for ultra-low volatile coal with highly desirable characteristics. Wolverine's production travels by rail to Ridley Terminals in Prince Rupert, B.C. Closing of the transaction, expected to occur in the first quarter of 2023, is subject to receipt of regulatory approvals and other customary conditions.
---
As featured in Womp 2023 Vol 01 - www.womp-int.com